Writer/Director Jared Frieder's Long Journey to Make "Three Months" Starring Troye Sivan
Imagine what you would do if, at one of the most pivotal moments in your life, you find out you're at risk for a life-threatening disease? Jared Frieder turned the experience into a movie. That movie, Three Months, is out today on Paramount+.
Three Months, a funny and touching coming-of-age story, tells the story of Caleb (Troye Sivan), an unruly, gay high school senior who is days away from graduation and ready to pursue his dream of becoming a photographer. That is until a night of drunken carelessness finds Caleb sleeping with a complete stranger and learning shortly thereafter that his one-night stand has resulted in a positive HIV test. Now, instead of looking forward to the future, Caleb is dreading it. During a visit to the local LGBTQ clinic, he discovers he must wait three months for antibodies to develop to prove he has contracted the virus. 
As his summer in limbo unfolds, Caleb emotionally unravels. He lashes out at all those dear to him, including his grandmother (Ellen Burstyn), who took Caleb in after his father died and his mother abandoned him; her live-in significant other (Louis Gossett Jr.) and Caleb's only friend Dara (Brianne Tju), an insecure gay teen who works with Caleb at his South Florida town's minimarket. Looking for solace at the clinic's support group, Caleb meets Estha (Viveik Kalra), a reserved Indian teen also awaiting his HIV results. The two enjoy a mutual attraction, making Caleb believe that there just might be a life after three months.
For Frieder, who wrote the screenplay and is making his directorial debut, Three Months addresses a void he felt when he was coming of age and discovering who he was.
"It was really important to tell the kind of story that I wished I could have watched when I was a little kid that would have made me feel less alone and more understood," Frieder said during a recent Zoom interview. "I think this is a universal story about love and friendship and chosen family. I hope it makes queer kids feel a little less alone. And I hope it helps people walk in Caleb's shoes for two hours and have a great time while doing it. Have a blast. But also have more empathy for the people around us." 
Describing himself as a very nice Jewish boy from Hollywood, Florida, Frieder explains that his two leads incorporate the different sides of his personality. "I wrote Caleb as the kid I wished I could have been in high school. He's aspirational for me," he says. "Whereas, Estha is the kid I was in high school. You know, two sides of the same very gay coin. Yes, coins can be gay just in case you're wondering."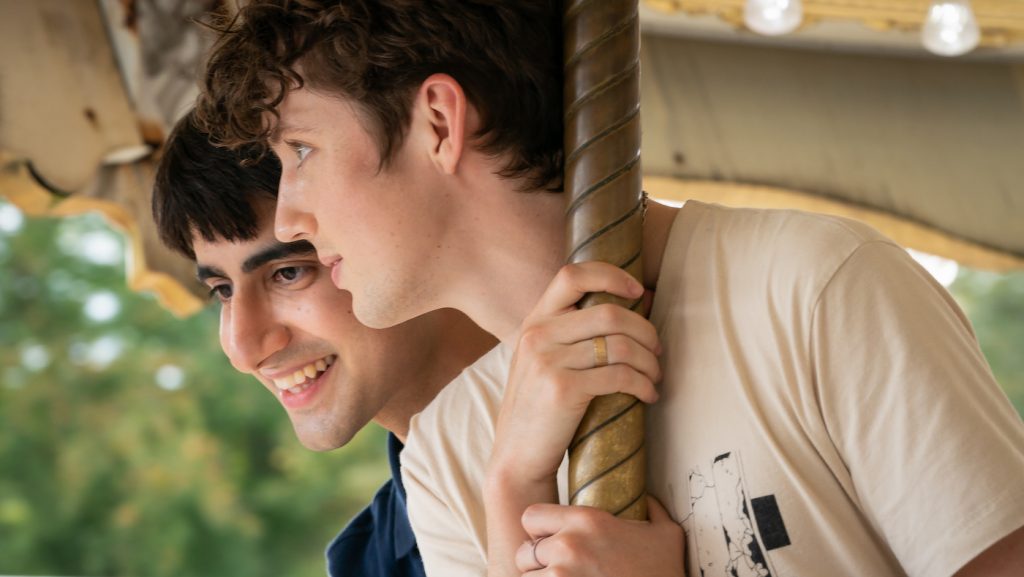 Three Months sprung from Frieder's own agonizing experience of worrying whether he was HIV positive. But little did he realize that when he conceived this story about waiting that it would take almost a decade to make it.
"It's been such a long journey to get it to this point," continues Frieder. "Gay movies with LGBTQ protagonists are incredibly challenging to make. That was always the biggest hurdle for me… finding people who were willing to finance a movie that had a protagonist that we had never quite seen before."
Initially, Frieder envisioned Three Months as a film. But after a streamer expressed interest, he sold it as a TV series. When that didn't work out, Frieder shopped it again as a feature.  Producer Daniel Dubiecki, who received an Oscar nomination for Up in the Air, and his producing partner Lara Alameddine (Money Monster, Please Stand By) came onboard. MTV Entertainment Studios agreed to fund it and in March 2020 cameras started to roll. Two weeks later, the COVID pandemic shut production down.
"We had to go on hiatus for seven months never knowing if we would ever finish," says Frieder. "And Godspeed, we did. It's been a roller coaster, but I'm so grateful to be here."
On the bright side, if Three Months had been made when Frieder first wrote it, he wouldn't have directed it. Still, in his early 20s, he was considered too inexperienced. Frieder credits Dubiecki and Alameddine, as well as MTV's Pamela Post, an executive producer on the film, for encouraging him to take on that role.
"Honestly, they were like, 'Would you want to direct this'? And I was like, 'Yes!,'" says Frieder. "Who gets to direct their own film? It feels like sort of something that happens to other people. It was pretty wild, but I've got the directing bug now and I want to direct until I literally drop."
And the timing might have been right for another reason. It afforded Frieder the opportunity to assemble what he describes as his "dream cast" — beginning with his lead.
Describing himself as the "biggest Troy Silvan fan in the entire universe," Frieder was thrilled when the Australian singer, songwriter, and YouTube sensation signed on to play Caleb. 
"Like I said, I wrote the kid I wished I could have been in high school and that is literally Troy," explains Frieder. "He just gave the character that X factor that makes you immediately fall in love with him. Caleb can be a little bratty. He's flawed and he is uppity even though he means well. To me, this comes from a place of honesty. And Troy was able to tap into that, but exude compassion and exude love. And that is not something that every actor can do."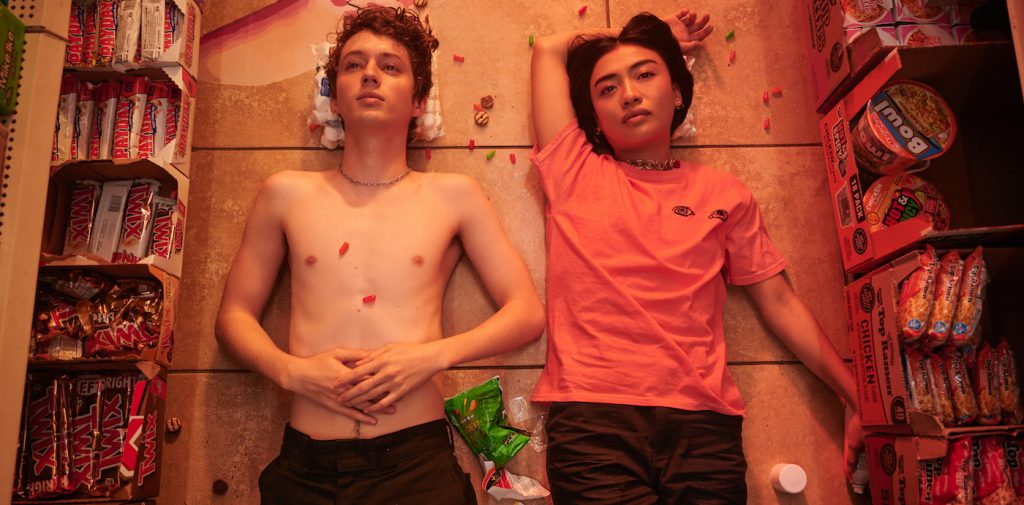 The praise doesn't stop there. Frieder calls out Tju and Kalra as "funny and real" and describes Gossett Jr. as "a legend who oozes charisma," particularly citing an emotional monologue Gossett Jr. delivers at the film's midpoint that really connects the audience to this makeshift family."
But perhaps the ultimate casting coup was getting Ellen Burstyn to play Caleb's grandmother. "I mean, she's a hero of mine," Frieder says, pointing over his shoulder to a framed movie poster of Alice Doesn't Live Here Anymore hanging on his wall. "She's like a titan of cinema. Her performance in Requiem for a Dream still haunts me. I don't think I've ever been so affected by a performance. And to work with her and to learn from her and to listen to her. She elevates this movie and her character to a degree that fills it with heart and compassion — a hope for the future."
And that may be the message Frieder most wants Three Months to send. "For me, the most obvious takeaway is that HIV is no longer a death sentence," he says. "In our modern world, with access to health care, people living with HIV can find love and live long, happy lives where they pursue their dreams. We have to continue to fight the stigma and shame around the disease by having conversations like the kind that I hope this movie starts. I'm so grateful to be able to get the word out about this film — on Paramount+, February 23rd — And I just can't wait for people to see it."
For more films coming out from Paramount, check out these stories:
J.J. Abrams Says "Star Trek 4" Happening With Chris Pine, Zoe Saldana, Zachary Quinto & More
"Mission: Impossible 8" Will Be Tom Cruise's Last (and Craziest)
The First "Halo" Trailer Reveals Paramount+'s Sweeping Live-Action Adaptation
Featured image: Troye Sivan in "Three Months." Courtesy Paramount+.