"The Batman" Limited-Edition Tourbillo Watch Includes an Actual Working Bat-Signal
If you ever wanted to look like Batman without submitting yourself to straight-up cosplay, we've got some news for you. You can own the official Batman Tourbillon Watch, made by Swiss design studio and manufacturer Kross Studio, for a cool $100,000. The design of the watch is inspired by the new Bat-Signal you'll be seeing in writer/director Matt Reeves's upcoming The Batman. 
If you happen to be both a massive Batman fan and someone who can spend $100K on a watch, then not only will the Tourbillo purchase include the black and red watch, but also a fully functional aluminum sculpture of the Bat-Signal which also works. The two pieces make up the limited-edition Batman Collector Set, with only 10 being produced. Two of the ten have already been sold.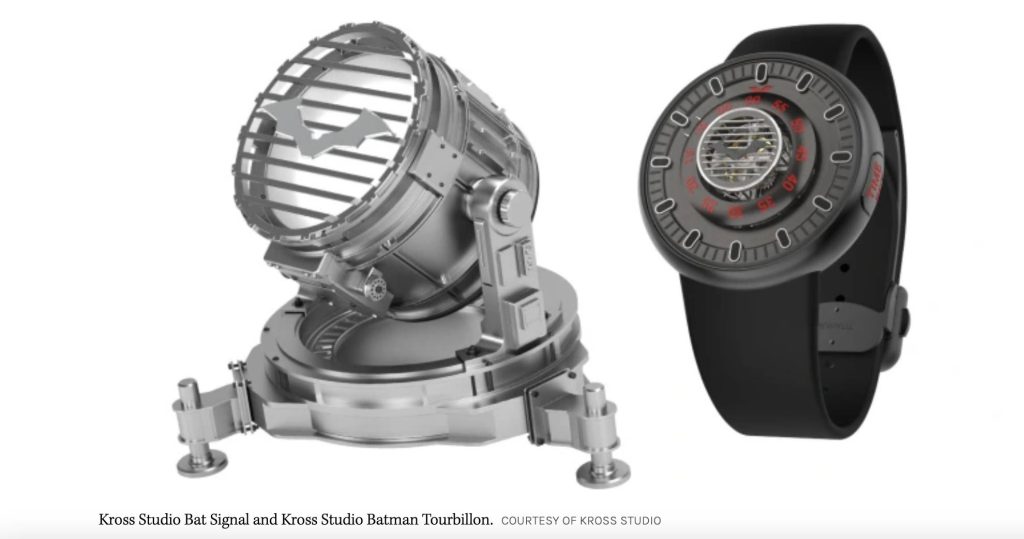 The watch itself is a 45mm hand-wound piece, made of grade 5 titanium, that has juice to last for five days and is water resistant up to 30 meters/98 feet. The bat emblem is located on the louvered tourbillon cage. The watch is comprised of 283 parts, each of which is hand-made and assembled in Switzerland.
"We wanted to create a link between the wearer of the watch and the Batman himself," Marco Tedeschi, founder and creator of Kross Studio, told The Hollywood Reporter. "We thought it would be really fun if the Bat-Signal was there, that you [feel you] could call the Batman if needed. That was the starting point of the inspiration in our design."
Who hasn't dreamed of calling in Batman at one point in their lives? Alas, for most of us, we'll happily arrive watch-less (or with a more humble Casio) to see The Batman when it arrives in theaters on March 4.
For more on The Batman, check out these stories:
"The Batman" New Photos Reveal a Long Dark Journey Into Night
Robert Pattinson Says His Batman Was Partly Inspired by Kurt Cobain
"The Batman" Writer/Director Matt Reeves Says a "Grounded" Mr. Freeze a Possible Villain for Sequel
Collin Farrell Spent 4 Hours Becoming The Penguin in "The Batman"
Featured image: Caption: ROBERT PATTINSON as Batman in Warner Bros. Pictures' action adventure "THE BATMAN," a Warner Bros. Pictures release. Photo Credit: Jonathan Olley/™ & © DC Comics