See Dwayne Johnson as "Black Adam" in 3 New Images
Warner Bros.' 2022 film slate is massive. How massive? Just on the DC Extended Universe side of things, you've got a return trip to Gotham in Matt Reeves The Batman, the first stand-alone Flash film, and you've got Dwayne Johnson making his long-awaited entrance to the DCEU in Black Adam. To that end, Warner Bros. has revealed three new behind-the-scene images of Johnson in the role he was born to play.
Black Adam comes from director Jaume Collet-Serra, and the logline lets you know that when Dwayne Johnson enters the DCEU, it's not to simply add to its growing roster of superheroes. "The hierarchy of power in the DC universe is about to change," and, well, of course it is—this is the Rock. We got our first glimpse of Johnson as Black Adam via this clip revealed at the most recent DC FanDome Event. The clip showed just has nasty Black Adam can be when he feels threatened. We were also introduced to members of the Justice Society—Hawkman (Aldis Hodge), Doctor Fate (Pierce Brosnan), Cyclone (Quintessa Swindell), and Atom Smasher (Noah Centineo).
The images give us a great look at Black Adam's suit, with its Shazam-like lightning bolt running down the chest: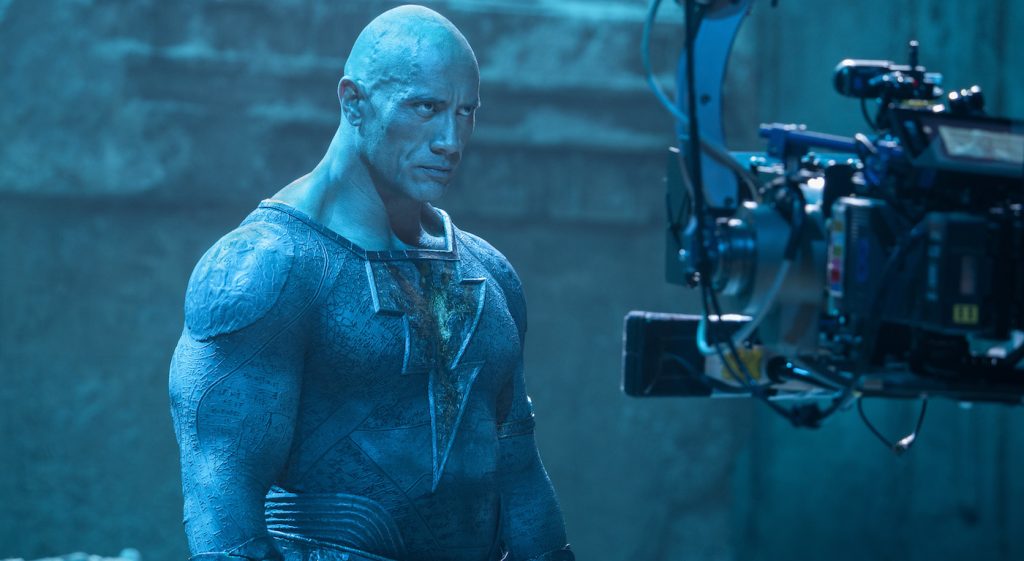 Then we got two more behind-the-scenes shots, one of Jaume Collet-Serra and Johnson looking at a monitor after a scene, and another of Johnson preparing to perform.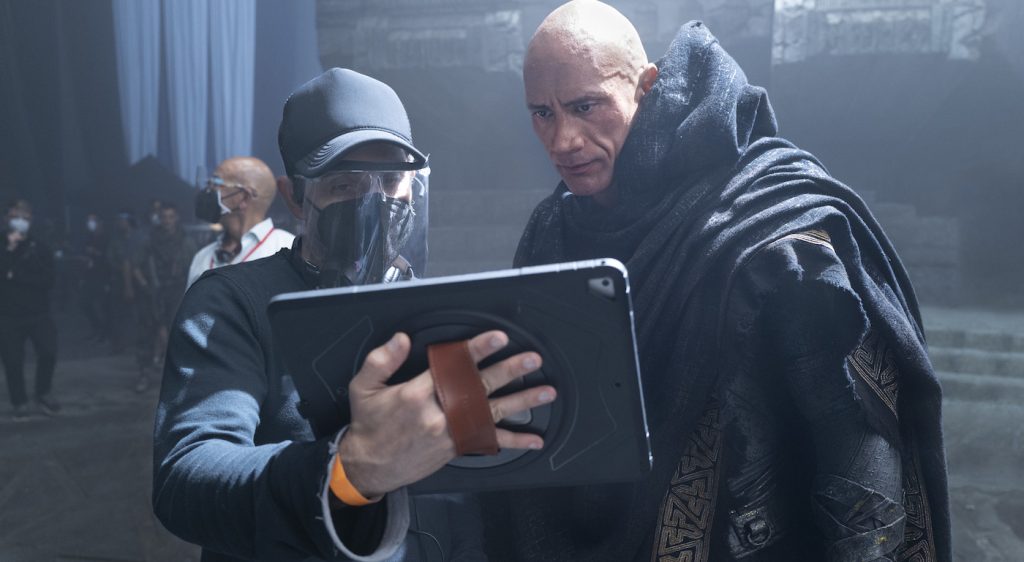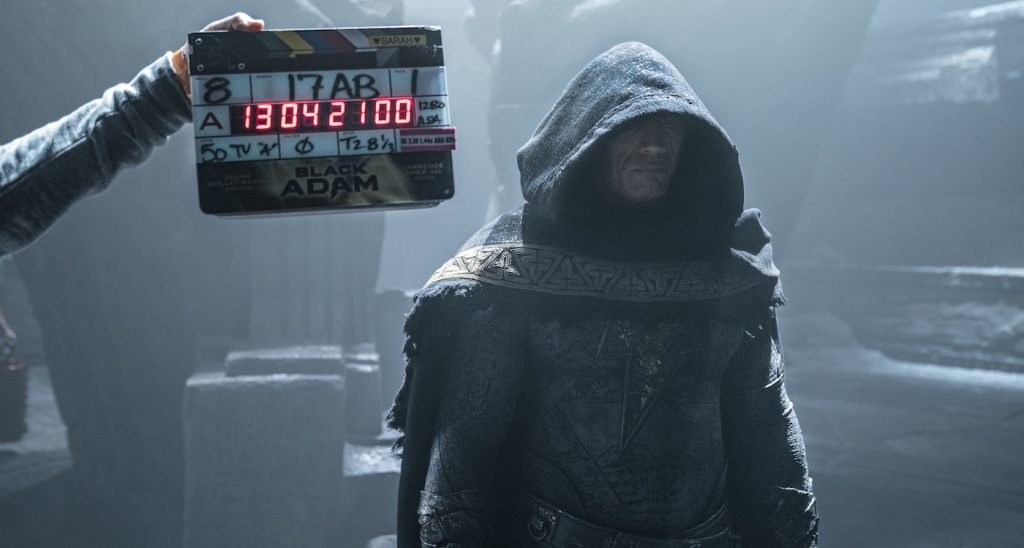 We've been waiting a long, long time to see Johnson in this role. In fact, he was cast way back in 2014. Producer Hiram Garcia shared his enthusiasm for what he's seen thus far late last year. Speaking to Collider, Garcia had this to say after seeing the first cut of Black Adam: 
"Granted, the movie's in a stage where there are no effects done. It's so fresh after filming. But anytime the movie is that entertaining and good in that raw of a form, it makes us very confident. So [we're] really excited with where the movie is. Jaume has done such a good job. The movie is big. It's fun. DJ was born to play Black Adam — [I've] got to tell you, if there was ever anyone who is just perfect for this role, it's him. Then seeing him with the rest of the JSA and all those characters and Pierce [Brosnan] and Aldis [Hodge] and Quintessa [Swindell] and Noah [Centineo], it's a 'Pinch me' moment. It was one of the most fun movies we've ever made and also just the coolest to be making something on this scale and with a character who's going to have this much of an effect on the DC Universe. It's really been awesome, and I think you're really going to dig it."
Black Adam is due in theaters on July 29, 2022.
For more on Black Adam, check out these stories:
Dwayne Johnson Reveals a "Black Adam" Close-Up of His Supervillain
"Black Adam" Producer Says Early Cut of Film Has Him "Very Confident"
First "Black Adam" Teaser Reveals Dwayne Johnson's Arrival in the DCEU
Dwayne Johnson Reveals "Black Adam" Release Date
Featured image: DWAYNE JOHNSON on the set of New Line Cinema's action adventure "BLACK ADAM," a Warner Bros. Pictures release. PHOTO CREDIT:Frank Masi. © 2021 Warner Bros. Entertainment Inc. All Rights Reserve