Samuel L. Jackson Teases Young Nick Fury in Marvel's Disney+ Series "Secret Invasion"
It looks like Samuel L. Jackson's getting de-aged again. The last time Jackson had the years peeled away to play a young Nick Fury was in 2018's Captain Marvel, which introduced Brie Larson's Carol Danvers/Captain Marvel and was set in the 1990s. Now, Jackson has taken to Instagram to tease a return to his younger form for Secret Invasion, Marvel's upcoming Disney+ series that stars Jackson and Ben Mendelsohn's Talos, his alien enemy-turned-buddy from Captain Marvel. 
Jackson took to Instagram to tease the fact that it was "Old School Fury Day" on the set of Secret Invasion, implying that we're getting a flashback scene with a young Nick Fury, without his iconic eyepatch and scar.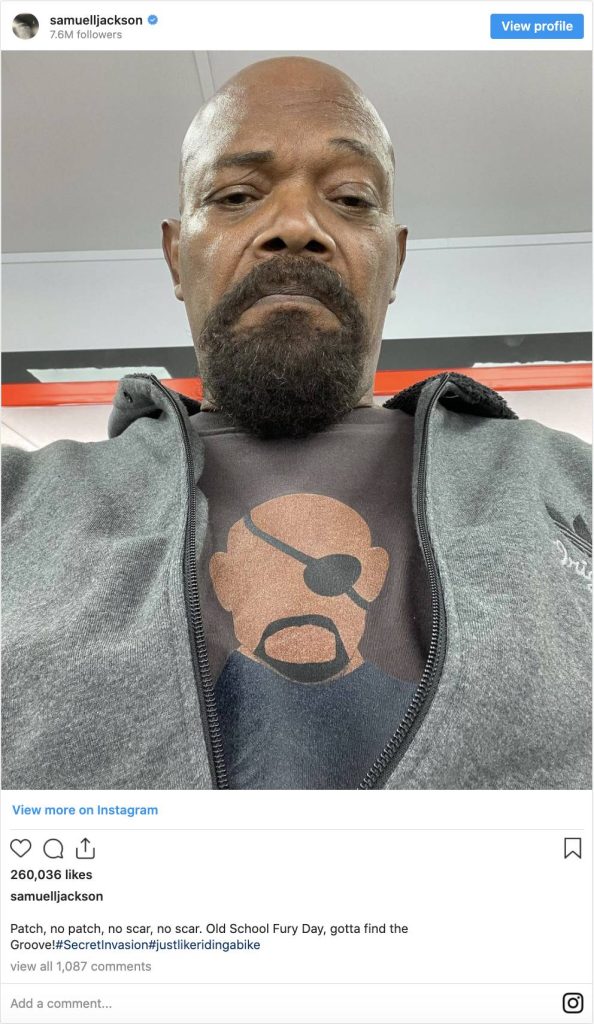 Secret Invasion will feature Fury and Talos continuing their surprising partnership after Talso turned out to be a good guy in Captain Marvel. That was quite the twist considering he's a member of the Skrulls, a shape-shifting alien race that had long been portrayed as villains in the comics. Yet in Captain Marvel, Talos and his fellow Skrulls had been grievously wronged by the Kree, the alien race that adopted, raised, and empowered Captain Marvel herself. By the end of the film, Fury, Captain Marvel, and Talos were working as a team. Secret Invasion will carry on that teamwork with a focus on Fury and Talos's unusual but undeniably charming relationship.
Secret Invasion was teased in a major way in a post-credits scene in Spider-Man: Far From Home. In that scene, we saw that Nick Fury and Maria Hill (Cobie Smulders), who had been duped consistently (and surprisingly) throughout the movie by Mysterio (Jake Gyllenhaal) were actually Talos and Soren (Sharon Blynn). Only the two Skrulls were doing that bit of shape-shifting for Fury, who was in outer space dealing with some off-world problems. Secret Invasion will no doubt have fun with the Skrulls' shape-shifting abilities, while further expanding the MCU.
Secret Invasion also boasts an out-of-this-world cast. Joining Jackson and Mendelsohn are Cobie Smulders (natch), Olivia Colman, Emilia Clarke, Carmen Ejogo, and Kingsley Ben-Adir. Kyle Bradstreet (Mr. Robot) is your showrunner.  The series is set to land on Disney+ sometime this year.
For more Marvel Studios series on Disney+, check out these stories:
Ethan Hawke's "Moon Knight" Villain Might be a Hybrid of Two Very Bad Dudes
Marvel's "Moon Knight" Trailer Reveals Oscar Isaac in Wild New Series
See How All The Trick Arrows in "Hawkeye" Were Created
Featured image: Nick Fury (Samuel L. Jackson) Photo: Chuck Zlotnick. ©Marvel Studios 2019