"Death on the Nile" Production Designer Jim Clay Delivers Deadly Decadence
For production designer Jim Clay, details matter. In director Kenneth Branagh's Death on the Nile, a pseudo-sequel to Murder on the Orient Express which returns sharp-witted investigator Hercule Poirot in another case of whodunit, the murder mystery transports viewers to the 1930s Egypt that entangles love and death in the most devilish ways – and may we say stylish? 
"Ken is meticulous in his planning 'cause when he gets on set he wants to give time to the actors and the performance," Clay shares with The Credits, who has worked with Branagh on a number of projects including Belfast which received seven Academy Award nominations
Based on the novel by Agatha Christie, the screenplay from Micahel Green intertwines an ensemble that includes Gal Gadot, Emma Mackey, Russell Brand, Letitia Wright, and Annette Bening, hopscotching to a number of exotic locations from a London blues club to the banks of the Nile River – all of which the product designer crafted from scratch. 
For its design, Clay says Branagh sought a look that was "absolutely realistic and locked into the period" while still having the freedom to give it a "contemporary feel" to reach a newer audience. "It was really about creating an epic scale as much as possible."
One of the largest tasks was building the Karnak, a majestic paddleboat steamer that becomes the backdrop for the investigation. With supervising location manager Tom Woods laying the path, production originally scouted Egypt looking to shoot on a real paddleboat steamer. The idea quickly fizzled when it became apparent they couldn't find a boat that was remotely period or to the scale and style that was visually required. "We decided to build the paddle steamer and that was the first big decision," says Clay. "Originally we were going to build it and float it on a lake in Morocco, but that presented all sort of logistical and shooting problems." After researching how far computer-generated water has come, they decided to build the steamer on the backlot of Longcross Studios in the UK and digitally place the water afterward.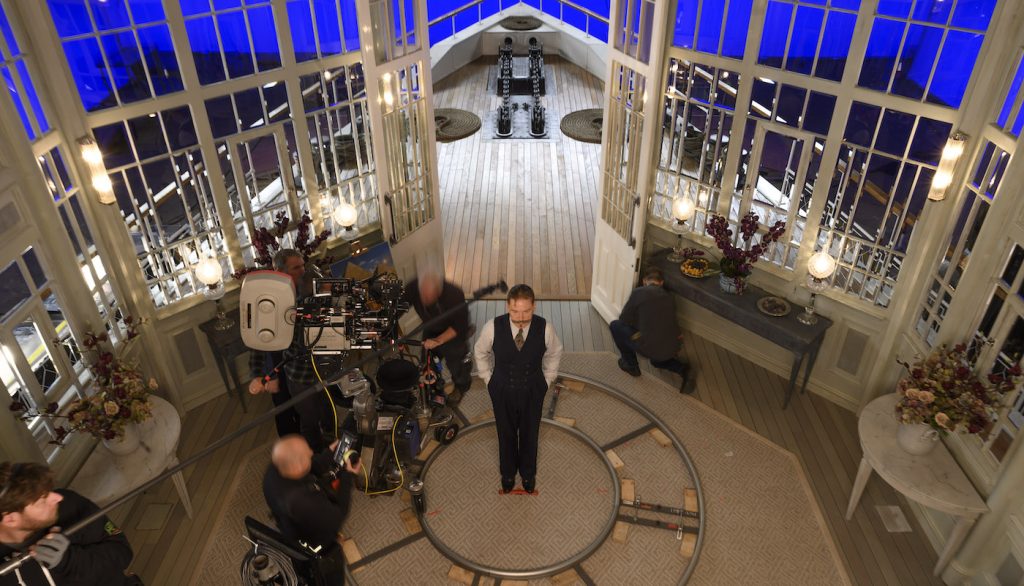 A key decision early on in its construction was building the massive steamer subframe on railroad tracks rather than placing it directly into water. This allowed production to move it outdoors for bluescreen work or slide it into a stage for night shoots or when filming inside the cabins or interiors. The caveat in doing it this way created a weight limit.
"I have to pay tribute to John Boahn, who was our construction manager. He was really taking care of the structural side of it, where I was concerned more with the decoration, layout, detail, and quality of finishing," mentions Clay. "John was constantly obsessing about the weight. We had to keep it to 240 tons, which is what the wheels would bear. As we got closer and closer to completion, John would weigh every element we were putting on board to make sure we weren't going to exceed the weight limit."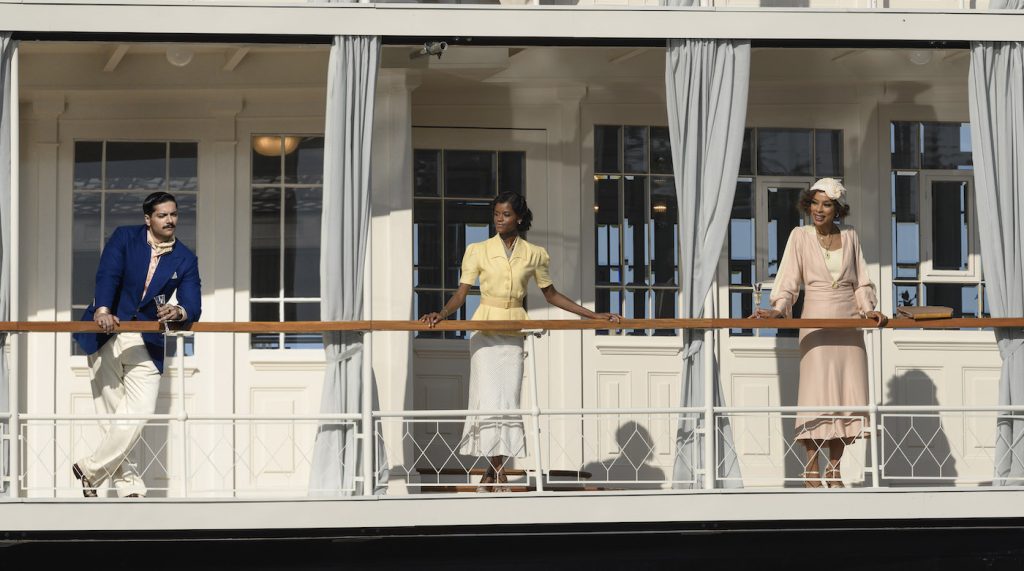 No detail was left untouched designing the luxuriousness of the Karnak, a style Clay evolved based on photographic material and drawings from a fleet Thomas Cook built, a British travel entrepreneur who sold tours of the Nile to members of high society dating back to the early 1900s. The boat stretched 236 feet long, 48 feet wide, and 42 feet high while weighing 225 tons complete with three levels. Interiors were elegantly finished with an expressive color palette of warm hues, oceanic blues, and a splatter of whites and grays that created a visceral juxtaposition to the muted earthy tones found along the River Nile. Furniture with a Gustavian-era feel filled the space, providing a modern 1930s impression. "The design is one of elegance, portraying a life of opulence floating down the waters of the Nile," says Clay.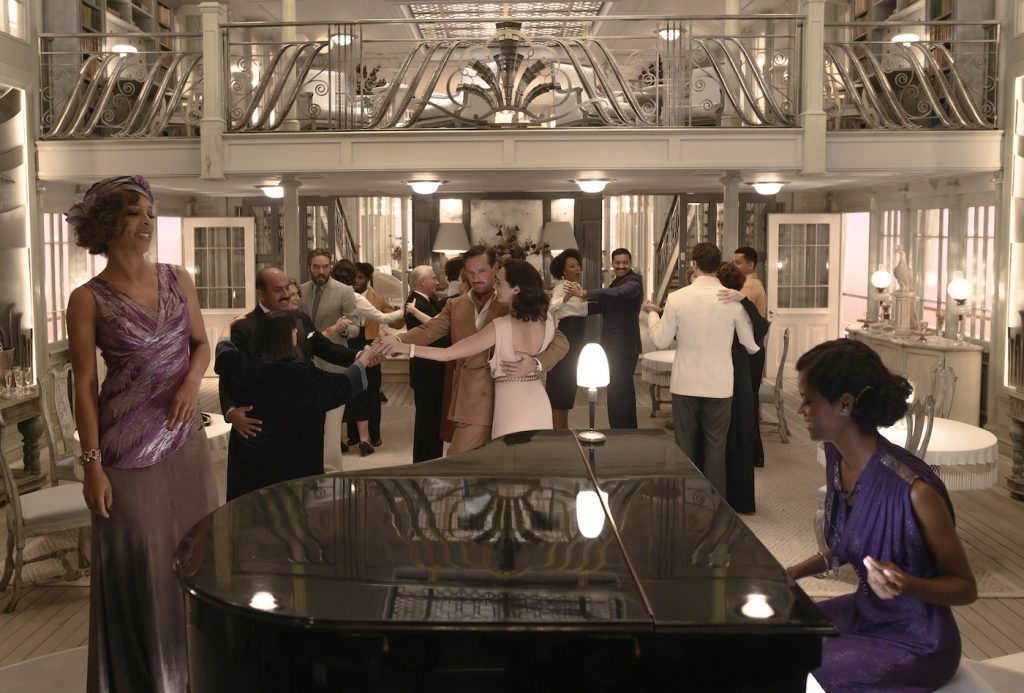 Besides its stunning aesthetics, functionality was part of the ship's design. "Ken is very keen on creating composite worlds so his camera can roam around wherever it wishes to go. That's the basis on which we design the work we do for him," notes Clay. This meant the design needed to allow Branagh to shoot 360-degrees. Clay also addressed the technical needs for cinematographer Haris Zambarloukos – who shot on 65mm film – and his team of elections by creating storage areas for generators and plug-in points for practical lights. 
The production designer also added small details to the steamer that subliminally spoke to the storytelling and duality of characters. In one scene where Hercule expresses who he believes the killer is, the camera glides through etched glass showing multiple images of the sleuth. "It's something we experimented with a little bit on Murder of the Orient Express," says Clay. "I used special glass panels in that film that was quite a success, so we decided to exploit that further on this one because it gave us broken images of the characters when we are not sure who they are, whether they were involved in the murder or who was guilty. That broken imagery helped to enhance and support that narrative."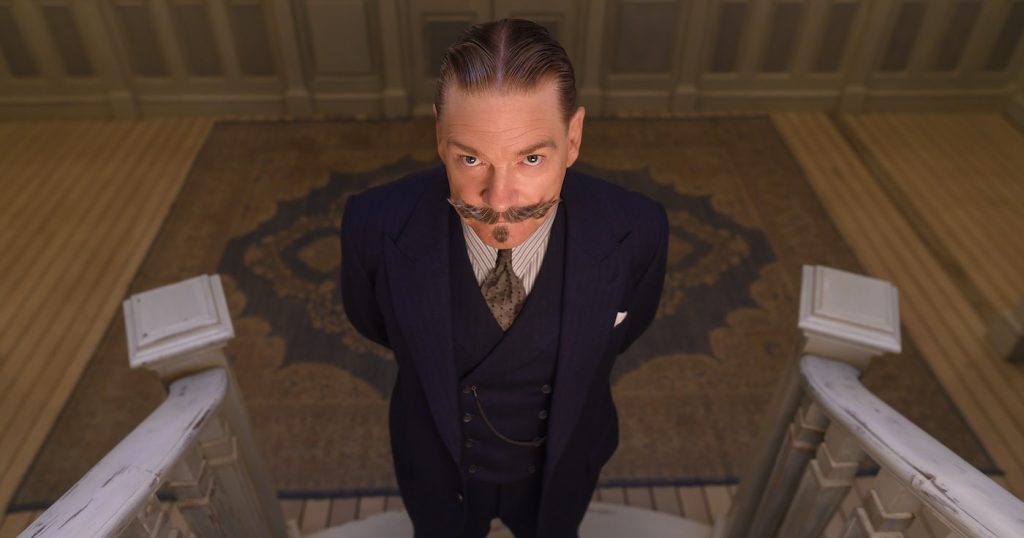 It wasn't all elegant boat steamers and painterly palettes for the production designer. The team recreated the temple of Abu Simbel which the characters visit on their way down the Nile. The temple depicts four enormous sculptures of Ramses the Great, the third pharaoh of the nineteenth dynasty of Egypt that can still be found in the ancient city of Aswan today. From location scouts, a number of measurements and photos were taken to create a digital scan where a replica was then constructed out of polystyrene and plaster which stood 70 feet high and 100 feet wide on the lot of Longcross Studios. "I think the only difference was that we made it from plaster rather than rock," notes Clay.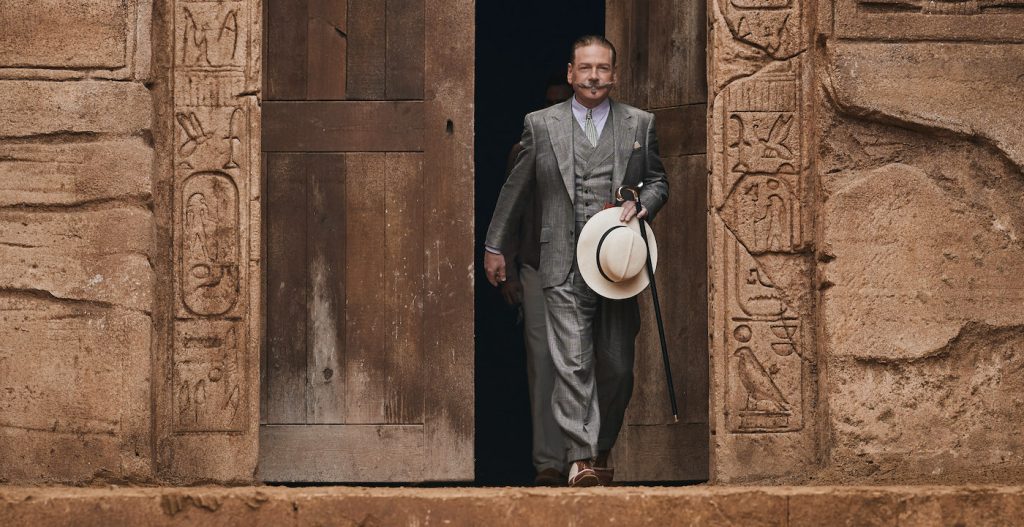 Unique to the build were the sculptors who created it over 16 weeks. "Ken is very keen to nurture new talent and create opportunities where we can. We had an amazing team of young sculptors who came out of art school and were immensely talented. I think for young art students, who would probably struggle to make a living as sculptors in this modern-day, and suddenly there they were doing this incredibly huge work was a great opportunity to mentor." 
Other stops along the journey included an Egyptian spice market and temple ruins which were constructed on the banks of Costwold Water Park outside of Swindon, England, with the Cleveland Lake doubling as the Nile River. Interiors of the glamorous Aswan Cataract Hotel were built on stage for an elaborate party scene. The historic Nubian Desert hotel is where Agatha Christie stayed while writing the Death on the Nile. Clay designed an extravagant reception area and a long corridor that leads up to a private dining room area that has a balcony overlooking the Nile. Connecting the stage sets to Egypt was overseen by visual effects supervisor George Murphy where his team filmed clean plates along the Nile to be composited into the blue screen portions of the set.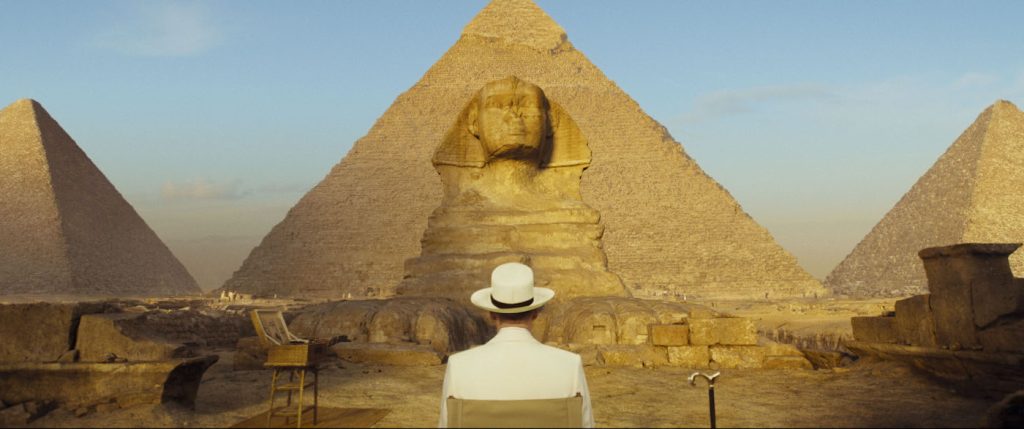 Clary says the success of the production design on this film, and the number of projects he's worked on in the past, is because of the attention to detail. "I'm totally dependent on my construction team, the plaster team, the painters. I can design anything on the page but they turn it into reality. Sometimes, I say to John, my construction manager, 'I feel as if I spent 30 years making walls look like walls.' Sometimes it comes down to that. If you're lucky to work with the same construction people for many years they know how you work and you know how they work and you can create some amazing stuff. You can take bigger risks and convince a director it's worth building a set as opposed to going on location. But in doing so, you have to deliver that reality." 
For more on Death on the Nile, check out these stories:
"Death on the Nile" Costume Designer Paco Delgado on Killer Cruise Wear
Featured image: Gal Gadot as Linnet Ridgeway and Emma Mackey as Jacqueline De Bellefort in 20th Century Studios' DEATH ON THE NILE, a mystery-thriller directed by Kenneth Branagh based on Agatha Christie's 1937 novel. Photo courtesy of 20th Century Studios. © 2020 Twentieth Century Fox Film Corporation. All Rights Reserved.