"Cyrano" Composer Aaron Dessner on Tuning Into Timeless Love
Director Joe Wright, known best for emotional period films like Atonement and Pride & Prejudice, has brought a new musical version of Cyrano to the screen, starring Peter Dinklage in the title role. Dinklage is receiving rave reviews for his part in the romantic classic, bringing a new depth to the brilliant wordsmith and swordsman who loves his best friend, the gorgeous Roxanne (Haley Bennett), from afar. The film is based on a theatrical version directed and written by Erica Schmidt, which she adapted from the 1897 Edmond Rostand play.
Relationships play an important role in both the story and the production of Cyrano. Screenwriter Schmidt is married to Peter Dinklage, and both he and Haley Bennett also starred in her play. Cyrano was first brought to Wright's attention when he attended a performance to see Bennett, his life partner, as Roxanne. The music is written by twins Bryce and Aaron Dessner, best known as founding members of the band The National. The song lyrics are written by The National frontman Matt Berninger and his wife Carin Besser. It is a labor of love in more ways than one. This epic musical takes place in the 1600s, a challenging undertaking in the best of circumstances, but Cyrano was filmed in the midst of a pandemic, on the Sicilian island of Noto, using a cast of hundreds of dancers, actors, and singers.
The Credits spoke to Aaron Dessner about how Cyrano benefitted from these emotional connections, the challenges of pandemic filmmaking on a grand scale, and his part in reinterpreting Schmidt's play for the big screen.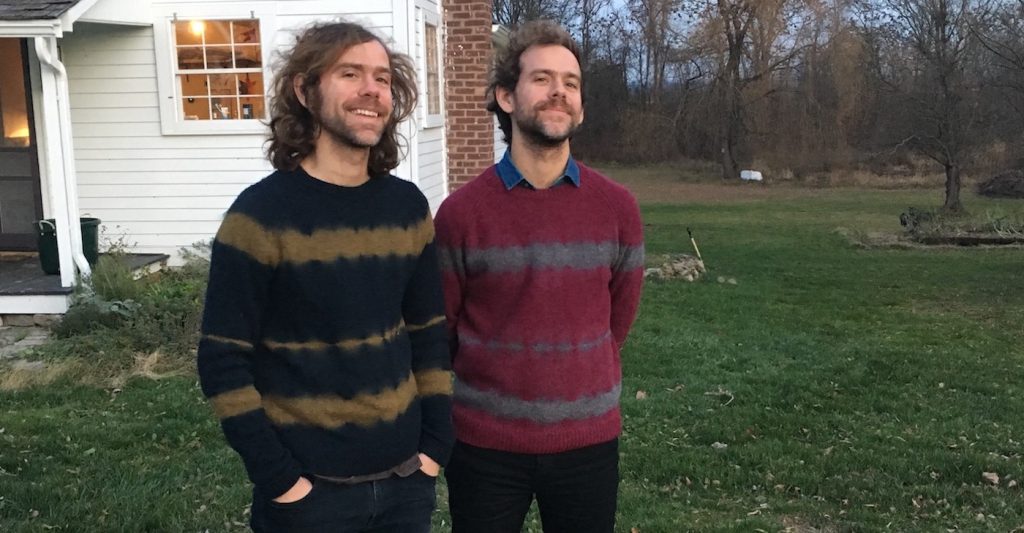 How did the project get started in the first place, in terms of you and your brother's roles in creating music for the play, and how was it reshaped for the film? 
We'd shared unfinished instrumental sketches with Erica Schmidt, because she wanted to make some sort of hybrid musical, creating a new version of the classic play with songs. This idea emerged to underscore the narrative with our music, so as the actors were reading the early script, she just pressed play on a playlist of music my brother and I made over the years. It was weirdly compelling, emotional music underneath this beautiful story. Then she rewrote songs with Matt and Carin for the theater version, but none of that original music from back then is in the film version. The score is entirely new, and most of the songs were at least altered. Erica and Joe worked on the screenplay a lot, and it evolved from the theatrical version. A number of the songs are either totally different or heavily adapted.
What are some of the ways in which the songs changed for the film, and what led to those choices?
For example, "When I Was Born," which is the song that Peter as Cyrano sings during the duel, is totally unrelated to the theatrical version musically. We changed the tempo and the stylistic world that it sits in, and the chorus that the audience sings didn't exist in the theatrical version. It wasn't in the New York version at all. It was all about trying to optimize the songs and make them more in the service of the way Joe was structuring the film. "Wherever I Fall" is another one, which is in the scene before the battle. It evolved from being one minute long to becoming this epic, nine-minute piece. It was really just re-envisioning things to suit the narrative arc of the movie, and how grand and cathartic it really is. Also "Every Letter," which is the trio song, was in the theatrical version, but it's radically different musically, and it was originally just sung by Roxanne.  It became a trio between the three of them, with new words.
How did you and your brother Bryce work together on this project? 
I was in upstate New York, and Bryce was in France, where he lives. We did a lot of work initially with Joe to rewrite the songs and focus them with Matt and Corin. We were remotely recording the pre-records of the music that they would use as the basis for singing on set. Bryce went to Noto for three weeks of rehearsals and was collaborating heavily with Joe on arrangements. My brother orchestrated the score, and I did more song production and vocal work, and then eventually we came together in France to finish the score, but we're so lucky to be used to working together remotely. In the band, because of the nature of how we work, we're used to this process of working in isolation, then sharing something over Dropbox or email.
The choice of instrumentation has a huge impact on the arc of the story. The music for the movie includes a diversity of styles, but it really holds together.
The instrumentation was something that it took a while to zero in on. We tried different things. Joe's very musical as a director. He encouraged us to be bolder at times than we might otherwise have been. We can be subtle and internal, but there are bolder gestures in some of this music than may have been our natural state, but that was really good to embrace. In the opening scene, we used celeste and harmonium. Later, with the military, there's a lot of drumming, and snare rolls, and there are quite a number of cues that have mixed meter, but it still feels very related to the sound world of the opening, but it's in a military context. In the cue that you hear in the convent towards the end, there's a really beautiful sequence with Cyrano, and its strings and piano. There's a range from small to big sounds because there's intimacy, but also grandeur and catharsis, and we had to figure out how to achieve that. Joe also wanted at times for there to be electric guitar. "What I Deserve" almost feels like Tom Waits song. It's rough and brash, and it feels the closest thing to rock and roll in the piece, but somehow very much belongs. We loved that diversity.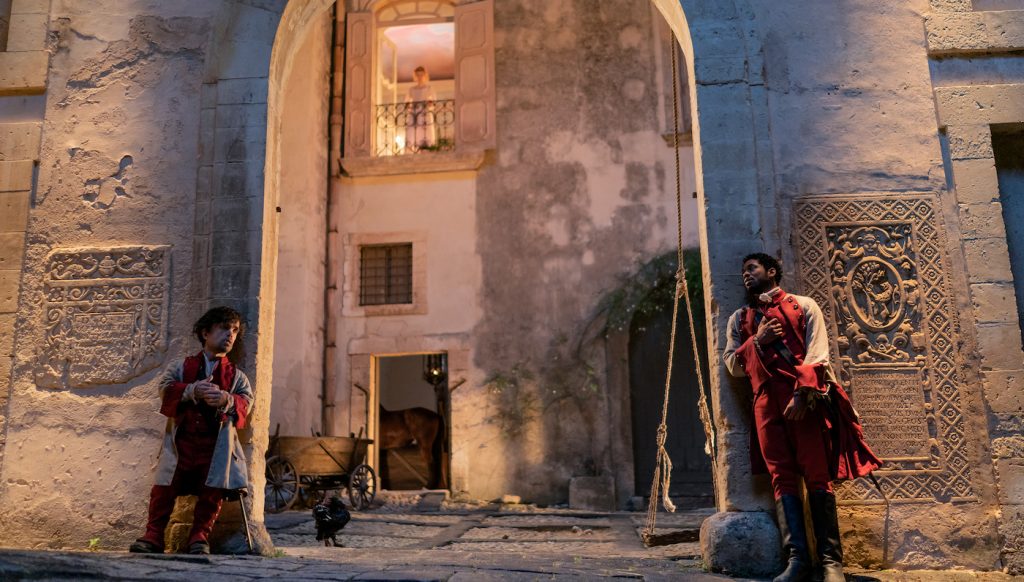 "Wherever I Fall" is exquisite. What an intense, emotional song, and as you say, it's 9 minutes long.
In Erica's adaptation of Cyrano, the war features more prominently. I think the reason it has such a role in the film is because of the strength of the song. Joe had the idea to film it on the battlefield. When we were thinking about who we wanted to sing that song, and we thought of Glen Hansard. We had known him a long time, and he's a great actor, singer, and songwriter, and it just felt like Glen would do it justice. When he jumped at the chance, we knew it could be really special. Then Sam Amidon, who is the second soldier who sings, is another of our favorite folk singers, and someone we've collaborated with a lot over the years. The third singer is Scott Folan. The three of them together all have very different voices and are meant to represent different ages, and the cruelty of war as experienced by different types of soldiers. They're saying goodbye to loved ones, knowing they'll probably die. The song is just this very powerful meditation of what it must be like to face death and loss. The idea that, wherever someone falls in battle, as they die they're thinking of those they love, is also in a way very hopeful and beautiful.
What was it like to have the dynamic of couples, partners, and, of course, brothers involved in the creative process? How did that impact the experience?
Erica Schmidt really created this Cyrano. None of this would exist without Erica. She really inspired us to write the songs, and then Peter brought life to it all as Cyrano. Haley played Roxanne in the onstage version, and that's when Joe saw it. They had fallen in love and were expecting their child, and Virginia was born not long after that. Our real-life relationships feel very deeply connected and interwoven with the creative process, and I don't see any reason for separation between your personal life and your creative life, because why not? It's just the life you're living in, so I love the fact that these three relationships were very much a part of this process. Then also my brother and I shared a room until we were 18 and remain so close, and work so closely together, and for us, we're able to do these projects because of an unspoken understanding. We often don't have to talk, we can just do. We get a lot done because we're able to embrace these emotional or creative challenges and see them through together. For Joe, I think he wanted to make something that was sincere, not cynical, just as you should be towards your partner. That was something very aspirational or hopeful about it, even though it's a tragic story.
Cyrano had an exclusive one-week theatrical release in Los Angeles starting December 17th and is scheduled for a US limited theatrical release on February 25, 2022.
For more on Cyrano, check out these stories:
"Cyrano" Costume Designer Massimo Cantini on a New Vision For a Timeless Tale
"Cyrano" Screenwriter Erica Schmidt on Adapting the Iconic Love Triangle for Film
Featured image: Haley Bennett stars as Roxanne and Peter Dinklage as Cyrano in Joe Wright's CYRANO. A Metro Goldwyn Mayer Pictures film. Photo credit: Peter Mountain. © 2021 Metro-Goldwyn-Mayer Pictures Inc. All Rights Reserved.