"Spider-Man: No Way Home" Almost Featured This Iconic Villain
When you think about the now history-making Spider-Man: No Way Home, one thing you'd probably never say is, "that movie needed more villains." No Way Home already provided a slew of legendary adversaries once Peter Parker (Tom Holland, obviously) messed with Doctor Strange (Benedict Cumberbatch) in the middle of a spell. Yet concept art from one of the film's designers reveals that a sixth villain was considered at some point.
Before we get to that potential sixth villain, let's recap why we had five to begin with. Doctor Strange was trying to do Peter a solid and erase the memories of everyone who "knew" that Spider-Man had not only dispatched Quentin Beck/Mysterio (Jake Gyllenhaal) at the end of Far From Home but that Peter Parker was Spider-Man. But Peter just couldn't let Doctor Strange cast the spell, he kept asking for modifications up to the last second and, well, you know the rest. Strange accidentally unleashed a multiverse of villains on New York—Doc Ock (Alfred Molina), Electro (Jamie Foxx), the Green Goblin (Willem Dafoe), Sandman (Thomas Haden Church), and the Lizard (Rhys Ifans). We know it took our Spider-Man and two more Spider-Men—the versions played by Tobey Maguire and Andrew Garfield—to help deal with this five-pack of mayhem. Yet there was another supervillain who was going to potentially show up—Mysterio himself.
Had Jake Gyllenhaal's Mysterio appeared, it would have been the long-awaited cinematic arrival of the Sinister Six. Mysterio's return, despite having died at the end of Far From Home, would have likely been possible because of the very same multiverse loophole that loosed the other five on our current Peter Parker's New York. We know that Mysterio was at least a consideration because of concept art by digital artist and set designer Andrew Reeder, who worked on No Way Home as well MCU films like Avengers: Infinity War, Guardians of the Galaxy Vol. 2, and Captain America: Civil War. In Reeder's No Way Home section, along with a bunch of cool, moody images of Peter Parker's New York, there's this awesome picture of Mysterio battling Doctor Strange above the Statue of Liberty (h/t /film):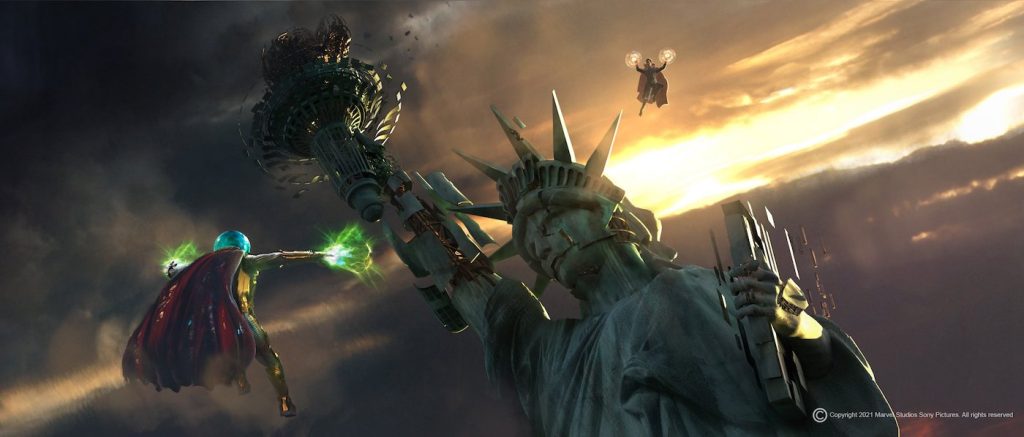 Alas, Mysterio never appeared in No Way Home and therefore the Sinister Six remains an untapped villainous force, for now. Besides, Mysterio is the reason the events in No Way Home happened as they did, so he was there in spirit.
For more on Spider-Man: No Way Home, check out these stories:
How Andrew Garfield Kept His "Spider-Man: No Way Home" Secret Mostly Hidden
"Spider-Man: No Way Home" Co-Writers Talk Villains, Peter Parker & Changing the Script
"Spider-Man: No Way Home" & The Character Sharing Deal That Lets Spidey Swing From Sony to Marvel
"Spider-Man: No Way Home" Review Round-Up: Most Thrilling Marvel Film Since "Avengers: Endgame"
New "Spider-Man: No Way Home" Footage Gives Glimpse of Green Goblin's New Suit
Featured image: Tom Holland is Spider-Man in "Spider-Man: No Way Home." Courtesy Sony Pictures.