"Shang-Chi and the Legend of the Ten Rings" Stunt Coordinator Andy Cheng on That Epic Bus Fight
Along with the rise of visual effects, old-school practical effects, the actual exploits of human beings creating incredible spectacles in real-time and real space, have also become near to magic. From Bruce Lee to Simu Liu, star of Marvel's Shang-Chi and the Legend of the Ten Rings, and every Matt Damon, Scarlett Johansson, Tom Cruise, and Daniel Craig in between, fight sequences, car chases, and action scenes of truly epic proportions have become high art. Whether it's James Bond conjuring a makeshift bungee cord and leaping off a bridge in No Time To Die, Natasha Romanoff fighting off a dozen assassins at the start of Black Widow, or Shang-Chi facing down three goons and one spectacularly colossal henchman called Razor Fist (played by real-life colossus Florian Munteanu) on a runaway bus, we now expect our action sequences to look and feel real while suspending our disbelief at what a human being, even one as skilled as Shang-Chi, is capable of.
As talented as someone as Simu Liu is, we know it takes a village to create a fight sequence that will sate our appetite for the over-the-top, incredibly realistic (if entirely impossible) fight sequence these days. Enter fight coordinator Andy Cheng, who helped conceive of and create one of Shang-Chi's most breathless sequences, the early scene in which Shang-Chi reveals his skills to best friend Katy (Awkwafina) while taking on those aforementioned bad dudes on a bus climbing and descending the hills of San Francisco.
"We started on this sequence on day one," Cheng says, about crafting the moment that properly introduces Marvel's first Asian superhero into the MCU with a thrilling display of multiple martial arts. Cheng's little brother, second unit director Brad Allan, who tragically passed away recently, was the one who brought Cheng into the fold. Cheng's mission was to introduce Shang-Chi's immense skill set in a very compressed space. Adding to the degree of difficulty was the fact that the space was moving, and there would be around a dozen non-combatants in the frame. "This sequence was right there in the script from the very beginning," Cheng continues, "you've got this bad guy who comes to try and take Shang-Chi's pendant. I remember from the very beginning, we don't really have any guide on how to do this, so I came up with some ideas."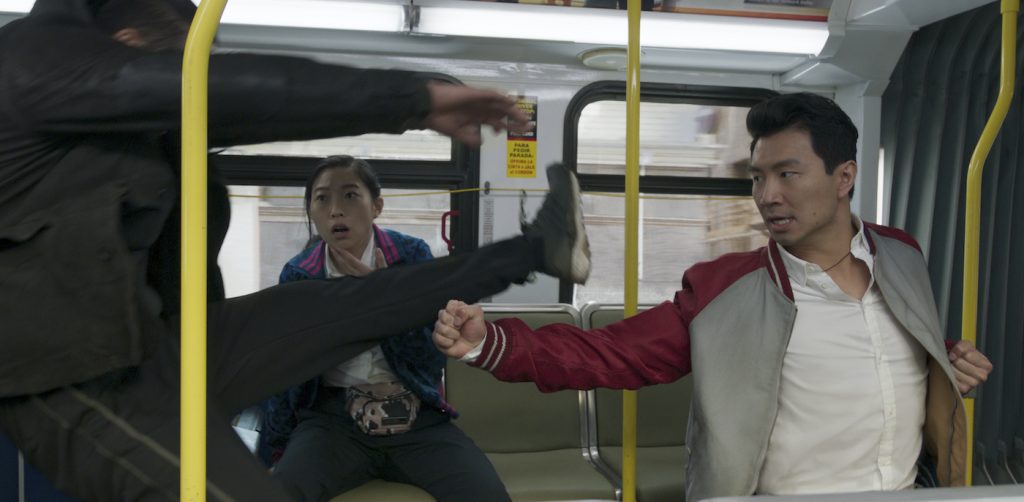 Those ideas included the moment Shang-Chi's problems go from bad to bonkers. The first three goons who approach Shang-Chi can certainly kick some butt, but our hero has been trained since he was a child by his father Wenwu (Tony Leung) to be a peerless fighter. After mixing it up, and momentarily besting, the three goons, Shang-Chi's real challenge steps forward.
Enter Razor Fist. Played by the German-Romanian actor and former heavyweight boxer Florian Munteanu, who stands at 6'4″ and 245lbs of pure muscle, Razor Fist would be an issue even without his titular razored appendage. As he and Shang-Chi fight, Razor Fist ends up cutting the careening bus in half. "We storyboarded out how to cut the bus in half, how Shang-Chi jumps outside of the bus, scrambles up to the top, and comes back through the front door. We had many, many versions of this scene, maybe 20 versions," Cheng says.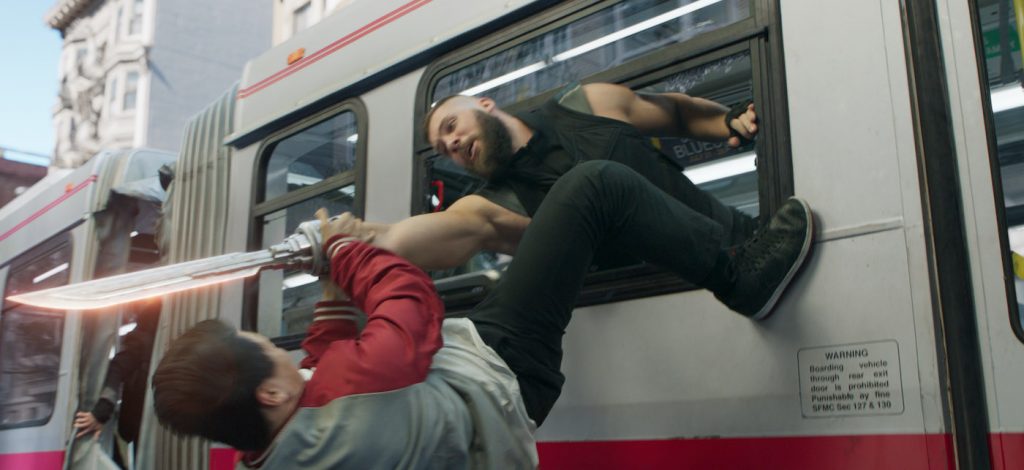 Cheng worked through the various elements of the fight, piecing them together and getting feedback from his brother Brad and director Destin Daniel Cretton. He also kept upping the stakes. Not only does Razor Fist cut the bus in half, but the brakes get cut in the process. And the bus driver gets knocked out. And Shang-Chi has to protect not only his best friend Katy but the other passengers as well.
To create the effect of a battle inside a split bus careening down the hills of San Francisco, Cheng and his team utilized two gimbals for the two sections of the bus. "We have one gimbal that's for the little movements and normal driving, just shaking the bus," he says. "Then we have a higher gimbal, maybe 15-feet high, and everyone has to be wired for that. We have to soft pad all the corners, and that gimbal can turn the bus 45-degrees so our characters can fall out of the window. It's almost like a roller coaster. During the rehearsal, we spent a week testing the low gimbal and high gimbal, testing the speed and rotation, so everyone could get used to being inside the bus and feeling comfortable."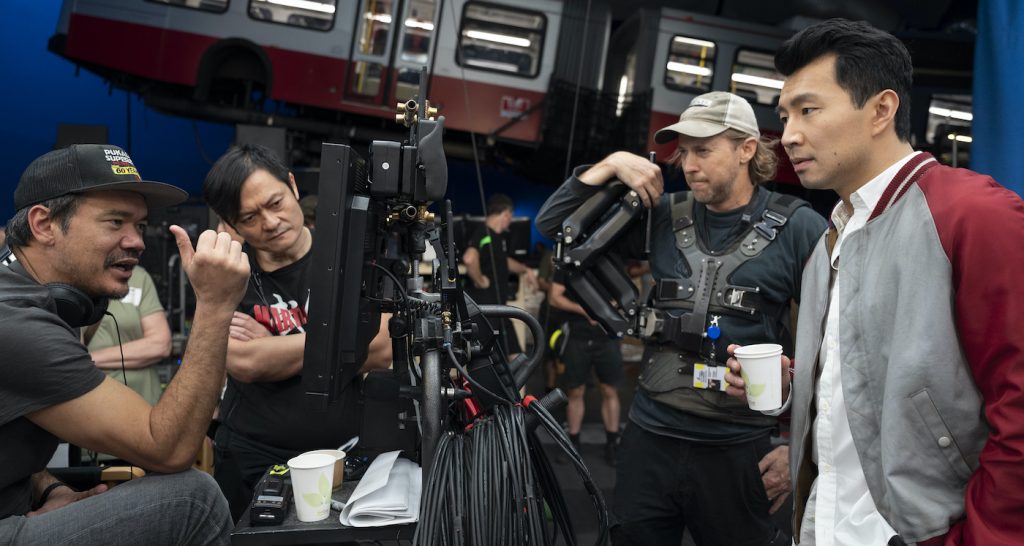 The fight between Shang-Chi and Razor Fist is not only a thrilling example of the seamless blend of practical and visual effects, but it's also a symphony of competing styles. Shang-Chi is a martial arts polymath, having mastered multiple disciplines. Razor Fist is a colossus of power and speed. Threaded into their balletic brutality is a bit of parkour, as Shang-Chi proves capable of scampering in, around, and over the bus, both inside and out. A lot of the fighting was done by the actors themselves.
"Simu can do everything," Cheng says. "He's doing the big stunts, doing the parkour, the shot on the rooftop, and coming back through, so I'd say 80-90 percent is Simu. We have stunt doubles, but Simu can do it all. He's a very talented guy."
And for the big guy?
"For Razor Fist, it's 100% Florian Munteanu, we have no stunt double for him, he's too big!" Cheng says. "So he does every single thing. It's very hard to find a stunt double his size who can move like him. He's a very talented actor and a tough guy. He'd hit his forehead because his head almost touches the ceiling of the bus.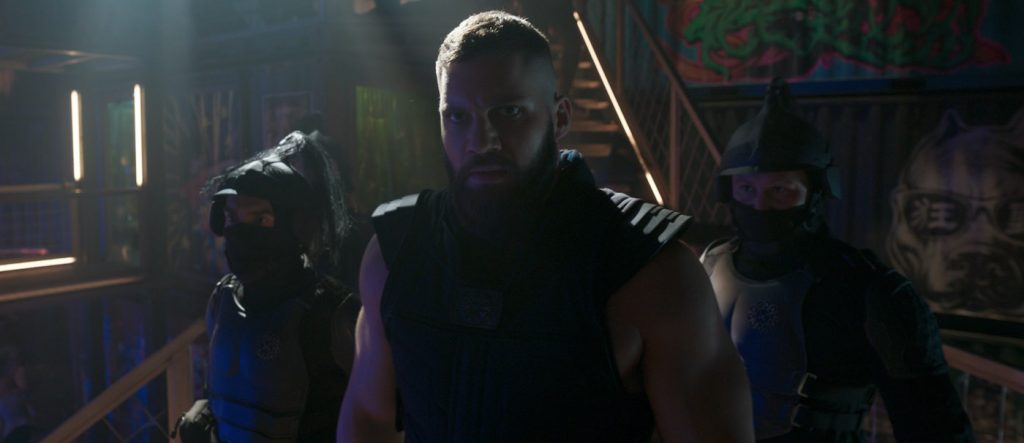 As for Razor Fist's signature weapon, in reality, Munteanu was wearing a green motion capture glove that, for a time, had a floppy plastic blade so that Liu could act against where the digitized blade would be added. Eventually, though, Cheng says, the floppy plastic razor became a nuisance, so they did away with it.
Shang-Chi's fighting style, meanwhile, was the culmination of a lot of thought and training. Cheng says that what they didn't want to do was make another Jackie Chan, whose legendary abilities and charisma on screen included his characteristic use of whatever was at hand as a weapon or a stalling tactic. "We know it's very hard to avoid that comparison when Shang-Chi is dodging punches and using objects because you right away think of Jackie Chan, he's such a legend," Cheng says.
If Cheng was shading Shang-Chi's skills towards any former icon, it was Bruce Lee. Shang-Chi was first introduced in Marvel comics only a few months after Lee's death, and Marvel artist Paul Gulacy has said the character was modeled after Bruce Lee. "I pitched in the very beginning that of all the Marvel superheroes, no character is really based on kicking, so we wanted more kicking, but he's also a master of Kung Fu, which he got from his father, and he's a master of Tai Chi from his mother, and those combine to create a Shang-Chi style."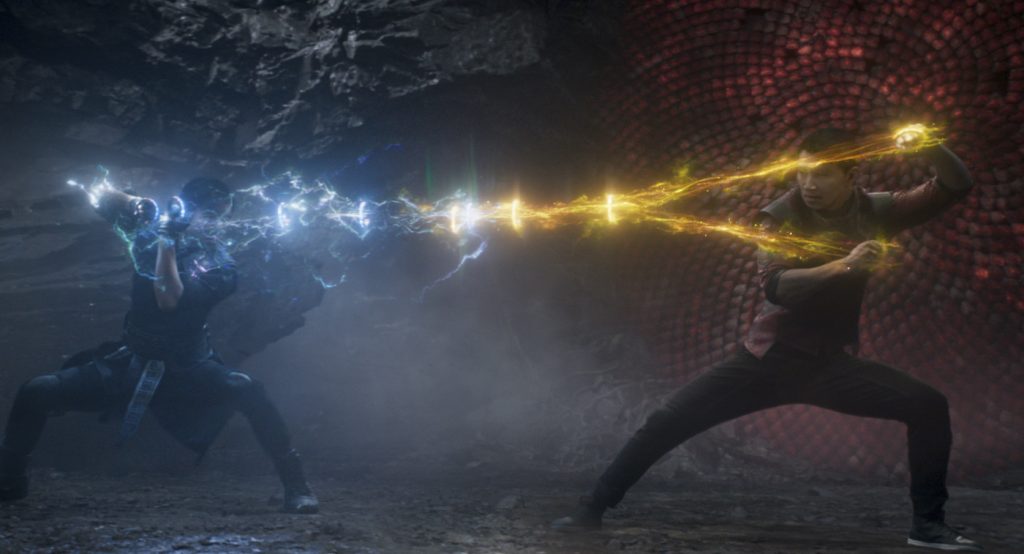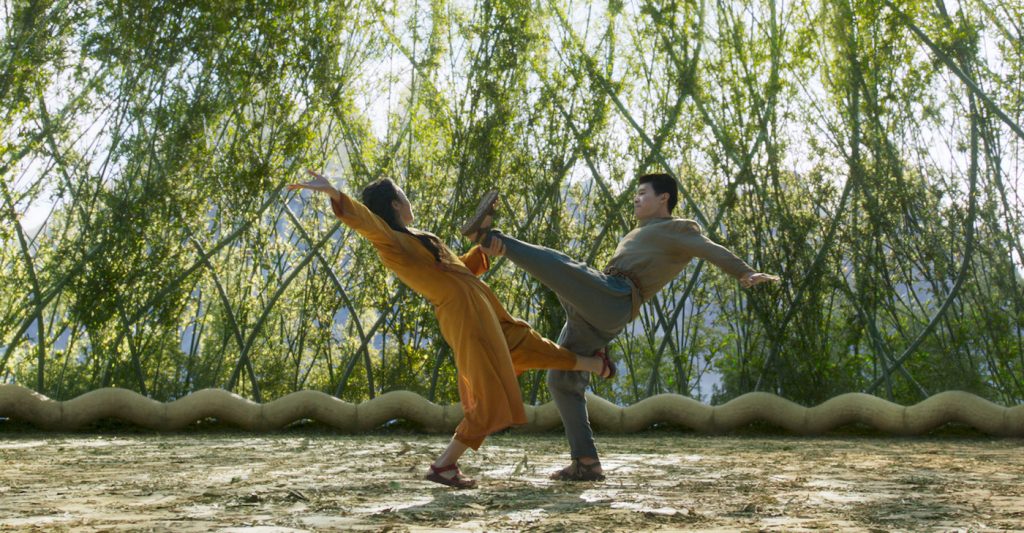 And what exactly is the Shang-Chi style?
"It's everything," Cheng says. "He can use weapons, he can do Kung Fu, Tai Chi, and by the end, he has the ten rings superhero power. We wanted to give him his own style."
Shang-Chi and the Legend of the Ten Rings is available on Disney+ and Digital 4k, and Blu-ray and DVD on November 30.
For more on Shang-Chi and the Legend of the Ten Rings, check out these stories:
Why The Action in "Shang-Chi and the Legend of the Ten Rings" is So Epic
New "Shang-Chi and the Legend of the Ten Rings" Video Teases a Power Stronger Than the Avengers—Combined
"Shang-Chi and The Legend of The Ten Rings" Reveals New Track From Swae Lee
First "Shang-Chi and the Legend of the Ten Rings" Social Reactions Are Raves
Featured image: (L-R): Shang-Chi (Simu Liu) and Razor Fist (Florian Munteanu) in Marvel Studios' SHANG-CHI AND THE LEGEND OF THE TEN RINGS. Photo courtesy of Marvel Studios. ©Marvel Studios 2021. All Rights Reserved.