"Belfast" Editor Úna Ní Dhonghaíle on Cutting Kenneth Branagh's Deeply Personal Film
Úna Ní Dhonghaíle, the Dublin-based editor for Kenneth Branagh's Belfast, which Focus Features released November 12, had just attended the film's premiere in the Northern Ireland capital the day before speaking with The Credits.
"In London, people laughed more. The Belfast audience laughed too, but it wasn't as loud," she says. "After the screening, I spoke with a man who said he enjoyed it but it was very emotional because he was also crying."
Ní Dhonghaíle understood the feeling. She says that from the moment she read Branagh's "beautiful, magical, poetic, lyrical" script, she knew that people would be touched by his autobiographical story about growing up in working-class Belfast surrounded by family and what it means to leave home.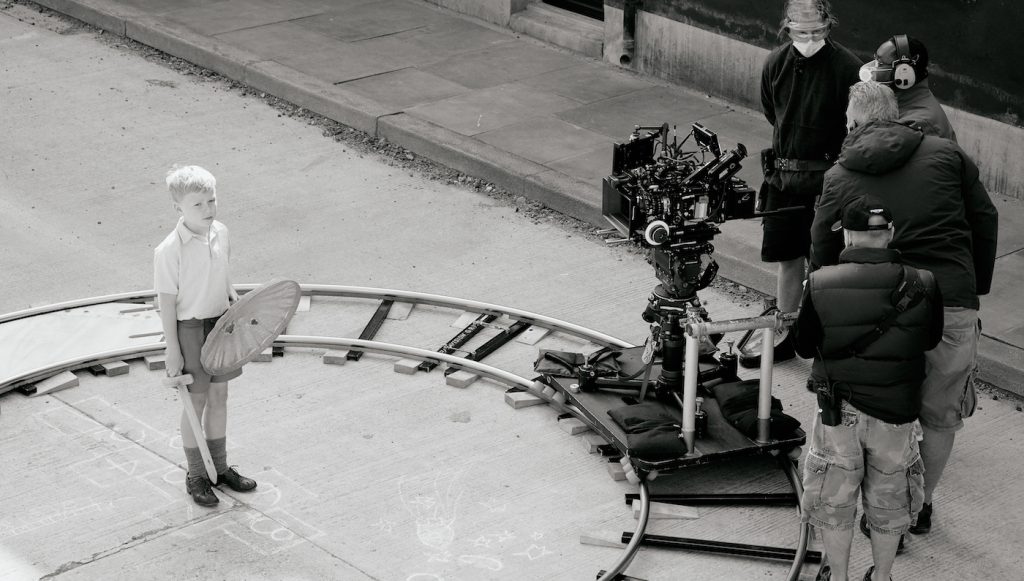 "It is a universal story. My dad is from Northern Ireland — Ken's family is Protestant working class and mine is Catholic working class," says Ní Dhonghaíle. "My dad left Northern Ireland in 1960 before this story but there were still such social injustices then; no housing and poor jobs and no voting rights if you were Catholic. When I was growing up, my dad always spoke about the great friendships that existed between Protestants and Catholics. Not many films show that. They focus on the 'Troubles' and not the humanity. So as soon as I read Ken's script I thought, this is a film that I would be privileged to make because I am singing from the same hymn sheet."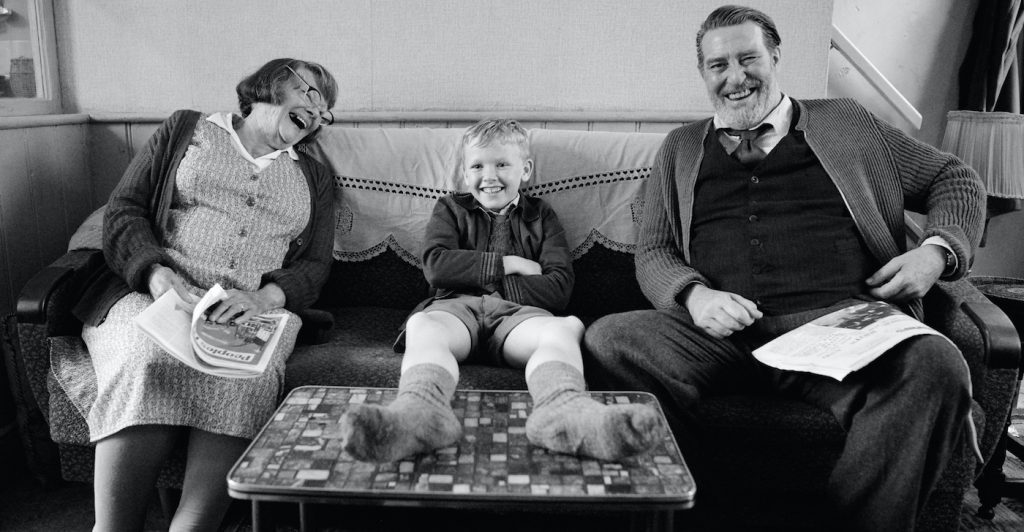 Branagh's coming of age story is set in 1969 Belfast as sectarian violence erupts on the streets of his neighborhood. Shot in black and white, there are bursts of color whenever the ebullient, nine-year-old boy called Buddy (Jude Hill) attends the cinema and delights in watching movies such as  Chitty Chitty Bang Bang and One Million Years B.C.
Belfast is widely considered an Oscar frontrunner not just for Branagh's script and direction but also for its ensemble cast: Jamie Dornan and Caitriona Balfe as Buddy's parents and Judi Dench and Ciaran Hinds as his grandparents. The most personal of the 19 features Branagh has directed, he wrote the script quickly while in quarantine due to COVID starting in March 2020.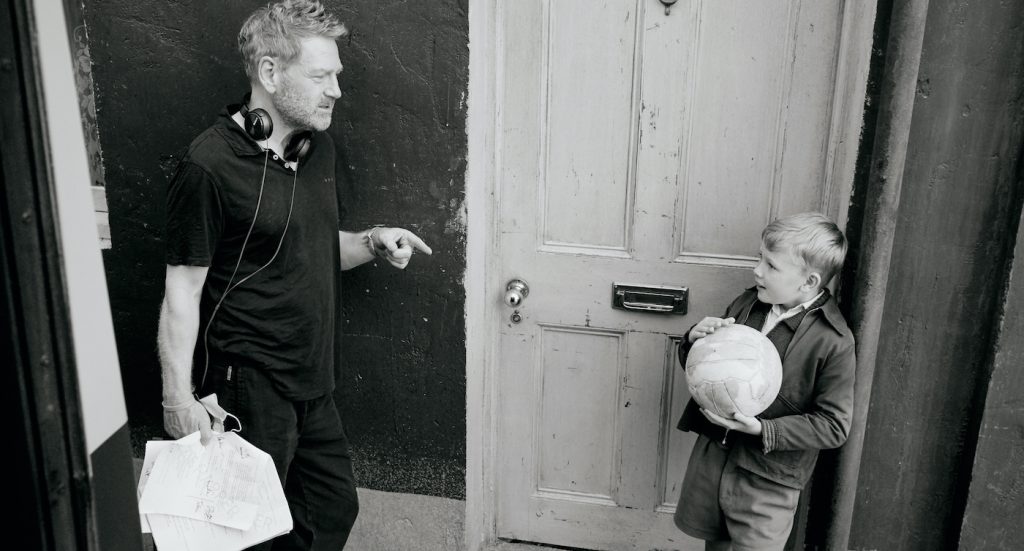 "In just a few months of lockdown, he wrote that script. Can you imagine?" says Ní Dhonghaíle. "It had fifty years of gestation but he wrote it in a short time and it was magnificent."
Ní Dhonghaíle, whose editing credits include Netflix's The Crown and Branagh's 2018 film  All Is True about the final years of William Shakespeare's life, was finishing her editing of Branagh's Death on the Nile, to be released in 2022, when shooting began on Belfast just outside London. The shorthand she shares with Branagh was a major asset since, due to COVID, Ní Dhonghaíle stayed in Dublin while Branagh remained in London.
"We worked by email and telephone," says Ní Dhonghaíle. "The fact that we worked together prior to lockdown helped, obviously. Ken knew what he wanted; he knew his story and it made him generous in inviting me to collaborate. If I had an idea, he'd say, 'audition that idea.' We left no stone unturned. If I suggested something that felt truthful to him, he was able to go with it. [The collaboration] was wonderful but it all starts with the script."
Working remotely, Ní Dhonghaíle would edit three different versions of a scene from the daily footage. "Ken's energy knows no bounds. He'd get home at 8 pm after shooting all day and watch all three versions. He welcomed it," she says.
"The challenge was that so many scenes had a tableau feel to them," says Ní Dhonghaíle. "The first cut was two hours and 20 minutes with more magic realism. My strength is finding the humanity, the truthfulness in the performances, and preserving it. Because I studied cinematography too, I have an appreciation for the mise-en-scène so I find the shot where the mise-en-scène works strongly — but not so strong that it outstays its welcome. By moving scenes with Ken, we interrogated the storytelling." For example, she cites the moment when Buddy's dad must leave home again and return to his job in London. "That scene was supposed to occur earlier," says Ní Dhonghaíle, "but by moving it later, after the child says he does not want to leave Belfast, that gave a visceral, emotional feel to it. It was no longer expositional; it was more heartbreaking."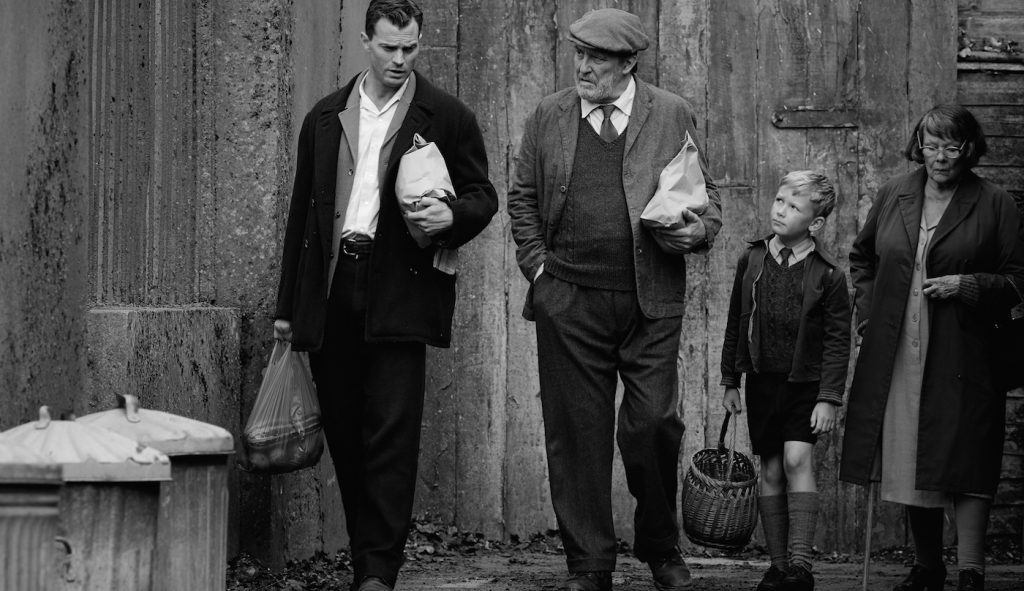 That scene was one of many that resonated personally for Ní Dhonghaíle and that gives Belfast a universality that seems to connect deeply with audiences. "I have two children and I commute to London so very often I leave at four in the morning. I could empathize as an economic migrant trying to make the best life for your family. That tension exists for so many around the world. I knew it would resonate with a family escaping Syria or anywhere in the world where there is trouble or strife and you must leave your home with just the suitcase you can carry," she says.
"That spoke to me from the moment I read Ken's script. It was our passion project. We wanted to do justice for Ken and his family and we also wanted to tell the best story we could. But seeing how much it resonates with audiences — you can't expect that. It is humbling and heartwarming. I am just so happy for Ken."
Featured image: (L to R) Caitriona Balfe as "Ma", Jamie Dornan as "Pa", Judi Dench as "Granny", Jude Hill as "Buddy", and Lewis McAskie as "Will" in director Kenneth Branagh's BELFAST, a Focus Features release. Credit: Rob Youngson / Focus Features