First "Scream" Trailer Unleashes a Brand New Ghostface
Paramount Pictures has released the first trailer for Scream, the fifth installment in their slasher franchise dreamed up by the late, great Wes Craven and original Scream screenwriter Kevin Williamson. The trailer reveals that the fifth Scream will arrive in theaters on January 14, 2022, and that it's channeling the vibes from the 1996 original that started it all. All it takes is hearing Roger L. Jackson voicing Ghostface again to bring you right back to the bloody mayhem.
This latest Scream brings back the franchise's stalwarts—Sidney Prescott (Neve Campbell), Dewey Riley (David Arquette), and Gale Weathers (Courtney Cox) are all summoned back into the fold as a new Ghostface has begun terrorizing Westboro. The film is directed by the Ready or Not  helmers Matt Bettinelli-Olpin and Tyler Gillet, from a script written by James Vanderbilt and Guy Busick. Original Scream scribe Kevin Williamson is on hand as a producer.
There are plenty of new faces here, which of course means a lot of these folks will end up as victims. The newcomers include Melissa Barrera, Jenna Ortega, Jack Quaid, Dylan Minnette, Jasmin Savoy Brown, Sonia Ben Ammar, Mikey Madison, Mason Gooding, and Kyle Gallner. They'll all learn soon enough that whoever is wearing the Ghostface mask is targetting people connected to the original murders. Sidney, Dewey, and Gale will do their level best to school the kids on the rules of the game, but not everyone will survive.
Check out the trailer below and the new poster below. Scream comes slashing into theaters on January 14, 2022.
Here's the official synopsis:
Twenty-five years after a streak of brutal murders shocked the quiet town of Woodsboro, a new killer has donned the Ghostface mask and begins targeting a group of teenagers to resurrect secrets from the town's deadly past. Neve Campbell ("Sidney Prescott"), Courteney Cox ("Gale Weathers") and David Arquette ("Dewey Riley") return to their iconic roles in Scream alongside Melissa Barrera, Kyle Gallner, Mason Gooding, Mikey Madison, Dylan Minnette, Jenna Ortega, Jack Quaid, Marley Shelton, Jasmin Savoy Brown, and Sonia Ammar.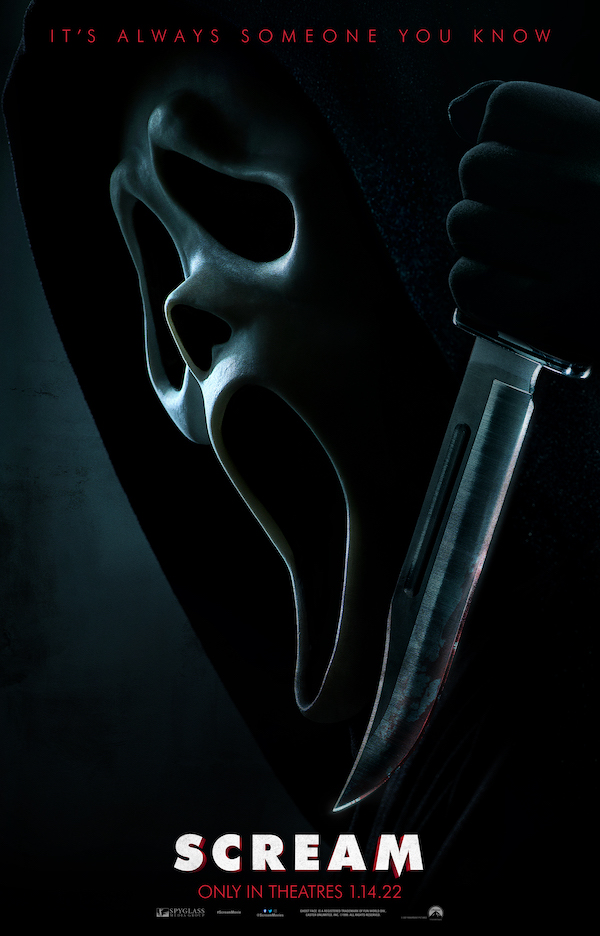 For more films coming out from Paramount, check out these stories:
Writer/Directors Aron Gaudet & Gita Pullapilly on Their Couponing Caper "Queenpins"
Celebrate Friday the 13th With Every Kill in the Legendary Horror Franchise
"Mission: Impossible – 7" Team Celebrate First Assistant Director Mary Boulding
"South Park" Creators Trey Parker & Matt's Epic New Deal Includes 14 Movies for Paramount+
Featured image: Key art for "Scream." Courtesy Paramount Pictures.