"Untold: Breaking Point" Creators Examine Tennis Star Mardy Fish's Battle With Severe Anxiety
Mardy Fish knows that he and others benefit when he tells his life story. Still, he's not quite ready to watch someone else tell it for him.
Breaking Point — the latest installment in Netflix's sports documentary series Untold, which will be released September 7 — recounts Fish's descent from his perch as the No. 1 American tennis player in 2011 into a years-long battle with severe anxiety disorder. He hasn't yet watched it.
"I'm going to watch it. I just haven't come to grips with it yet," Fish says, adding "I've spent years and years trying to get out of that place."
The Untold series is Chapman and Maclain Way's unexpected follow-up to their hit 2018 Netflix documentary series Wild, Wild Country. The brothers executive produced Untold and directed two of its five episodes. Breaking Point, in particular, displays the brothers' knack for tapping into a cultural moment.
The Big Sports Story of summer 2021 that no one saw coming has been the withdrawals of tennis superstar Naomi Osaka and legendary American gymnast Simone Biles from their respective sports' biggest competitions due to mental health issues (the French Open and Wimbledon for Osaka; the all-around gymnastics event at the 2020 Tokyo Olympics for Biles).
Breaking Point tells a strikingly similar story about Fish, albeit one that took place nearly a decade ago, that especially echoes Osaka's struggles. Osaka's anxiety about facing the media while in a brief slump triggered her eventual revelation of her depression. As recounted in Breaking Point, Fish's first mental health crisis, a panic attack, is triggered by a TV tennis commentator who calls one of his losses "horrendous." Later that year, another panic attack forces Fish to pull out last-minute from a much-anticipated primetime night match against Roger Federer at the 2012 U.S. Open. Fish fell into a crippling depression and was later diagnosed with severe anxiety disorder.
"You never make these docs thinking that they're really gonna be timely. You hope that they are, and you hope that they resonate with people. I think that Mardy's story adds a lot of credence to what [Osaka and Biles] are coming on the record and talking about," says Chapman Way. "It seems like it's become a cultural battleground right now. Do we believe these athletes or not? Are they prima donnas? Are they being divas? I hope that Mardy's story can speak to a lot of people who might not understand the issue that well. Hopefully, it will help people have a better understanding of what these athletes are going through."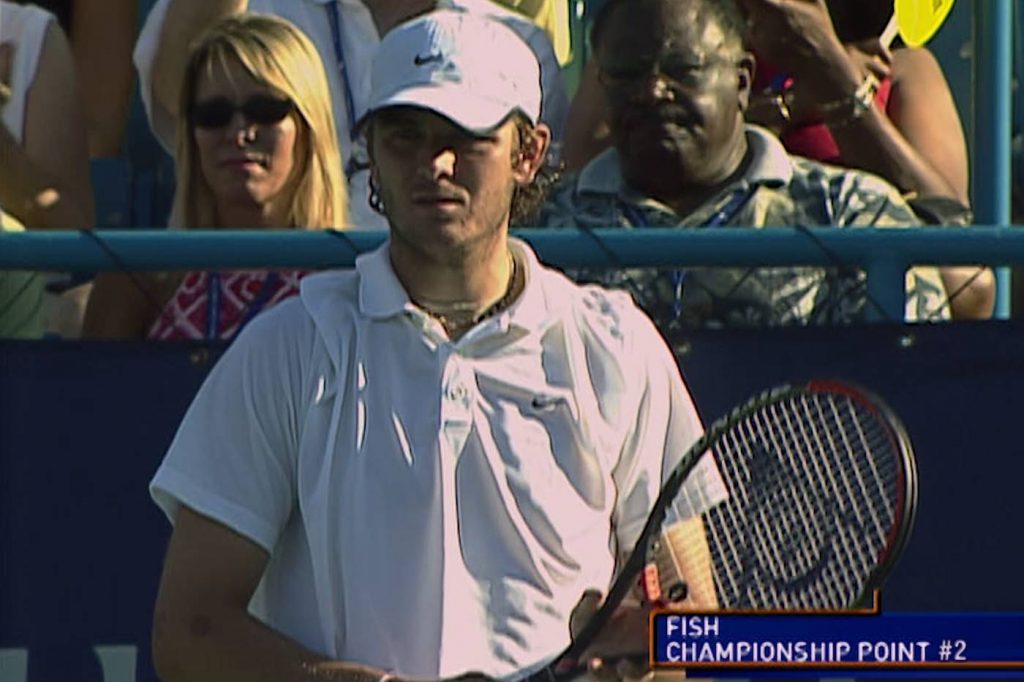 Aided by his family and mental health professionals, by 2015, Fish had healed enough to play in the U.S. Open. Although he only won one match, it was a triumphant symbolic victory, made all the more so by the fact that, at the same time, he went public with his story.
"He just kind of disappeared from the world, and no one heard about him for three years and what he was doing. [Then] in 2015, he was kind of one of the first professional athletes to go on record, while still being a professional athlete, about battling these mental health issues. I thought it would make for a fantastic story," Chapman says. He jokes that they "got brought a lot of cult stories" after Wild, Wild Country. Breaking Point is in fact the project that the Way Brothers pitched to Netflix that led to the Untold.
The Way Brothers didn't simply recognize a compelling story that could help people – through a quirk of circumstances, they have a deep and lifelong personal connection to American tennis.
The fraternal filmmaking duo grew up in Thousand Oaks, California, and one of their close friends from middle school and high school is American tennis player Sam Querrey. As Querrey climbed into the upper echelons of the sport (as recently as 2019, Querrey reached the Wimbledon quarterfinals), the Brothers became intimately familiar with the world of professional tennis and the intense pressures that tennis players face in an individual sport where no (open) on-court coaching is allowed. Through Querrey, they became friendly with Fish.
In 2018, with Wild, Wild Country wrapped up, the brothers reached out to Fish. The trio began to meet weekly for lunch, and Mardy shared not just the events surrounding his 2012 withdrawal, but his life story and how it led up to that moment.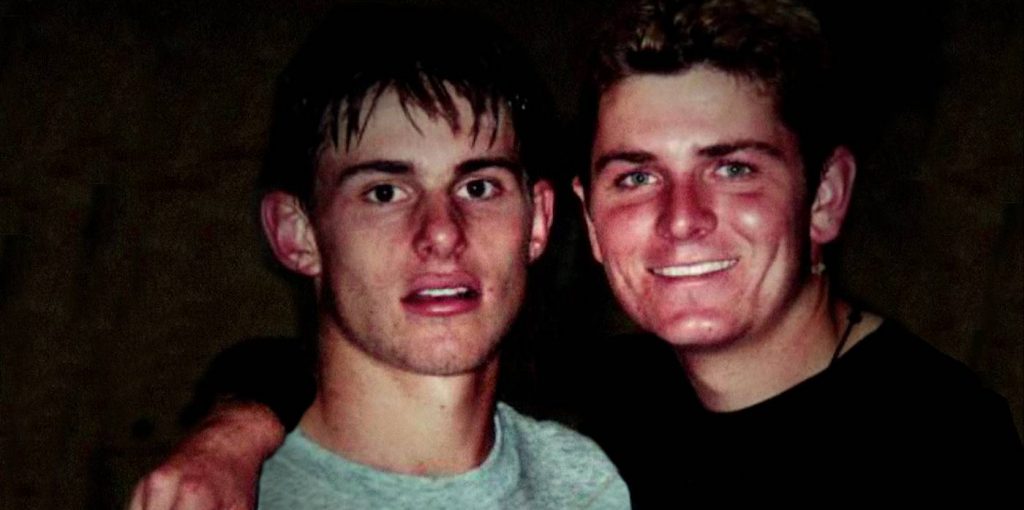 When he began having panic attacks, Fish had no experience with mental health issues, and, like so many professional athletes, had been trained since childhood not to show mental "weakness" and to tough out both physical and mental pain. Throughout Breaking Point, the Way Brothers use a video on mental toughness that used to be shown at tennis academies. It hauntingly advised there was "no way out" on court.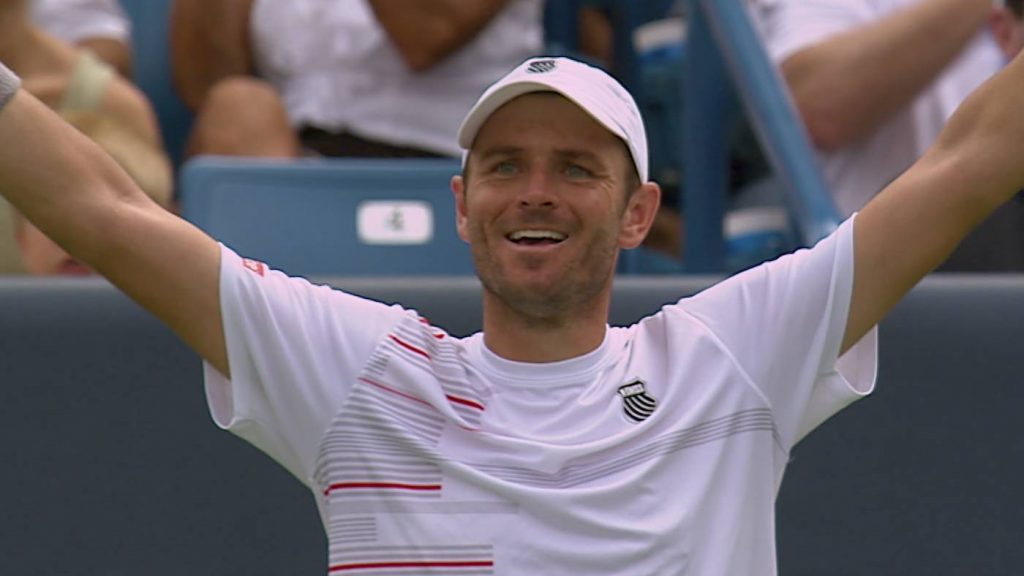 "[Fish] is very raw. He is not embarrassed or ashamed or humiliated to open up the curtains and be like, This is what I battled with and here's how I got through it." Chapman says. "As a documentary filmmaker, when you have a subject like that, that was when we got really excited to say, This definitely should be documentary."
Fish was as drawn to the brothers as they were to him. "I knew they had a history of understanding tennis, they had been around the game. We talked about their issues with mental health or people around them. They knew my story extremely well and what I was going through," Fish says. "One of the only reasons that I wanted to do something like this would have been with them."
The biggest reason Fish chooses to share his mental health challenges, of course, is to help others: other elite athletes, sports fans, the general public
"I'm a huge sports fan. I didn't have an athlete to fall back on and go okay, that's a person who really struggled with mental health – whether it was panic attacks, depression, anxiety – and it took them away from their job for a minute, but they were able to get back and compete at a high level. My goal is to give someone a success story – if it's one person, phenomenal. If it's a thousand people even better – to lean on."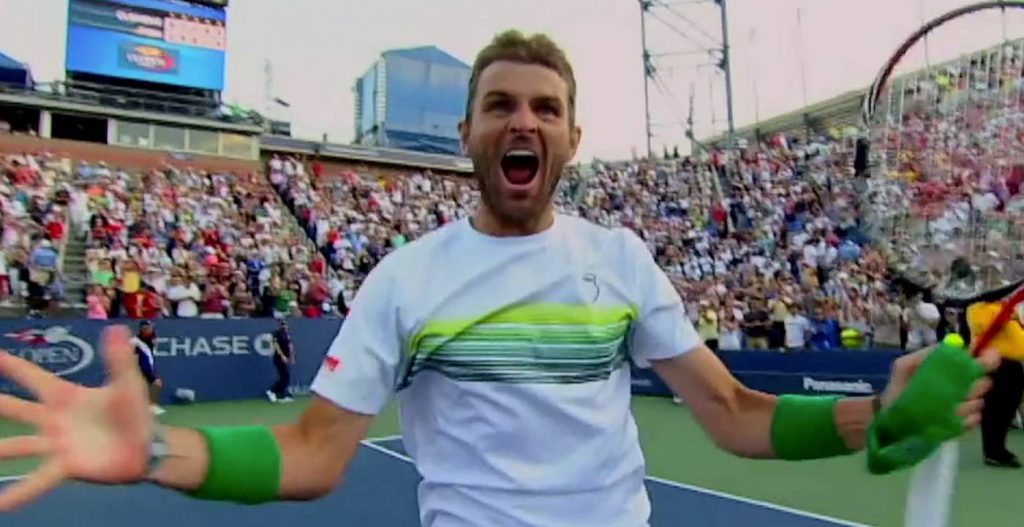 The Way Brothers spent three days interviewing Fish. Recounting his darkest days for the camera wasn't easy. "There was one specific time where I was really deep into the toughest moments of my life, and… Cut! Can we do that again?, or whatever, and I'm just like, guys, I can't do that again. That was me right there. And they understood that, and they got around it," Fish says, adding, "They're really good at what they do."
Featured image: UNTOLD: BREAKING POINT. (L to R) RAFAEL NADAL and MARDY FISH in UNTOLD: BREAKING POINT. Cr. COURTESY OF NETFLIX © 2021
For more on big titles on Netflix, check these out:
"The Crown" Season 5 Images Reveal Elizabeth Debicki as Princess Diana & Dominic West as Prince Charles
Zack Snyder's "Star Wars" Inspired Sci-Fi Epic "Rebel Moon" Headed to Netflix
Michelle Yeoh Cast in Netflix's "The Witcher" Prequel Series