Emmy-Nominated "Mare of Easttown" Creator Brad Ingelsby on Bringing a Murder Mystery Home
The excitement was high in the Ingelsby house this past July 13. Like many in the television industry, writer/producer Brad Ingelsby and his family were watching this year's Emmy nominations. He had good reason to tune in. Mare of Easttown, the HBO Max original series Ingelsby had created, had plenty of awards buzz. The series focuses on a somber small-town Pennsylvania detective (Kate Winslet) struggling with a deep personal loss as she works to unravel a murder mystery. Winslet's mesmerizing, and the series thrills, chills, and reveals are expertly paced. Even rarer, Mare of Easttown stuck the landing with a phenomenal finale.
So it was unsurprising that Mare of Easttown didn't disappoint on the Emmys front. It finished with 15 nominations, including Outstanding Limited or Anthology Series. Winslet, Jean Smart (who plays Mare's mother, Helen), Julianne Nicholson (Mare's childhood friend Lori), and Evan Peters (the county detective assigned to help Mare with the case) all received acting nods. Ingelsby scored an Emmy nomination for writing the seven-part series.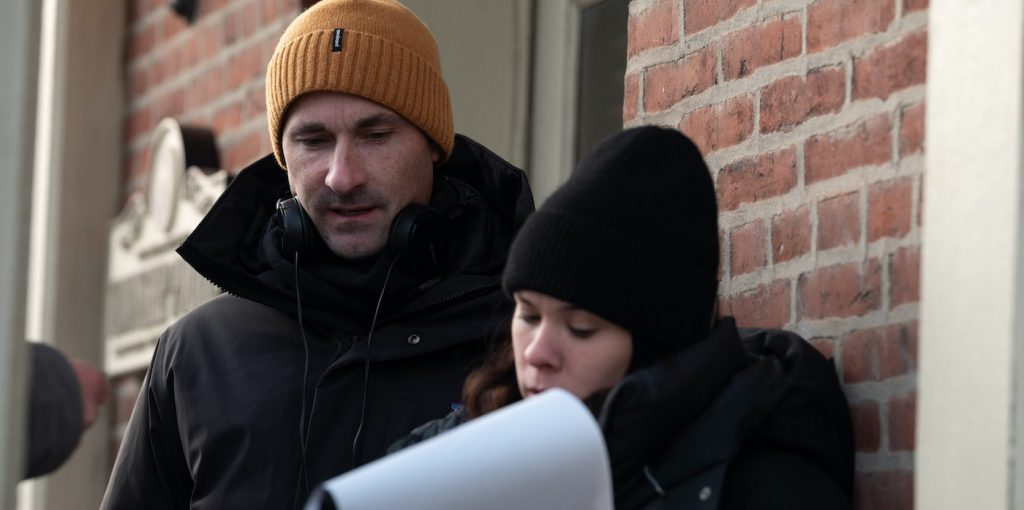 Ingelsby, whose writing credits include the features The Way Back and Run All Night, was obviously thrilled and honored. He adds that his three children, all under the age of ten, were also elated. But they weren't quite sure why.
"They're little guys. They haven't really watched the show," says Ingelsby during a Zoom interview. "Though they've heard me mention Mare around the house a few times because I feel like it was the only thing I mentioned for a couple of years. But they don't really know what it is. I just told them that it was a good day. The show had gotten recognized and they were happy for that."
Ingelsby's children might be among the few who don't know about Mare of Easttown. Since its debut in April, the series has riveted its audience with richly layered characters, intricate plot twists, emotional highs and lows, and a main character television has never seen before. For Ingelsby, it was the culmination of a journey that began in 2018 with an idea to write about the places he knew from his childhood days in Eastern Pennsylvania.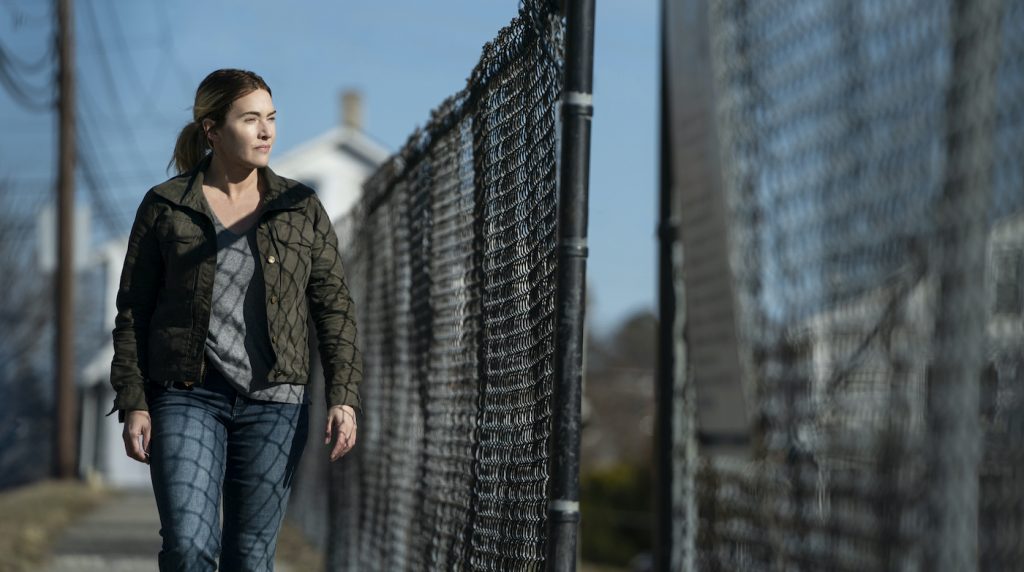 "That was kind of the catalyst more than anything," continues Ingelsby. "Just wanting to return home and write about the people and places and rituals of life in this town and around the town where I grew up."
Combining a range of communities from the state's Chester County (where he lived) and Delaware County (where both his parents and grandparents were born), Ingelsby created Easttown, a fictional, blue-collar hamlet (of sorts) where lives are closely intertwined because everyone is either family or grew up together. (The series was filmed in Aston, Pennsylvania, his wife's hometown, and where her parents still live.)
But Ingelsby knew that to make the idea work, it needed a good story. Joking that his childhood didn't fit the bill, "not entertaining in any way," he brought determined detective Mare Sheehan into the world of Eastown and surrounded her with mysteries. Right out of the gate, it's revealed that Mare has failed to solve the disappearance of a young girl — the daughter of a friend – missing for a year. By the end of the first episode, another young girl, a relative of her closest friend Lori, is found murdered.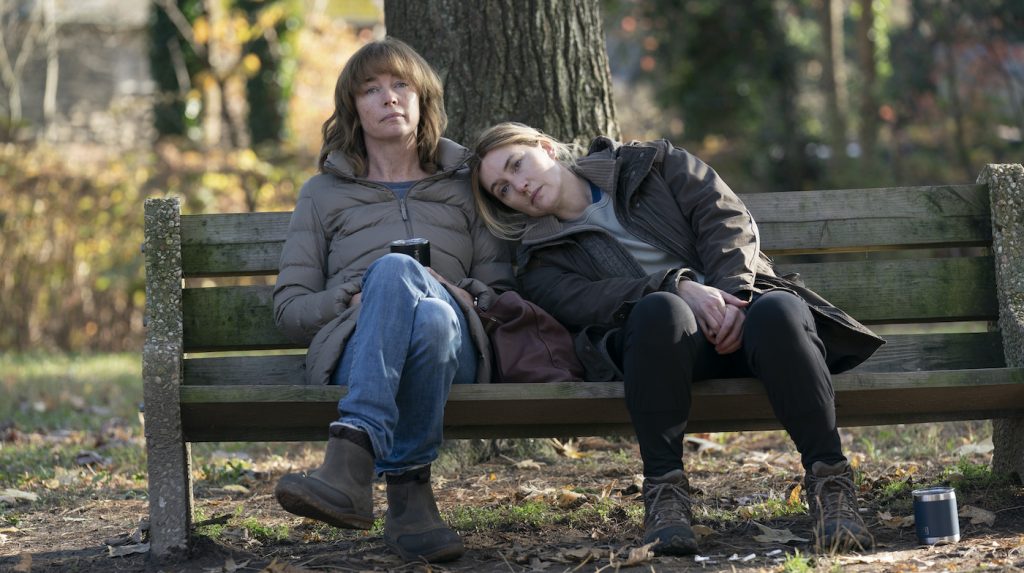 Mare's home life is in shambles. The death of her son, whose emotional issues led to suicide, has shattered her family. Mare has closed out her daughter Siobhan (Angourie Rice). She constantly bickers with her mother Helen (Smart). Mare's divorced husband Frank (David Denman), who lives in the house directly in the back of hers, has just announced he's getting remarried. Mare is also taking care of the child her son left behind. But she may lose her grandson, as his mother gets out of rehab and sues for custody.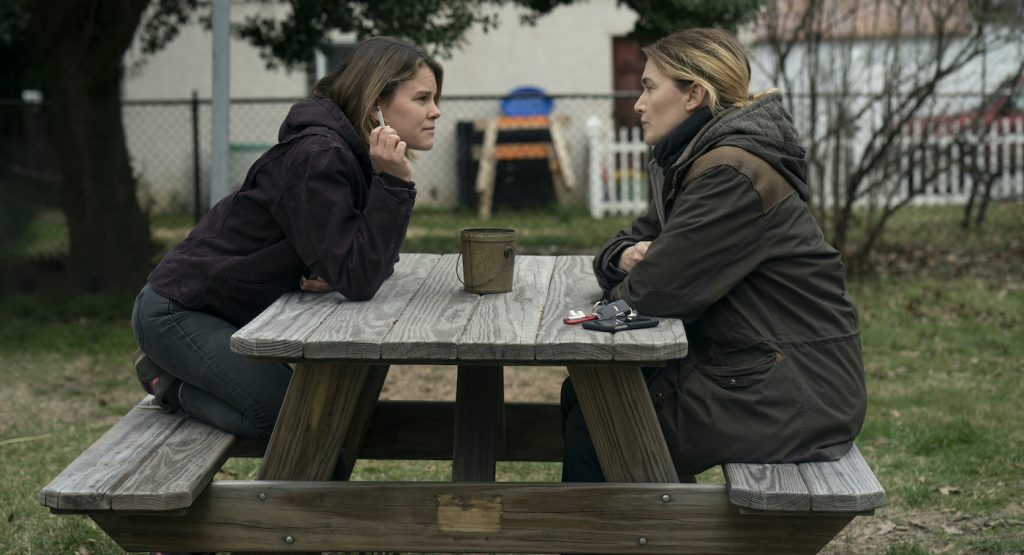 "That was really the interesting part to me, creating an ensemble cast of characters. Trying to determine how they were related, how long they've known each other, what their experiences together were," explains Ingelsby. "Especially Mare. There were some things in my own life that were going on that I was exploring in her. I didn't lose a child. But just dealing with the idea of experiencing something traumatic. How do you react to that regret, that guilt? All those things that Mare is having to confront. And then it was, how does the case reflect that journey inside Mare? The case had to be a way of exploring her own trauma."
Ingelsby admits that the most challenging aspect of writing Mare of Easttown was keeping all the balls in the air. It was a constant juggling act to gauge where the audience would be emotionally as the story unfolded. Would they want more procedural? Can he turn away from the mystery to explore subplots? Would storylines about Siobhan's college plans or Mare's romance with an enigmatic writer (Guy Pearce) who just arrived in town distract too much from the mystery? How dark can the plotline go and what was the right time to lighten things up?
But Ingelsby had an ace in the hole — his lead actress Winslet. He had completed the first two episodes when she signed on to play Mare.
"Kate took it and ran with it. There was definitely a passing of the baton at some point in the process where Kate knew Mare in ways I didn't," continues Ingelsby. "She took the nuggets that were in the script and expanded them in ways that I could never have done. That's a testament to Kate's ability as an actress but also as  a creative mind to constantly be digging deeper and deeper."
Ingelsby adds that it was Winslet who saw the potential for humor in Mare's quirky nature. Acutely aware that there needed to be a balance to the heavy subject matter, she realized how important it was to give the audience a needed breather.
But that wasn't the only way the actress got into the character's skin. "She crafted so many of the ideas in Mare's history," says Ingelsby. "What was her relationship with Lori? Kate was thinking, 'Well, they must have grown up next to each other and they were best friends from a very young age.' Why is Mare a cop? 'Well, her dad was a cop, but also she stood up for the kids in the playground.'"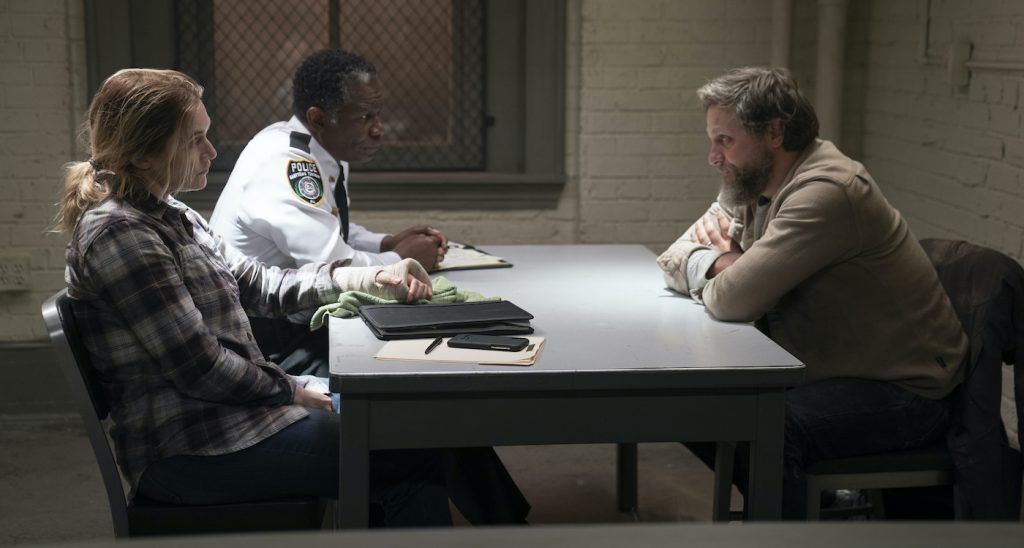 There are many ways to judge the success of Mare of Easttown — critical raves, Emmy nominations, a growing fan base, even talk about a sequel. (Ingelsby is hesitant. The first one is a hard act to follow.) But perhaps the best indicator of Mare of Easttown's impact on the cultural zeitgeist happened last May when Saturday Night Live parodied it with a sketch that poked fun at the regional peculiarities of Eastern Pennsylvania, particularly its distinctive accents.
"Oh yeah. It's been played in this house a few times," Ingelsby responds with a grin when asked about the segment. "I mean, listen, I was flattered. I felt so honored and I can say everyone was. It's a mark that you've made it. At that point, we were like, 'Wow! Maybe people are watching the show and maybe more people will watch the show.' It was a lovely moment. Really. I was laughing at it too. It made me laugh."
For more on Mare of Easttown, check out these stories:
How the "Mare of Easttown" Editor Carefully Constructed HBO's Brilliant Murder Mystery
"Mare of Easttown" & "The Underground Railroad" Hair Department Head Lawrence Davis
Featured image: John Douglas and Kate Winslet. Photograph by Michele K. Short/HBO