"Solos" Creator David Weil on the Power of the Monologue
"It was funny, on lunch breaks, to see Ewoks running around." That observation, from showrunner David Weil, who created the current series Solos for Amazon, might evoke a couple of different responses: "Ewoks? Running around at lunch? There has to be a good story behind that." And: "Lunch breaks? Were there still formal 'lunch breaks' during lockdown?"
Both observations speak to the genesis of the show, which Weil, who previously created Hunters for Amazon, says springs from his love of "stories, and storytellers. The finest storytellers I knew were in my family," mentioning his grandmother's war stories, and his brothers' spooky ghost tales on long hikes.
Here, the series features a slew of stars — Helen Mirren, Anthony Mackie, Morgan Freeman, Anne Hathaway, Constance Wu, and more — finding themselves in a nebulous, uncertain future (sometimes one close at hand, sometimes, a little farther away), and usually confronting…themselves. But whether different, alternate versions of themselves or in conversation with the disembodied voices from the technology surrounding them, each episode is, essentially, a "solo."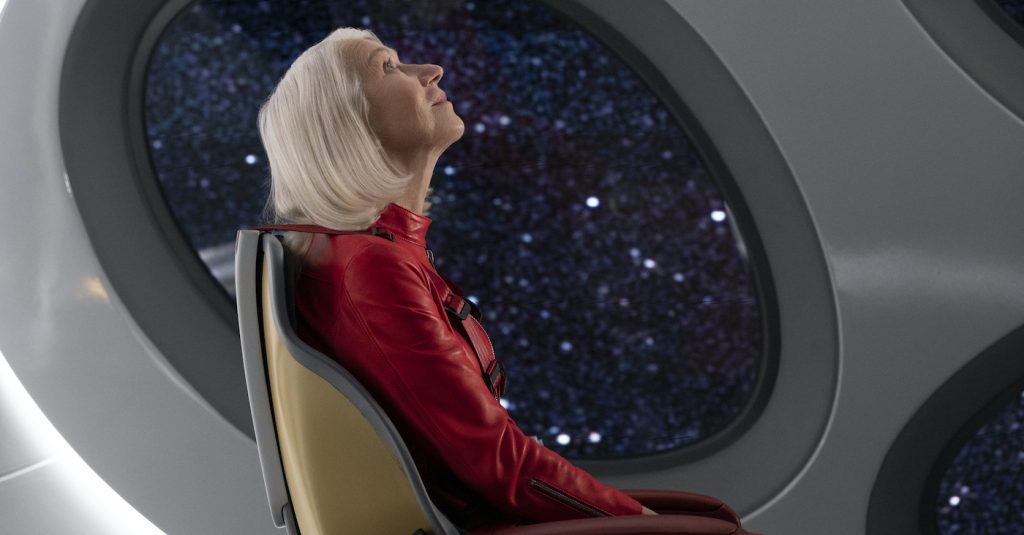 "I remember operas by their arias," Weil says. "I love monologues. I remember films by their monologues." And for a show that focuses on humanity's imperfect relations not only toward the self, but the inventions we create to make our lives "easier," he harkens back to an even earlier iteration of storytelling, live theater, where a monologue could define a play's success, or longevity: "This is Beckett, and Ionesco, and Shakespeare, and Albee," he says.
But these tales, with roots as diverse as Waiting for Godot, Rhinoceros, Hamlet, and The Zoo Story, also lent themselves to the present moment and pandemic-borne production considerations.
Each episode features one main actor, (with the aforementioned exceptions of occasional duplicate selves, AI voices, etc.)  So on the practical side, while "living through the pandemic," Weil says, "this was the way to create art, to get actors back on set, and to do so very safely."
They shot last fall, in October and November, with "PPE and testing every day," at Manhattan Beach Studios, just south of L.A., and only a little bit inland from the iconic strand of beaches from which it derives its name.
And there they found themselves next door to a couple of other productions assiduously observing Covid-era protocols: The Mandalorian, and Marvel's Eternals.
Thus did they encounter Ewoks on their lunch breaks — the breaks all presumably staggered, so as to further reinforce social distancing.
But if those Ewoks are from a galaxy far, far away, Weil also used his near-future settings to create some distance from his stories and the present moment. Though not every story is that far away; one memorable episode is about the choice of whether to end quarantine after a planetary calamity.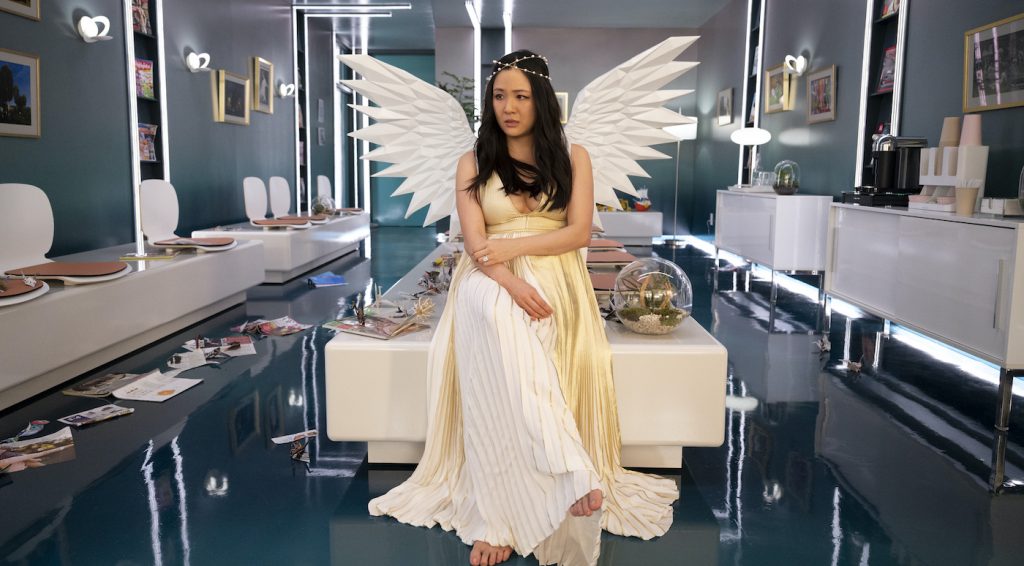 But Weil says "it was never a pandemic show.  I don't love pieces in cinema, written about today, asking us to feel certain things that we're already experiencing in our daily lives." He wanted "the audience to be an active participant in the journey, to make their own connections — and to give them distance," through the fact that  "this is a science fiction piece."
He is also quick to sing the praises of those in the crew who helped all the other pieces come together so quickly, including Amazon's head of casting, Donna Rosenstein, who gave him a dream cast. "The success of the show relies on their performances. We're sitting with them in an experience for 30 minutes (and to) be able to allow the audience to maintain interest…it was a real gift. A gift and a necessity. They elevated the material."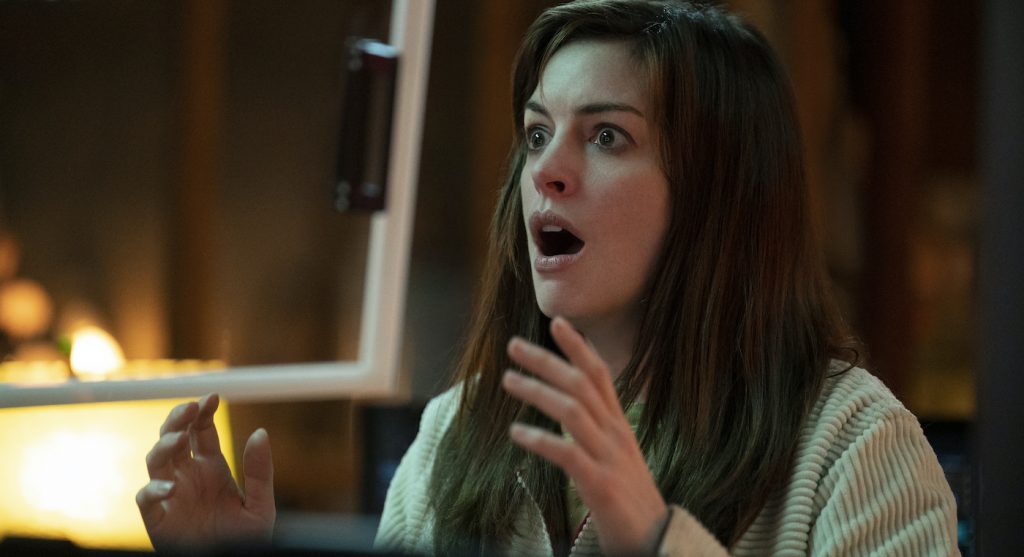 Also helping keep the material elevated was cinematographer William Rexer, who shot Hunters, and flew in from New York to shoot all seven "solos." Weil also mentions production designer Ruth Ammon and costume designer Shiona Turini, saying he'd like to "work with them forever."
He cites their brilliant contributions that "created a series that feels so lived in."
But Weil himself became part of the crew too, stepping in to direct three of the episodes. "As a filmmaker, I learned how to become far less precious, especially about scripts," he says. "And yet, as the writer, I became more precious about the words." In this instance, their ability to create specificity, moments, and imagery.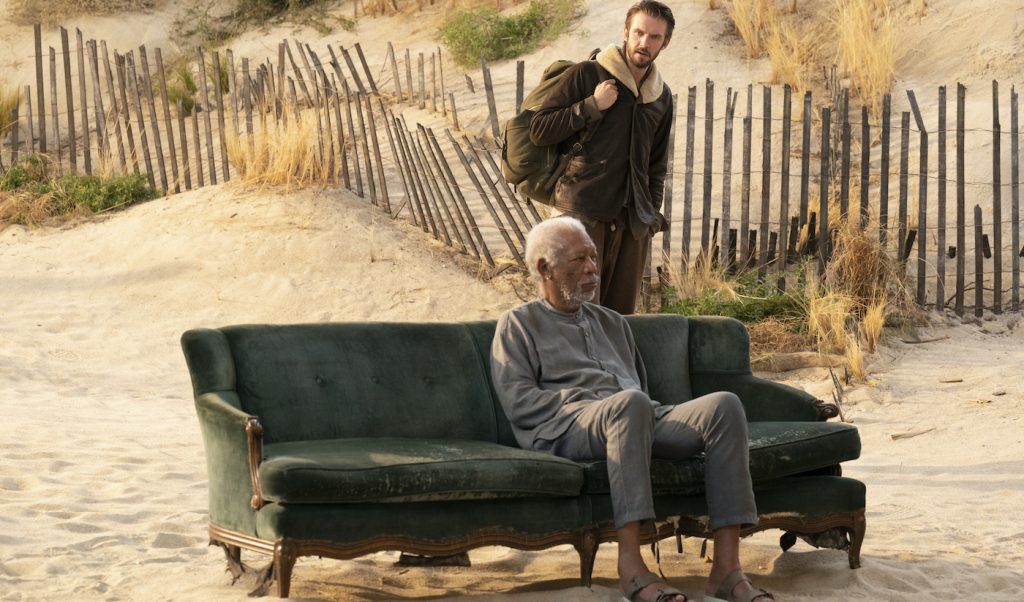 And not just his own words, as he makes clear he's "grateful to my fellow writers" for the storytelling they brought to this particular set of arias.
Another thing he learned in the director's chair was "how to find solutions — we were shooting under incredibly strict protocols."
His next show, Invasion, confronts another kind of planetary calamity entirely, as it's based on H.G. Wells' War of the Worlds. It's coming out later this year on Apple TV+, and when asked if some of the insights and revelations he gained on this show went into this production, he mentions it was actually shot "a year and a half before Solos even began, in numerous countries and continents."
So what he takes with him from this show, and this past year, remains to be seen. But one of its lessons, he contends, is showing how resilient, people can be. And the importance of the stories they tell.
Whether it's to duplicate versions of themselves, while heading off into space, stuck in long quarantines…or simply while having lunch next to a group of Ewoks.
Solos is currently streaming on Amazon Prime.