"In The Heights" Executive Music Producer Bill Sherman on Marshaling Many Musical Styles
Zooming in from his studio in his basement, executive music producer Bill Sherman was a week away from the end of a very long—but joyous—journey. Sherman was one of the main players responsible for everything you hear in director Jon M. Chu's In The Heights, an adaptation of the play that Sherman himself helped create, alongside his former roommate Lin-Manuel Miranda, and playwright (and screenwriter of the movie) Quiara Alegría Hudes, more than a decade ago. The play eventually made its off-Broadway run in 2007, hit Broadway in 2008, and ended up with 13 Tony nominations and four wins, including Best Musical. Now, Chu's adaptation is about to hit theaters across the country, and Sherman finds himself happily dazed by the idea that millions of people will finally get to see this labor of love.
We spoke to Sherman about the long, musically vibrant ride from stage to script to screen. This interview has been edited for length and clarity.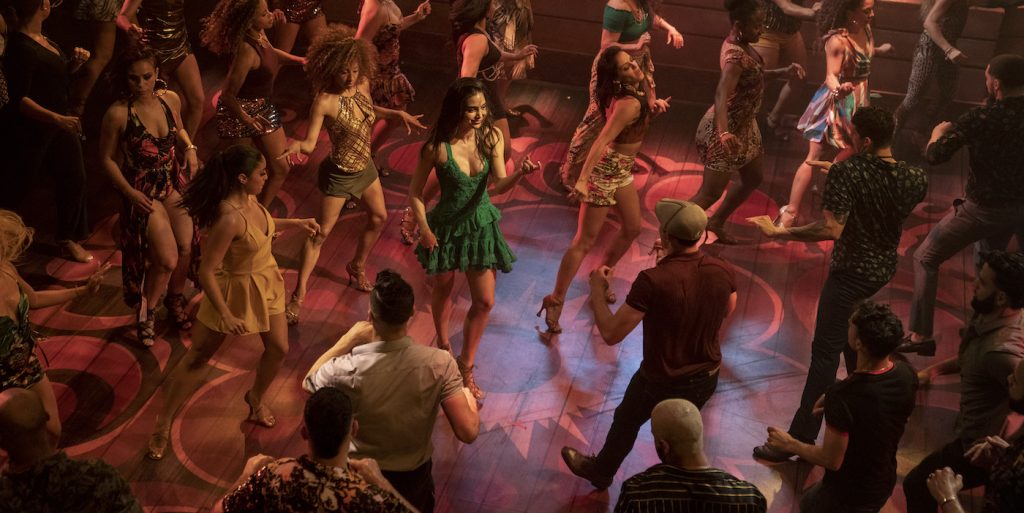 So what, precisely, does an executive music producer on a film like this?
Executive music producer, to me, encompasses every sound that you're hearing. So from the development of the songs themselves to recording it to orchestrating and arranging it, to being there for the mixes—both sound mixes of the songs and the mixes of the movie itself, which was a little difficult given the pandemic. We did finish mixing it the day before everybody went underground. Literally the day before. We were in New York and then Jon Chu got home the next day just as lockdown began, which was just insanity.
How do you make sure you're capturing all of those different musical styles accurately? 
You bring in hip-hop producers, you bring in Reggaeton producers, you bring in salsa guys, people who are known for that kind of stuff to help you shape the overall sound. And that was a really fun experience because it was literally like you could choose from anyone you want to. Our hip-hop tracks in the opening "96,000" are from Mike Elizondo, the Latin stuff is helped out by Sergio George, the Reggaeton is from this famous Reggaeton guy named Trooko, the string stuff is by Rob Mathes, Sting's string guy. It's the all-star team, that being said, a lot of this stuff is the stuff we had on Broadway because it was pretty successful there. This is like the blown-out, technicolor, high-volume Dolby surround sound version of it.
Speaking of "96,000," that looks like it was a fairly massive challenge.
When we were at the pool, the crowd was just so electric. What was interesting about that day was it was supposed to be a hot, summer day, but it was in fact quite cold and it wasn't sunny. But thanks to supreme movie magic, it doesn't look like that all. People look like they couldn't be more excited to be there, but the water was really cold and people were really freezing. It was a wild movie magic situation.
So how does the ultimate decision get made that a song is done?
I think one of the best parts about In The Heights is it's a bunch of very talented people in one room, and the overall mantra with all Lin-Manuel Miranda's projects is the best idea in the room wins. And that's not to say it's always his idea, or my idea, or somebody else's idea, and I think that kind of egoless get together of people and ideas is the only way to have something that's truly successful and the only way to make the best stuff. Your idea might suck, but it also might lead to something else that becomes the idea. With this movie, we pre-recorded the entire score before we even started filming, then we shot the movie and recorded all that stuff live, then we came back and did ADR and even re-sung some stuff, and then we mish-mashed all that stuff together. I'm sure you could finagle it until you're crazy if you're one of those micromanager types, I'm not one of those types. Alex [Lacamoire, co-executive music producer] is one of those types, so we make a good team in that sense. 
How did the original In The Heights team work with director Jon M. Chu?
In the beginning, it was like, 'Who is this guy? Do we trust this guy? He made Crazy Rich Asians, which is great, but does he get this?' What's interesting about Jon is he's super musical. Having done Step Up and all those other things, and he gets the rhythm of things, so it was sort of like, how do we rise to his visual level? Dancing on the side of a building, or having "96,000" be in a pool, it was like, okay, we have to take what worked for the stage and turn it into this over-the-top thing worthy of 500 people dancing in a pool and making that work. Me and Alex Lacamoire said, "If off-Broadway was Beta, and Broadway was 1.0, then this is 2.0." So the movie is louder, faster, bigger, more.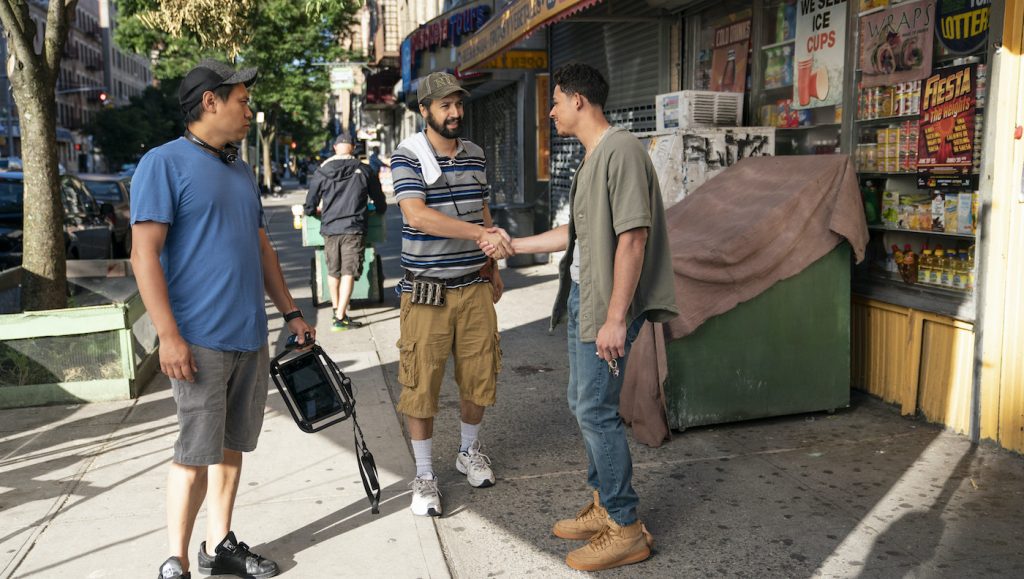 Do you feel like the film is something totally new, or really just an advanced, bionic version of the play you all created all those years ago?
I feel like it's a combination of both. It's definitely bionic because it still has the blueprints and DNA of the original, but I think it's all new because when you make something for the stage, it has one kind of drive, and it's stage dimensional, it can only be in one place. With the movie, it's like four-dimensional. In the play, when you go inside, a chandelier comes down but you're still on that same stage. With the movie, we were on the streets in Washington Heights for months, the fire hydrants are real, the people are really real, everything about is real. It was hot, it was crowded, it was awesome. I feel like a lot of it was just turning the camera on and there it was. It was such a vibrant place to live.
What was the driving creative ambition of the film adaptation, if you had to pick one?
Lin and I were roommates for many years. We lived in 212th Street and Broadway. His parents lived on 180th and Broadway, and every Sunday we'd go watch the new episodes of The Sopranos at his parent's house. Lin said he wanted to make a play that captured whatever it sounds like from 212th to 180th, which was bachata and merengue, Big Pun, classical music, salsa, and people out dancing. I feel we really captured that in the film. You can feel those things, you can feel the heat, you can hear the music. It's just way more of an all-encompassing thing than the stage version was, and that's what makes In The Heights so fantastic as a movie, you really feel like you're there.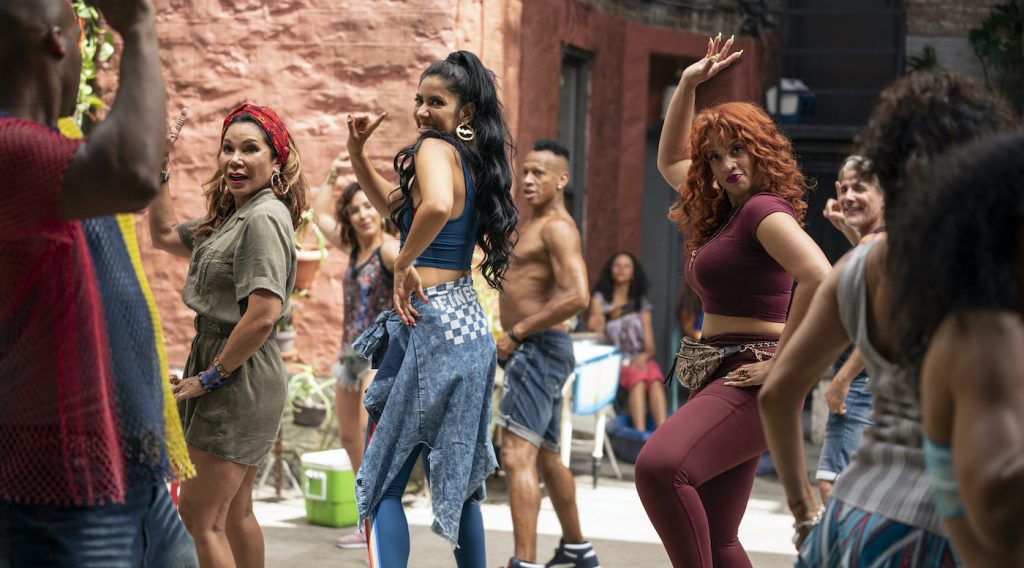 The musical numbers feel like they arise naturally, how did you pull that off?
From a very technical musical point, in musicals, there's always this suspension of disbelief where people all of a sudden start singing, and you just have to be like, 'Oh, cool! You couldn't just say that? You're gonna sing?' With the film, Jon wanted to make that transfer from singing to talking as seamless as possible. So for us, we recorded a lot of things live. Like "Champagne," which is at the end of the film, is mostly live, which is incredible. Then we mixed the live music with the pre-recorded stuff to make it seem like they're actually talking and singing to each other, rather than the presentational version. That was a challenge because you still wanted the vocals to sound great, but you also want them to sound real. So it was a constant back and forth that was really fascinating and fun to watch. If you looked at the Pro Tools sessions, you'd be amazed what was pre-recorded and how much was actually done live.
I imagine capturing the music live, in Washington Heights, was a challenge?
When we could get useable audio that we knew would aid in making it look convincingly realistic, we'd do that. Sometimes, as moviemaking goes, all you can hear is the city and people are screaming and it messes up the audio, and you're doomed. But I'm sure we used more live audio than any other movie musical ever made. Particularly because the performers could pull it off, like Anthony [Ramos] and Melissa [Barrera], they're all so amazing. When you're doing it 15 times and they're nailing it 15 times, it's amazing.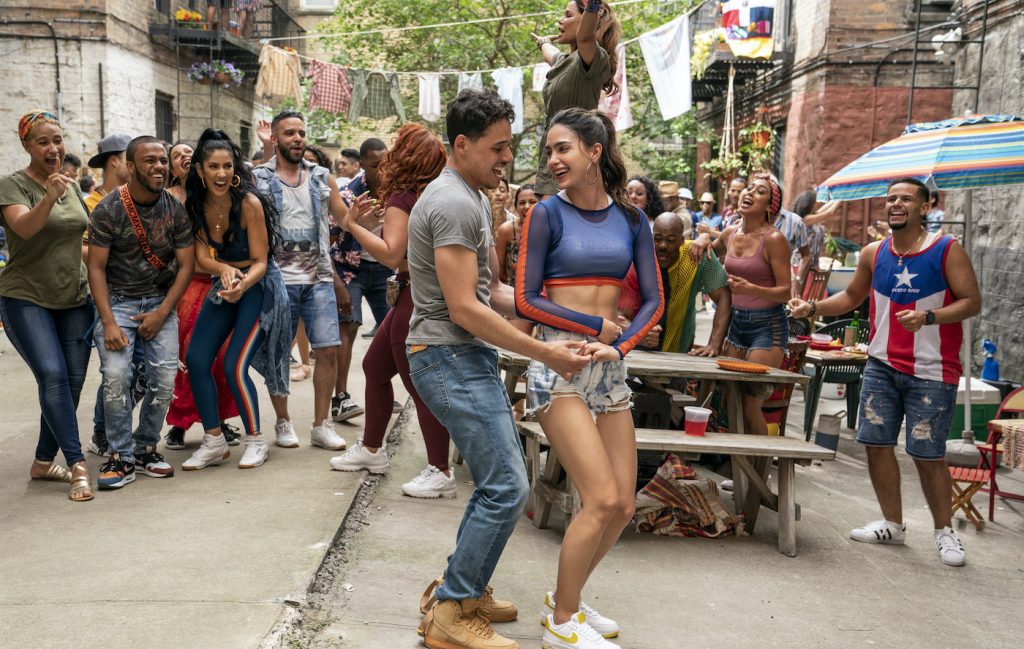 What was your experience like when you finally stopped working on this and just watched the final, finished version?
You really sort of don't believe it. We mixed it and it was done a year and a half ago, and I hadn't watched it again until last week. When you've been on something this long, it's like when your kids are really small, you're totally helicoptering them, and then as they grow up you're like, 'Oh, look at that thing! It has its own life!' I feel like that with In The Heights. There's nothing else we can do, so you give it over to the world and you watch it grow up and find out what other people think about it. That's where I'm at psychologically and emotionally. It's a movie about togetherness, community, and home, and after everything we've been through, all being at home but not been with our community, we get to go and sit with people in a movie theater and be in the same room!
For more on In The Heights, check out these stories:
"In the Heights" Choreographer Christopher Scott on Dancing in The Streets
Playwright & Screenwriter Quiara Alegria Hudes on Adapting "In The Heights" for the Big Screen
"In The Heights" Director Jon M. Chu on Capturing a Neighborhood's Magic
Featured image: Caption: A scene from Warner Bros. Pictures' "IN THE HEIGHTS," a Warner Bros. Pictures release. Photo Credit: Courtesy of Warner Bros. Pictures