Giancarlo Esposito on Breaking Good in "Godfather of Harlem"
Giancarlo Esposito has gravitas to spare. On the big screen, early on in his career, he appeared in a slew of Spike Lee's seminal films, including a commanding performance as Dean Big Brother Almighty in School Daze (1988), which led to roles in Do The Right Thing (1989), Mo' Better Blues (1990) and Malcolm X (1992). On TV, Esposito's charisma made him a natural fit for characters on both sides of the law, whether that's as FBI agent Mike Giardello on Homicide: Life on the Street (1998-1999), or, in his most iconic role to date, as the meth-dealing kingpin Gus Fring on Breaking Bad (a role he reprised in Better Call Saul, the excellent spinoff). Esposito has recently taken his formidability into space, as the Darksaber wielding heavy Moff Gideon in Disney+'s The Mandalorian, and into the superhero realm, as the ruthless corporate titan Stan Edgar in Amazon's The Boys.
One of his many skills as a performer is his ability to convey a captivating mix of intelligence and control, which carries with it the whiff of a man holding something back. Should he let that something go, heaven help whoever is in his path. This is why his current role as Adam Clayton Powell Jr. in EPIX's critically acclaimed Godfather of Harlem is so intriguing. Powell Jr. was the first African-American elected to Congress from New York or any state in the Northeast, and he went on to serve for nearly three decades. His constituency was Harlem, not only as their representative but also as a Baptist Pastor. As Powell Jr., Esposito marshals his potent skills to portray a man trying to do good in a system designed to make such ambitions ferociously difficult for an African-American. The series, written and executive produced by Chris Brancato and Paul Eckstein, is centered on a crime boss—Bumpy Johnson (Forest Whitaker)—another actor with considerable charisma, and Esposito's Powell Jr.'s considerable efforts within the system are mirrored by Johnson's machinations outside of them. The series is set in Harlem in the 1960s and is a prequel to Ridley Scott's American Gangster (2007), which starred Denzel Washington as the crime boss Frank Lucas.
We spoke to Esposito about breaking good with the character of Powell Jr., how he gets into a role, and the joys of working with visionaries.
Adam Clayton Powell Jr. is quite the departure from some of the characters you've been playing recently. How did you approach playing someone like Powell Jr.?
Playing a historical character is a great challenge and responsibility. I draw on the historical record and dive deeply into the resonant accomplishments and contributions that are intrinsic to understanding Adam Clayton Powell's life's work.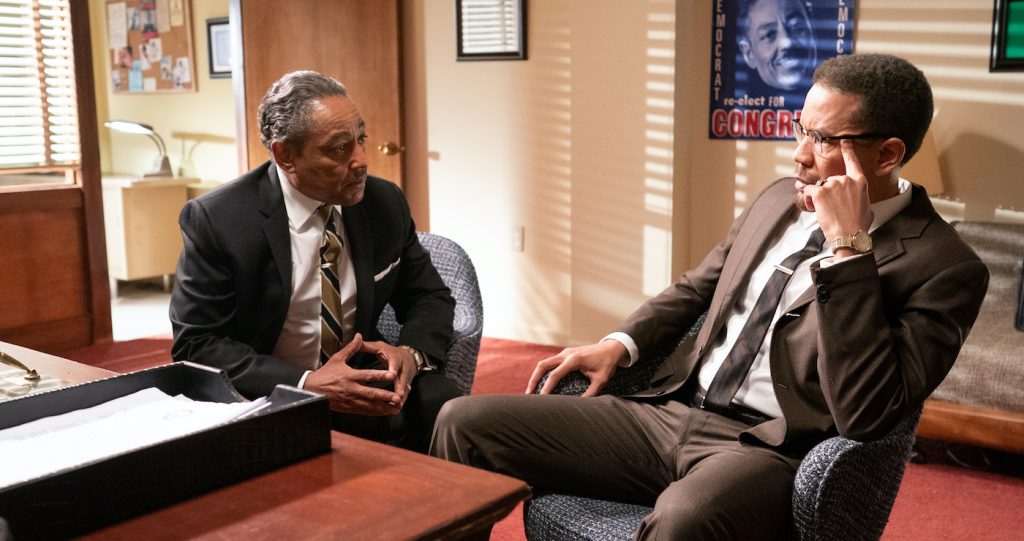 You're famous for playing incredibly charismatic heavies—including Gus Fring to Moff Gideon—yet you're also no stranger to playing politically active characters. How do you approach taking on a man who fights for people rather than uses them to his own ends?
Adam Clayton Powell Jr. fought tirelessly for the people. He was guided by his humanity for all people, not just people of color. Maybe his relationship to God and religion extended his understanding and deepened his commitment. I've played men of stature, whether it is Gus from Breaking Bad and Better Call Saul or Moff Gideon from The Mandolorian. I strive to imbue the characters I play with a certain determination of character, purpose, and reason, whether they are good or bad. Making a character human, as opposed to just black and white, is a very important obligation for me. Especially with a historical character that lived and left a legacy such as Powell's.
Staying with this theme for a second, and at the risk of greatly oversimplifying things here, but—do you find as much pleasure playing a character who is agitating for good rather than a power-mad character? 
I do believe that playing villainous characters can be fun, edgy, and interesting. Audiences love the bad guy. When the bad guy gives an interesting and nuanced performance that is non-stereotypical, it gets attention. Especially if you are hitting all the right, truthful notes that align with human emotions and feelings. I do have a blast playing all the complicated villainy I can muster in the most human way possible.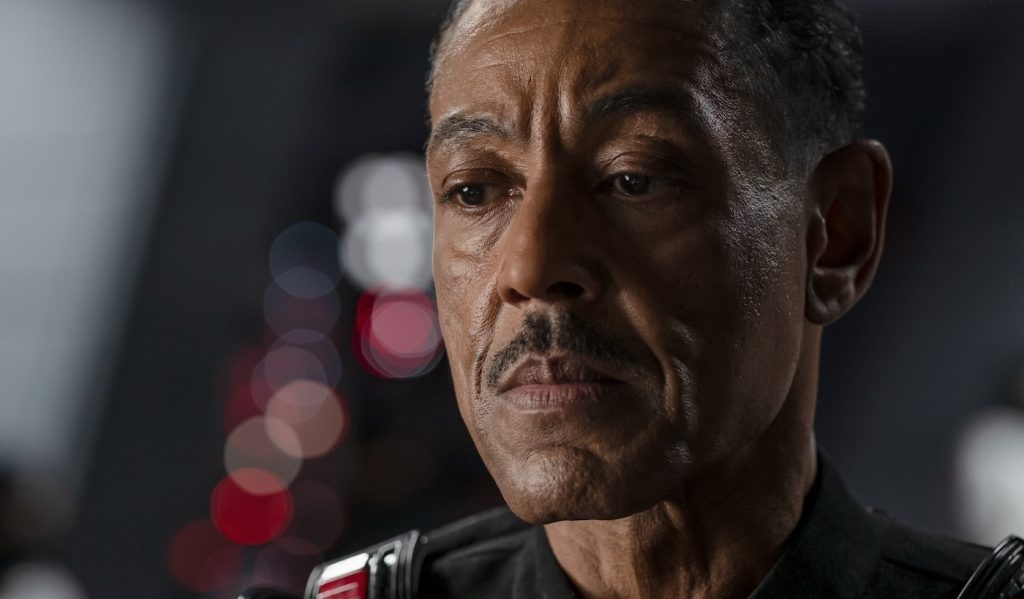 How much do you modify your process from one character to the next?
I have a template, a way of approaching creating a character. It shifts and morphs, and it's guided by the type of person I'm playing. I like to start slow, as if it's all a whisper. A thought. Intangible, maleable, vulnerable. Then, I allow a way to make space for the character to emerge.
What's the day-to-day like working on a series like this, with so much talent at every level?
Working with talented and thoughtful filmmakers and creators has been illuminating for me. Folks who are thoughtful and thorough about the process of storytelling, there's a magic to it. The stylistic elements that come so naturally to telling a complicated story simply. To have the opportunity to be inspired by great artisans like Jon Favreau [The Mandalorian] and Vince Gilligan [Breaking Bad] has been an honor. To experience that kind of vision is an inspiring experience. To work with Chris Brancato on Godfather of Harlem has been a delicious experience. A show in and about New York! And a period and political show as well. The writing by Brancato and Paul Eckstein is exceptional. It all starts there. Historically, Godfather of Harlem stays within the lines of history and embellishes little. The way the story is told is contemporary. The acting by Forest Whitaker, and the rest of the incredible cast, is always exciting. It's great to work with the best.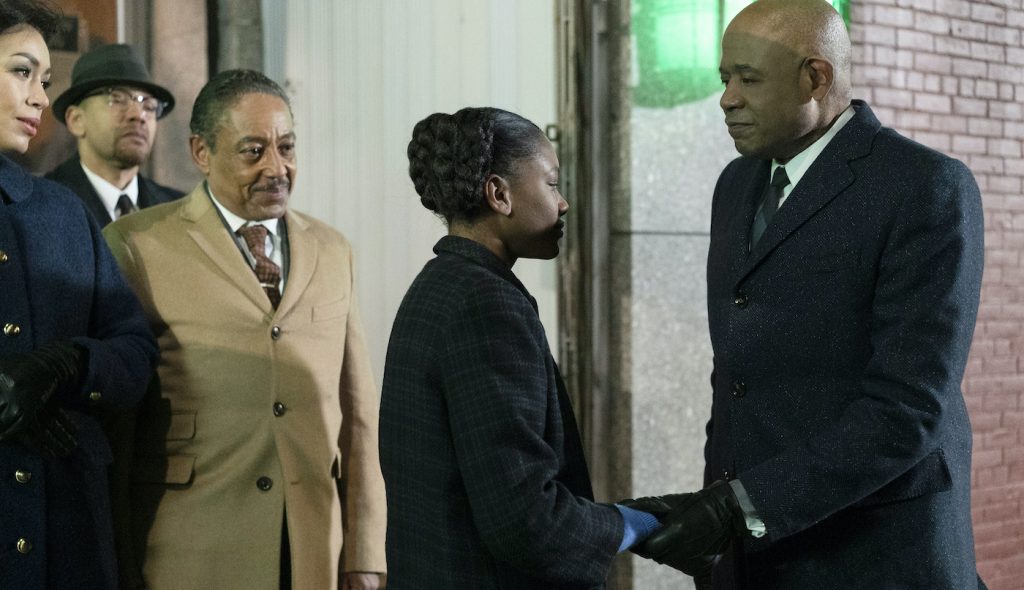 Godfather of Harlem is a period piece that, like all good period pieces, ends up shining a light on things happening in the world today—how much have current events shaped the way you and your collaborators approached the series?
History can be a mirror. Yes, our show does beg the question, "How far have we come?" There is a connection. It sheds light on the likeness.
You're no stranger to New York City, and have a rich body of New York-specific work, in TV, in film, and on Broadway—what was it like taking on a show set in Harlem at such an explosive time?
Harlem is a wonderful, soulful place at the time that our series depicts. It nice to be in a show that uses these elements to its advantage. The pulpit, the streets, the Geechee Club, the Italian club, the docks, the shoeshine stand, it's all very realistic, embodying the Harlem of that time. It's really great to shoot in the community, on location.
Godfather of Harlem season 2 returns to EPIX this August.
Featured image: Giancarlo Esposito in "Godfather of Harlem." Courtesy EPIX.