The Motion Picture Association's Film Workshop Suggests Vietnam's Industry is Now Open for Business
As part of its mission to facilitate the development of a sustainable and internationally competitive screen industry in Vietnam, the Motion Picture Association (MPA) hosted an in-person film workshop with the Vietnam Film Development Association (VFDA) at the University of Economics in Ho Chi Minh City on April 28.
The event was over-subscribed, with approximately 130 filmmakers, government officials, celebrities, and media in attendance. It was also screened online on May 12, attracting a further 240 attendees.
After VFDA chairperson Dr. Ngo Phuong Lan kicked off the conference with her welcome remarks, MPA President & Managing Director, Asia Pacific, Belinda Lui, acknowledged the many challenges from the past year in her online opening speech – "We appreciate that many people in the creative industries have struggled to maintain their businesses and to pursue their passion. Our hope is we can all play a part in finding ways to stimulate the screen industry, to keep people working, and to deliver quality content for audiences to enjoy."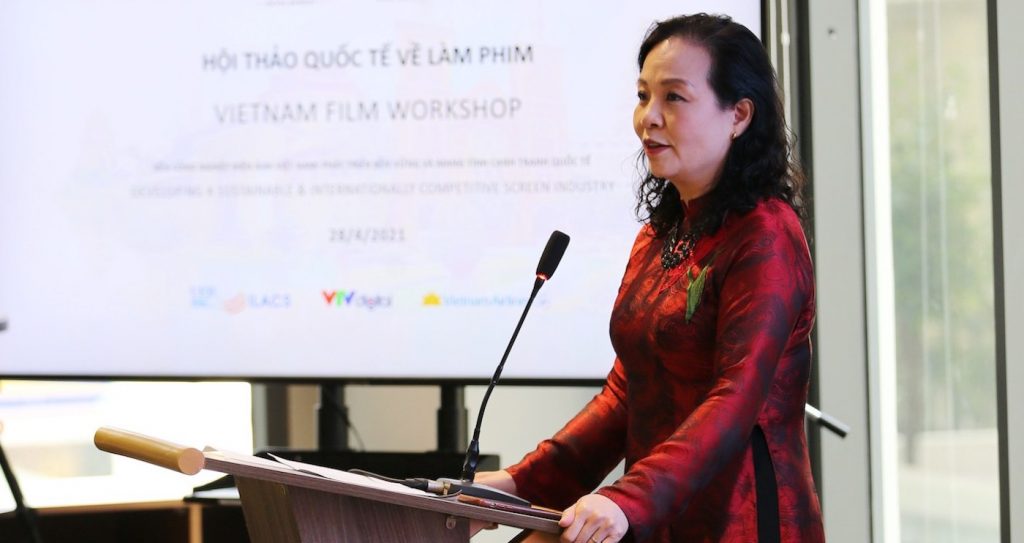 According to Lui, Vietnam's box office in 2019 reached US $178.5 million, while research suggested a huge demand for fresh quality content, especially on streaming platforms. Revenues for film and TV on streaming or on-demand services from 22 countries in the Asia Pacific region are projected to reach US $54 billion in 2026, up by 19% from 2020 (via Asia Pacific OTT TV & Video Forecasts, digitalTVresearch.com, March 2021). "Those are substantial numbers and struck optimism in all of us," she pointed out.
"Tell local stories" was one of the key messages in the first panel discussion, The Filmmakers View – "Recently we have been telling stories which were told by others and we repeat their stories. In a developed industry we have to tell our own stories, rather than remake stories told by others," said Vietnamese-American filmmaker Charlie Nguyen, who is known for his box office hits such as The Rebel, Big Boss, and Little Teo.
Vietnamese filmmaker Phang Dang Di, whose second film, 2015's Big Father, Small Father And Other Stories, was the first Vietnamese film in competition at the Berlinale, concurred: "A good movie starts with a script, but Vietnam is weak in that and our solution is not long term. We need to improve the quality of the scripts, but we try to rely on foreign films instead. We should have our own voice and focus on content development." Di joined the panel virtually as he is currently shooting a new film.
Joining them on the same panel remotely was Singapore-based Nelson Mok from US sales and financing outfit Endeavor Content, who has a new Vietnamese horror The Ancestral by Furie director Le-Van Kiet on his slate. "It is tough to convince international distributors to take a chance on Vietnamese movies because they are not widely exposed to Vietnamese cinema."
He believed it is important to find local success before getting international success. "Highest-grossing local films will capture the attention of international buyers and audiences," he said. It will be very useful if reliable box office data, which is hard to come by, can be available online to the public. "An example is Korea where you can get the daily box office via the Korean Film Council (KOFIC). It will help investors and producers to understand the climate of the box office. Buyers will pick up news from international press and it will make our job easier to sell and promote Vietnamese cinema to the world."
He has sold The Ancestral to multiple territories, including South East Asia, Australia, New Zealand, Middle East, Hong Kong, and Taiwan. Only theatrical rights were sold because he believed that is the way to grow Vietnamese cinema. "We have to go through the traditional theatrical route so distributors would invest in advertising and publicity. We want to expose audiences in these countries to Vietnamese cinema. We don't want to go for international platforms first."
The second panel, Thinking Globally, focused on how Vietnam can become a popular filming location. Moderator Phan Gia Nhat Linh, who is a film director, noted some of the foreign productions shot in Vietnam, including Indochine and The Lover from the 1990s, 2002's The Quiet American, and most recently Kong: Skull Island, but competition remains fierce with neighboring countries such as Thailand and the Philippines, which have often been used to double as Vietnam.
Jay Roewe, HBO SVP of productions and incentives, said that when considering filming locations for HBO's expanding original productions, "we look to places that are unique, different, and rich in history and talents. We truly believe Vietnam is one of those places." HBO Asia's Food Lore was shot in eight Asian countries including Vietnam. It is currently filming a new series Forbidden in Thailand and another series Halfworlds Season 3 in the Philippines.
He explained that to pull off a large-scale blockbuster like Kong: Skull Island, collaborations between the local government and filmmakers are essential. "The producers went to Vietnam to search for locations and the script was written to fit the locations. It has truly captured the unique locations in Vietnam, which made it so organic and so real. It's different from the recent release Godzilla vs. Kong which has lots of visual effects and CG."
Roewe recalled former U.S. Ambassador to Vietnam, Ted Osius, saying that Kong: Skull Island highlighted Vietnam as a superb tourist destination. "It's a very powerful thing," Roewe said. "The images become the advertising. People want to go and see the beautiful locations, as you've seen with the likes of Lord Of The Rings, which put New Zealand on the map, and Game Of Thrones, which put Northern Ireland on the international scale. There's a lot of potential in Vietnam, a place waiting to be discovered."
Freddie Yeo, chief operating officer of Infinite Studios, who has worked closely with Roewe, used Singapore as a case study to show the key factors that determine why a production would come to a country. These included a backdrop that works for the story and filming incentives.
"Government incentives are critical. What kind of spend qualified, like local hire, hotel, and air travel, what is the approval timeframe, what's the disbursement time for funds, what is the audit process," he explained. Infinite Studios has hosted Agent 47, Crazy Rich Asians, and HBO's Westworld Season 3 in Singapore, as well as various HBO shows such as Halfworlds and Folklore at its Batam facility in Indonesia.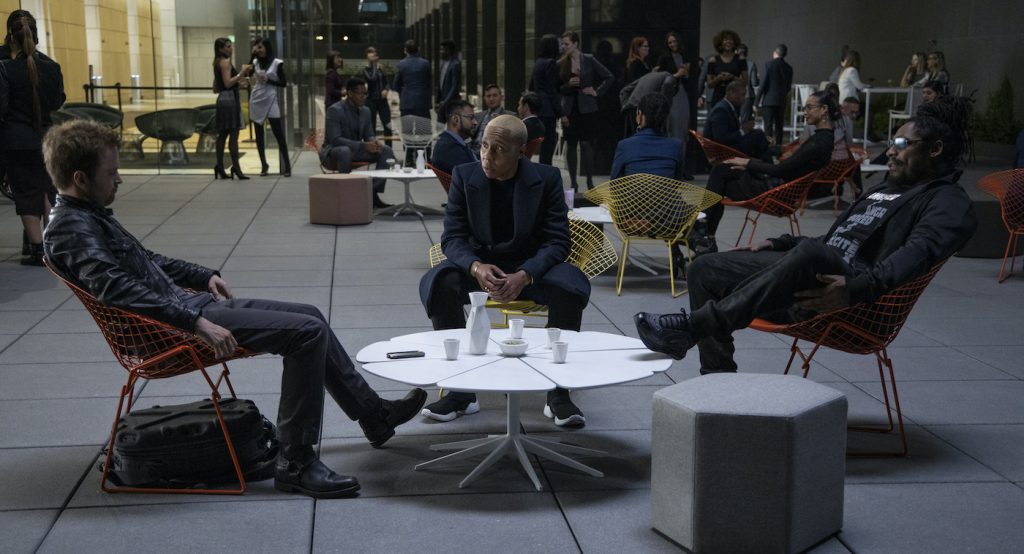 Also speaking on the second panel was Nguyen Phuong Hoa, Director General, International Cooperation Department, Ministry of Culture, Sports and Tourism, who acknowledged the importance of attracting major international productions to Vietnam. "It's an absolutely favorable moment as we are revising the cinema law, which is an important legal framework for regulators and government agencies to come up with incentives. Vietnam is totally lagging behind, not to mention Australia and New Zealand, but also facing fierce competition from Thailand and Malaysia, which offer tax rebates and many more incentives."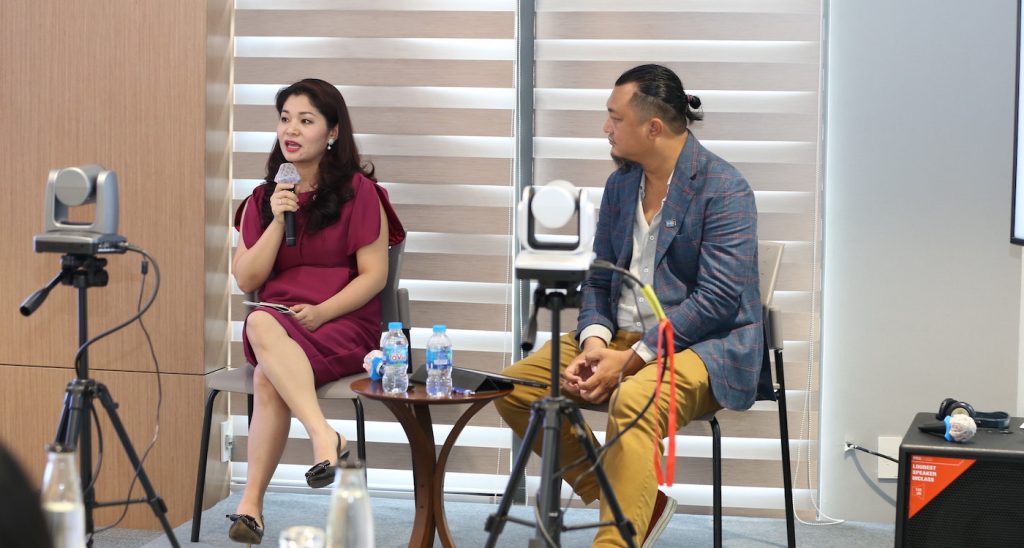 She hoped that the new cinema law will loosen up the regulations for both local and foreign filmmakers. "Everything starts with the script. When Vietnam has no financial incentives, having transparent procedures will make it easier for international filmmakers to come to Vietnam. Now a script needs to be approved, which is a barrier to foreign filmmakers."
Roewe complimented the points made by Hoa: "You don't need the best incentive. In this day and time when you have an incentive, you're telling the international community you would welcome them, like getting a little sign that we are open for business," he said.
In the final panel, Protecting What's Most Valuable, BHD/Vietnam MediaCorp and Vietnam Studio Vice President, Ngo Thi Bich Hanh, spoke about her challenges protecting content from digital piracy: "You will be put in jail if you steal a motorbike. But when a film we distribute was being live-streamed from the cinemas on its first day of release, the maximum fine is only VN15m, which is less than US $800. Oscar-winner Soul is on our BHD platform, but it's also on many [illegal] local websites."
"IP assets are intangible and people don't respect them," she added. "When a movie is stolen, we should treat it more seriously like motorbike theft. I hope we don't have to repeat this topic five years later."
MPA Senior Content Protection Counsel, Grace Chui spoke on behalf of the Alliance for Creativity and Entertainment (ACE), a global coalition launched in 2017 of over 30 members, including all MPA members. "We specifically focus on the threats of persistent illegal website operators. They make profits by attracting a significant number of users to their sites and profiting from advertising through banners and pop-up ads when the users are watching copyright content."
She cited a number of notorious infringing websites such as Dongphym.net, Motphim.net, Phephimz.net, and Phimmoi.net. The latter was taken down last year but resurfaced as Phimmoizz.net with the same interface on the landing page. "We need the government and law enforcement to meet the challenges we face today, and their help to stop infringement. It will benefit Vietnam and local creators."
Yew Kuin Cheah, Principal Counsel, Antipiracy-Digital Media, Legal, The Walt Disney Company, pointed out that older legislation may not be sufficiently adapted to tackle new forms of pirated content distribution. Local copyright laws need to be updated to allow civil and criminal action to be taken against the pirates.
He noted that site blocking has proven to be an effective tool in territories like Australia and the UK, which made it difficult for the public to access the pirated sites, hence reducing the amount of piracy they watch. He concurred that strong enforcement is needed. "We need assistance from local enforcement force which has stronger enforcement power and the ability to compile information when private rights owners are not able to do so via civil action. We also need strong criminal penalties to make sure the pirates are deterred and punished appropriately."