Eddie Murphy's Barber Stacey Morris Takes Her Talents to Zamunda in "Coming 2 America"
Prince Akeem is one of Eddie Murphy's most famous roles, but the opinionated barber Clarence is one of the funniest jokes in Coming to America. Stars Murphy and Arsenio Hall arguing with themselves in transformative prosthetics at a New York City barbershop was a surprise to theater audiences. The cameos were crowd-pleasers and captured the culture of men socializing endlessly at their local haircutter, but the scenes emphasized the "boys club" nature of barbershops.
Mirembe (Nomzamo Mbatha) emerges as the royal stylist in a more heartfelt and substantial role in the sequel Coming 2 America. She even professes her dream of opening her own barbershop and scoffs when Lavelle (Jermaine Fowler) asserts that women own "beauty shops." Celebrity barber and Co-head of the Hair Department for Coming 2 America Stacey Morris has faced similar biases in her career.
She picked up the scissors to style her brothers' hair at age 12 and her talent was instantly apparent. Morris's father and stepfather both worked in the music industry and her mother was a successful model. She was accustomed to having entertainers in their home as a child and her father would convince them to let Morris cut their hair. "Some of them would be like, 'Really, this 14-year-old girl?' You know what I'm saying?" Morris recalled. "Because doing men's hair, especially back then, it was a man's world. I was breaking down that barrier and spoiling sexism with that."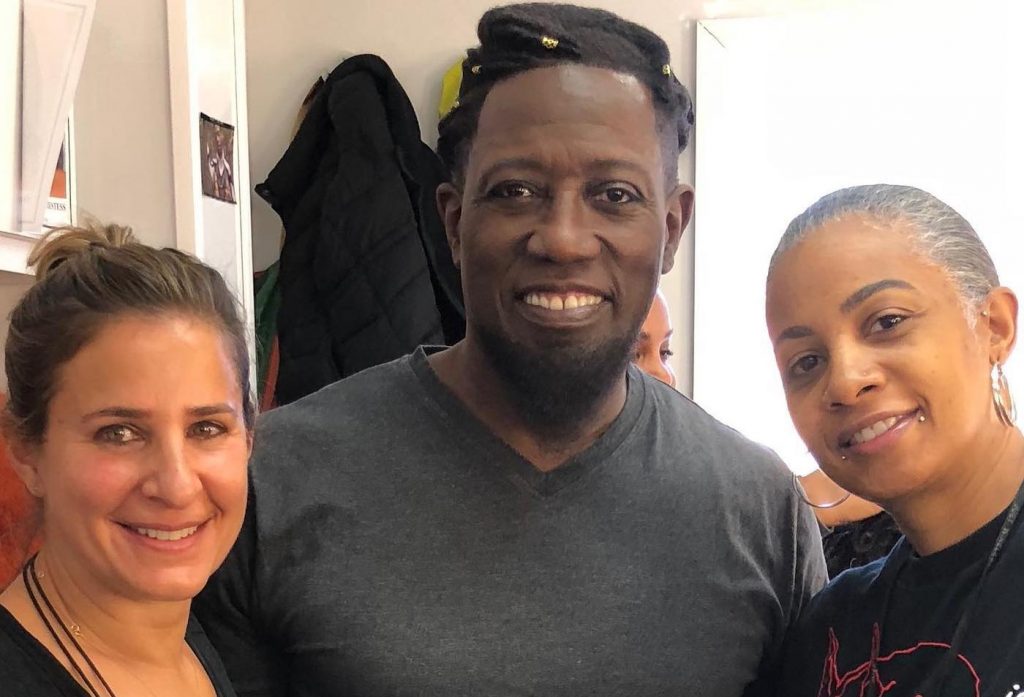 Looking back on an explosive career, it's difficult to imagine that Morris spent years cutting hair as a hobby. Independent at an early age, she once had dreams of becoming a veterinarian. After losing a job at age 20, she began cutting friends' hair for nominal fees, usually under five dollars. "Whatever somebody wanted to give me or tip me. I realized I can pay my bills with this money," Morris remembered. "I started doing that on the side. Still underground, hadn't gone to school, had never had any formal training."
A neighbor noticed Morris's house was full of activity and asked her what went on there. It turned out that her reputation had preceded her. The man said he recognized Morris's name and had been following her career. He revealed that a barber he knew was interested in her work and he connected them.
"This guy owned a shop at the time in Beverly Hills," Morris said. "He was an African American man, but he was also a choreographer. He did stuff like Michael Jackson and Janet Jackson, so he had that whole entertainment world. I went and met with him. He was like, 'Listen, I want you here.'" Morris was reluctant to take a position with no formal training and had not previously considered being a stylist as a long-term career. "He got me into his shop and from there, my clientele grew into basically where I am now."
Teddy Riley, Mike Tyson, Will Smith, Puffy, Riddick Bowe, and more stepped through that Beverly Hills door. She now boasts a seemingly endless roster of A-list clientele including Anthony Anderson, Alfonso Ribeiro, and Anthony Mackie. She also started clipping Eddie Murphy's hair and has been his personal barber for more than two decades.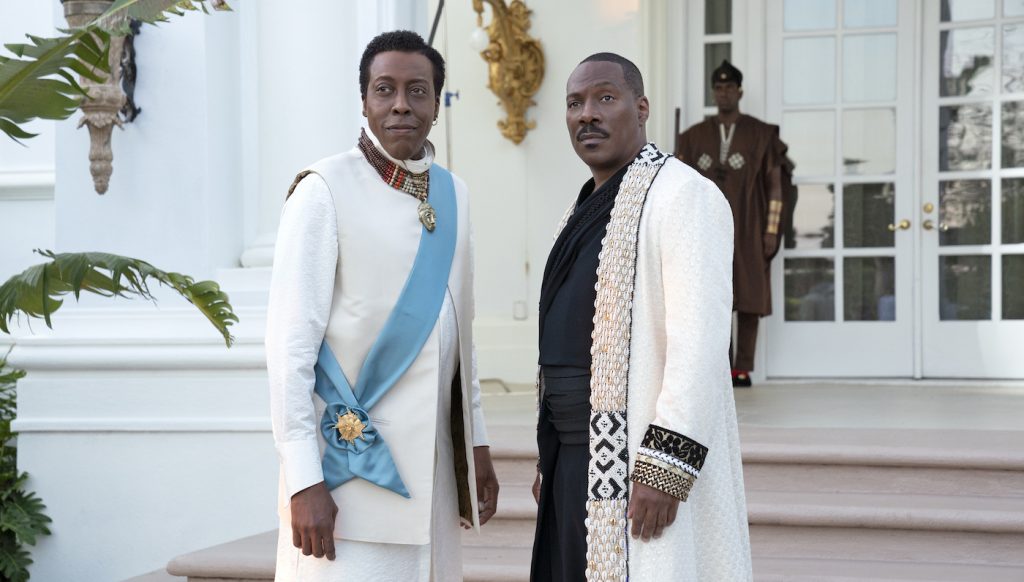 Morris works with clients to help them look their best every day, but also crosses over to shape their style on screen. Her film and TV credits include Sylvie's Love, Gone Girl, Norbit, Dreamgirls, and Black-ish. She earned three Emmy nominations for her work on The Voice. Her creative vision helps the actors feel more comfortable in their role because they are confident that they look the part.
"If you think about Eddie Murphy and he does all these different characters and stuff, part of him being able to become that character is how he feels and how he looks," Morris explained. "We handle that and he does the rest. We help him bring that character to life. Whether it's your hair on your head or whether it's facial hair or even our eyebrows. All those different things, those little nuances, change your appearance and how you're perceived and what you represent."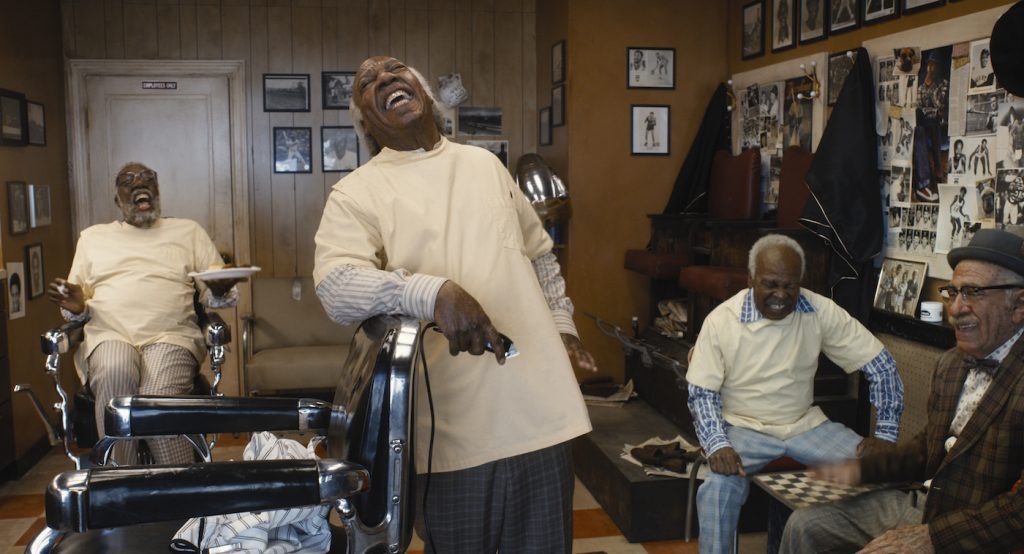 Eddie Murphy is one of the most famous faces in Hollywood, but he has made some of the most radical transformations on screen. However, he may be most difficult to recognize by what he takes off rather than what he puts on. "It's funny because we did Bowfinger and he had a little tiny mustache," Morris recalled. "When it was over, he was like, 'How do I get rid of this?' I said, 'Let's just cut it off and let it come back.' It was the first time he had cut his mustache. People didn't recognize him. He was like, 'I am my mustache?'"
Morris's designs in Coming 2 America alongside co-head of hair design, Carla Farmer, and principal wig maker, Justin Stanford, are stunning. The styles are lavish and whimsical and indulged more in the films' fictional African nations. "With Wesley Snipes, I knew that his character was much different than the Zamundans," Morris explained. "He was from Nexdoria, which is a little looser. They're a little more urban in Africa. They're a little more thuggish. I knew you could do something that wasn't so refined and stiff and supposed to be regal and neat and pressed. With him, I took it upon myself to play on that and use his character."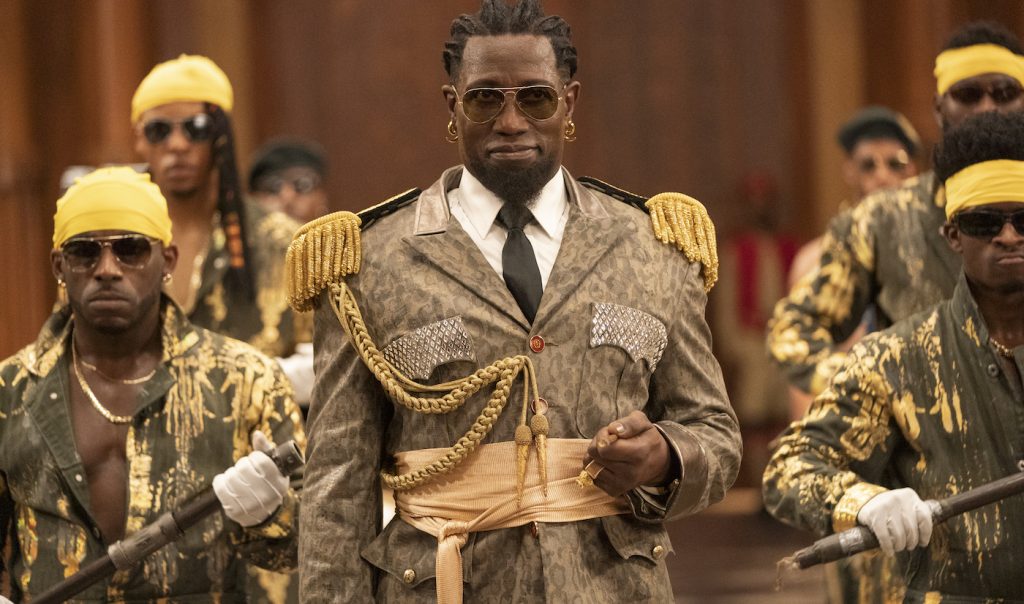 Biopic Dolemite is My Name also featured some outrageous looks but was grounded in the true lives of the characters the film is based on. As Rudy Ray Moore's (Murphy) alter ego "Dolemite" took shape, he developed a more sensational persona. "If you notice the progression, the hair tells a story in that movie," Morris pointed out. "When he started, he was one way. He had that little short Afro that was just him. It was kind of receding and going thin. That was a wig, too. Then he gets his first wig. Well he didn't have money, so it didn't make sense for him to have a good wig, so it was this synthetic, cheesy, hokey wig. And then as he started to make it and had more money, his wig looked a little more expensive."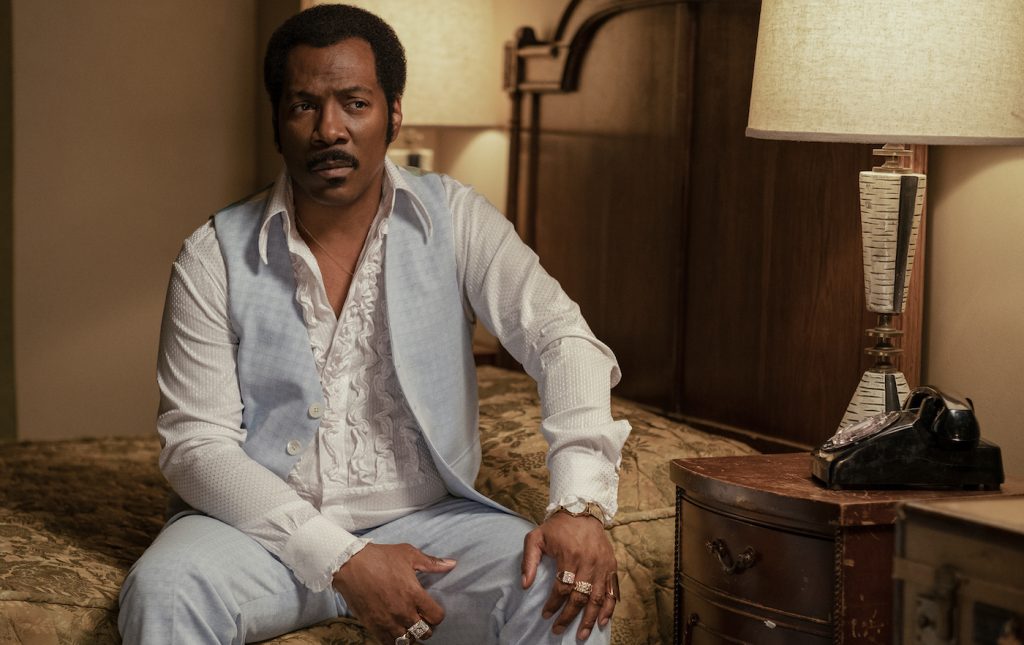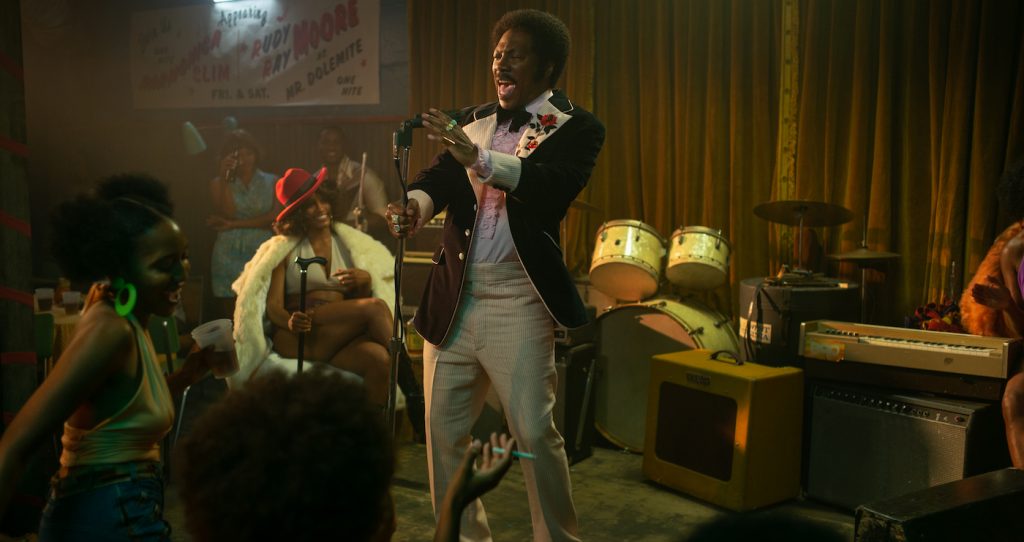 Fans will soon be able to see Morris' amazing work in person. The Academy Museum of Motion Pictures in Los Angeles will host a Dolemite exhibit beginning this September. Morris provided them with busts she used for Murphy that are actual molds of the actor and other artifacts from the film.
Of course, hair doesn't just grow on our heads. Beyond even beards and eyebrows, Morris has to be ready to work with it all. "There are all kinds of stuff," she said. "You wouldn't believe it. There might be a pool scene that was set in the 70s and back then it was hippie and you might need hair under a person's arm or more pubic hair showing in their bathing suit. That's called a merkin, by the way. There are all kinds of pieces that are made and different tools that you use to apply and remove products."
The goal for Morris isn't always glamour. She took home a Makeup and Hair Stylists Guild Award for her work on a State Farm commercial featuring Alfonso Ribeiro doing a shoddy impression of Chris Paul. "It's not about the perfect look or most beautiful. He was supposed to be a bad version. Right? He was an impersonator of Chris Paul. The director was like, 'It's too good. You've gotta make it worse. I should be able to see the bald cap.' We did all of that and we pulled it off. He still looked good, but it was like, this is not Chris Paul. I had to create a good bad version."
So many of Morris's clients are on a global stage that has a real influence on the culture. Morris said it's important for her work to be observant and understand what is happening in the streets. "It's interesting because I don't set the trends," Morris said. "They start at a grassroots level, but they don't get seen. I say this all the time, but before Michael Jackson, we were moonwalking in the kitchen. But then he did it on screen and it became a thing and everybody was moonwalking. We had been moonwalking. I make sure to stay connected to the community and to the grassroots level and my clients and stuff like that. I don't create it, but once I do it, it gets seen because of their celebrity and it becomes the trend. People want to look like them and then it becomes widespread."
Morris's path has been remarkable. Her talent has been so widely known that people kept knocking on her door, even when she couldn't yet imagine where her career would take her. "It's amazing to just have something," she said. "I didn't even realize the value in it or how unique or really, how good I was at it. It just happened and opportunities kept presenting themselves. Just like they always say, an opportunity is not an opportunity if you're not prepared, and somehow I was always prepared for the next thing, the next opportunity."
Featured image: Arsenio Hall and Eddie Murphy star in COMING 2 AMERICA © 2020 Paramount Pictures