Why Director Fernando Frías de la Parra's Stunning "I'm No Longer Here" is a Must-See
When Oscar-winning filmmakers Guillermo Del Toro (The Shape of Water)  and Alfonso Cuarón (Gravity, Roma) refer to a film as "a singularity in the last decade" and "an experience of space and time," you pay attention. The film is Fernando Frías de la Parra (Los Espookys) I'm No Longer Here, streaming on Netflix, and it tells the fictional story of Ulises (Juan Daniel García), an adept dancer who leads a gang of disenfranchised kids, Los Terkos (The Stubborn Ones) in northern Mexico before a terrible mix-up with a cartel forces him to flee to New York.
In 2013, with his win for Gravity, Alfonso Cuarón started a phenomenal streak that in the 2010s saw five out of ten Oscars for Best Director going to a trifecta of Mexican filmmakers, known as "the three amigos"—Del Toro, Cuarón, and Alejandro González Iñárritu (The Revenant, Birdman). Two of the three amigos, Alfonso Cuarón and Guillermo del Toro, held a talk for Netflix where they shared their admiration for I'm No Longer Here, Frías's third film, and his first to garner wide international attention. In that talk, Cuarón called up-and-coming Frías, "one of the best new directors in the world," and "the torch for what is to come."
"I'm No Longer Here" was Mexico's submission for the Oscars, but Mexico's hopes for Oscar glory were crushed when I'm No Longer Here missed out on the worldwide attention that comes with a nomination for Best International Feature. However, in a time aptly described by Del Toro and Cuarón as one where "people everywhere are thirsty for original universes, ideas, and stories," the presence of I'm No Longer Here on Netflix has proven hugely successful. Frias' film is benefiting from access to a global audience that is more receptive than ever to explore artistic visions that don't comply with the norm.
And what is I'm No Longer Here about anyway?
If you asked Guillermo Del Toro, he'd probably tell you what he first told Cuarón, as he revealed in their Netflix conversation: "You're going to have to watch it." For Cuarón, the movie is about the certainty and defense of one's identity and "how much of our identity is based upon an external facade."
In an interview with Netflix Latinoamerica, Frías said that I'm No Longer Here is about "a counterculture and a character that represents it. Identification. Rooting. Belonging. You can also think of it as a movie about cumbia dancing. Or about migration, friendship, the family we chose."
That counterculture is called Kolombia—like the Latin American country but styled with a K. It flourished in the marginalized hills of Monterrey, Mexico between the 90s and the first decade of this century. Impoverished youths danced and bonded to slowed-down versions of Colombian cumbia. Their gel-sculptured hairdos and their cholo-inspired outfits featuring Catholic imagery clashed with the establishment of conservative and otherwise wealthy Monterrey.
As Mexico was engulfed in its ultimately failed War On Drugs; the brutal violence brought to places that Kolombias called home prompted the counterculture's fading away. Frías found his subject literally vanishing as he was making his movie. Capturing that evanescence is one of the most difficult aspects of filmmaking, according to Del Toro, and I'm No Longer Here achieves precisely that.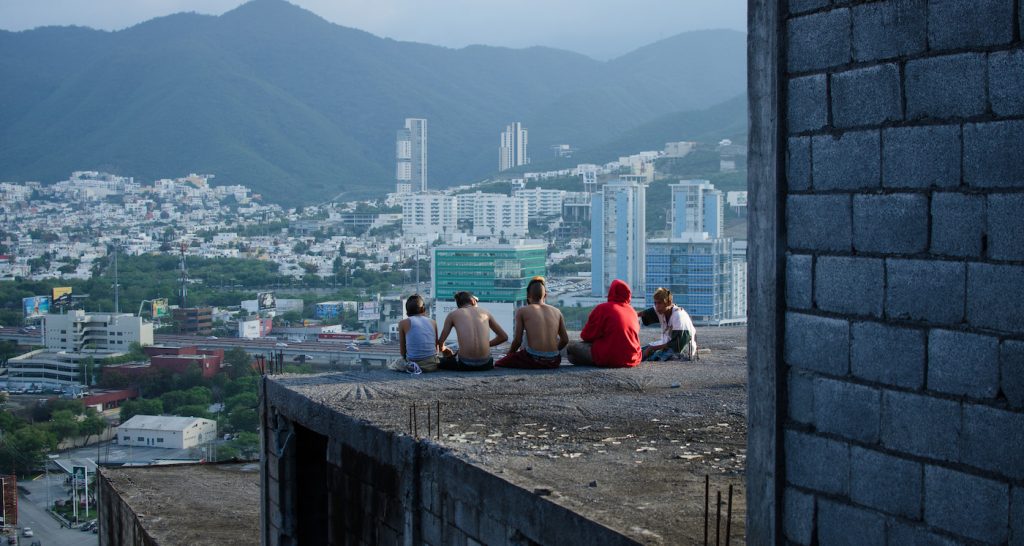 Frías is well aware of how violence in Mexico has been exploited for its shock value in cinema and wanted none of it. The cultural syncretism that Kolombias created had caught the attention of international media before. But in truth, such attention had voyeuristic overtones, treating the Kolombias culture as little more than the curious other.
Frías respects the humanity and authenticity of the people and places he portrayed, shunning devices that have become expected in social dramas. Forget about hand-held cameras or a score that insists on specific viewer reactions. Instead, I'm No Longer Here centers on the character's emotions and their relationship within the spaces they inhabit. The result is a beautifully shot, cinematic insight of a bygone countermovement. Like Del Toro stated, Frías has a "complete control of the medium" so he delivers a film that is "formally impeccable and at the same time very free narrative-wise."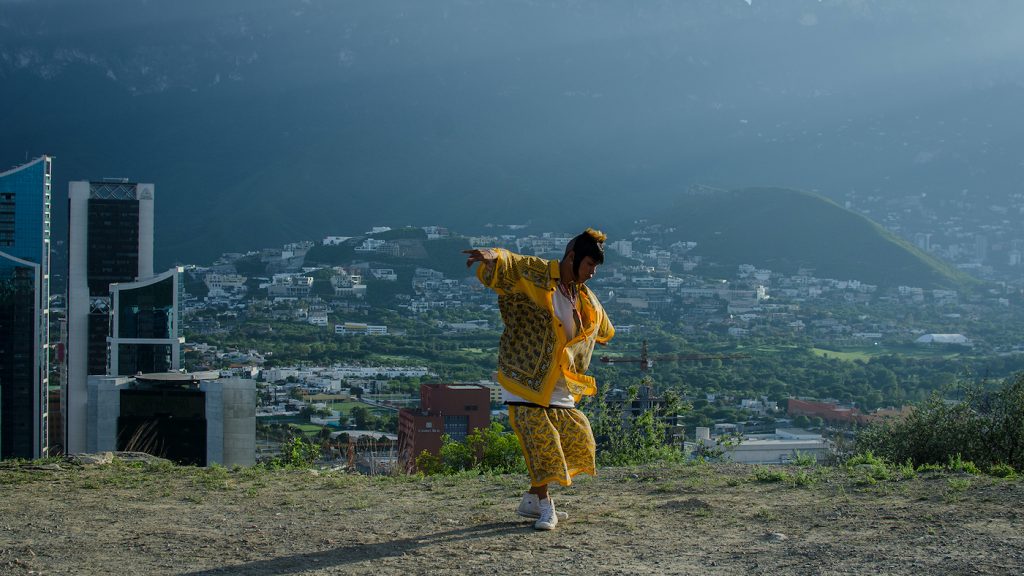 Further celebrated by the Oscar-winning Mexican duo are Frías' thorough casting choices. In the aforementioned Netflix talk, Del Toro and Cuarón reflected on the importance of choosing the right faces to uphold the truth. Frías' casting choices reflect his "wisdom of finding the truth in each one of its elements," said Cuarón. For Del Toro, "Movies are made of faces and gazes…[and in I'm No Longer Here] you don't question whether they're actors, if they come from theater or if they've made movies before. They just are…they incarnate and evoke the characters in an absolutely impressive manner."
Frías found his cast among kids from the same neighborhoods where Kolombia counterculture used to reign. The only actor in the main cast with previous acting experience is Xueming Angelina Chen. As for the protagonist, Juan Daniel García, before he landed the role of Ulises he worked as a percussionist and a welder.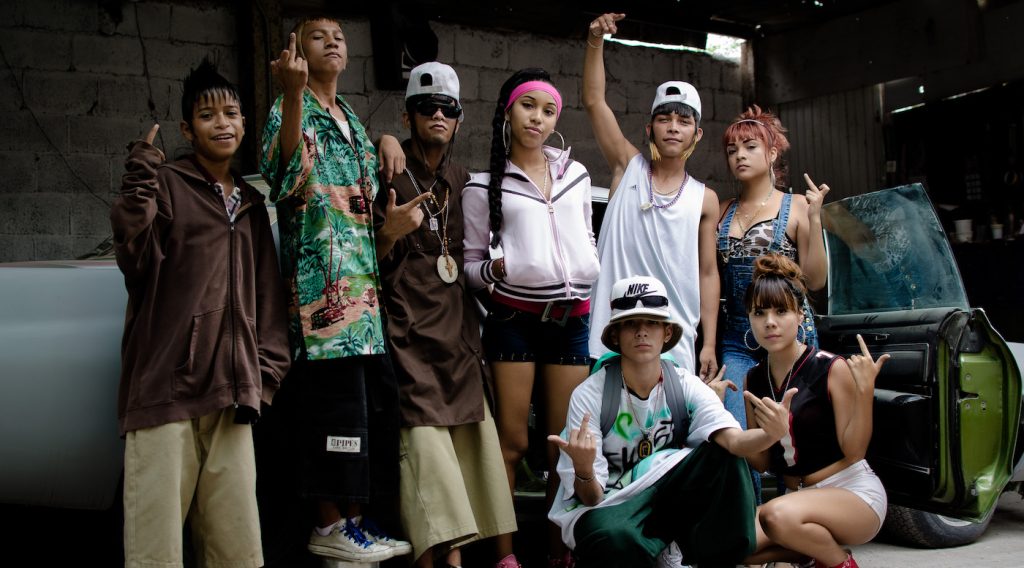 García has been compared to Roma's Yalitza Aparicio, the protagonist in Cuaron's Roma, who gave an astonishing performance without previous acting experience. "They've called me Yalitzio and that's cool," García said in an interview with GQ." I've watched Roma, I really liked it…all the frames are beautiful and Yalitza is a great person."
And just as Yalitza Aparicio's well-earned success exposed the not-so-often-talked-about racism, colorism, and classism that reigns in Mexican society, I'm No Longer Here stirred up the same dark forces of prejudice. While the vast majority of the Mexican public lauded Frías' film, too many complained that neither the people nor the way of life depicted in it represented "true" Monterrey. Some went even further stating that the movie would damage the image of the city.
Frías' genuine preoccupation with giving opportunities to at-risk youths acquires a new dimension with a closer look at García's journey. He was invited to audition for a role after I'm No Longer Here production team spotted him performing in a public concert with his band. García got that gig only after honing his musical skills thanks to a government-funded program for social prevention of crime.
Now the young performer and father of two, whose formal education ended in primary school, has won the 2020 Mexico's Ariel for Best New Actor and Best Actor at the Cairo International Film Festival. He's studying acting and photography and is already working in two upcoming filming projects.
In conversation with Yalitzia Aparicio, García summed up his truth—"There is talent in the hood, we just need to support it."
Featured image: Juan Daniel García is Ulises in "I'm No Longer Here." Courtesy Netflix.