Oscar Nominees Mia Neal & Sergio Lopez-Rivera on the Hair & Makeup of "Ma Rainey's Black Bottom"
I got a chance to speak to hair department head Mia Neal and makeup artist Sergio Lopez-Rivera about their work in George C. Wolfe's Ma Rainey's Black Bottom before the Oscar nominations were announced. Tasked with, among other challenges, turning Oscar-nominee Viola Davis into the real-life Ma was no easy feat, least of all because there wasn't a ton of photographic evidence to work with. Add to that scorching temperatures during much of the shoot (they filmed in Pittsburgh in the summer of 2019) and the heavy makeup, wigs, and wardrobe required by the part, and Neal and Lopez-Rivera had their work cut out for them.
Spoiler alert—they succeeded. Neal, Lopez-Rivera, and hairstylist Jamika Wilson were nominated for Oscars for Best Makeup and Hairstyling. Even though they were surrounded by huge talents (and a slew of other future Oscar nominees), neither of them could have guessed at how meaningful this film would have been to them at the time, or how much the world would change shortly after they wrapped. Ma Rainey's Black Bottom was the late, great Chadwick Boseman's last performance, for which he earned an Oscar nomination. By the time the news of his passing became public, we were in the midst of a global pandemic.
Neal and Lopez-Rivera discuss Boseman, Davis, the power of specificity and more. This interview has been edited for length and clarity.
Looking back on the film knowing all that's come to pass since 2019, what are some of your feelings?
Sergio: When I first saw it, which was well after a year of working on it, I was just so emotional. Chadwick's performance killed me, and then I just started to feel super proud to be a part of this. Just the role of Levee, the way that role is written, I believe it's one of the greatest characters of all time. When I got the news, Viola actually called me because we were quarantining in Vancouver, we were going to be working on another movie, and I was devastated. Devastated because of the news, of course, but also devastated because I just couldn't leave my room and go and give her a hug or anything. We had no idea. It was just absolutely awful. He just did an incredible job. I expect him to win absolutely everything.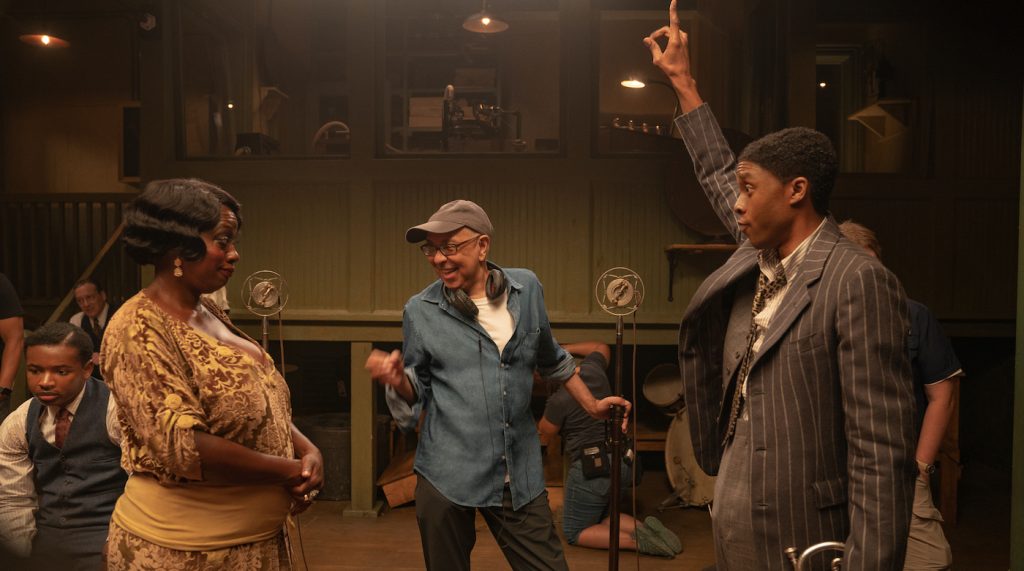 In designing the makeup for Ma Rainey, how much of the historical record did you have to go on?
Sergio: You can create a character from one piece of information. For Ma Rainey, I couldn't find a lot of material about her. There was an 8×10 photo that would have been a headshot that gave me enough to be able to design the eye makeup. You can also see in this grainy black and white photograph that's she has gold teeth in her mouth, and you also know that she had the intention of rounding out her eyes on the bottom. I saw that the liner was detached from the water table, meaning the bottom lashes of your eye, on a downward scoop. That gave me the idea that this story that this woman was trying to do what was trendy at that time. What was beautiful for a woman in the 1920s was to have big eyes and small mouths. So I told myself this story that she was applying this makeup robotically as a matter of routine because she'd done it her whole life. She comes from Vaudville, and I wanted the makeup to be very jittery and badly applied and to sit on her face. I wanted it to speak a little bit about the struggle to be her, in this life, on this hot day in Chicago in the summer. I needed to service the character without it being distracting to the audience. It works, though, because I'm respecting those lines, and also because if you put anything in Viola Davis, she's going to make it work [laughs].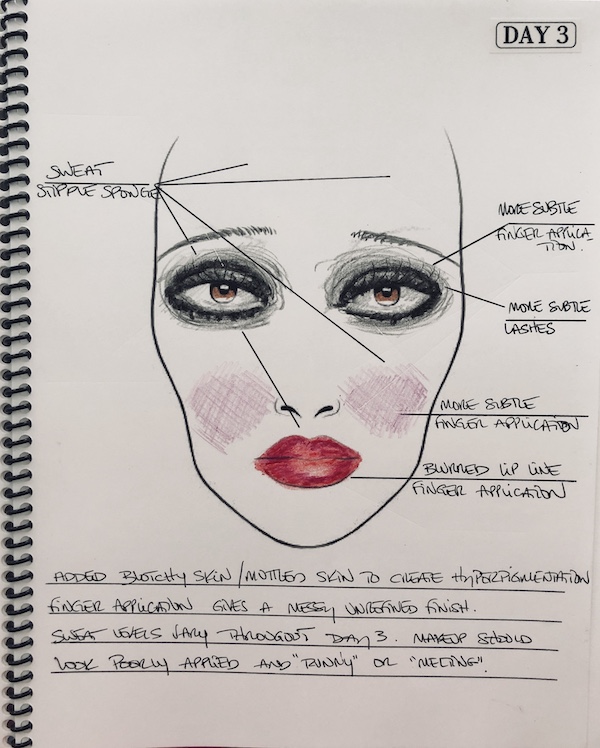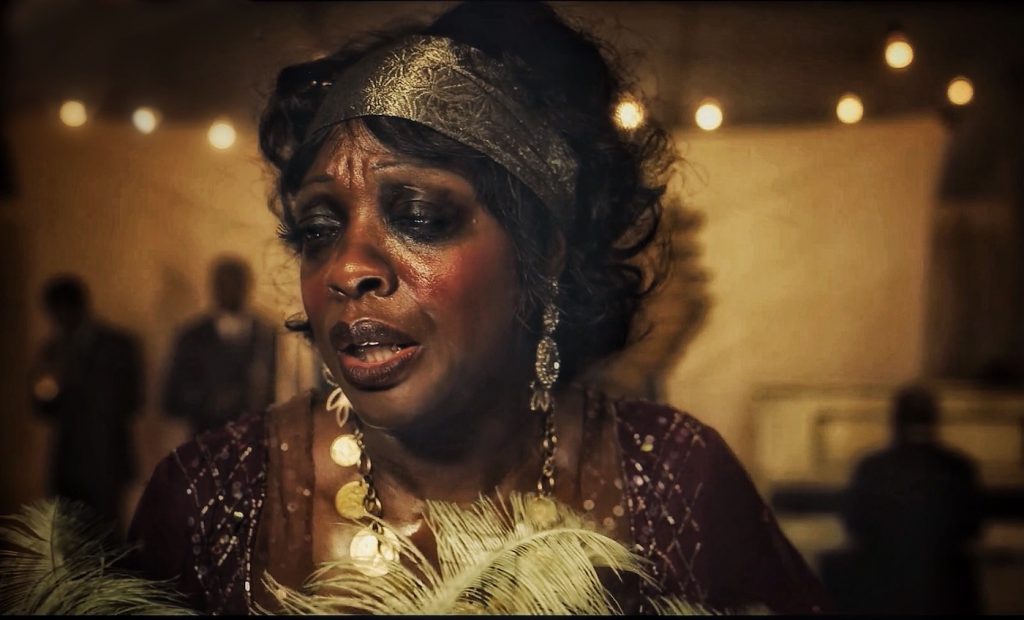 Is it harder to transform someone as recognizable as Viola?
Mia: Viola specifically gave me permission to really go there. Everything she had read about Ma Rainey really spoke to the fact that this was not an attractive woman, and so she did not want to try to make her pretty. I think that released any boundaries around really trying to create Ma Rainey and not factoring Viola into it, just focusing on the character and knowing that as long as I get this story right around her hair, and I can articulate that to Viola, that I know it'll be a green light and I won't get resistance.
Sergio: I can't stress it enough what a different experience you're having as makeup and hair artists when you know you don't have to handle the vanity of the actor. When you don't have to be precious about that, when somebody releases you from that, which is exactly what Viola did. It's the most freeing thing because you can't hide behind anything. This powerhouse of a performer is giving you permission to go there. There was this final push I needed which was on the first day after we've already done the camera tests and she's familiar with what I'm about to do, I must have been a little hesitant, and she said to me, 'Sergio, just think of Bette Davis in Whatever Happened to Baby Jane? She could not have given me a better gift. First, because I love that movie, and second, because somebody told me that Bette Davis did her own makeup, and the reason was because no makeup artist would have the b*lls to do this to her [laughs]. I love that. I understand that logic. She couldn't rely on another person to do this because no one would take it as far as she would.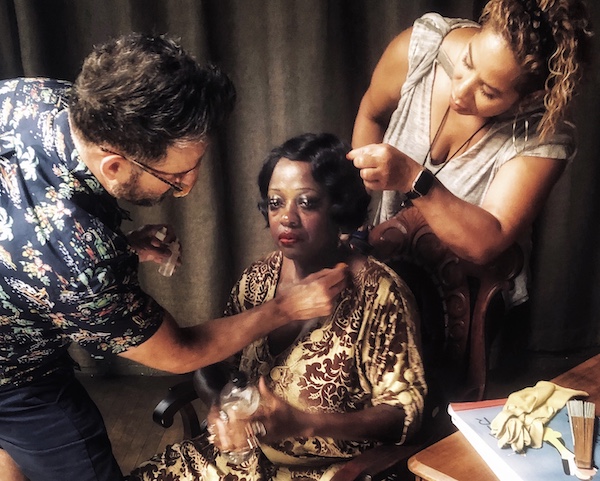 Mia, tell me about crafting Ma's hair.
Mia: It's funny, Viola wore two wigs, and one of them was made of horsehair and the other was made of European hair. The night before we shot the tent scene it rained, so when we got there it was wet outside, muddy, and the humidity was definitely at 100 percent. This was the first day we were filming with the horsehair wig. I've never worked with horsehair, I have no idea how this wig is going to hold up, and Jamika came up to me and said, 'The wig is not moving.' Crazy enough, we realized that this is probably why Ma Rainey wore horsehair wigs. This thing maintained its continuity. It's cut and formed and set into a style and you don't have to worry about it changing. So for Ma Rainey, it was essential for her to have a wig she could travel with.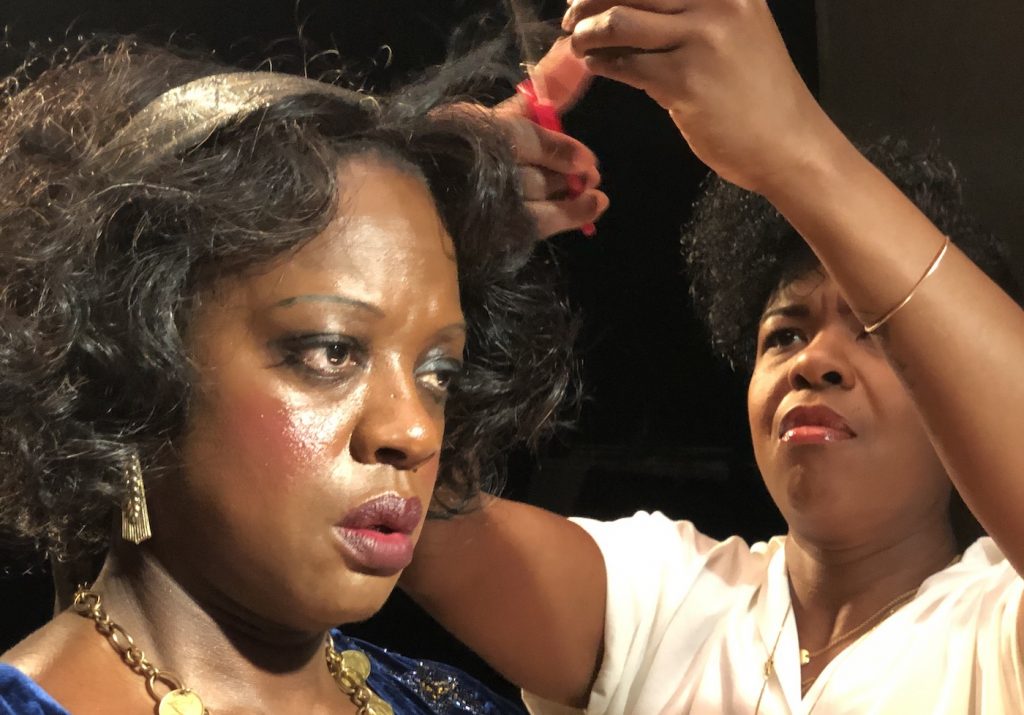 It's interesting how often you both used products and materials Ma would have used.
Mia: If you don't get inside the head of these characters, it will read as fake. You have to know specifically why this person had this, why they made this decision, and if you don't, and it's just like, Oh this is cute! Or, Oh, that's pretty!, when you watch a movie you'll think, 'This doesn't feel right. Something about this is off.'
Sergio: When you design a character, specificity is your friend. The way you fail at this is when you're telling the story of the makeup artist or the hairdresser, what they perceive as pretty or not pretty. You lose the authenticity of the moment. When you start to map out a character, the first thing I do is go into history. What's the socioeconomics of this particular character? Does she come from money? Did she get an education? What does she have access to? As a black woman in the 1920s that was performing, that needed makeup, her choices were super limited. Also, she had darker skin, which was looked down upon even in her own community. The desire was always to be lighter than you are, that's why one of the first cosmetics available to people of color was bleaching creams. You start to get these bits of actual historical truths, and then you have a foundation to build someone and make decisions on their behalf.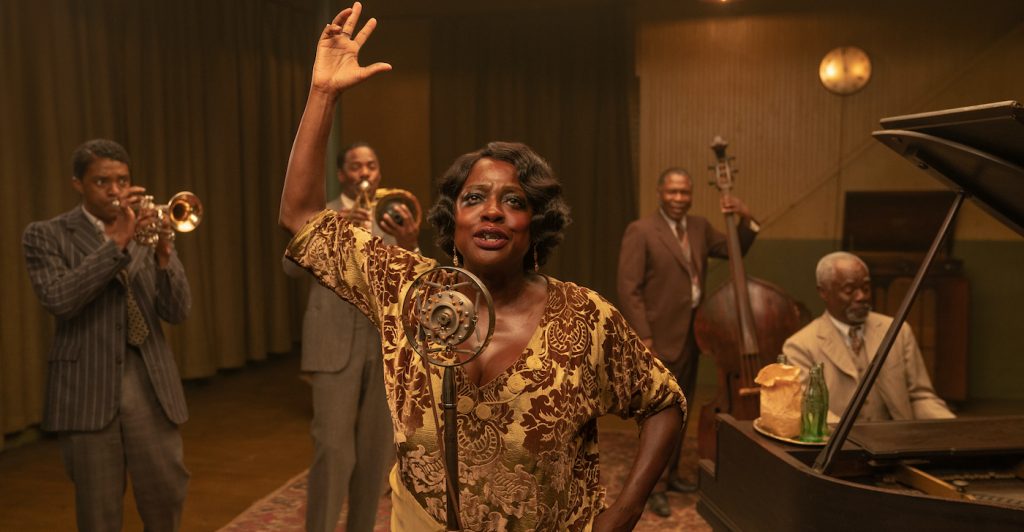 So you've got Viola using products that would have been available in the 1920s?
Sergio: With Viola, it was relatively easy because the things I have to erase from her are the smooth skin of a 21st-century woman that has access to facials and skincare, and that 21st-century smile, which is beautiful and white and perfect. Then another trick that helps is to change their eyebrows. Because in the 1920s eyebrows are so specific, and because Ma comes from the theater, I had this idea that she would have shaved her eyebrows like a lot of women did at the time, only to draw them back with a doll-like expression that was considered very beautiful in the 1920s. I was having her trying to mimic something and not quite succeed.
Mia: Once I spoke with [Oscar-nominated costume designer] Ann Roth, and watching how Ann put Ma in a fur coat during the summertime, that gives you an idea. This woman is very decadent. She does not follow the rules, and you know that from the research—she's married and she has a girlfriend. We know that part. Something about seeing her in the summertime with a fur coat on set me off. It spoke to the psychology behind this character, in which this is the first generation of her family in this country that's free. She was from a sharecropper family in Georgia, she changes her name, she moves, she travels, she sings, she breaks every rule of that time period. So that's where the hair comes in, her second wig had to be made of European hair because that's what she sees when she looks in the magazines and she thinks, I want that. She's not going to be denied that.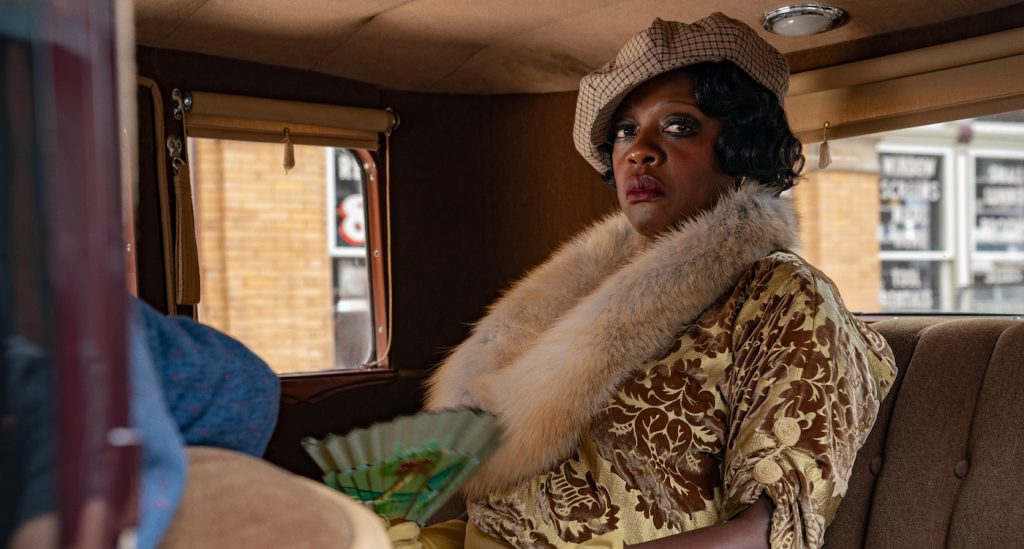 Ma Rainey's Black Bottom is available on Netflix.
For more on Ma Rainey's Black Bottom, check out our interview with Branford Marsalis, and Oscar-nominated production designer Mark Ricker.
Featured image: Viola Davis getting a touch-up on set. Courtesy Sergio Lopez-Rivera/Netflix.