Yuh-jung Youn on Creating Family in "Minari"
Writer/director Lee Isaac Chung's film Minari is about a Korean family chasing the American dream in 1980s Arkansas. Steven Yeun and Yeri Han play parents Jacob and Monica, who have brought their two kids Ann and David to live and work on a farm, one Jacob hopes to make successful. Yuh-jung Youn plays foul-mouthed but loving grandma Soonja, who leaves Korea to come help care for the children. At first, David thinks Soonja just smells weird and doesn't act at all the way a grandmother should, but soon they forge a bond that strengthens the whole family.
Yuh-jung Youn has had a career in South Korean film and television spanning 55 years, and is known by some as the 'Korean Meryl Streep.' She has won many awards in her native country and is now building another collection of them from critics associations around the country for playing Minari's Soonja. The Credits spoke to Yuh-jung Youn about what inspired her portrayal of the frank, fearless grandmother, and her thoughts on what made the family this ensemble cast brought to life feel so authentic.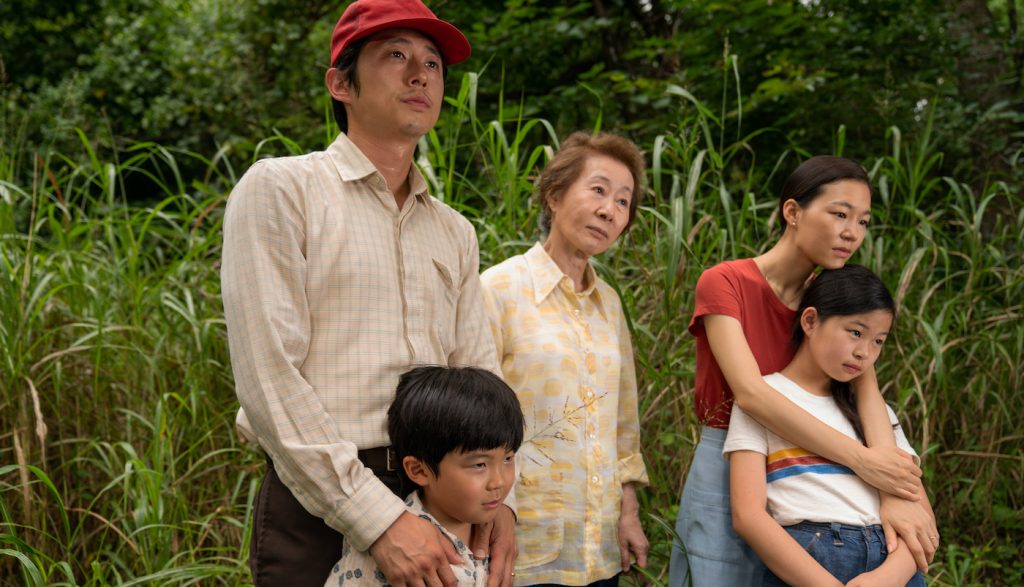 You've mentioned that your great grandmother was one inspiration for your portrayal of Soonja, and that you thought of her often during the filming of Minari. Can you tell us about her?
I was not much older than David's age, but my regret will go on through my lifetime. During the war, nothing was settled, and after the war, there were shortages of everything. We had to use the city water only at certain times of the day. It would only come out of the faucet at that time, so she had to save the water for the whole family to share. To me, at my age, she seemed dirty, washing with used water. That bothered stupid me. Then we also had to share the food. She always said she wasn't hungry. I thought she wasn't hungry, but no. She wanted to feed us. She was sacrificing her food for us. Then when I got to be about 60, I started thinking about her. One day I heard someone humming a song, and it seemed really familiar, and I remembered she used to sing it all the time. All the memories of her came back. My heart is still breaking, and I'm so sorry, looking back on my terrible behavior towards her.
The film and your character are sending a love note back to her since David and Soonja have such a special relationship.
I hope so. I wish and hope she can connect with me through that.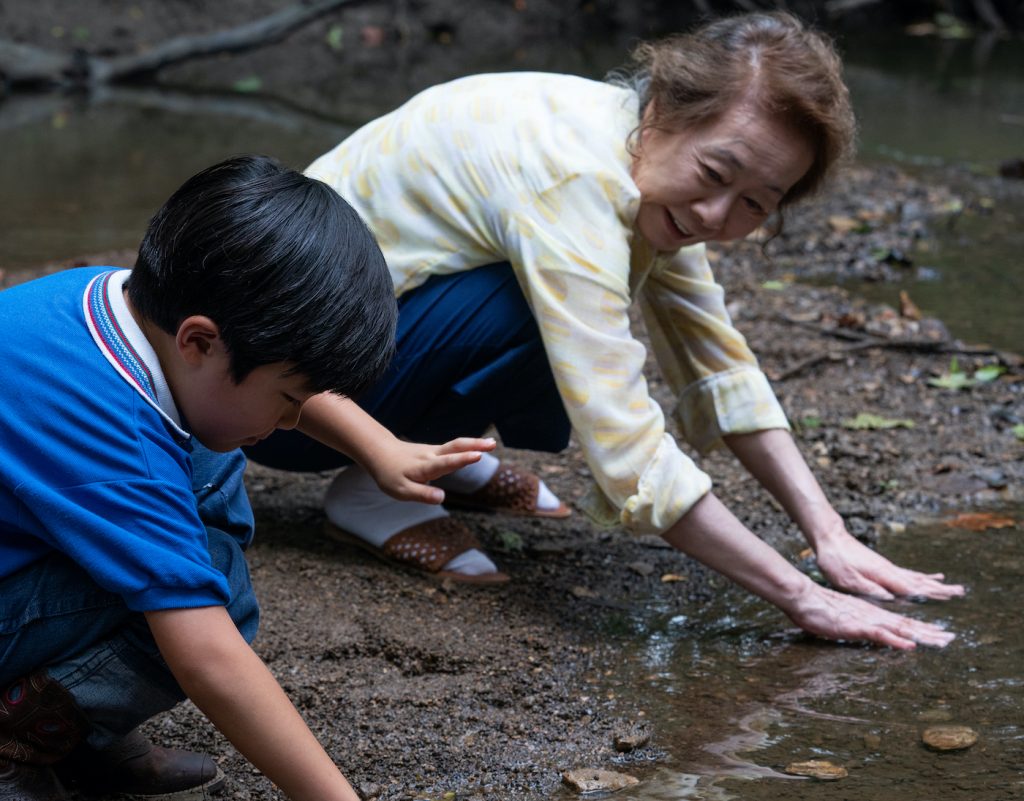 In what way was Soonja compelling as a character for you to play? 
A friend of mine introduced the script. The script was very real to me, and then I found out it was based on Isaac's life story, and I loved that about the script. Everybody was very real. Isaac gave me the freedom to create or develop the character together with him. He is such a thoughtful and nice guy that he never mentioned while we were filming, but he told me later on that I don't look like his grandmother at all. Isaac and I create a very different character together.
Much like your character in Minari, you are very straightforward and frank in your interviews. Have you always been this honest, or have you become more that way as you've gotten older? How has it served you as a woman in film?
With age, what happens is you become freer, in a way, and more relaxed. You don't have the weight of responsibility. I can actually step back and enjoy, and also be more forgiving. I'm very frank about myself and in all situations. It sometimes has been a help and sometimes been a distraction in this career. Usually, I tried never to have interviews when I was working in Korea because they would misunderstand or misinterpret me, so I was afraid to have public interviews. Here in the United States, I can do more interviews, but it is more an issue of language, of my English.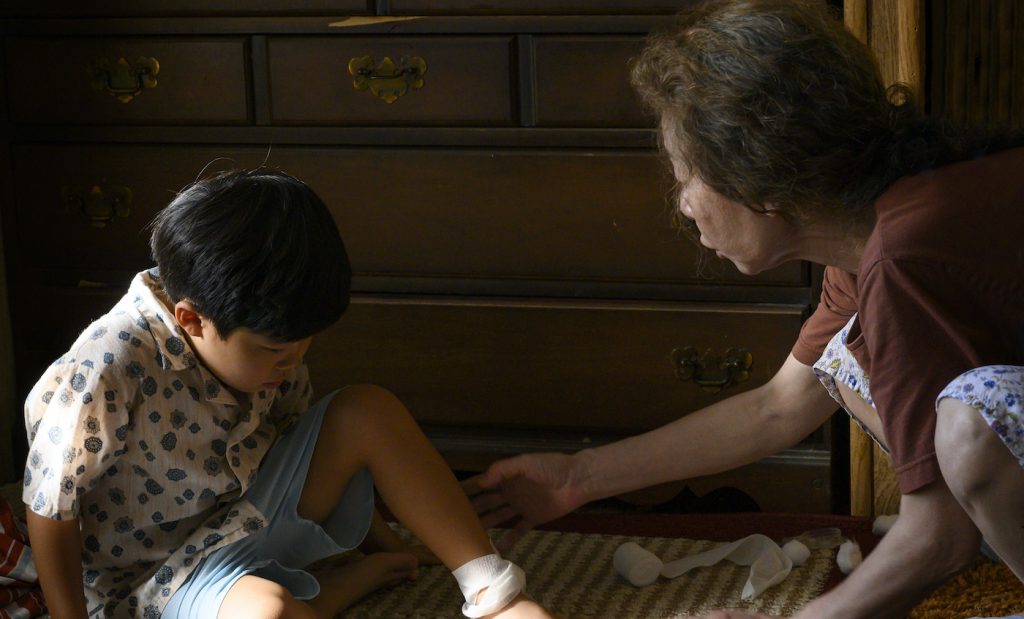 You are known for only needing one take, which means you are always 100% prepared. What does that preparation look like for you?
Usually, actors and actresses fall in love with theater or film, and study and learn so they can be successful, but that was not the case with me. I bumped into acting. I fell into it. So that's why I tried to practice a lot, trying to prepare before performances, because I felt like I was not ready like they were. I had to do more. They had prepared their whole lives to be an actor. Me, I was just looking for a part-time job and I wound up being an actress. That's why I started that habit, and I'm really grateful now that I've always done that. They say practice makes you perfect. That is something I really strongly believe in. As I went through my career, I found if I read lines over and over, I don't even know how many times I'd read them, but the more I read and memorize, the more different ways I would find to play the role. That's why I do it over and over. Some people think it's stupid, but no. To me, it's the best way to learn a character.
The cast of Minari feels very much like a family, and a natural ensemble. From your perspective, how was that achieved? 
If there had been big money involved, we would have had separate luxury trailers, and we probably would not have had such a great ensemble. We always got together in one place. I was staying in an Airbnb, Yeri and I were roommates, and then Steven and Isaac came. Everybody was staying in that house. We also always ate together. One thing we would often talk about was how we would deliver our lines in the most natural way. Food always brings people together, and that was true for all of us.
What have you learned over your career that was most useful in playing Soonja and being part of Minari? 
Now I am just crazy enough to do any role. I don't mind whether it's a leading or supporting role, or even a small part, I don't care. I promised myself after I turned 60 that I would enjoy the rest of my career. I don't have to be obsessed with doing a certain kind of role for my name or something like that. I just like to play it by ear now, and have real, true friends around me that I can trust. My dear, dear friend introduced me to Isaac, and of course, I trust her, so I said, 'ok, I'll do it.' I'm very simple. I just want to enjoy myself.
Minari releases in select theaters and on the A24 Screening Room platform beginning February 12th, followed by a VOD release on February 26.
For more on Minari, check out our interview with composer Emile Mosseri. 
Featured image: Yuh-jung Youn. Courtesy of A24