"One Night in Miami" Star Eli Goree on Channeling Muhammad Ali
The first time Eli Goree tried to be Muhammad Ali in the movies, he failed. But when Ang Lee picked another actor for his ill-fated biopic about the heavyweight champion of the world, Goree forged ahead. In between TV gigs like Riverdale and The 100, he trained in boxing gyms, hired a dialect coach to master the fighter's Louisville accent, and commissioned a stage play about Muhammad that he intended to star in for L.A.'s annual Fringe Fest.
But then, Regina King came calling.
The Oscar-winning actress cast Goree in her feature directorial debut One Night in Miami. Based on Kemp Powers' play, the Amazon movie dramatizes a meeting that took place in a Miami motel between the newly crowned champion, his mentor Malcolm X (Kingsley Ben-Adir), soul singer Sam Cooke (Hamilton star Leslie Odom Jr.), and football phenomenon Jim Brown (Aldis Hodge). "Everybody's most tumultuous relationship in the room is with Kingsley as Malcolm X and everybody's most pleasant relationship is with Cassius," says Goree, who portrays Clay just before he changes his name and joins the Nation of Islam. "The drama kind of swings between those things."
Speaking from his home in Pasadena, California, where he's lived for the past four years, the Nova Scotia-born Goree talks about his Method-like dedication to a childhood hero that enabled him to mimic the body, mind, and speaking voice of the 20th century's most charismatic athlete.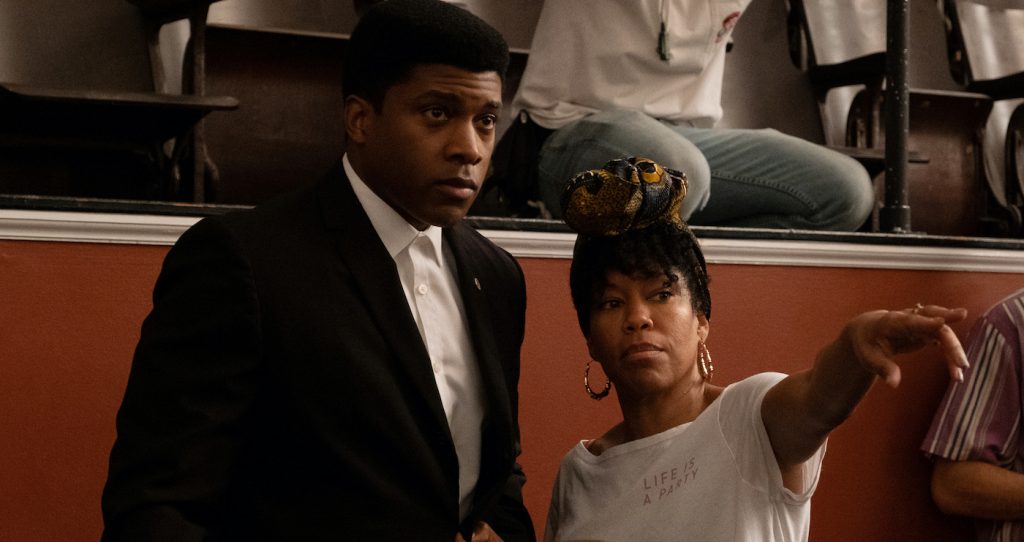 Even before you landed One Night in Miami, you'd become pretty obsessed with Muhammad Ali?
The first time I auditioned for the role of Muhammad Ali, it was actually for another film. Kingsley Bin-Adir, who plays Malcolm X in One Night in Miami, beat me out for the role.
Weird.
I know! We found out, chatting on set. I was really disappointed. Instead of getting depressed, I decided I'm just going to keep working on this character.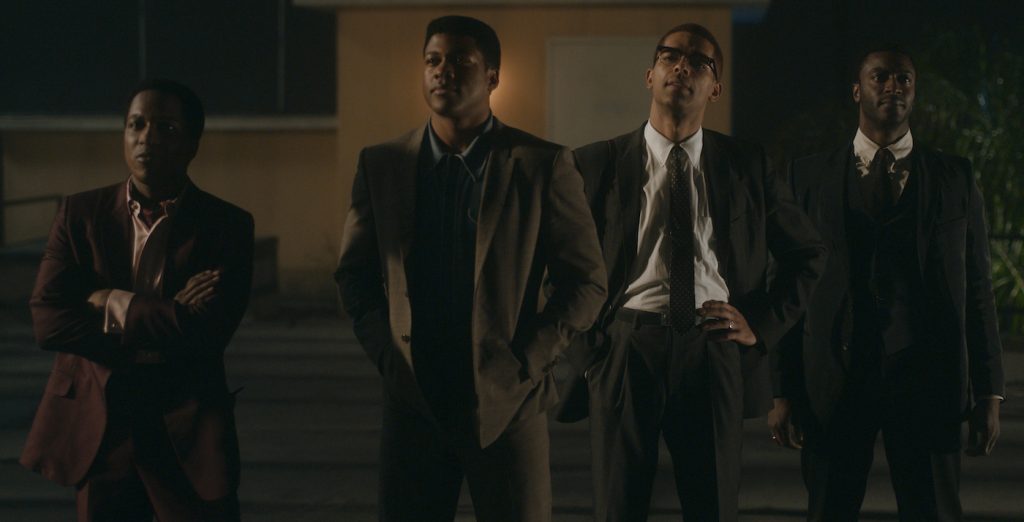 What motivated you to prepare for a role that at the time didn't actually exist?
I'd heard a story at school from one of my teachers, who'd been cast as the son in There Will be Blood. When the budget went away from the film, everyone was told the project was done. But Daniel Day-Lewis, who'd been working on an oil rig in Texas to prepare for the movie, just kept working on that oil rig. Two years later the money came back and they re-cast everybody except for Daniel Day Lewis, who ended up winning the Oscar. That story really inspired me as an artist to keep on pursuing this character I believed I could portray in a very authentic way.
Of his many gifts, what was it about Muhammad Ali that most fascinated you?
His indomitable spirit. He refused to capitulate to things that he didn't feel were right.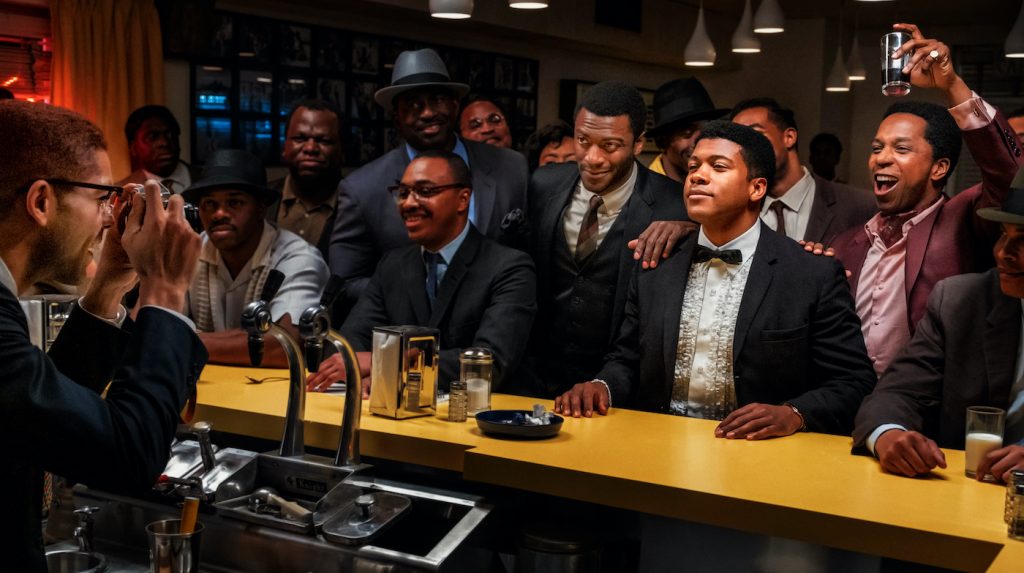 And he paid a price.
Muhammad Ali sacrificed his championship, the prime years of his career, the bulk of his earning years as a boxer. And later, with his illness, he refused to be secluded. Muhammad Ali never allowed himself to be reduced in any way. The other thing that inspired me about Muhammad Ali was the boldness about his faith. I'm a Seventh-Day Adventist Christian. It's very hard to be open about your faith in public. Muhammad Ali never shied away from his beliefs as a Black Muslim, so for me, as a Christian, that inspires me as well.
You grew up in Halifax, Nova Scotia. Is that where you first learned about Muhammad Ali?
He just always felt like a real presence in the life of my family. The lineage of my community in Nova Scotia is one of African American expats. Escaped slaves came up to Nova Scotia. Black loyalists who fought for the British were given land. Jamaican Maroons who'd fought with Britain were also given land, so it was kind of a melting pot of African American culture. I remember my grandmother had a picture of Muhammad Ali up on the wall with all her black heroes. And my mom says he was the first person she ever heard say publicly that being black was beautiful.
Your natural speaking voice right now sounds much lower than what we hear in the movie. How did you master Muhammad Ali's speech patterns?
A lot of people can do an impression of Cassius Clay but I didn't want to do just do an impersonation. The key to grounding the performance came when I found this great dialect coach named Trey Cotton. I told him, to start, I just wanted to learn how to do an authentic southern accent as a Black man in Louisville, Kentucky from that time period. I felt if we could get the foundation of where Cassis Clay came from, then I could add the personality on top of it. We worked on that Louisville accent for probably four months before we even tried to make it sound like Cassius Clay. With accents, you just have to put in the time and teach your body to do it without thinking. It's muscle memory.
Once you'd nailed the accent, you pitched your voice higher?
There were vocal warm-ups I'd do every day just to get my voice into the upper register. I have some range so I was able to hit those higher notes, so to speak.
One Night includes the famous fight sequence when Cassius Clay beat Sonny Liston and become the world heavyweight champion at age 22. How did you mimic Clay's fancy footwork and lightning-fast punches?
Long before I booked a gig, a coach at the Eastside Boxing Club in Vancouver taught me the key to Cassius' boxing style, which is that by age 12, he'd mastered the fundamentals. So first of all I just had to learn to box. Once I got the role, I worked with Rob Sale, who choreographed the boxing for Creed. Ron showed me how to break the rules in a way that lined up with Cassius's style while also looking like a boxer who knew what he was doing.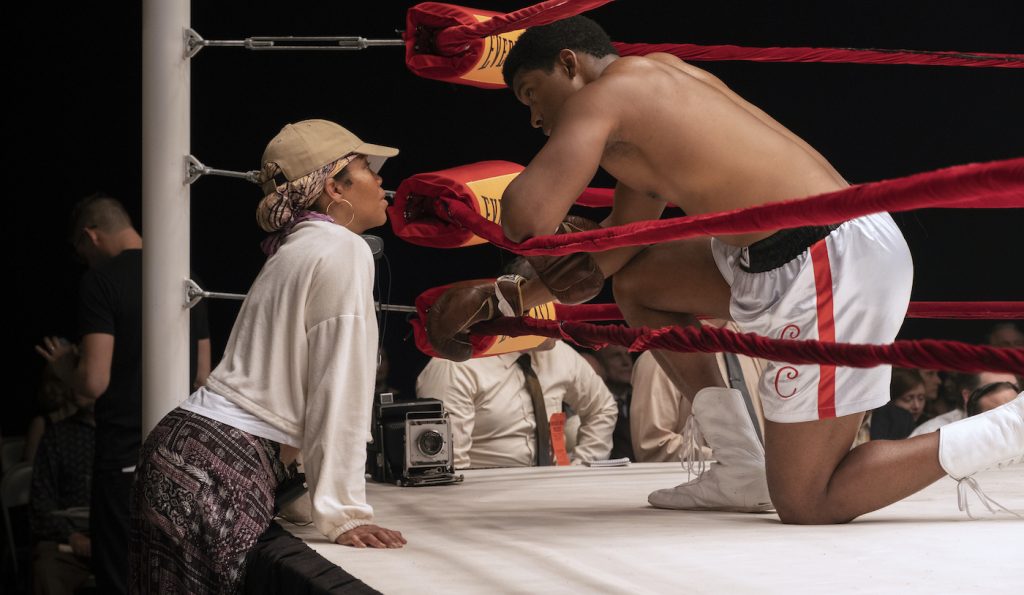 So you showed up in New Orleans to film One Night in Miami ready to box?
We were supposed to shoot the fights before the dramatic scenes, but I went to Regina and said "I need more time." It's very complex choreography. We had to get it right because the film opens with the boxing. In order for people to suspend disbelief for the rest of the film and get into the movie, they have to believe the boxing right off the top. They have to see Cassius as they believe him to be, with his iconic style. So Regina moved the boxing to the end of the shoot, which gave us an extra almost two months to choreograph the fights.
Which means you're acting during the day and…
I'd do weight lifting in the morning. Then we'd shoot all day. And then after shooting we'd go back to either boxing training or choreography.
Did you also you study archival footage?
Absolutely. The Sonny Liston fight I watched pretty much every night at dinner time. The Henry Cooper fight I'd watch for lunchtime and at breakfast, I'd study dialect by watching this interview he did when he was 20 years old with a local radio host for an hour and a half. Those were my go-to references.
It was pretty much Cassis Clay 24/7?
Not "pretty much." It was 100 percent, 24/7 for at least three, four months, and half time for a couple of years before that. I stayed in character on and off the set the whole time I was in New Orleans, which enabled me to react naturally as Cassius when people would say something to me. I didn't even have to think about it.
In the film, you have a complicated relationship with Malcolm X, played with great intensity by Kingsley Bin-Adir. What was it like doing scenes with Kingsley?
He's a force. As far as just his passion and depth, Kingsley's very fierce. I learned a lot from him about what the parts of yourself you leave in that [dramatic] space when you really give your all.
Regina King has directed a lot of episodic TV but One Night in Miami marks her feature film debut as a director. What did she bring to the table?
I mean… she brought the table. It's her vision. Regina picked the colors, the textures, the tone, the casting, she picked the DP (Tami Reiker), the editors, she decided to keep [playwright] Kemp Powers on to write the screenplay. Each guy could have been their own movie. It was our job was to make Regina's movie.
Being an actor herself, Regina knew how to modulate your performances?
Regina could see our tells and habits, she could see the tricks that we, as actors, fall back on, and she would call that out and say "Cut it out," which was a real benefit. Regina allowed us to get the most honest performances out of ourselves.
You devoted nearly three years of your life as an actor getting inside the mind, body and soul of Cassius Clay How did you feel once "One Night in Miami" finally wrapped?
I realized it's the biggest thing I've ever done, getting to play one day in the life of Muhammad Ali. It's funny because when they finished the Seinfeld series, Jerry Seinfeld said, "From now on, whenever anyone thinks of one of us, they'll think of all four of us." I feel like that's also the case with One Night in Miami. I was very grateful to these men—Muhammad Ali, Malcolm X, Sam Cooke, and Jim Brown—for paving this path so that a few generations later we could have this opportunity to honor their legacy.
One Night In Miami is now available on Amazon Prime.
Featured image: Eli Goree stars in ONE NIGHT IN MIAMI. Photo: Patti Perret/Amazon Studios