Daniel Kaluuya on Honoring Fred Hampton's Legacy in "Judas and the Black Messiah"
Daniel Kaluuya is such a comedian it's hard to imagine he's made a career out of acting in some of the most profound dramas of the past five years—a fact that he too, seems to frequently forget.
"A lot of times it surprises me," Kaluuya said. "I was driving around LA and I saw myself on a poster and I was like, 'Oh sh*t!' I thought I was just acting and I'm on a poster! I just forget. I don't see those things as anything to do with my career."
He calls it his "superpower"—his ability to separate the hype surrounding a film with his personal part in it.   
"I'm a man telling a story and I just stay on that," he said. "And if I'm honest, sometimes that goes and it resonates and it grows."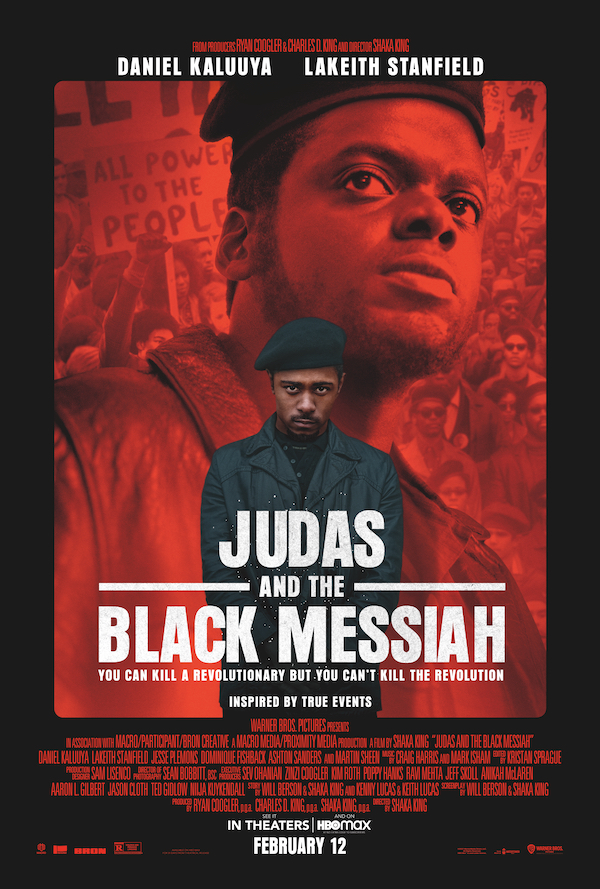 His latest film, Judas and the Black Messiah, is nothing short of culturally significant. Filmed in an almost documentary style, the movie tells the story of the Illinois chapter of the Black Panther Party and in particular its leader, Fred Hampton.
Kaluuya said one of the most challenging aspects of portraying Chairman Fred Hampton was "letting go" of his modern perspective.
"…Letting go of myself in order to kind of change my mindset and not approach this as a man living in 2019, but approach this as a man from 1968," he explained. "Because sometimes my mindset from 2019 could stop me from expressing and channeling and being the best for Chairman Fred."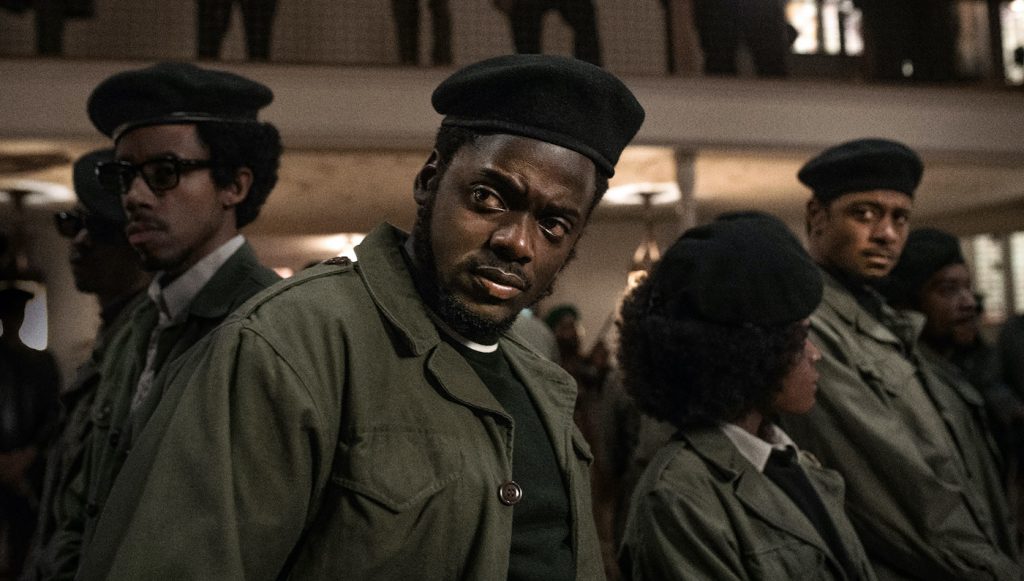 Kaluuya spent lots of time researching the teachings of the Black Panther party, watching old clips of Malcolm X speaking and working with an opera singer to prepare for the grueling oratory speeches he would inevitably give throughout this film. Even with all of the dedication to his performance, however, Kaluuya said he didn't approach this role as if he were the chosen proprietor of Chairman Fred's story, but rather that he had the "responsibility" to pay tribute to Chairman Fred's legacy.
"I don't engage in pressure and I don't engage in intimidation," he said. "There's weight, there's a responsibility, but in the creative process that's my safe space, that's my freedom. I wouldn't want to allow pressure or intimidation or all that stuff to enter it. I banish it from the land of creativity, so I kind of just feel a weighted responsibility."
It was a responsibility he took seriously, but one that he is sure to point out the clear distinction between his place in this narrative and Chairman Fred's real-life place in society.
"It was clear I'm not doing an impersonation, I'm doing an interpretation," he said.
Framing his work in this way allowed Kaluuya to let go of certain inhibitions and to act more freely. He saw himself as merely a vessel to channel Hampton's spirit and legacy.
"This is what it is: I didn't lose myself, I found him," he said. "I found what I was channeling—not him like 'Chairman Fred,' but the energy. I just committed to that and I let it come through me."
He committed so fully to his portrayal that he barely remembers filming the movie at all.
"I can't remember any takes," he said sincerely. "Like, I watched the film and I can't remember it. Usually, you do a take and you go, 'Oh I remember that,' 'Oh they used that one,' I don't remember any of them. So that was rewarding that I can go there—I can go into that place where I'm present, I'm just doing what I'm doing at that current moment, you know what I mean?"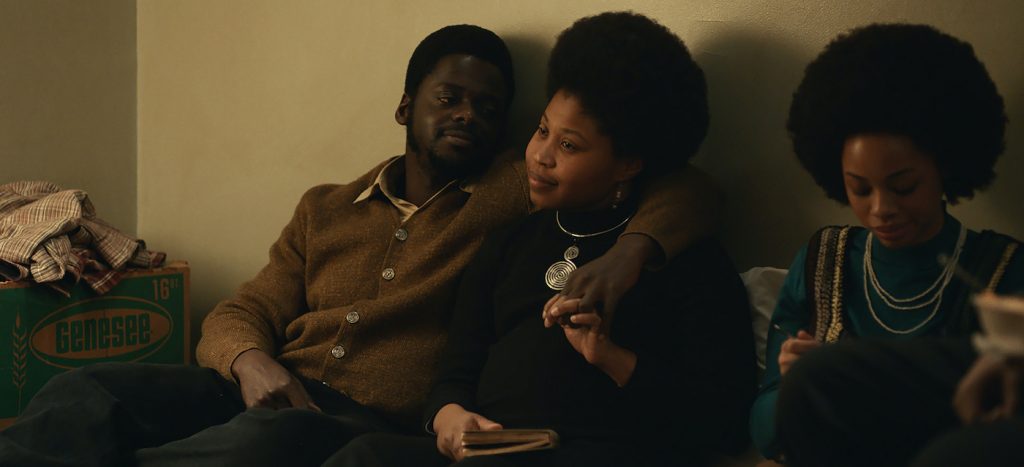 Whatever he did must have worked. Both Fred Hampton Jr. and "Mama Akua" (who goes by Deborah Johnson in Judas and the Black Messiah) sent Kaluuya their praises after watching the film.
"Chairman Fred Jr. said, 'Mama Akua's review is that you did the damn thing,'" Kaluuya said laughing.
For Kaluuya, watching the story of Chairman Fred's life unfold on-screen was a very moving experience, something he hopes others feel when watching as well.
"I was looking at the footage and I was moved by the footage, and I was like, 'I want people to feel as moved as I feel right now,'" he said wholeheartedly.
But for Kaluuya, there is a difference between forcing viewers to feel moved by your work and hoping to connect with them on a deeper level.
"For me, I want to connect, but I think because this was a real-life person that was my way of articulating it to myself," he explained. "It was like that's what I'm reaching for, that's the energy I want. But I always want my work to connect. I want it to connect good or bad, positive or negative. I want people to feel something."
Part of that connection in Judas and the Black Messiah comes from the powerful dialogue, profound speeches, and poetry that are delivered throughout the story.
"It's not a question of violence or nonviolence. It's a question of resistance to fascism or nonexistence within fascism," Kaluuya recited from one of Hampton's speeches in the film. "It took me a while to get my head around it [that line], just to really grasp it. You know when you read something and go, 'Oh sh*t! You're operating on a higher vibration'—not me, Chairman Fred."
When he's not playing groundbreaking characters or paying tribute to historical figures, Kaluuya himself is a bit of a wordsmith and dabbles in the art of poetry.
"One of my favorite funniest quotes is, 'I'm a poet and I didn't even know it,'" he said laughing. "That makes me so happy."
Judas and the Black Messiah is available now in theaters and on HBO Max.
For more on Judas and the Black Messiah, check out these interviews:
DP Sean Bobbitt on Framing a Historic Power Struggle in "Judas and the Black Messiah"
Charlese Antoinette Jones on Dressing History in "Judas and the Black Messiah"
Featured image: Caption: (Top l-r) DARRELL BRITT-GIBSON as Bobby Rush, DANIEL KALUUYA as Chairman Fred Hampton and ASHTON SANDERS as Jimmy Palmer in Warner Bros. Pictures' "JUDAS AND THE BLACK MESSIAH," a Warner Bros. Pictures release. Photo Credit: Courtesy of Warner Bros. Pictures