Oscar-Winning Costume Designer Mark Bridges on His First Western "News of the World"
Over his long and varied career, costume designer Mark Bridges has tackled just about every wardrobe challenge imaginable. His efforts have led to Oscar wins for The Artist (2011) and Phantom Thread (2017), as well as nominations for Inherent Vice (2013) and Joker (2019). But surprisingly, he has never taken on a Western. That changed with News of the World. The latest from Paul Greengrass, the film stars Tom Hanks as Captain Jefferson Kidd, a post-Civil War Confederate veteran who earns his living reading the top newspaper stories from town to town in the South.
"It was very exciting because it was a period that I had not done before," says Bridges during a Zoom interview. "I've worked with Paul Greengrass and I'd work with Tom Hanks, but never in a Western or under these circumstances. We've been on a cargo ship (Captain Phillips) and we've been around the world with Jason Bourne, but we've never been out in the wild in another century."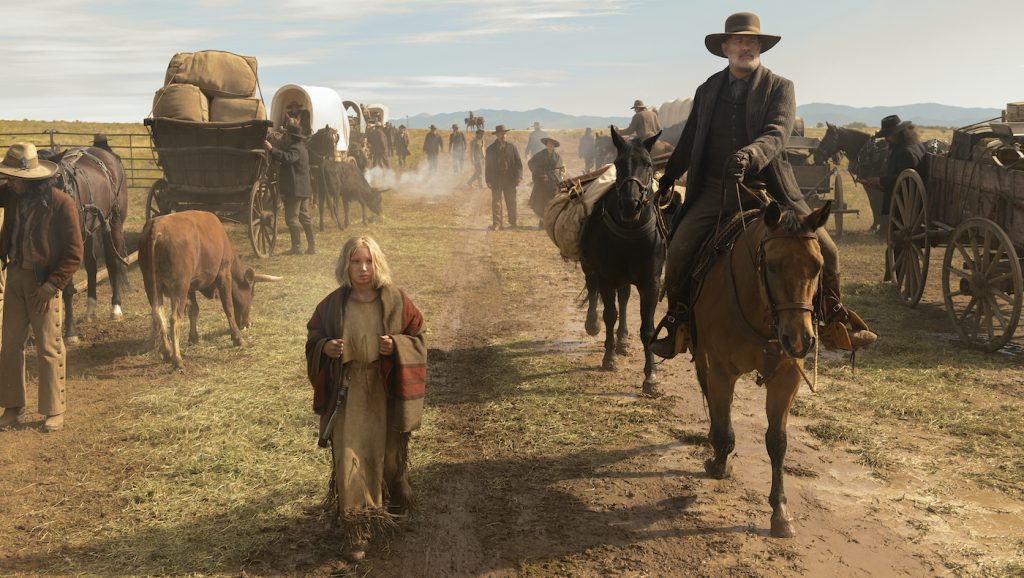 Reminiscent of John Ford's classic film The Searchers, News of the World finds a world-weary Kidd adrift in a country still recovering from the war. His life is upended when he discovers Johanna (Helena Zengel) abandoned in the wilderness. A young German immigrant, she had been kidnapped years earlier by the Kiowa Indians after they had killed her parents. Tragedy struck a second time when her Native American parents were killed by Texas settlers. Johanna is being escorted by a black Union soldier to reunite with an aunt and uncle when they are ambushed and the soldier is lynched. Kidd rescues the girl but can't find anyone to take her to her relatives. Reluctantly, he assumes the task.
Their journey is fraught with peril as Kidd and Johanna encounter a harrowing shootout, a lawless settlement run by an autocratic despot, and a deadly windstorm. Bridges wanted the costumes to reflect the intensity of their struggles.   
"I'm always looking for ways to tell the story with clothes," continues Bridges. "We're looking at everything…the shape of shoes, the shape of hats. We're looking at original photographs from that period. The minutiae—how wrinkled things are, how a jacket shoulder changes from 1850 to 1870. Maybe not using all of it, but bringing some of that to the project so that it looks kind of period, without distancing the audience."
Creating all the costumes for both Kidd and Johanna from scratch, Bridges stuck to the natural fabrics of the era, primarily wool and cotton.
"We used a lot of wool because of the traveling and the weather conditions. We're in a world of no central heating. What you wore on your back protected you from any elements," explains Bridges. "I have a wonderful staff in New Mexico who did all the cutting. We had fabric woven for Tom's traveling trousers and his coat—just to get a real hand-loomed feel to that stuff and for them to have a lot of texture."
As all these pieces were new, they had to be distressed to incorporate the wear and tear a dusty trail would inflict. Bridges brought in Katalina Iturralde, whose expertise is doing just that.
"Sometimes it is very much an act of bravery," says Bridges. "You take a beautiful frock coat that just came from the tailor and take a piece of sandpaper to it. And then you dip it in water and leave it there for a while."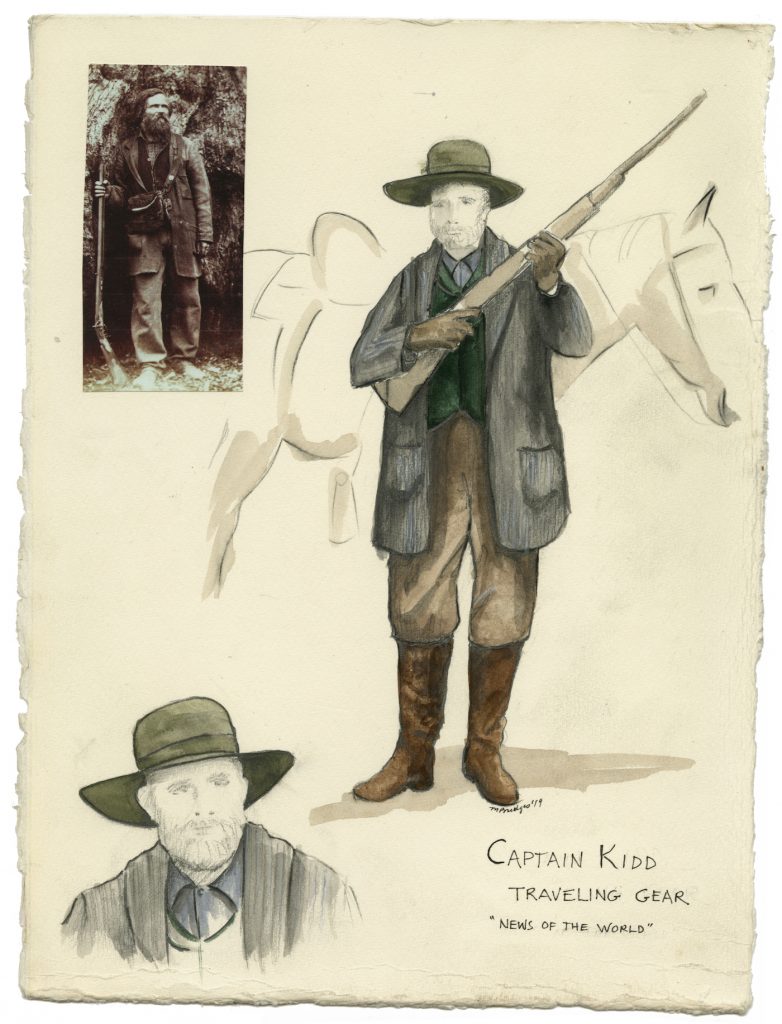 Bridges estimates that this process can take approximately two to three days per garment. Each item is constructed with an inner layer that won't shrink. Care needs to be taken so that the outer material is aged appropriately without damaging the fabric.
It's a slow, step-by-step process," continues Bridges. "Work on it. Look at it. Work on it. Look at it. Dry it on a form to take a shape. Multiply that by eight outfits for Tom and a dozen for the young girl. It's time-consuming and really an art."
Wanting Kidd to have a commanding presence when he takes the stage to read the news, Bridges made his reading suit a bit more luxurious. Both Kidd's shirt and vest were made out of silk. It was immediately apparent to Bridges the impact these choices had on Hanks.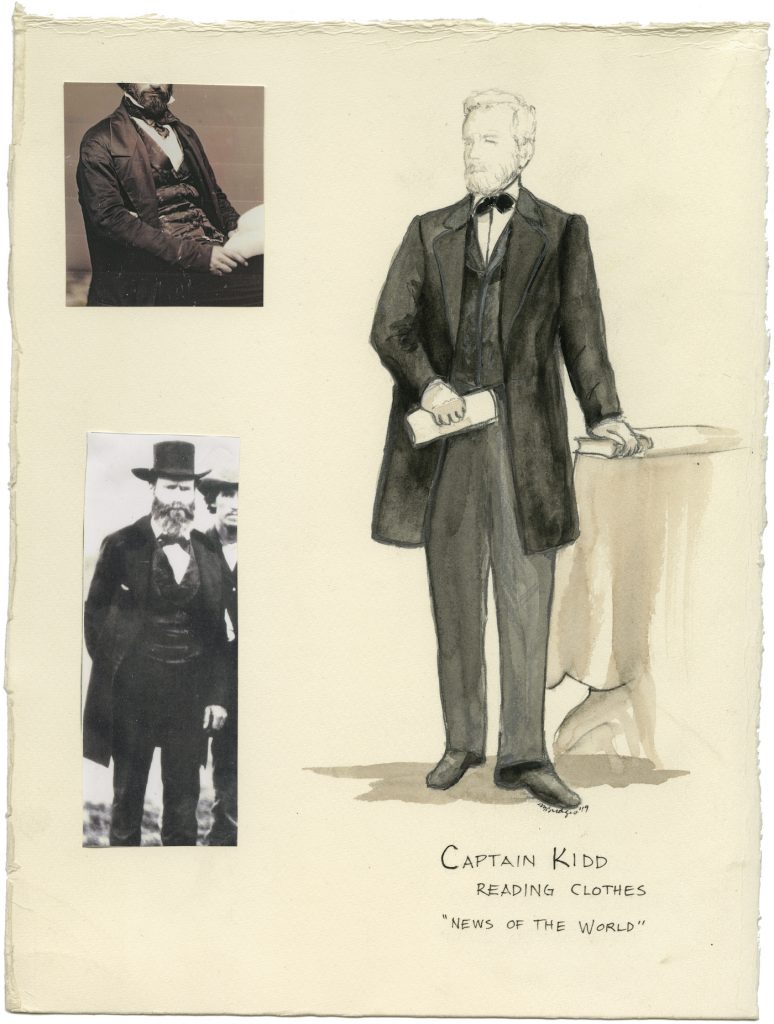 "Once we put him in his frock coat and his reading gear, his posture began to change," remembers Bridges. "The way he carried himself became more —  in a positive way — officious. That is always so satisfying and such a happy moment for me."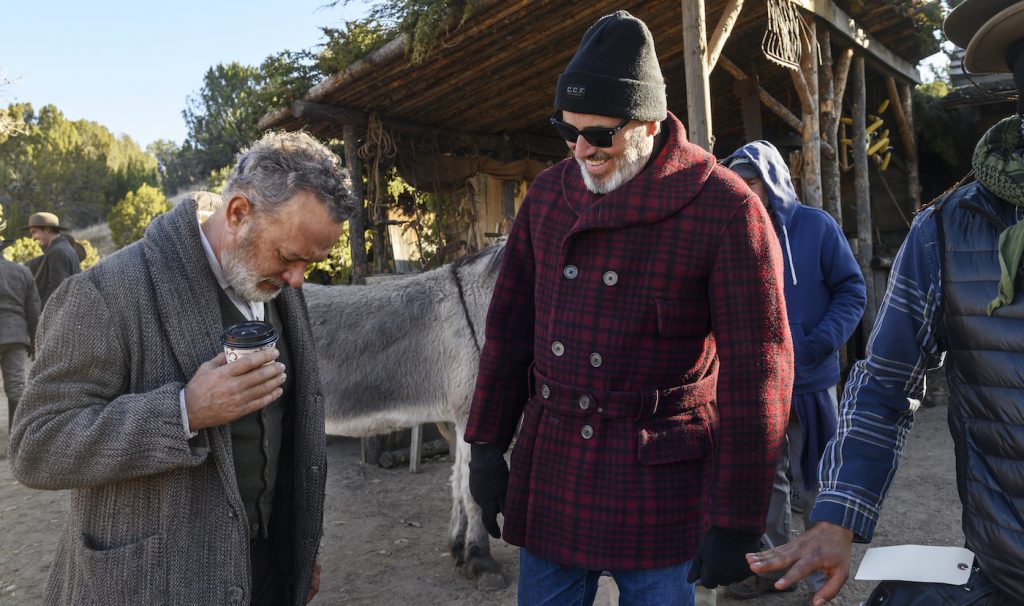 According to Bridges, the magic often happens when the actor and wardrobe first meet. A fitting gives Bridges the sense of what works and doesn't, but it also offers insight as to how effective the clothes are in building a character.
"A lot of times, actors just take a moment to take it all in. Once they're in a costume for the first time, I don't do a lot of talking. I let them assess and speak first," says Bridges. "I often think they are running through the script and how they picture the character. Does this fit with that or does this add a layer?"
Because of scheduling, Hanks arrived just before shooting began. Fortunately, Bridges had worked with the actor on Captain Phillips and already had Hanks' measurements and a sense of his wardrobe strengths. After Hanks fell in love with the boots Bridges made, he knew he was on the right track.
But for Bridges, costume design is an ongoing process. Flexibility is everything. As an example, he cites a hat he made for Kidd to wear with his reading outfit. Hanks initially nixed it. Bridges didn't argue and just left it in Hanks' room. Hours later, Hanks realized that the scene called for Kidd to come out of his reading and walk to his hotel room in the rain.
"Tom turned to me and said, 'I think I'm gonna need that hat,'" Bridges says smiling. "He had never worn it, so I remember thinking 'Please' as it went on. It looked perfect and it worked perfectly for the character and the scene. Every step of the way we're establishing and figuring out what we're doing.
You're taking baby steps on establishing who these people are, what the world is, and how to use them to tell a story."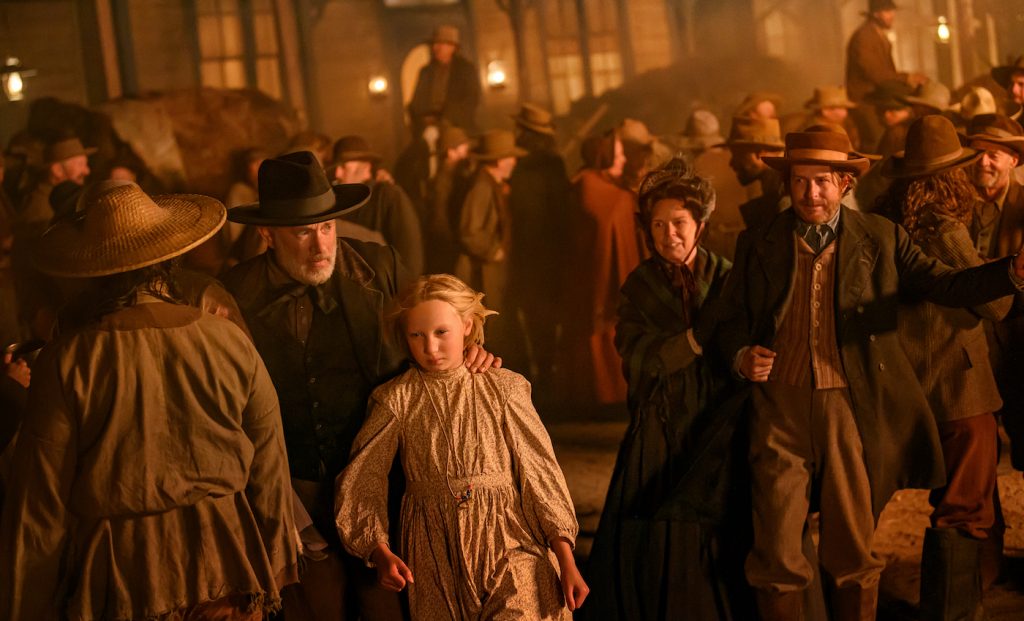 News of the World is available now on Amazon, Vudu, Apple TV, Google Play, and Fandango.