Phantom Thread's Oscar-Nominated Costume Designer on Styling Daniel Day-Lewis's Last Performance
As part of our Oscars week coverage, we're re-posting our conversations with some of this year's Oscar-nominees, as well as publishing new interviews with those vying for Oscar gold this Sunday. Costume designer Mark Bridges is nominated alongside Jacqueline Durran (Beauty and the Beast and Darkest Hour), Luis Sequeira (The Shape of Water), and Consolata Boyle (Victoria & Adbul). 
On Christmas, Daniel Day-Lewis took his final on-screen bow, having declared his intention to retire after Phantom Thread, the latest from his longtime collaborator, Paul Thomas Anderson. Set in London high society in 1955, the film sees the British Day-Lewis, who has donned a wide variety of hairstyles, beards, and accents over his career, make something of a return to his own milieu, in muted tweeds, with long, slicked-back hair. He plays couturier Reynolds Woodcock, a preening gentleman, brilliant designer, and a mid-century portrait of toxic masculinity who meets his match, of sorts, in foreign hotel waitress Alma (Vicky Krieps), a muse who won't be seen and not heard.
In looks, and particularly in regard to the elegant dresses that are the couturier's specialty, Phantom Thread is sumptuous, a feeling conveyed by its rarefied settings and Reynolds' own designs. Behind this collection as well as the film's quotidian, classic day looks is Mark Bridges, the costume designer Anderson has worked with for years (their titles together include all of Anderson's greatest hits, including The Master, There Will Be Blood, Magnolia, and Boogie Nights). Bridges talked to us about designing as another designer and working with Day-Lewis for one final film.
What were your influences in creating Reynold's designs, particularly those worn by Alma? We heard Charles James was one; were there others?
They kind of got distilled down from how to tell the story. And there are influences, but they couldn't be copied from anybody because of legalities, and we wanted to make Reynolds' work be his own. Hopefully they're kind of unusual, you would feel they'd be around and appropriate in 1955, but can't quite put your finger on it.
We didn't really do much on Charles James, it might have been Paul taking tidbits from his life, but as far as his work, that's a different kind of mind, a different kind of architecture. He did really unusual things. Mostly we were trying to see how Reynolds Woodcock would fit into the overall world in London at that time. His contemporaries would have been [designers] John Cavanagh and Michael Sherard. So, what were they doing? And how would Reynolds be different, but still feel like that time and place? That was our goal and where we landed.
How did you source the incredible fabrics? A sense of luxury came through not just from Reynolds' lifestyle, but from the dresses themselves.
We were lucky to have a costume shop that we set up. Our [shooting] address was formerly St. Martins, the building that used to house the school that Alexander McQueen went to, and so many other designers, so there was that. It's kind of turned into a film production [hub] in central London, so we had two large spaces, and I had a cutter, seamstresses, a basic staff of 12, and then would hire on [more as needed]. I also had some locals, an amazing women's tailor who had a shop nearby, and another seamstress who did Cyril's dresses. As decisions were made, we got things into the works, but we worked according to schedule.
We loved the color palette of the film's clothes, with all the berry and gold tones. How did you design that?
Early on, we set out that the house of Woodcock would be rich colors and fabrics, with a heavy dose of lace. Some of the choices evoke what might be going on emotionally — that's where some of the reds come in. And I think you can tell from Reynolds choices, like magenta socks, that the colors [he works in] are carried into his clothes. We all have our favorite colors. Those berries, reds, and maroons show as colors of passion and are a great undertone for the film itself, but I always had to think, what would reflect Reynolds' mind? It was a bit like method costume designing because I had to become another designer.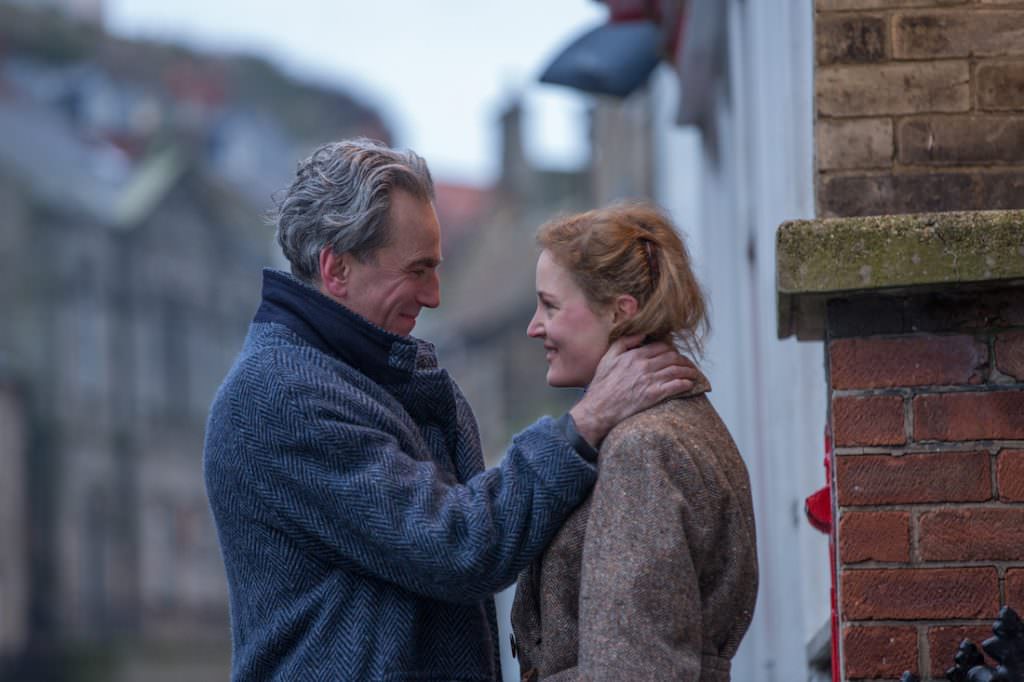 You're Paul Thomas Anderson's go-to costume designer. Can you tell us about your partnership?
This February, it will be 23 years since we shot his first movie, Hard Eight, in Reno. It was a little movie, maybe a $5 million movie, with a $10,000 budget, and here we are 22 years later talking about [Phantom Thread]. t's been an extraordinary ride. It's been amazing, the body of work that we've been able to create together.
We heard Anderson also shot the film, albeit uncredited. Was he as deeply involved in the costumes as he was with everything else?
We have a level of trust, but it is his baby, and he has amazing judgement about what he wants it to be. He's open to suggestions, considers it, and it's either a 'yes let's try it' or 'no I don't want to do that.' I'm fine either way, since really, it's his vision.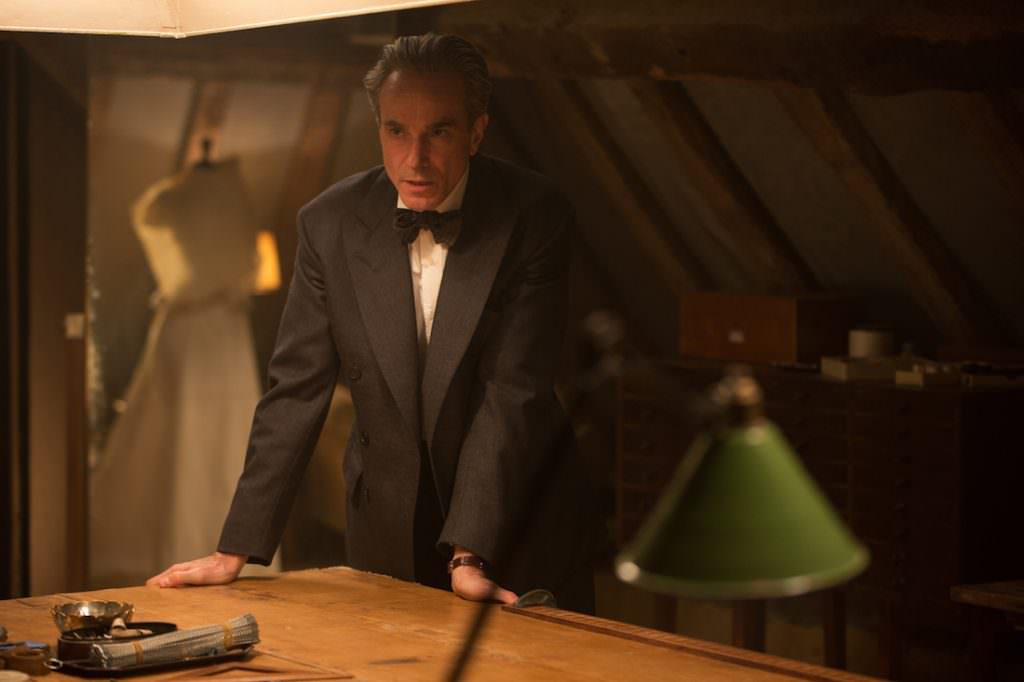 Finally, we have to ask: will you miss dressing Daniel Day-Lewis?
Gosh, I haven't seen him since we wrapped. You know, he certainly is a fantastic collaborator. I work with all my actors, and his [way] is kind of the ideal, where he has an idea, and I have an idea, we bring them to the table, and we work together to flesh out this character. He was extraordinary in this role, because this is the world he sort of comes from, English society. I think his father was the poet laureate of Britain. It was interesting to learn his reminisces, what his grandfather would wear in the country, hear about an English eccentric he'd come across, what he would wear. But I also have to make film costumes, of course. It was great to work that way. I know he'll be missed. I adore working with him, he's an incredible collaborator.
Featured image: Vicky Krieps stars as "Alma" and Daniel Day-Lewis stars as "Reynolds Woodcock" in writer/director Paul Thomas Anderson's PHANTOM THREAD, a Focus Features release.
Credit : Laurie Sparham / Focus Features