Costume Designer Cat Thomas on the Couture of "The Flight Attendant"
At the beginning of the HBO miniseries The Flight Attendant, based on Chris Bohjalian's novel, Cassie (Kaley Cuoco) is a put-together first class flight attendant by day, maximalist reveler by night. She parties relentlessly wherever she lands, seemingly enjoying an endless montage of karaoke, clubs, bars, and hookups. But Cassie also encapsulates a particular sort of overgrown New York party drunk, one who's getting a little long in the tooth for these sorts of hijinks. She winds up paying for them dearly when she wakes up in a Bangkok hotel suite next to her latest conquest, wealthy scion Alex (Michiel Huisman), who does not wake up because his throat has been slashed. She has no idea what happened.
Despite his death throwing Cassie's already messy life into full disarray, Alex is here to help. He appears frequently in her thoughts as a hallucination endowed with the power of critical thought. Annoyingly, he also seems inclined to fix more than the fact that the FBI suspects Cassie, and a black-clad spy, Miranda (Michelle Gomez) tries to kill her on the Long Island Railroad, surely one of the most embarrassing places one could die. (Cassie only loses her shoes.) As she unravels, screwing up her relationships with her best friend Annie (Zosia Mamet) and accomplished, strait-laced brother Davey (T.R. Knight), dead Alex also has the temerity to force Cassie to confront her childhood spent boozing it up with her alcoholic dad. On top of it all, even Cassie's closest colleague, Megan (Rosie Perez) winds up cutting her out for poor behavior, despite the fact that Megan herself is busy committing corporate espionage against her own husband.
Throughout, Cassie's clothes belie a sort of apt confusion — in the air, she's a crisp attendant, upon landing she breaks out the sequins, at Alex's funeral, she's in an over-the-top veiled fascinator, but back in New York, she tones things down considerably. Here, she transforms into an only slightly more peppy mirror image of Annie, a tightly wound lawyer with a big apartment and a devoted paramour she refuses to acknowledge as her boyfriend. It's clear, from both her fashion choices and her organized pursuit to find out what happened to Alex, that Cassie would like to grow out of her arrested development — even if she's mightily reluctant to take on the demons holding her back. We sat down with costume designer Cat Thomas to talk about designing for a stymied contemporary New York woman and her raft of pursuers: a spy, a crime family boss, and a best friend who truly just wants to help.
Can we kick off with those much chicer than normal flight attendant uniforms?
It's a good departure point! Steve Yockey, who was the writer and showrunner, scripted the uniform as being a Diane von Furstenberg wrap dress. It's a fun departure point to consider how travel is different now. We really wanted it to be a throwback, luxurious, very interesting, the way travel used to be. I thought it's actually a great silhouette, that a-line skirt, it's very flattering to a lot of body types, so we turned it into a sort of faux wrap dress. And then the colors, the blues, greens, we thought were so beautiful, like the colors of the sky, and that was our departure point for the colors of the airline. I really wanted it to be dynamic from every angle, which is why every way you look at the dress, there's a sort of color blocking, which keeps it interesting on camera. Then there's a second uniform, which is a jacket that had a swoop, with a dark skirt. On different flights, they can choose, in my mind, which uniform to wear.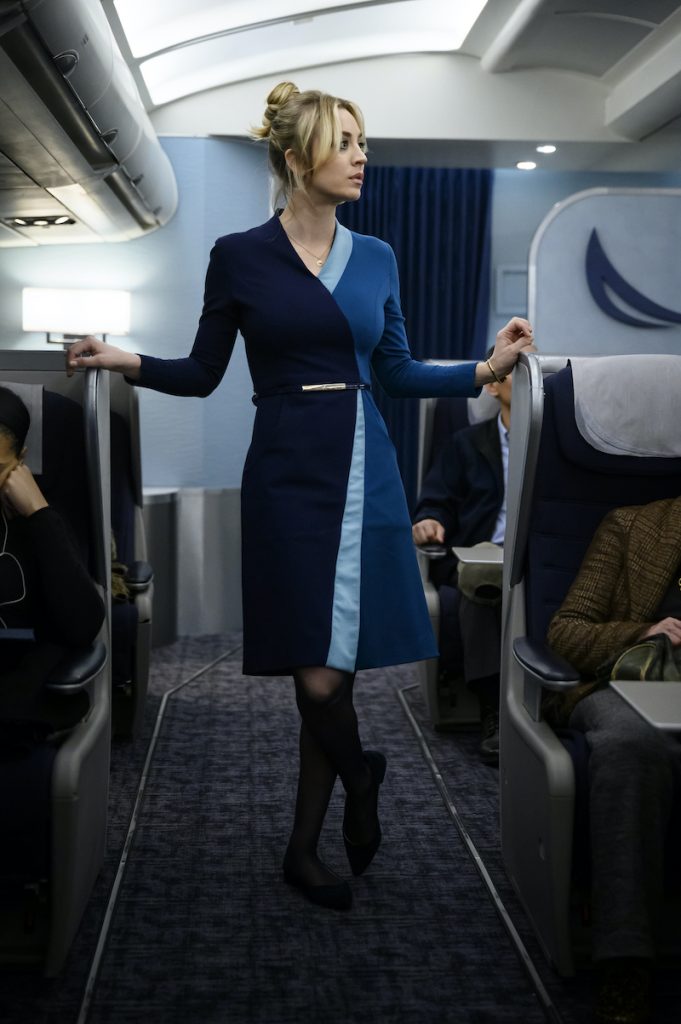 The show uses split-screens to great effect. Did you design with these in mind?
The split-screen was a big part of our concept. When we presented to the studio and talked amongst ourselves, we knew there was going to be this constant [detail]. It's edited so beautifully, and I think it works so well. You compartmentalize each character when you're seeing that, which draws your focus in. It was something we had to think about a lot, definitely.
Annie's and Cassie's costumes often mirror each other. Was that intentional?
Annie's an interesting character because she's Cassie's best friend, but she's also this lawyer, she's very put together. But at the same time, I think you need to understand that she and Cassie came from the same world. They're New York women, they probably loved to hang out at the same places, they had similar friends. I wanted there to be a relationship between them in terms of how they look — that in theory, they could switch clothes. But I also think we have to understand that Annie, with little [details] like her tattoos, came from a world where she was okay doing seedy things she shouldn't be doing. She's not a Connecticut WASP, but it's a subtle thing. I feel like it's very real, too. I really wanted people to be able to connect with Cassie.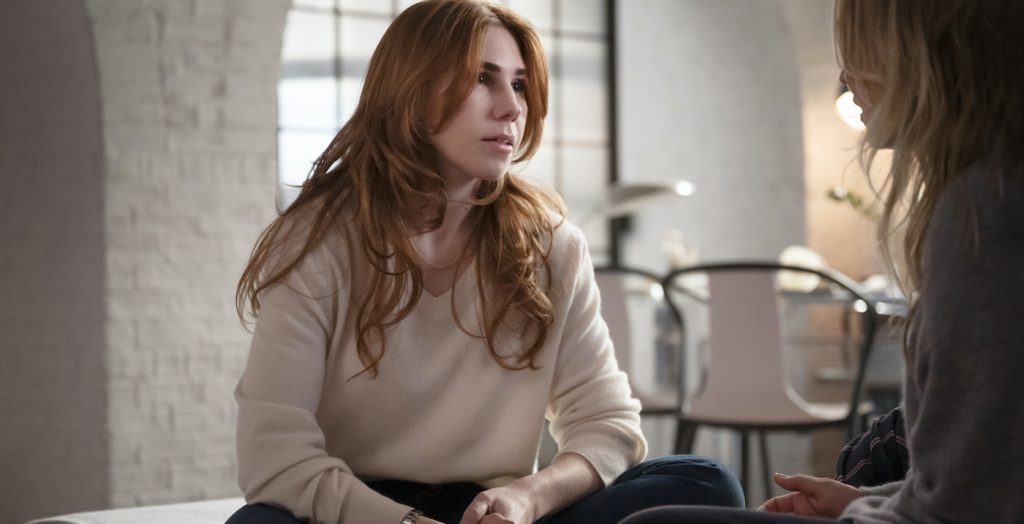 They both start out in good-looking wool turtlenecks and nice outerwear and end up in similar jeans and crewnecks as their situations deteriorate.
Right. In the first two episodes, you don't really [anticipate] the emotional spiral. And it's very intense. You're kind of like, whoa. It was nice to be able to gradually get to that place.
Was it difficult to design for that spiraling?
It was actually a great way to do it, because it made it interesting, talking with Kaley and figuring out how we were going to do this. A lot of it was through color palette and texture. There's this scene where she wraps this sweater — she's very physical as an actress, so I wanted her to be able to use her clothes as a tool for that, with the AA meeting, and so on.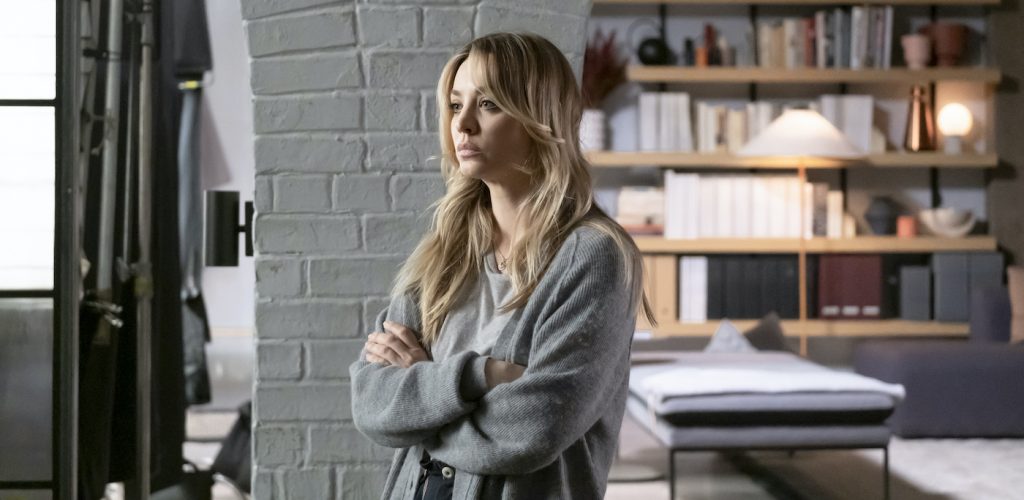 What was your inspiration for her besides her physicality?
Kaley was really communicative. It was really great, we had this sort of open relationship where we'd text each other what we were thinking. She loves clothes, and she's kind of a tomboy, so we went with that, a little bit of that tomboy chic. I think it suited her, and it suited Cassie and Cassie's back story. I wanted Kaley to be able to emotionally connect with Cassie through her clothes.
Rosie Perez's costumes are the real treat here — hats and silk robes and a great trench. What was your process behind her?
Her character was really fun. She's living in the suburbs, she's got this stable family. Everything that drives her to make money as a spy is because she just wants things. She wants new shoes. She wants that life she doesn't think she has, even though she's very happy. That's the weird thing, she actually loves her husband, she loves her son. We wanted her to have that [sense of] 'I'm done up, when I'm not in uniform, I'm going to go to the mall and go shopping, and I'm going to put on this trench coat and sneak around with my hat.' She was a little bit of a chameleon too, in her pretending.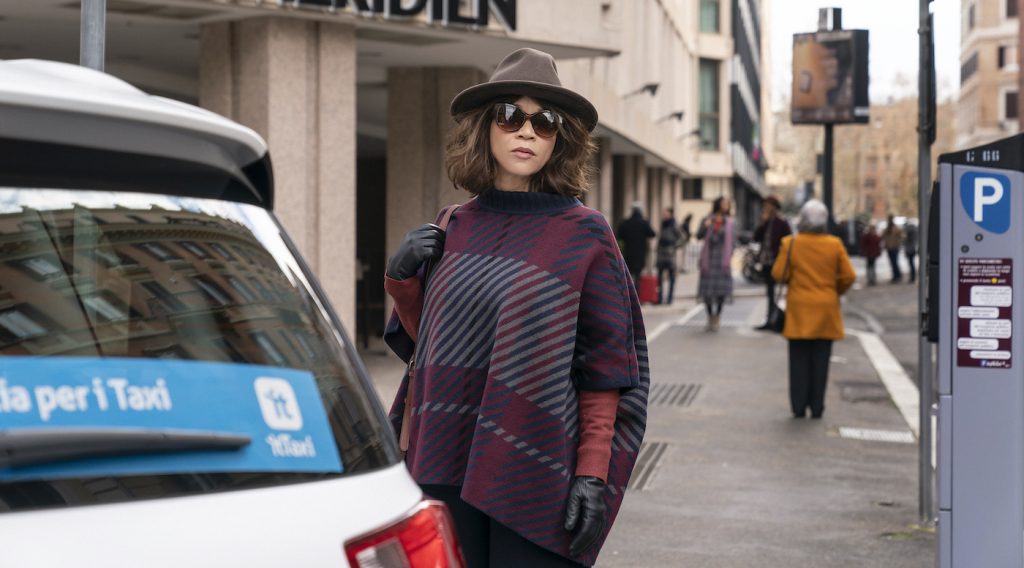 Then we have Miranda, whose look is dark and chic and simple.
She's the shadow figure. She also felt very tense sometimes. She had this Celine look that had this wrapped belt on the train, and you just feel like, is this woman going to explode? What's going to happen? So it worked really nicely as a counterpoint, since there's so much going on, that she was this sort of dark figure, but with little tiny details. She's got pants that have a stripe on them, so when she's jumping over a roof, you see it. She was chic. She's a spy.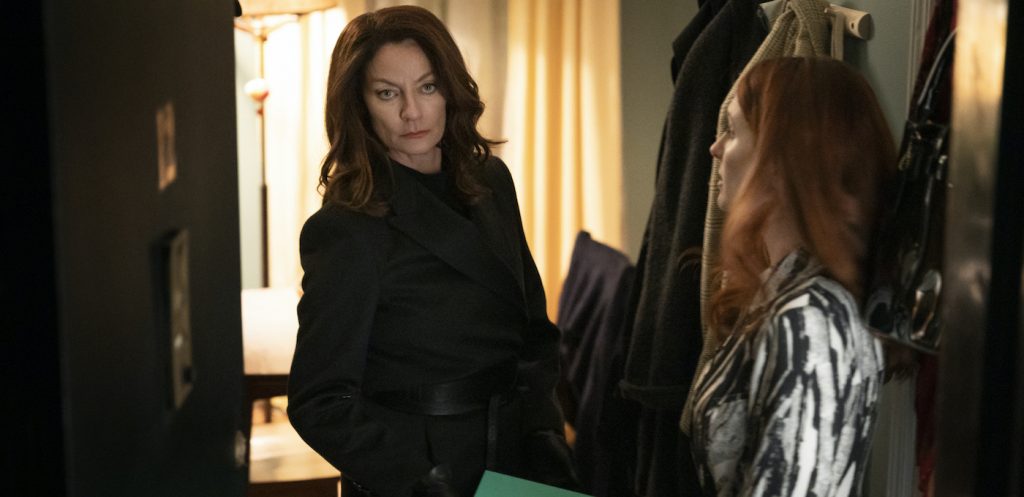 As Cassie gets deeper into trouble, she frequently wears stripes. Was this supposed to hint at a possible prison uniform?
I wasn't thinking about that, but it does actually work since as we know, she ends up in the clink overnight. We had so many linear things going on with all the split screens, it was a nice way to break it up with just a little visual interest. And her younger self also wears stripes, and you're always trying to tie the two together a bit, visually.
How about Cassie's true polar opposite, Alex's mother, the tweedy Chanel-clad matron from hell?
It was real Chanel, actually. Chanel's very particular, so if you're going to reference it, they actually want you to use real Chanel. Especially if it's mentioned in the script. And I understand. Their fabrications and fabrics are so beautiful and specific, they would be able to tell. People would be able to tell.
In this broad range of looks, where you mostly buying or building?
It was a real mix. All the uniforms were built. We built quite a bit of stuff for Kaley, like her cape. But you're also sourcing and buying. They were very generous, we had a nice budget. Sometimes you can fake it with cheaper things, but sometimes you can't. Like that Celine coat is just so beautiful. Sometimes it's just about the fabric, and even if you found the fabric and constructed it, the amount of time and money it would take wouldn't be worth it. So it's a balancing act.
For more on HBO and HBO Max, check out these stories:
Review Round-Up: "Wonder Woman 1984" is an Adrenalin Shot of Joy
All the Warner Bros. Movies That Will Hit HBO Max & Theaters on Same Day in 2021
Here's What's Coming to HBO Max in December
"Let Them All Talk" Trailer Reveals Meryl Streep & Steven Soderbergh's Latest Collab
Zack Snyder Reveals New "Justice League" Teaser With Fresh Footage
Featured image: Kaley Cuoco. Photograph by Phil Caruso