"Let Them All Talk" Trailer Reveals Meryl Streep & Steven Soderbergh's Latest Collab
There is so much pleasure to be derived from this look at Steven Soderbergh's upcoming Let Them All Talk. First and foremost, it's watching this sensational cast, led by Meryl Streep as a well-known author embarking on a girls' trip with her former best friends (played by Dianne Wiest and Candice Bergen) with her nephew, played by Lucas Hedges, along for the ride. The ladies plus nephew board the Queen Mary II to take a leisurely cruise and reconnect. The sheer acting power alone present amongst these legendary performers (with Hedges already a rising star) is the first and main source of pleasure. Then there's Soderbergh's unfussy, expert eye leading us through these proceedings. But there's so much more. How about a script from one of the best living short story writers in the world, Deborah Eisenberg, who the cast recently revealed was on set and extremely helpful during filming.
There are other intriguing things at play here. One is that Streep, Bergen, and Wiest revealed to Entertainment Weekly that the film was almost entirely improvised. When asked about the "improvised feel" of the movie, Streep replied, "I mean, they would give us the outlines of a situation, and then we knew where we had to end up. But they didn't tell us how to get there." To which Bergen replied: "They gave us the scenes and the synopses of the scenes. And then we filled them in, if we could." Wiest then said that with Eisenberg on set, they could ask her any question about their characters, where they were in the sequence, and where they were headed. "Debbie was there all the time, and she was wonderful," Wiest said.
Which brings us to the third piece of what makes this trailer so good—Let Them All Talk looks like a film about friendship, female friendship later in life to be specific, with the stakes set squarely on the emotional, meaningful register. There's no killer plague or financial chicanery here (two topics Soderbergh has expertly handled in the past), just some of our best performers given the space and freedom to roam. That sounds just about perfect right now.
Let Them All Talk premieres on HBO Max on December 10. Check out the trailer below.
Here's the synopsis from Warner Media:
HBO Max debuted the first trailer and key art for their new original feature film "Let Them All Talk" today. Academy Award-winning filmmaker Steven Soderbergh directed the movie which stars Academy Award winner Meryl Streep, Academy Award nominee and Emmy winner Candice Bergen, Academy Award nominee Lucas Hedges, Gemma Chan ("Crazy Rich Asians"), and Academy Award winner Dianne Wiest. Deborah Eisenberg wrote the screenplay and Gregory Jacobs ("The Laundromat," "Magic Mike") produced. The film begins streaming on HBO Max Thursday, December 10.
"Let Them All Talk" tells the story of a celebrated author (Meryl Streep) who takes a journey with some old friends (Candice Bergen and Dianne Wiest) to have some fun and heal old wounds. Her nephew (Lucas Hedges) comes along to wrangle the ladies as well as her new literary agent (Gemma Chan) who is desperate to find out about her next book.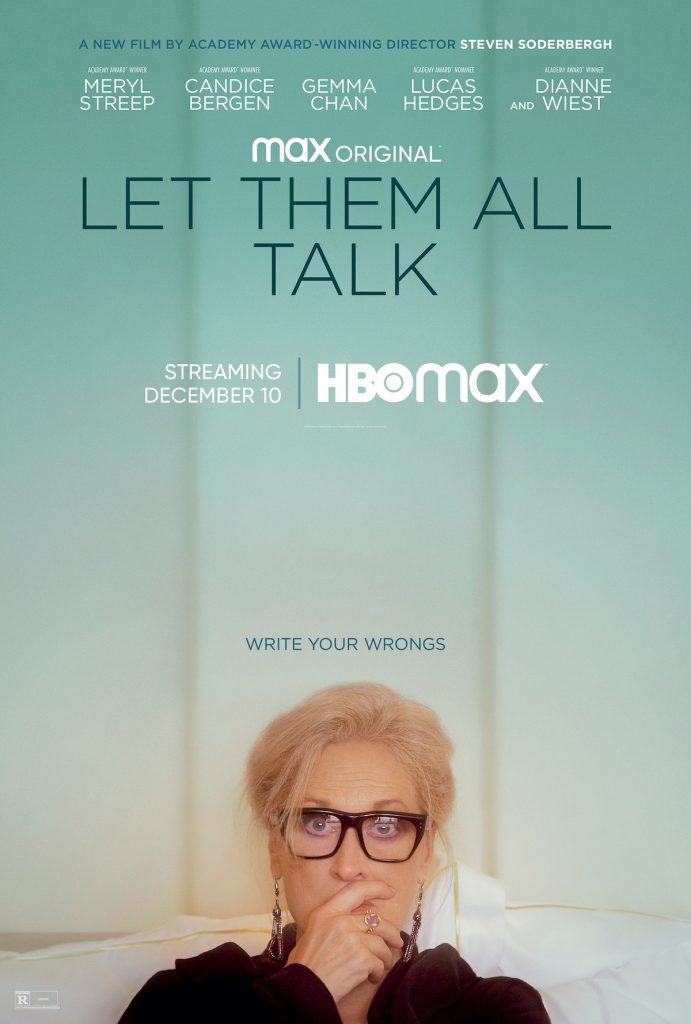 Featured image: Lucas Hedges, Meryl Streep. Photograph by HBO Max