Screenwriter Scott Z. Burns & Pulitzer Prize-Winning Journalist Jake Bernstein on The Laundromat
Steven Soderbergh's new film The Laundromat boasts a stellar cast. Meryl Streep, Antonio Banderas, Jeffrey Wright, and Gary Oldman are all part of Soderbergh's latest, which is currently streaming on Netflix. Though shown through a decidedly absurdist lens, the film is based on some very serious and true stories about how the rich and powerful of the world manipulate and perpetuate a corrupt financial system. Longtime Soderbergh collaborator and screenwriter Scott Z. Burns adapted the script from the book "Secrecy World", which goes inside the world of illicit money and global corruption revealed by the Panama Papers, by Pulitzer Prize-winning investigative journalist Jake Bernstein.
The Laundromat is surprisingly funny and often bizarre. Our guides are glammed-up, tuxedoed versions of real-life lawyers Jürgen Mossack and Ramón Fonseca (played by Oldman and Banderas, respectively) as the film offers a collection of stories to explain things like shell companies, offshore interests, and tax evasion, and how they are leveraged by the richest people in the world to stay that way. The Credits chatted with Burns and Bernstein about their thoughts on helping craft a film with stories that teach, entertain, and prove that sometimes truth really is stranger than fiction.
Scott, when you were doing your research for The Laundromat, you said, "This [stuff] is meant to be impenetrable. That's how they get away with it." There were millions of documents in the Panama Papers. How did you and Jake work together, and with Steven Soderbergh, to reduce it down to something that would get the story across?
Scott Z. Burns: I became aware of everything pretty much the same way everyone else did. I saw it on the news, and thought it was fascinating, and watched as world leaders resigned. I'd always wondered about shell corporations and offshore things, but I didn't understand anything at all, so when I became aware of Jake's book, I thought it could be a very interesting thing. Rather than doing a movie with investigative journalism, I wanted to turn the telescope around, and try to figure out a way to make this understandable, and relevant to the everyman.
And how do you do that? 
SZB: The world in which we live is the way it is because people don't pay their fair share. That was thematically where I started with this. Steven and I have collaborated together for about 15 years now. The arrangement that we have, though it's never really been verbalized, is that my obligation as his collaborator is to always bring him something new. He doesn't really like to repeat himself. I had seen a movie called Wild Tales a few years ago, by a director named Damián Szifron, that I loved, and Steven had seen and he loved, and I wondered if we could do a few stories that come out of the stories, and Mossack and Fonseca became really useful tour guides to walk us through the world, much in the same way that Jake had to walk me through the world, and teach me about how it works.
Jake Bernstein: Pretty much as soon as I sold the book, there was a lot of interest from Hollywood. Obviously Scott and Steven are so brilliant at what they do, but they also had a real vision for it. I loved the idea of the anthology approach because there are so many stories in this data. There are more than 200,000 companies, and every company is potentially an interesting story. I loved the fact that they wanted to make it humorous, because it's very dark, and even absurdist, with things that, from the outside, seem incredible, but are actually quite routine in this world. Scott and I talked a lot as I was writing the book and he was working on the screenplay. I basically gave him a menu of story options, with stories from literally all over the world. He would ask me questions or ask me to clarify how it all worked.
You've called these stories, and the Panama Papers, "Kafka-esque." What are some of the characters and stories that are perhaps stranger than fiction but actually true?
SZB: There really was a ship that capsized on Lake George, and there were a lot of people that died. There was an insurance company they had used, that then had been reinsured through another company, but it was all a shell game, and those people were really damaged. They lost people they loved and didn't get adequate compensation because it was insurance fraud.
JB: Speaking of the truth being even more exaggerated, one of the people in that boat company, who was part of that tragedy, was so distraught over what happened that he went out on Lake George, tied an anchor to himself, and committed suicide. There are a lot of dark aspects to these stories we left out. Also, there is a real person named Malchus Irvin Boncamper, and pretty much everything about him in that movie is true.
SZB: The Bo and Gu story has been widely reported now, but it's a very interesting window into what bribery and corruption in other countries looks like, and how these offshore companies and shell corporations provide a very easy methodology to launder your ill-gotten gains. There really was what they call a 'white-glove,' who did help Bo and Gu get money, presumably from bribes they were given to open a plastics factory. He took their money, bought them a lavish home in the Riviera, and came back to do it again. What happened to that 'white-glove' is not only true, there are elements in the real story that are even crazier.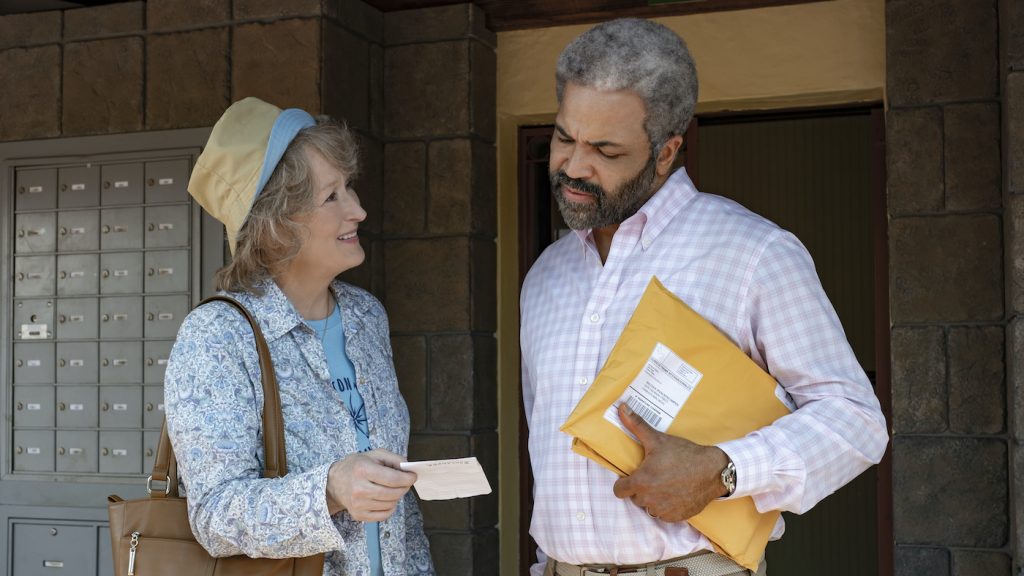 The Laundromat has an impressive cast. What did Meryl Streep, Antonio Banderas, and Gary Oldman bring to the story that surprised you?
SZB: When I realized Meryl was interested, I was thrilled, but what was more thrilling was when I learned that Meryl cares deeply about this issue, and her interest in it predates the script. One of the things she's been very outspoken about is how dangerous it is for journalists to cover these stories.
JB: For example, there was a Maltese journalist, Daphne Caruana Galizia, who was the mother of one of the staffers for the International Consortium of Investigative Journalists, which broke the Panama Papers. She was a well-known blogger in Malta, an anti-corruption crusader, and pushed the Panama Papers story along. The government of Malta is heavily implicated, including the prime minister and his aides. While her son was in the house, she went out to her car to go to the bank, got a few yards down the drive, and her car exploded. Her son runs outside and encounters his mother's leg on the driveway. She had been spread out all over a field. There are real repercussions for journalists. Meryl has been super cognizant of that, and a real supporter of investigative reporters around the world, because she understands how important it is to get this kind of information out there. She's very passionate about it, and she's been a great advocate for that.
SZB: Antonio and Gary are so charming. It was great when they decided to sign up and go along for the ride. What was exciting for me was, it's a different thing for the actor to talk to the camera. They usually talk to each other. I remember one day Antonio said to me, "This is going to mess me up forever. I've spent my whole career not looking into the lens, and now my whole job in this movie is to do that." Their ability to remain charming, and really like game show hosts, was beyond anything I could hope for when I was writing it because they were able to make very technical stuff entertaining, and a joy to watch.
Featured image: L-r: Gary Oldman, Antonio Banderas. Photo by Claudette Barius/Netflix