"One Night In Miami" Cast Split Between Lead & Supporting Categories for Awards Race
Regina King's stellar directorial debut One Night in Miami features a quartet of very strong lead performances. With the film already buzzed as one of the early contenders to take in a haul of award nominations, Amazon has recently announced how they'll position their four lead actors. Kingsley Ben-Adir, Eli Goree, Aldis Hodge, and Leslie Odom Jr. will head into awards season vying for a mix of leading and supporting nominations, The Hollywood Reporter has confirmed.
Goree, who plays boxing champ and cultural icon Muhammad Ali, and Ben-Adir, who plays Civil Rights leader Malcolm X, will be promoted as lead actors. Odom Jr., who plays singing legend Sam Cooke, and Hodge, who plays football superstar Jim Brown, will be promoted as supporting actors. The story is centered on a fictional account of an incredible night in which these four giants gathered in a hotel in Miami on February 25th, 1964, to discuss the Civil Rights movement, the tumult of the 60s, and more.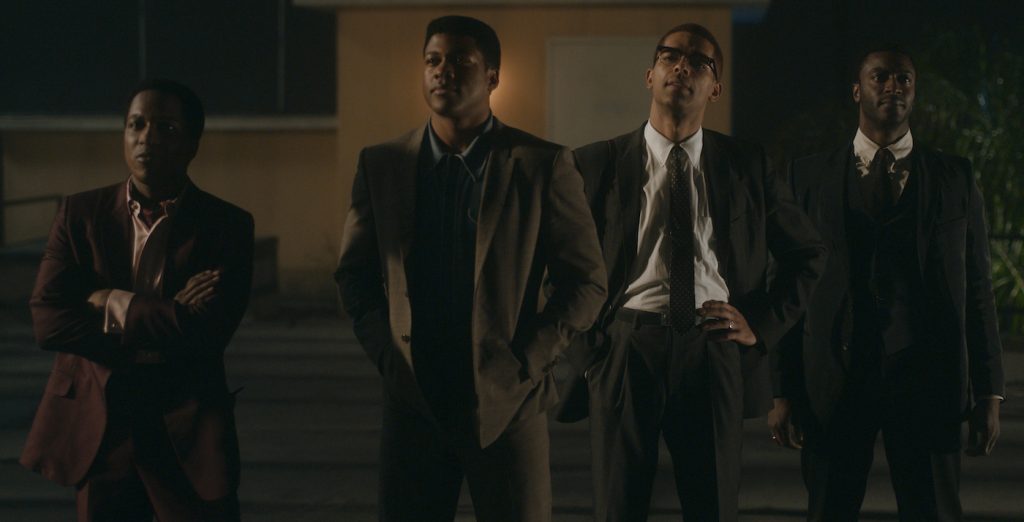 The four actors put in fantastic performances in King's nimble, moving film. It probably helped that their director is one of the best actors of her generation, and the material itself, written by Kemp Powers, offered each of them ample room to shine. As cinematographer Tami Reiker told us in an interview, King allowed for very long takes for her stars so that they could get into and sustain a rhythm. "We decided to shoot whole 10-minute takes, or however long the entire scene was," Reiker said. "First we would shoot the master, and that would help us decide the coverage of how we would float from character to character. Each time, we'd do a 10 or 15-minute take, which the actors loved. There was just so much experimentation, and there were so many discoveries as we were shooting."
Those discoveries led to one of the best films of the year, with King proving herself a generous, intuitive director of actors. No surprise there.
Featured image: (L-R) Leslie Odom Jr., Eli Goree, Kingsley Ben-Adir, and Aldis Hodge star in ONE NIGHT IN MIAMI. Photo Credit: Patti Perret