Editor Michelle Tesoro on Checkmate Pacing in "The Queen's Gambit"
A girl triumphing in a boys' world of midcentury competitive chess is at the crux of Netflix's limited series The Queen's Gambit, which manages to make the board game not only thrilling but evocatively stylish, spanning Beth Harmon's (Anya Taylor-Joy and Isla Johnston, as young Beth) bleak 1950s-era childhood in a Kentucky orphanage through her jet-setting young adulthood during the 1960s. Beth, drawn from Walter Tevis's novel of the same name, is a chess prodigy introduced to the game by the Methuen Orphanage's enigmatic janitor, Mr. Shaibel (Bill Camp). At first merely a way to escape the daily drudgery of life at an orphanage, the game becomes Beth's gateway to her place in the world as well as a source of rescue for her adoptive mother, Alma (Marielle Heller), a stifled homemaker.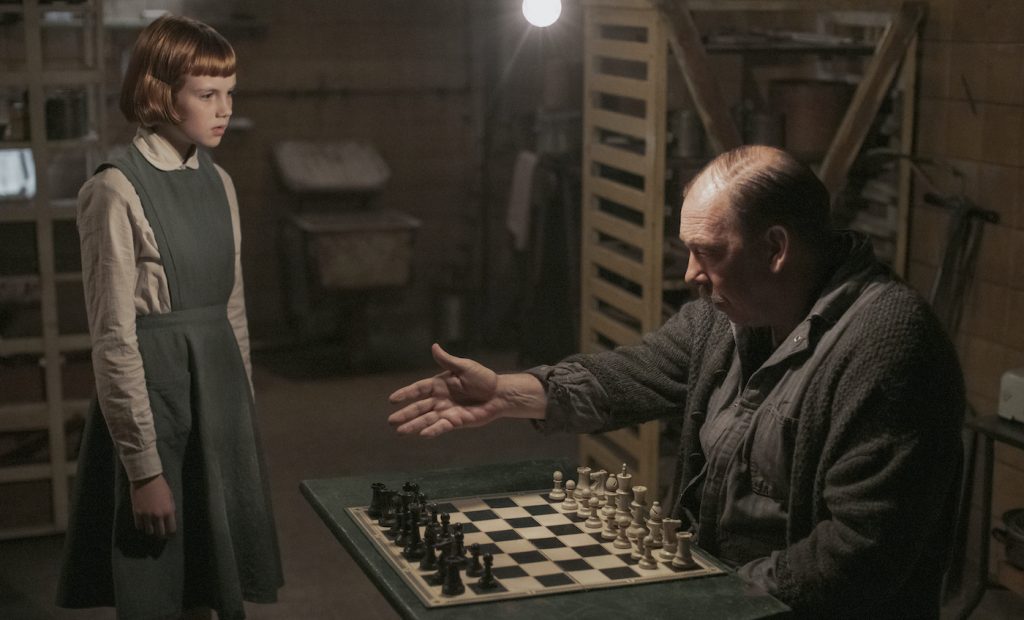 But it's a bumpy road from Methuen to international champions' tournaments, and Beth's roots are never far from the chessboard, whether they spring up in the form of her mentally ill biological mother's unhinged prophecies or sweeter memories of Mr. Shaibel's patient training. The show electrifies Beth's increasingly high-stakes matches by intertwining them with past memories or current growing pains, an idea writer and director Scott Frank first floated during shooting and which came together in the editing room. The concept for pacing the matches wasn't "necessarily playing them like straight flashbacks, but giving them this immediate rhythm" explains the series' editor, Michelle Tesoro (Godless, On the Basis of Sex). "That was something that we created in post, to try to give a bigger context to the current scene, and have it be about her internal turmoil or whatever she was obsessing about, whether it was Townes [a potential love interest played by Jacob Fortune-Lloyd], or sexuality, or Shaibel saying 'you resign.'"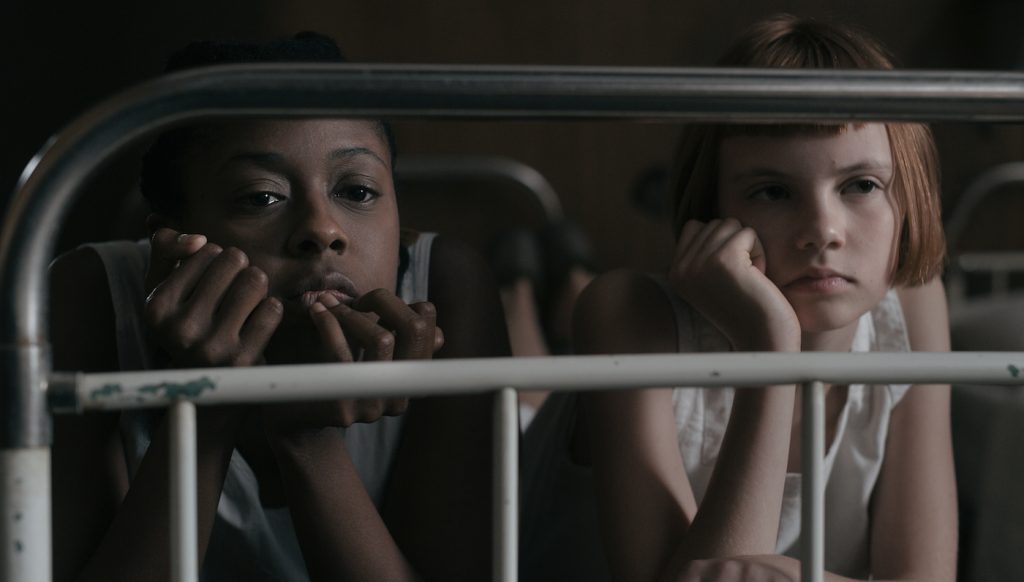 As we cut between Beth's games and the rest of her life, addiction reveals itself as another layer of that context. Though Beth loses a key match thanks to a hangover, a tranquilizer dependency also unexpectedly drives her career forward. Methuen keeps its young charges under control with "vitamins," which an older girl, Jolene (Moses Ingram) advises young Beth to save for nighttime, lest she spend the day in a dizzy stupor. In bed, the pills allow Beth to visualize chess games on the ceiling, an unorthodox technique she takes with her into the competition (after all, it's the era of "Mother's Little Helper," and with unhappy Alma dependent on tranquilizers for her own reasons, the pills are easy for a teenager to get).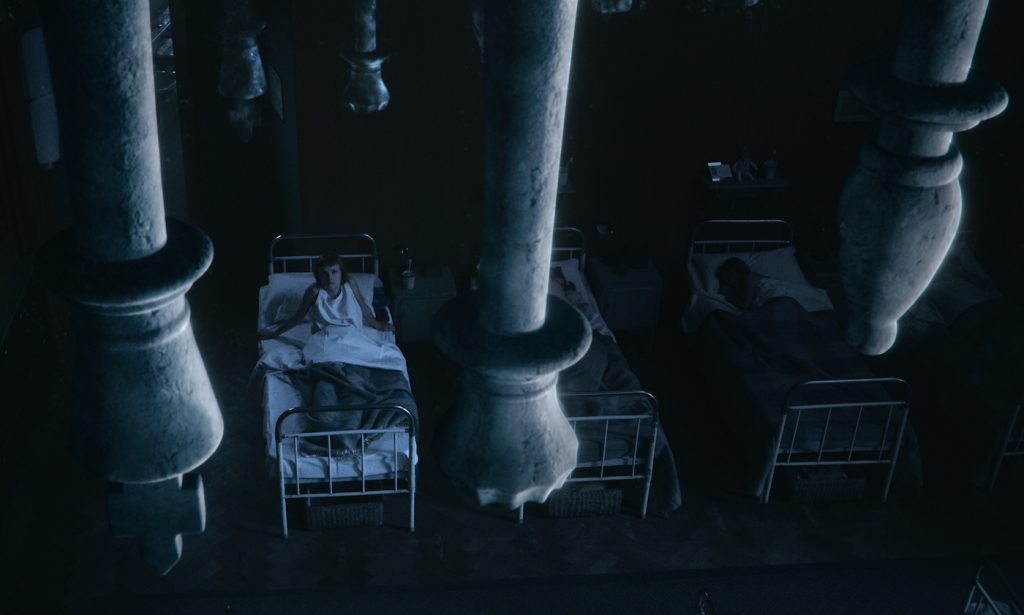 Created in visual effects, these shadowy boards are an elegant representation of the inner workings of Beth's mind and were among the show's more complicated sequences to work out. "We worked on the look of those matches almost until the very end," says Tesoro. "A lot of it was just trying to figure out how they appear, what they feel like, how dense are they, what do they look like when you're up close to them, what do they look like when you're down on the floor?" When Beth snaps into a competitive hallucinogenic reverie, the stakes go up, both in terms of the match at hand and the sense that all is not well, despite our heroine racking up the wins.
At the heart of The Queen's Gambit, Beth's growing chess fortunes are twinned with her coming of age. Initially regarded askance by the nerds of the chess world, these boys become friends, mentors, and lovers. No two of her matches with them are alike. "From inception to execution it was always thought of as, how can we do this differently every time?" Tesoro says. By the time she reaches her apex of competition, we're as steeped in Queen's gambits and Sicilian defenses as we are in how much a win here means to Beth in every fiber of her being. Compared to all her games leading to this moment, the most important match of all is almost stately in its straightforwardness. "I feel in a lot of ways that the work we did prior to that scene set you up to be in that place, to be emotionally moved," says Tesoro. The moment, everything we've come to expect from Beth and her chief Soviet opponent, Borgov, earns its clarity through all the hard work that came before.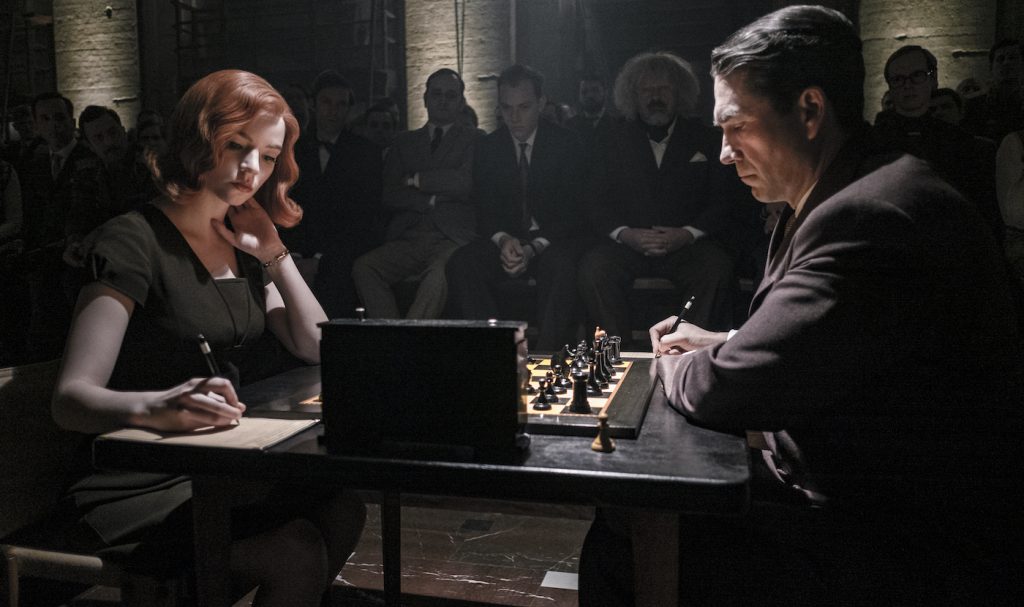 Featured image: THE QUEEN'S GAMBIT (L to R) MARCIN DOROCINSKI as VASILY BORGOV and ANYA TAYLOR-JOY as BETH HARMON in episode 107 of THE QUEEN'S GAMBIT Cr. PHIL BRAY/NETFLIX © 2020