Screenwriter Madhuri Shekar on Adapting Her Own Audio Play for Blumhouse's "Evil Eye"
This month, Blumhouse Productions has released a collection of unsettling thrillers in partnership with Amazon Prime, just in time for Halloween. One of these films is Evil Eye, in which a romance turns dark when a mother becomes convinced her daughter's 'perfect' new boyfriend has supernatural connections to her own past. The story is centered in Indian and Indian-American culture, with a cast of actors that are of Indian descent, including Sarita Choudhury and Sunita Mani. Helmed by twin directors Elan and Rajeev Dassani, Evil Eye is written by playwright and screenwriter Madhuri Shekar based on an audio play she got commissioned by Audible to create. The Credits spoke to Shekar about what inspired this story, her research process, and her experience adapting her play for the screen.
Evil Eye is streaming during the Halloween season. What is your connection to thrillers or horror that inspired the story? 
I get very easily scared and I'm a big scaredy-cat, so writing Evil Eye was a challenge to myself to see what I could do in this genre. That's how Evil Eye came to be. What kind of scary story would I write if I had the chance? Audible commissioned me to write an audio play for them, which I'd never done, so I wanted to try to write a scary story and see how it works.
While Evil Eye has supernatural elements perfect for Halloween, October is also Domestic Violence Awareness Month. What sort of research did you do, or how did you approach the abusive elements in the story? 
Domestic violence and abusive relationships are topics that I have a morbid fascination with. I think it's out of a sense of self-preservation, and maybe a lot of women can relate to that. I read a lot about them and about how they work, almost as a way of protecting myself from getting into one. That's who I am. I do research on this topic already because it's something that really interests me, and was the answer to what scares me. Often you don't see abuse coming. It's the monster you can't see. I find both the possibility of being trapped in an abusive relationship and the possibility of something happening to my mom terrifying. I drew from my own fears.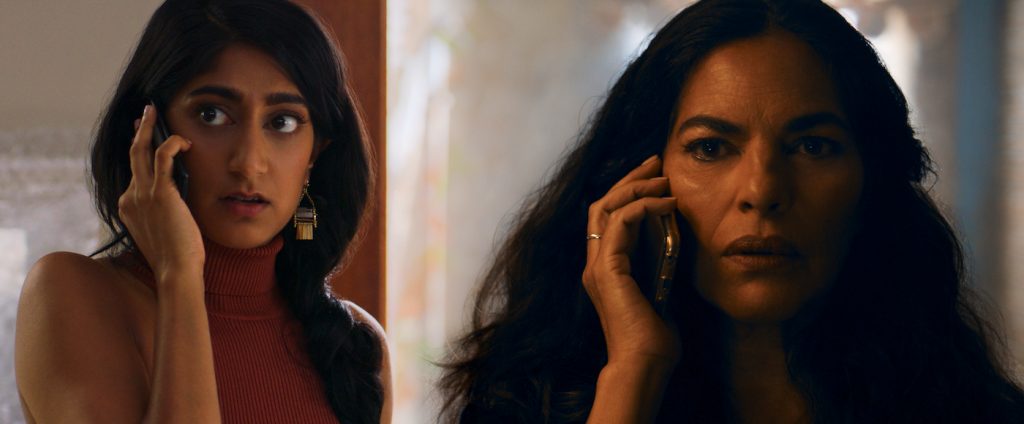 The Evil Eye audio play was an Audible Theater Emerging Playwrights commission. How did you convert it into something more cinematic for the screenplay? 
I had conceived of it in its entirety with the format of an audio medium, so turning it into a movie was challenging for me. How it worked for me was looking to see where the opportunities were, and they were to spend more time with these characters, and see things happen to them that are only alluded to in the audio play, and to give these dynamite actors an opportunity to show off how great they are. I got incredible support from the production companies, from Amazon, Blumhouse, and Purple Pebble, who gave really good notes. When the directors came on board, they really got it. They got the characters and the story, and they had great notes for me as well.
What was the journey of getting the film to the screen for you? 
I have a very talented manager, Jairo Alvarado, who handles TV and film for me. He really believed in the play and thought it would make a great movie, and so he got it into the hands of Amazon, Blumhouse, and Purple Pebble Pictures. They all felt similarly and were really committed to turning it into a movie. The timing was really fast. Blumhouse was already in the process of producing several films for Amazon, as part of a larger anthology of horror films. Purple Pebble Pictures, which is Priyanka Chopra's production company based in both LA and Mumbai, was also excited to take on a project like this. I was still working on the play when people were reading the play script in Hollywood. We produced and launched the play in the first half of 2019, and in July of 2019, I started writing the screenplay. It was like a whirlwind. It was one of those storied, weird 'this never happens' series of events everyone wishes for as a writer.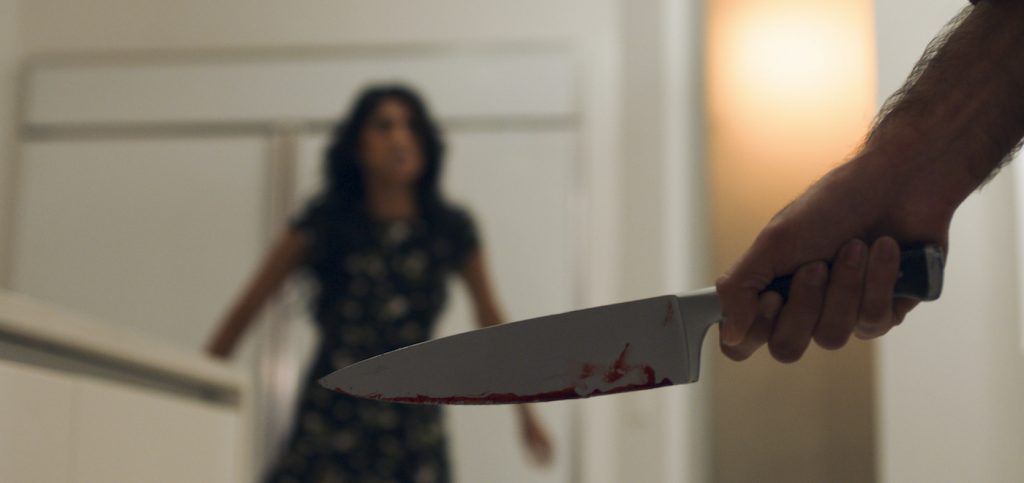 The film is female-centric, centered on an Indian-American woman, and deals with cultural elements specific to Indian culture, but also deals with the mother/daughter relationship. In what ways did you draw from your own experiences? 
It's very much inspired by my own life, inspired by my relationship with my mom. The first scene of the play, and what became the first scene of the movie totally happened. My mom called me because she was upset that somebody we knew was getting engaged before I was. I thought that was really funny, and wrote down the whole phone call we had. It made its way into the play, and then into the movie. Evil Eye is very specific to Indian culture, but that's because it's very specific to my family. I do think it's also extremely universal. I think it makes sense from a lot of different cultural contexts, because a mother's love for their child is pretty universal, and an adult child's love for their parent, even with all its complications, is something everyone can relate to and understand. Also, trying to date is really hard, regardless of what culture you were raised in.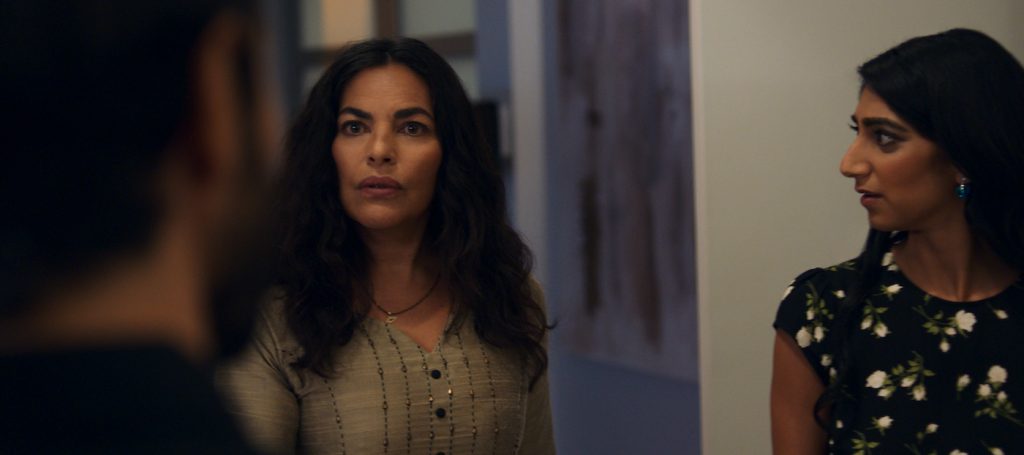 What elements do you think the actors bring that enhance what was in your mind as the creator of the story?
They have to sell it to you. Acting is such a hard job. I provide a blueprint, but they are the people who have to trick you into thinking that you're seeing a real person. With the audio play, I was in the studio with the actors, and their questions are always so important to the writing process. As the writer, you're thinking about a million things to explore and exploit in the story. Actors remain laser-focused on their character. If the actor tells you something isn't working for them, you have to listen, because it means something isn't finished in your writing.
In what ways would you say Evil Eye expresses a uniquely female perspective? 
I feel like in almost every culture the overall sense of weariness that women have, when it comes to dating, is something only women tend to experience to this degree. The sense that there could be danger lurking in any relationship, that is real. It's grounded in truth. That's what I experience as a woman. My husband doesn't, and never did when he was dating. To me, that is a uniquely female perspective being shown in Evil Eye, this palpable fear or instinct that something is wrong. Also, as a woman, I just love writing about other women. It was never going to be centered on men.
Evil Eye is available on Amazon Prime.
Featured image: Sarita Choudhury as Usha in EVIL EYE. Courtesy of Amazon Studios