"The Good Lord Bird" Costume Designer on Dressing Ethan Hawke as Abolitionist John Brown
Rampaging through "Bloody Kansas" in 1856, abolitionist John Brown and his hardy band of followers lived in the wilderness foraging for food and killing pro-slavery "Red Shirts." As dramatized in seven-episode miniseries The Good Lord Bird, produced by Blumhouse Television and premiering on Showtime this past Sunday [October 4], the tiny army led by Ethan Hawke's vainglorious John Brown rarely had the money for food or store-bought clothing. But as they trekked east on their ill-fated mission to attack the U.S. Army's Harper's Ferry armory, Brown and company managed to look sharp, even at their most raggedy.
Credit for the show's vivid Americana couture goes to costume designer Amy Andrews Harrell. An expert in period dramas, Harrell earned an Emmy for outfitting Revolutionary War saga John Adams. Before immersing herself The Good Lord Bird, filmed over 80 days in Virginia, she'd become something of a specialist in stories set just before or during the Civil War, including Killing Lincoln, Lincoln, Mercy Street, and Emperor.
She says, "I wanted the viewer to feel that if they patted Ethan on the shoulder, dust would come wafting out. I took inspiration from [Paul Thomas Anderson]'s There Will Be Blood of how dirty I wanted the men to be."
Speaking via Zoom from her home in Richmond, Virginia, Harrell took a deep dive into period hats, feed-bag dresses, John Brown's signature greatcoat, and the jewel-toned vests worn by Daveed Diggs in his portrayal of Black abolitionist Frederick Douglass.
Ethan Hawke's larger than life portrayal of John Brown benefits from the grandeur of that greatcoat you designed for him. How did you conceptualize that cloak?
In the first scene, John Brown has to conceal a rifle so that automatically meant he had to have on a pretty formidable coat. We had to give him all these interior pockets to hold a map, a journal, a spyglass. And our John Brown would have wanted to present himself as if he's a general, so I gave the coat these wonderful buttons down the front. But he wouldn't have been able to keep all those buttons on because of all the crazy situations they get into. Maybe he melted one down to make a bullet, so the buttons are mismatched.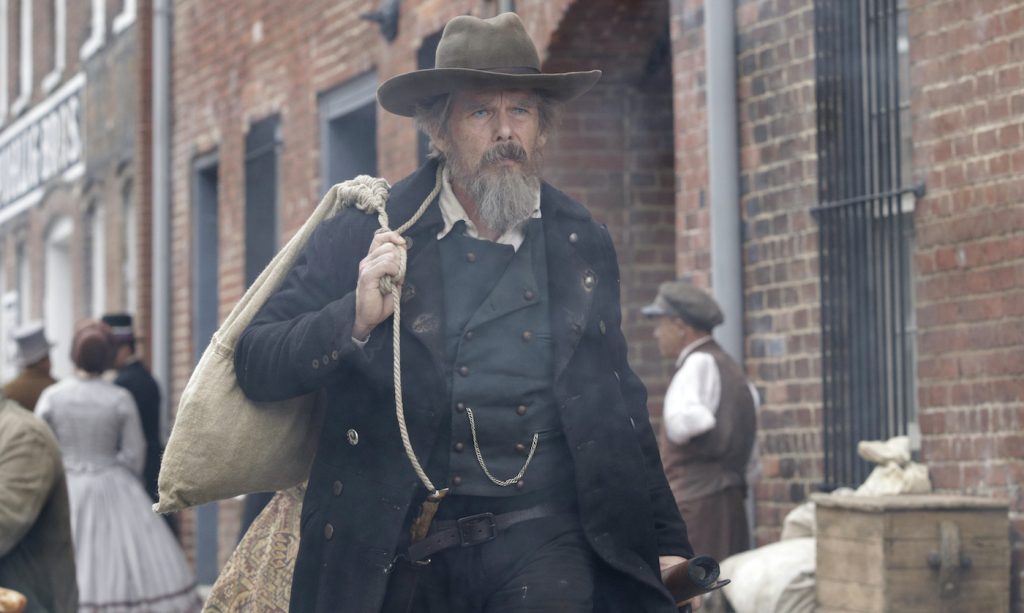 Did you work directly with Ethan on the costume? 
Ethan and I collaborated a lot at the beginning. He wanted me to make his sleeves very heavy so we put lengths of chain on the inside of his cuffs in the hem of his sleeve.
Why?
He wanted to feel weight in his arms so that when he gestured, it made him move in a different way. Ethan's said he wanted to feel like an elk when he moved around as John Brown.
The Great Lord Bird is based on James McBride's novel of the same name. Did you use that as a reference for John Brown and the other characters?
Yes. James writes amazing descriptions of people and what they're wearing. It just exploded in my head. For example, the novel says John Brown's boots were completely worn out to the point where his toes stuck out. So we carefully marked Ethan's boots to make the perfect hole showing where his toe poked through. In later episodes, he's sewn a patch where that hole used to be. A lot of the characters go through different stages, so we had different levels of aging for each costume.
"Onion," the black boy adopted by John Brown and portrayed by Joshua Caleb Johnson, wears a dress for most of the series to disguise himself as a girl. What's the story behind that mix-up?
When John Brown first meets him, Onion's wearing this feed sack with a hole where the head would go and armholes. The silhouette is not unlike a dress, and that's why John Brown thinks Joshua's character is a girl.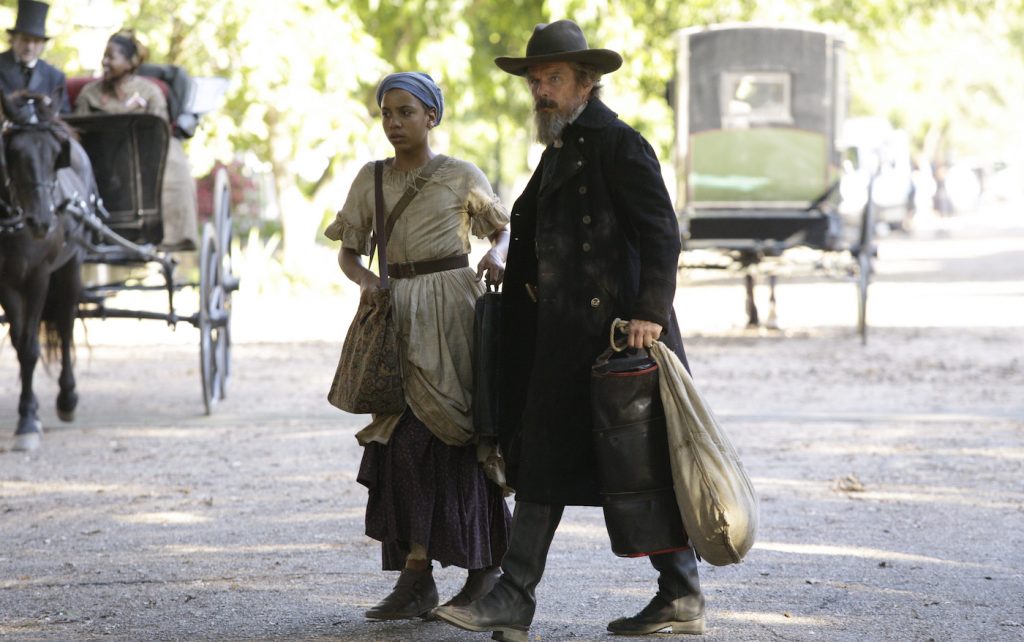 Slaves wore burlap sacks as clothes?
A lot of poor people did that. There's this whole history of feed sacks being used as clothes.
John Brown gives Onion a yellow dress and matching bonnet.
That's a prairie dress made of rough, lightweight cotton. The silhouette and cut of the neck are very typical of the time. I imagined that John Brown's late daughter was bigger than Henry/Onion/Josh so I looked at old photos of myself dressing up as a little girl to see "How does the dress hang off of someone who's playing dress-up?" Onion calls the dress "this flea-bitten thing" because he's repulsed by it.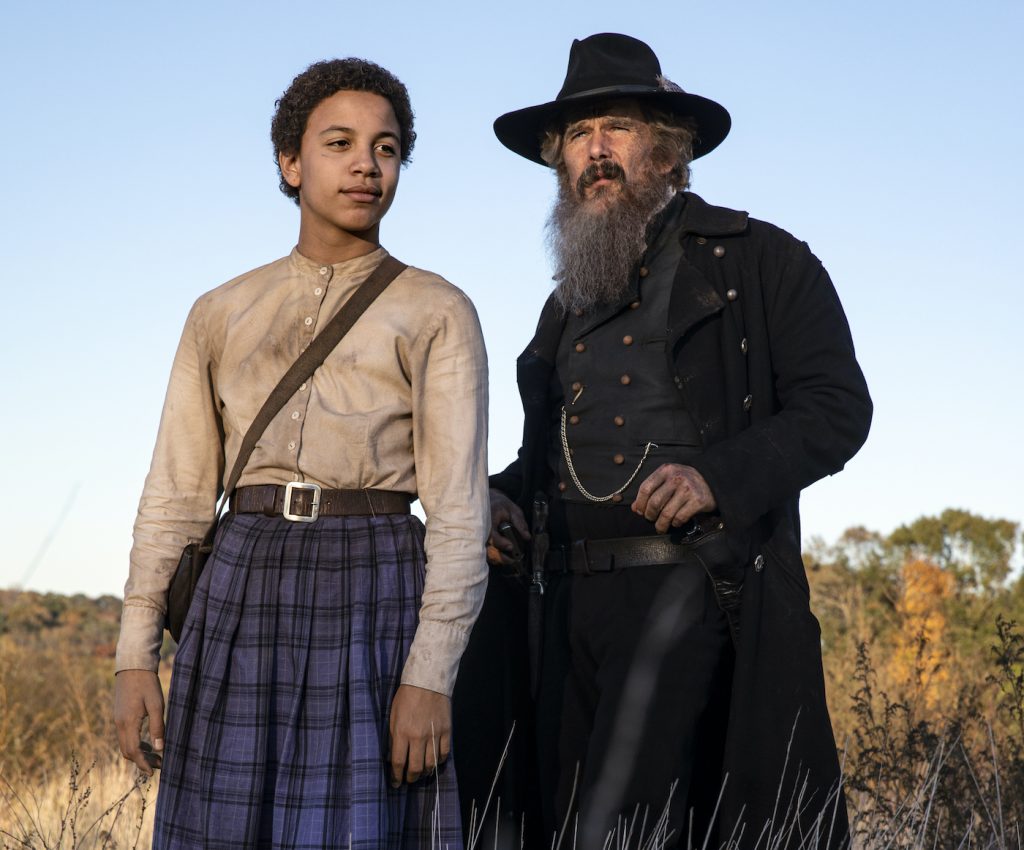 Onion's a fictional creation but Good Lord Bird includes real-life historical figures like the great Black abolitionist Frederick Douglass, played by Daveed Diggs of Hamilton fame. He makes quite an entrance, in top hat and frock coat. What inspired that look?
Frederick Douglas was one of the most photographed public figures of his time. There's a book that describes many of these photos and where they were taken, so I extracted elements of his costume from these old photographs and then pumped it up a little bit.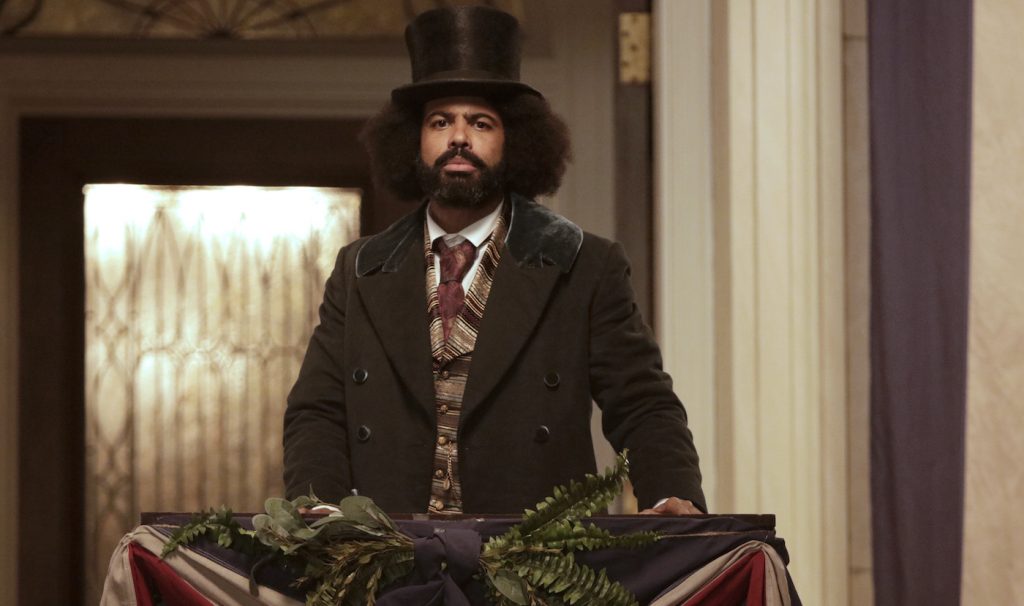 What are the key pieces of Frederick Douglass's outfit?
Well, Daveed's got a lot of hair, so we put him in this very nice top hat. He wears a frock coat and matching pants, made by Jennifer Love Costumes in New York. We made probably eight vests for Daveed, which were fun to design because Frederick Douglass was well to do and could afford lovely brocades and silks. He was a pretty snappy dresser.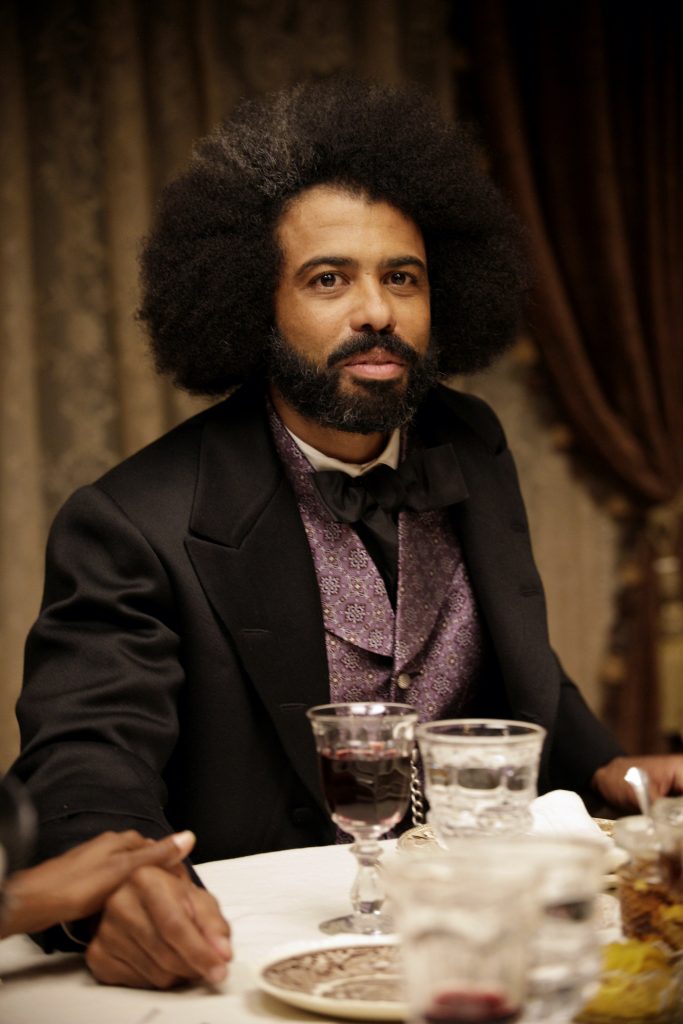 Given that 19th-century photographs were black and white, how did you devise the color palettes for your characters' wardrobes?
With Frederick Douglas, I felt it should be jewel tones because he's a jewel. We put Daveed in a lot of purple, emerald green, and burgundy.
In contrast to Frederick Douglas, the Underground Railroad activist Harriet Tubman (Zainab Jah) wears plain, oatmeal-colored clothes.

James McBride's novel describes her very precisely as being someone who dressed simply, so I took my cues from that.
Hats playing a starring role in this show. Virtually every man wears a hat, each one different from the next. How did you approach the question of headgear?
I'm so glad you appreciate that because I love hats. I have a dear friend Ignatius Creegan, of Ignatius Hats, and we've collaborated on all my period pieces. We had fittings with each actor and spent a lot of time sussing out practical things like sun protection and wind protection. He then makes each hat specific to the person, tailoring it with the nuances of a crease or the roll of a brim. You have to be very diligent about making sure that the hat comes into the world that the actor is creating for his character. I love that part of costume design.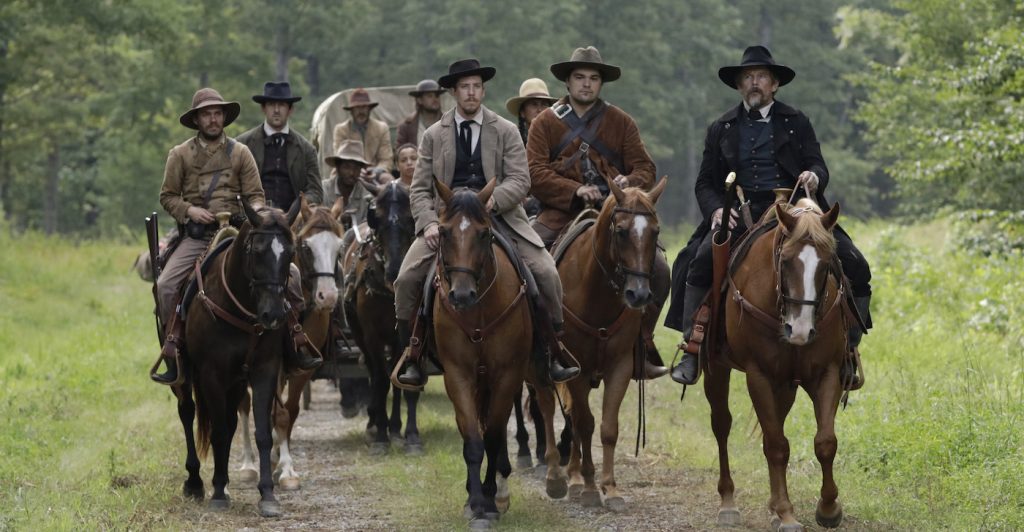 Wyatt Russell's General J.E.B. Stuart literally has a feather in his hat when he shows up on horseback to challenge John Brown. Did military officers actually wear feathered caps?
James' book noted that Onion was very impressed with Jeb Stuart's big feather, so we made it even bigger than it would normally be on a hat like that, which is called a Hardy Hat. It's very hard to make one that doesn't look like a pilgrim hat or something you could buy at a Civil War store. Ignatius and I worked hard with Wyatt to make it look like this was really his hat.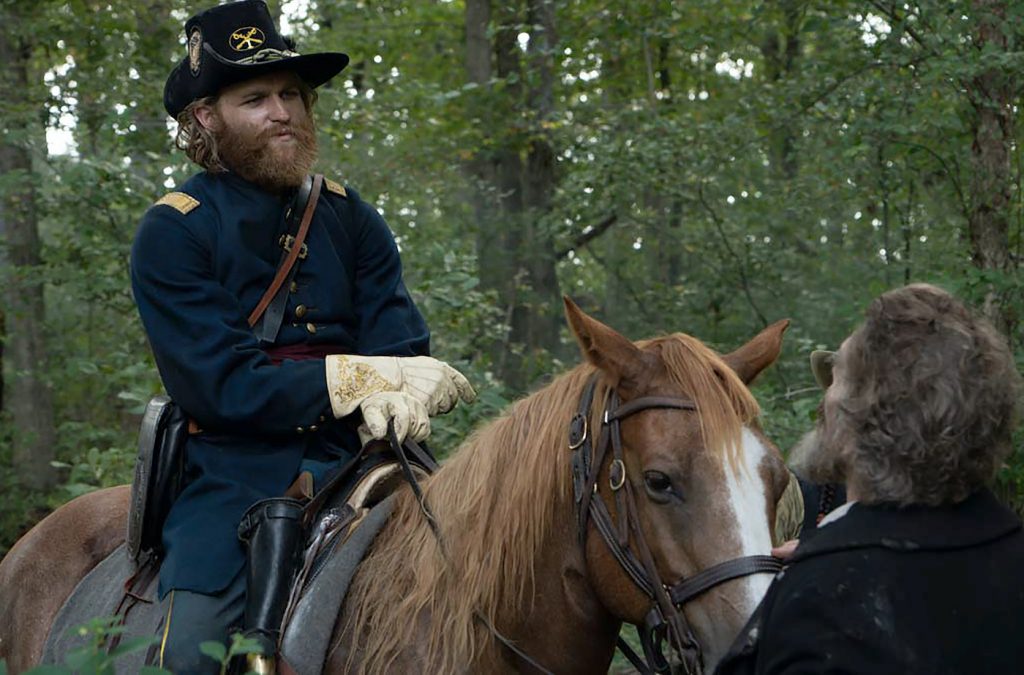 For all its zany humor, Good Lord Bird tackles the profoundly serious issue of racism that continues to haunt this country 161 years after the Harper's Ferry debacle. How do you see this story connecting with the Black Lives Matter movement?
We're still struggling with [racism]. It's absolutely necessary to do everything possible to get it done this time. What is it that John Brown says in the show? "I am on the side of justice and you are on the side of chains." He was out to start a revolution. He got this band of people to follow him. It didn't work out the way he wanted it to but crazily enough, it almost worked. And certainly, John Brown put the spotlight on the horrible crime of slavery.
Featured image: Ethan Hawke as John Brown in THE GOOD LORD BIRD. Photo Credit: Kevin Lynch/SHOWTIME.