DP James Kniest on Netflix's New Horror Series "The Haunting of Bly Manor"
The question central to Henry James' horror novella "The Turn of the Screw" is whether a nanny who tries and fails to protect her young charges from ghosts ever really saw the ghosts, or if she's gone mad and is thereby herself at fault for the two children's' demise. In Mike Flanagan's loose adaptation of this and other horror works by James, the creator zooms out, asking instead whether all the occupants of Bly Manor might be losing it. The series premiered on October 9 and is now available for anyone looking to get their Halloween scare on early.
In a complicated ten-part anthology series, a follow-up to Flanagan's Netflix hit The Haunting of Hill House, the creator depicts a complicated, isolated world at the grand English estate where, despite her precocious charges, Fiona (Amelie Bea Smith) and Miles (Benjamin Evan Ainsworth), and her pleasant fellow servants,  au pair Dani Clayton's (Victoria Pedretti) job gets worse every day. Hired in London by the children's standoffish uncle, Henry Wingrave (Henry Thomas), the suspiciously overqualified Dani winds up battling her own demon at the same time that she discovers the children's previous nanny, Rebecca, is dead, Henry's thieving valet Peter (Oliver Jackson-Cohen) seems to be skulking around the property, and the children won't stop sneaking out at night, evidenced by muddy footprints that return, over and over, in the same path across the mansion's grand hall.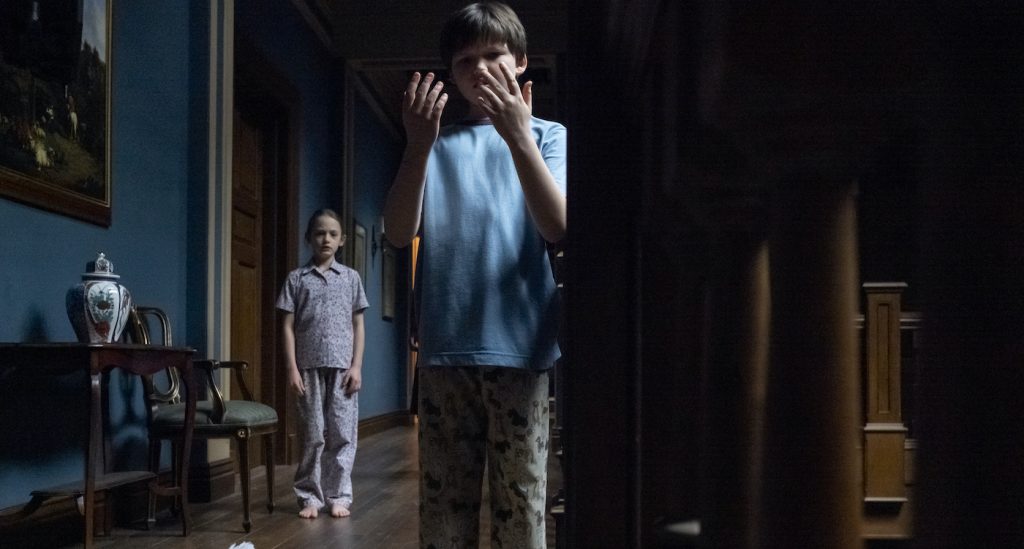 Though cinematographer James Kniest protests he never really meant to become a master of horror lighting — "I like doing car commercials," he jokes — Kniest's credits include Annabelle and The Bye Bye Man, and he previously worked on Hush with Flanagan. In The Haunting of Bly Manor, Fiona and Miles aren't really responsible for the muddy tracks, of course, and the entity responsible only comes out at night. For Kniest, who joined the production for episodes six through nine, a series full of major story points playing out in the dark was no problem: "I always want to make things as dark as possible, until the producers freak out," he says. "It's funny as a cinematographer because I'm always trying to find the motivation of what the light is on someone's face or a room and so I always read those parts of the script and I'm like here we go — 'And there are no candles!' So you always have to find ways to motivate light sources. It's a challenge that I quite like."
Many of the terrific actors from The Haunting of Hill House returned for Bly Manor, and Kniest gently lights their faces just enough to catch the subtleties of Peter and Rebecca's uncomfortable romance, Dani's well-founded nighttime fears, and housekeeper Hannah Grose's (T'Nia Miller) bizarrely stoic serenity in the face of an ever more disturbed household. "It's a tricky balance," says Kniest, albeit one the cinematographer definitely achieved. "Everyone has an agenda. Usually, I want to make things as dark as possible, the producers want to see their actors' faces, viewers want to see the actors as well, and I think the actors want to be seen."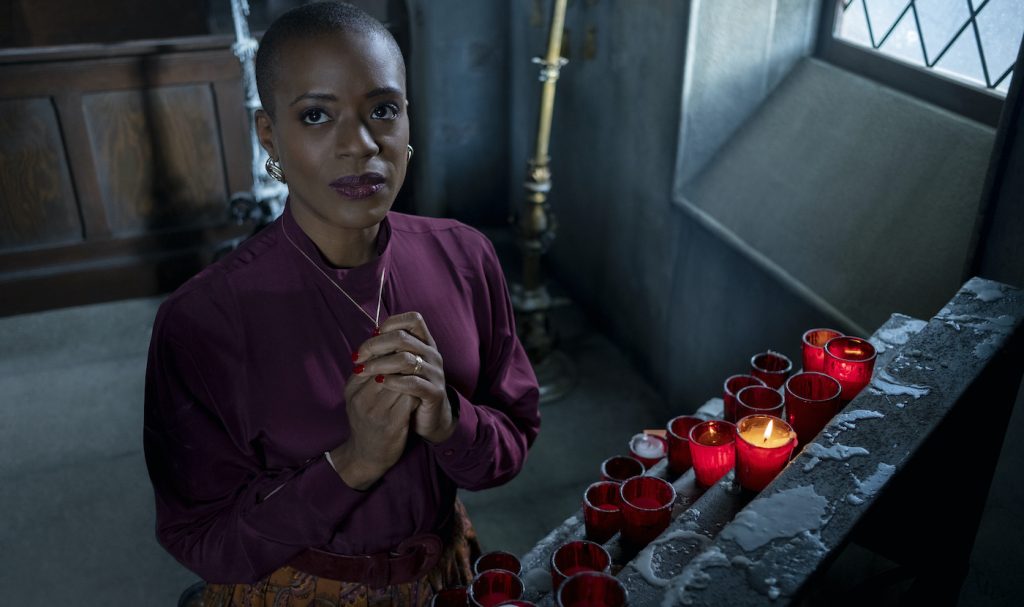 The weirder task is lighting a series full of action that takes place after dark in an era of digital streaming. "Everything is viewed on different platforms, in different viewing environments, so you're never really sure which one you want to prioritize," Kniest explains. Where a DP could have once been assured of a calibrated theatrical environment, "nowadays people can be watching it on their 80-inch screen TV in their home theater or they can be watching it on their iPhone on the bus. And it's really hard to know what to prioritize in terms of that, and that's just in the shooting part." Viewed on a home television, Bly Manor appears balanced just so between dim creepiness and sufficient clarity to know when to get scared, despite the fact that Kniest had to do post-production under Covid-19 lockdown on an iPad Pro.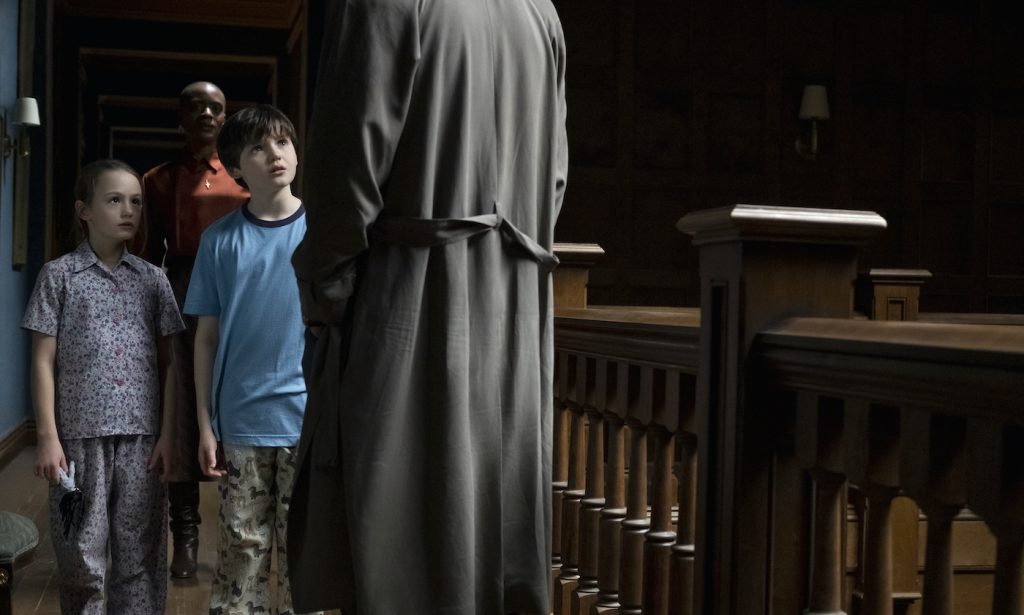 For viewers, the biggest challenge of the series are the layers of character memory and flashbacks integral to sorting out Bly Manor's sinister back story. "One of the questions I had to ask Mike Flanagan was: are we creating a different look, like a flashback look or dream sequence look? And the answer was always no. A lot of the actors carried a lot of that weight just with their performance," Kniest says. Given the uniformity between past and present, the production features glowing light and a gentle focus that comes off as pure 1980s. "It is a period piece for sure," says Kniest. "The wardrobe, the cars, and some of the makeup choices, hairstyles, all that lends itself to that 80s vibe."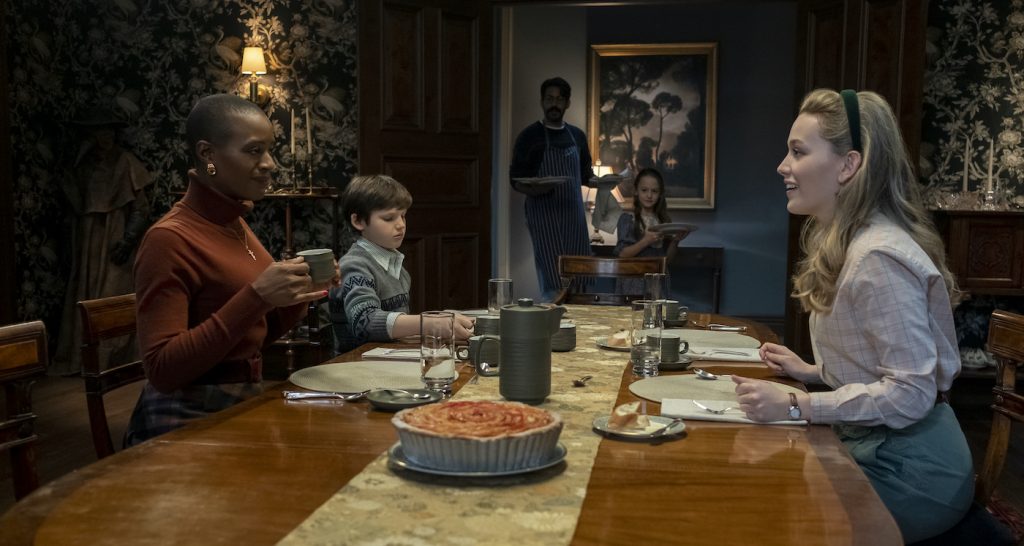 An exception arrives in Episode 8, which rewinds a few centuries, in black and white, to the origins of what's troubling Bly Manor. "When I came on board, they had already decided to do black and white. It was actually one of the things, of many, that attracted me to the project," says Kniest, and to prepare for the series' most vintage period episode, the cinematographer pulled other scenes into a black-and-white lookup table throughout shooting. The eighth episode's plague and bodice-era twists and turns could be the basis for an entire series of its own. Nevertheless, this atmospheric period series has arrived just in time for Halloween, inviting you to join Dani at Bly Manor, the site of England's worst au pair job.
Featured image: THE HAUNTING OF BLY MANOR (L to R) AMELIE BEA SMITH as FLORA, BENJAMIN EVAN AINSWORTH as MILES, and T'NIA MILLER as HANNAH in THE HAUNTING OF BLY MANOR. Cr. EIKE SCHROTER/NETFLIX © 2020