Composer Steven Price on Scoring David Attenborough's Plea to Humanity & Glen Keane's "Over the Moon"
Those who work in the arts have an innate ability to invoke emotions through their work— to cause an audience to connect with a certain theme or issue. But what if that issue is the inevitable destruction of the planet told through the life story of one famed historian and world traveler? That was the daunting task presented to Oscar-winning composer Steven Price (Gravity, Suicide Squad, Baby Driver). 
David Attenborough: A Life On Our Planet serves dual purposes as both Attenborough's witness statement — his plea to humanity to save the Earth — and an autobiography of sorts.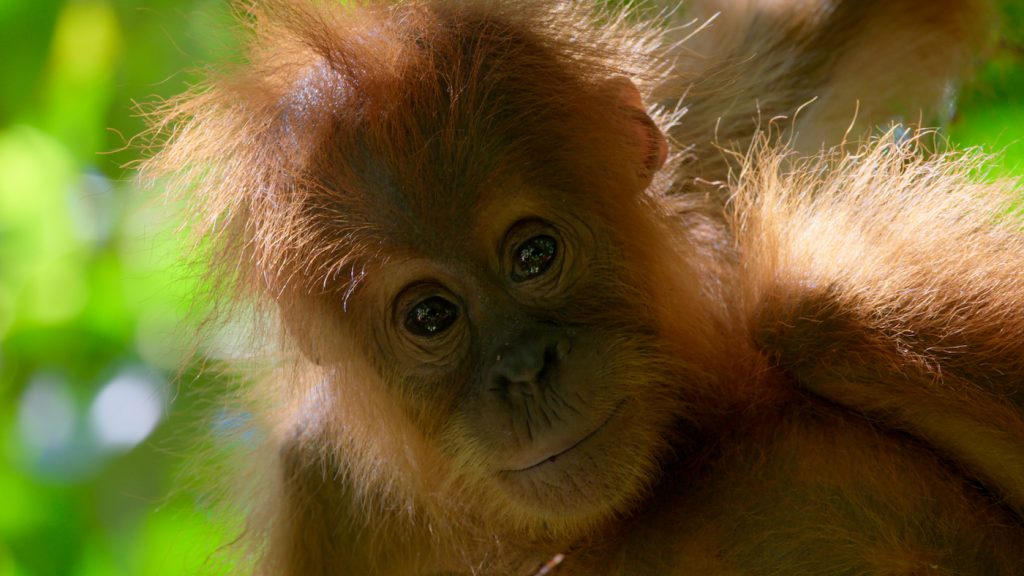 "I was really keen to work out what David would want because we'd done these big sweeping things as part of the natural history shows and this was a very different sort of thing, much more intimate," Price recalls. "I basically found out his taste in music and that's chamber music."
Chamber music is a form of classical music composed with only a small group of instruments. The strong, solo piano notes and eerily, beautiful string instruments scattered throughout the film somehow manage to create both this overwhelming sense of dread, while also reminding viewers that all hope is not yet lost. Price knew he had an opportunity with this film to tell Attenborough's story and wanted to do him justice. 
"The mix in the middle of the film where he kind of reached his lowest ebb and you see him just looking as sad and depressed as he feels—we've never seen him like that," Price says. "Those just felt like such delicate moments and such a rare moment of honesty of him really putting himself in front of the camera like that."
Musically, the film ebbs and flows so smoothly that it feels as if you're watching a concerto. There are moments of deep sorrow and then minutes of pure joy, followed again by an overwhelming sense of guilt. The key for Price in successfully articulating the film's message was to create one " really simple through line" that followed Attenborough throughout his life and into "his vision for the future."  
"I wrote the film start to finish, and it felt like his life was flashing before my eyes as I did it," Price notes. 
Regardless of all the other production concerns with Life On Our Planet, Price's main worry was that "Sir David" enjoyed the musical composition he created. 
"I was always very nervous, I wanted David to like it," Price said. "And then we did a screening just for the filmmakers a few months before the film came out and we watched the finished thing and at the end of it he said he liked the music and it was like 'Oh, thank God.'" 
Ensuring a satisfactory score for David Attenborough's witness statement is intimidating, but less intimidating than capturing the sound of a young girl's journey to the magical world of Lunaria. Over the Moon, Price's latest project which Netflix released Oct. 23, tells the story of a genius, young Chinese girl, Fei Fei, who builds a rocket to the moon to chase after the legendary moon goddess Chang'e. 
One of the pivotal scenes in the film is when Fei Fei finally succeeds in flying to space and enters into the wonder that is Lunaria. 
"Lunaria is my favorite bit of the film," Price says humbly. "That was the one I was most terrified about when we were doing it because if you didn't get that one right then the whole thing didn't work." 
It's safe to say that Price got it right. The "buzzing" and "fizzing" sounds that he worked so hard to capture perfectly complement the glowing, neon colors that illuminate Lunaria. Interestingly, the most challenging part of the film to compose (Fei Fei's entrance into Lunaria) was also the first section Price completed. 
"Around last Christmas I had obviously come up with the tune for that and came in this room and just recorded a little demo, and it was just me playing the piano and I'm playing the guitar and I'm whistling," Price says. "And I found it quite recently and it's all kind of there but in this really fragmented sort of way." 
Like any composer, Price knew the real challenge would be to put that "little demo" up against the film itself. Lucky for him, it worked splendidly. 
"All of the colors as they added in the animation and the way the light would work— and they'd add a different layer of lighting each time I'd get a new version of the picture," he explains. "They all started to influence how it sounded."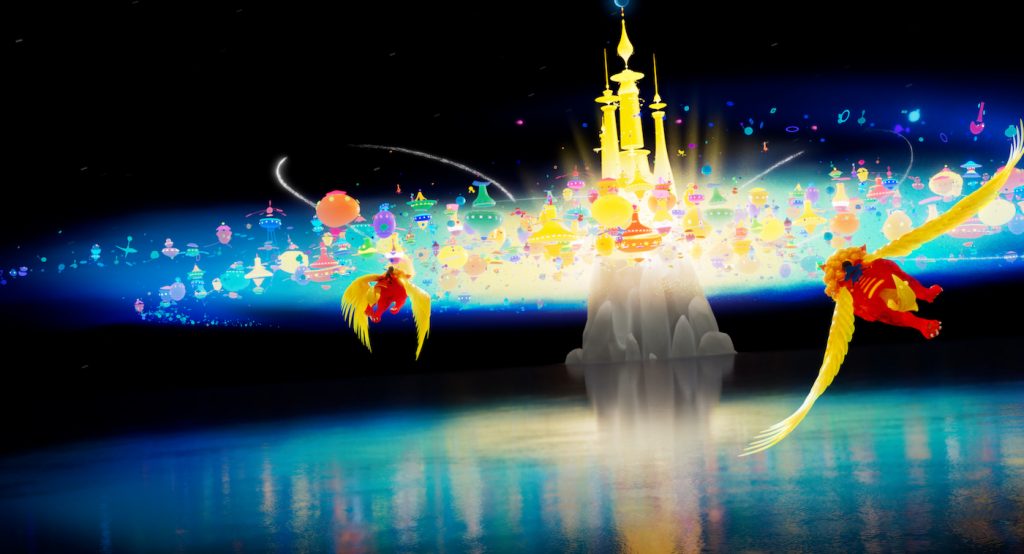 Unlike action movies that need to be cut and edited over and over again, with composers constantly being sent updated versions, animated films allow composers more freedom in that their work can be finalized sooner and then perfected over time — one of the reasons Price was so eager to get into animation. 
"It felt like I could get a piece of music working and then I could spend ages kind of polishing it and changing the textures and finessing it in a way that you don't really get time to do on a live action," Price says. 
Composing for an animated movie wasn't the only dream that Over the Moon fulfilled for Price, the other: working with famed director Glen Keane.
Keane, whose long legacy in animated film credits him with masterpieces such as The Little Mermaid, Tarzan, Beauty and the Beast, Tangled, and other such great popular classics, gave Price some very specific direction. 
"Glen was like, 'Watch her [Fei Fei] eyes, always watch her eyes because that's what's going on with her,'" Price recalls. 
Price wanted to create sounds and songs that embodied Fei Fei's character, but that also did justice to the rich cultural history and Chinese legend Over the Moon is based on. 
"I didn't want to do a score where it felt like a cliché, so I kind of went with a more textural approach with that as well," Price says, explaining his creative process. "I recorded a lot of Chinese instruments at the start and then manipulated them and stretched them, so all those textures that are shifting around in Lunaria are born off the Chinese instrumentation, but they're kind of central to the fabric of the score."
The overall result of Price's work is a film that captures the innocence and marvel of youth, the inevitability of loss, and the magic on our planet and beyond.
Featured image: L-r: David Attenborough: A Life on Our Planet, photo courtesy Moving Picture hire LTD/Netflix. OVER THE MOON – (L-R) "Chin" (voiced by Robert G. Chiu), "Fei Fei", (voiced by Cathy Ang), "Chang'e" (Voiced by Phillipa Soo), "Jade Rabbit" and "Lunettes". Cr. NETFLIX © 2020