Writer/Director Edgar Wright Talks his Brilliant new Film Baby Driver
*We're sharing some of our favorite interviews of the year this week in our 'Best of 2017' roundup.
It's is odd that British auteur and fan-boy fave Edgar Wright, 43, known for spoofing horror flicks (2004's Shaun of the Dead), buddy-cop procedurals (2007's Hot Fuzz) and sci-fi thrillers (2013's The World's End) has produced his most mature and satisfying spin on a popular genre – this time, the crime-heist film – based on an idea he first hatched 22 years ago. Baby Driver, which opens this week, picked up word-of-mouth speed when it first bowed at SXSW and holds a rare 100% positive score on Rotten Tomatoes.
Shot on the streets of Atlanta, it is also Wright's most American film as it traffics in mind-boggling car stunts, bank robberies and young love between a 20-year-old getaway driver named Baby (Ansel Elgort of The Fault in Our Stars), who drowns out the ringing in his ears by constantly listening to music, and Debora, a diner waitress with a knockout smile (Lily James of Cinderella). Wright also invited some seasoned pros for the ride in the form of Academy Award winners Jamie Foxx as gunman Bats and Kevin Spacey as mastermind Doc. Plus there's Emmy-toting Jon Hamm of Mad Men fame as crew member Buddy. As Wright told CNN's Jake Tapper (a big devotee of the filmmaker's underseen Scott Pilgrim vs. the World) during a Q&A following a Washington, D.C., screening: "Whenever there was a two-shot with Kevin and Jamie in it, I would whisper to my cinematographer, 'Double Oscar shot.'"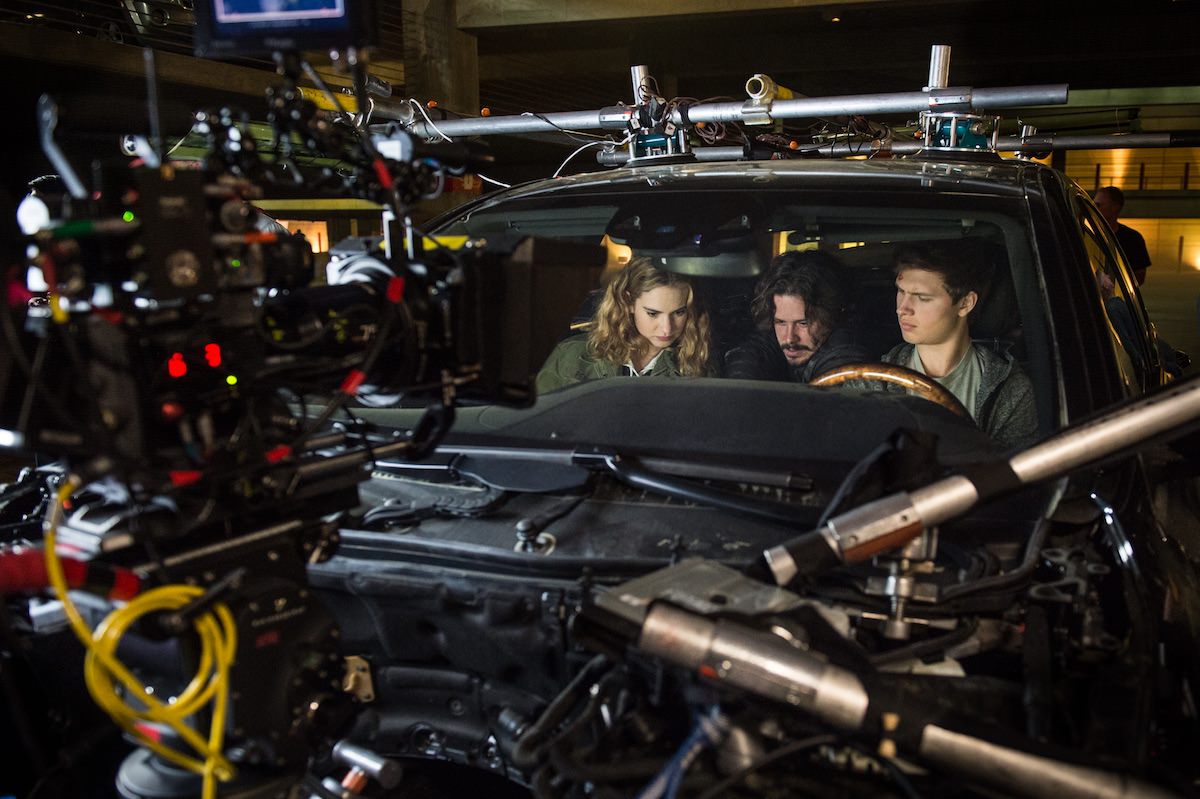 (l to r) Lily James, Director Edgar Wright and Ansel Elgort on the set of TriStar Pictures' BABY DRIVER.
But it was an obscure track called Bellbottoms by the American alt-rock band the Jon Spencer Blues Explosion that Wright first heard in 1995 that inspired him to dream up a car chase sequence. It is only right then that the raucous jam holds the honor of topping a soundtrack of 30 kick-ass curated songs that provides an turbo-charged adrenaline rush for the ears.
I was thoroughly satisfied by Baby Driver, except for one thing.
Not enough Jon Bernthal (of The Walking Dead and Netflix's Daredevil)? Some people have said that.
No. What frustrated me is that no one got to order, let alone, eat any diner food after multiple scenes set in one. I kept waiting for eggs or waffles to be served and scarfed down by someone.
The scene where they come in with Jamie Foxx, things get extremely tense quickly. But I guess in the previous scenes with Ansel and Lily, well, here's the thing. They are too busy flirting with each other to actually get around to ordering.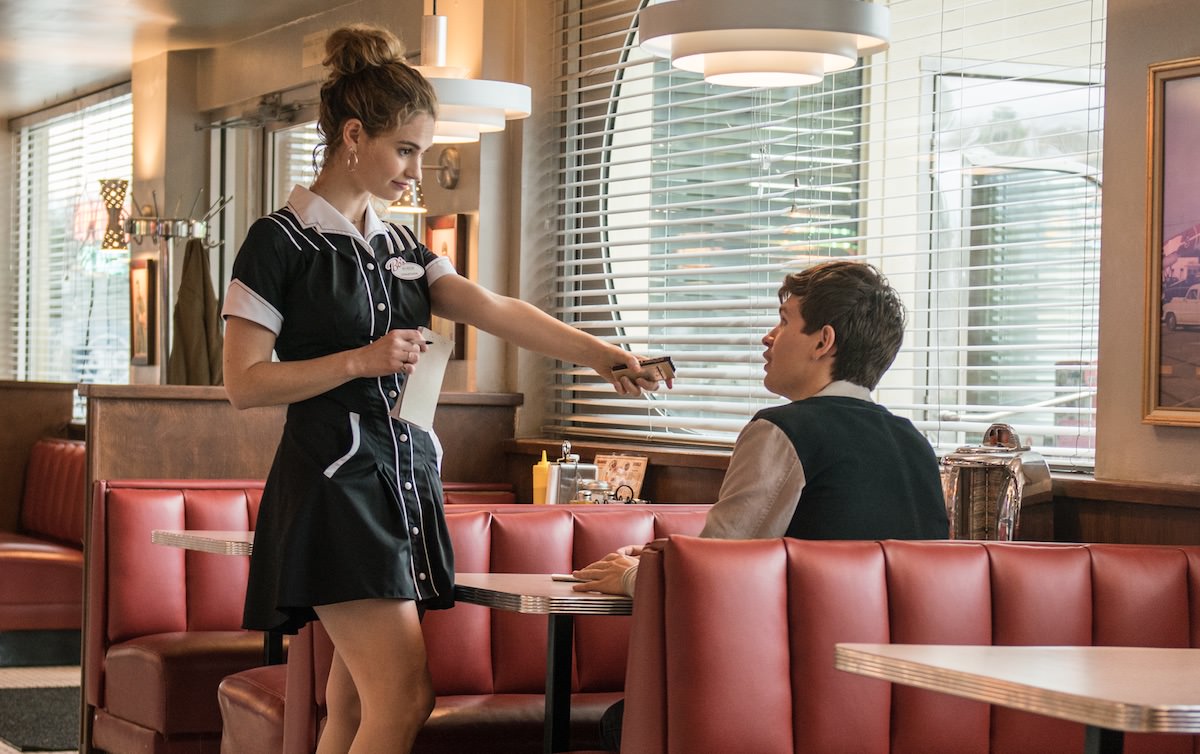 Baby (ANSEL ELGORT) charms Debora (LILY JAMES) at her work in TriStar Pictures' BABY DRIVER.
There are so many elements you had to juggle, from the elaborate car chases to the integration of the music cues to that one shot of Ansel walking on the streets of Atlanta to pick up coffee to the sounds of Harlem Shuffle by Bob & Earl. It all works like a well-oiled machine and is highly entertaining.
It's funny. People have said to me it is a bit of a departure from the other films I have directed, which is true. The irony about that is the idea for Baby Driver pre-dates Spaced (his cult sitcom), Shaun of theDead and everything.
But you probably couldn't have accomplished all this without your experiences on previous projects.
Absolutely. I don't think I could have made this film before now.
Do you have your own playlists and do what Baby does, which is listen to them all the time.
Endlessly.
What have you listened to lately. You have esoteric tastes so I probably won't know many of the bands.
I can call up my current 2017 playlist. What am I listening to? Laura Marling, the Big Moon, Temples, a band called HM Limited  – Happy Meal Limited —  and  Arcade Fire's new song.
I at least know Arcade Fire. I was very happy you had the song Baby Driver by Simon & Garfunkel in the movie. That had to be a must.
I think I had the idea for the movie anyway. But then that title became a no-brainer for me.
Did you have any trouble getting permission to use it?
Well, it's in the movie. I wrote a letter to Paul Simon. That song. I think my love of music started early because my parents had a record player and they had very small collection of records. I say my parents' record box was only like 20 albums total. There would be some classical music, things like Holst's Planet Suite. And then there would be one Rolling Stones album, only the first one. And Beatles album, although there were some key ones they didn't have. They did not have Revolver, which is so amazing to me. And they had some Peter Gabriel and Genesis albums. And the Motown Chartbusters album, which is probably a big influence on this soundtrack. And then they had Simon & Garfunkel's Bridge Over Troubled Water. I knew that album by heart. That song always jumps out to me because I like the idea of it being about "I hit the road and I'm gone. What's my number?" As a kid, I found the lyrics intriguing.
The Jon Spencer Blues Explosion must be thrilled by this exposure.
It's a New York band. They're still together. I used one of Jon Spencer's songs in Hot Fuzz. But that band has been around since the early '90s. They are still going now in fact. Jon Spencer is in the movie as well. He is in the final five minutes and he has a line as well.
You discussed doing car chases and stunts with Quentin Tarantino and George Miller before shooting Baby Driver.
And Ron Howard. He did Grand Theft Auto, his directing debut, and Rush.
What did they tell you?
I guess it was confirming things that I already knew in some cases. Having done some short car sequences in Shaun, Hot Fuzz and At World's End. They all have different approaches. Quentin on Deathproof operated his own camera through a lot of it. They all had different bits of advice and it all was extremely useful. I think in Baby Driver, we took a somewhat similar approach to what George Millier did in that I had storyboarded the whole thing. You basically had a road map of all the set pieces. That is what he did with Mad Max: Fury Road. The storyboard was a more important bible than the script.
Were all the stunts practical and not digital effects? That is what George Miller did so well.
Ninety-five percent of it is all real. You can kind of tell. Not just in terms of the stunt driving, but also having the actors on the road as well. When we did the sequence when the hood was stuck under the truck, there was a rig that put Jamie, Ansel, Flea (of the Red Hot Chili Peppers) and Lanny Joon into the scene.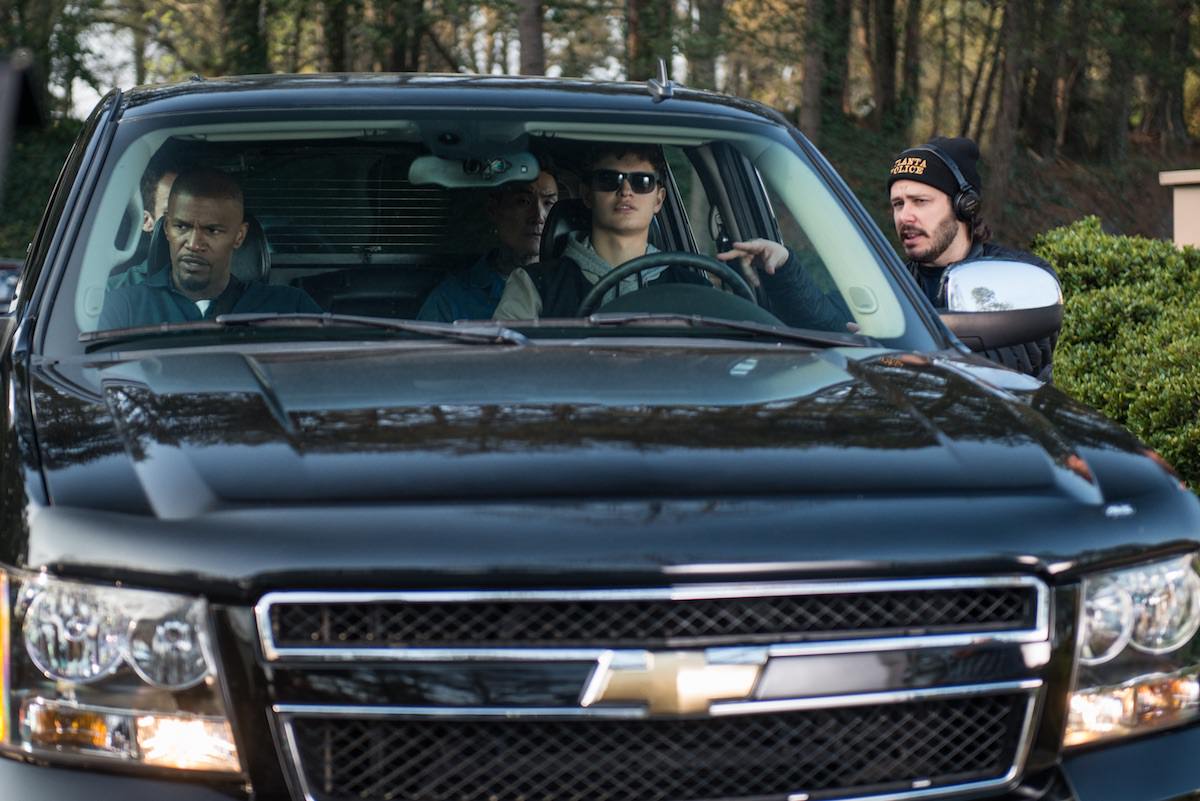 Jamie Foxx, Ansel Elgort, Flea Balzary, Lanny Joon and Director Edgar Wright on the set of TriStar Pictures' BABY DRIVER.
As you pointed out last night during the Q& A, you intended the gun violence in Baby Driver to be more realistic, sudden and shocking as well as to show the deadly results of such acts. However, you still glamorize it sometimes by synching the sounds of gunfire to the beats of the music that Baby is listening to. How do you balance entertainment with the need to not minimize the consequences?
I think the way the film is leading, it does have a very moral ending. It's interesting because the studio at one point said, "What if they just got away at the end?" And I really didn't want to do that. I thought it was important to have Ansel's character take responsibility for his actions. It doesn't worry me because I think part of the premise of the movie is you start with the fantasy of being a getaway driver. With the earbuds and the sunglasses, he takes a "hear no evil, see no evil" approach. But then from the third scene onwards, the nightmare reality of being a criminal and the repercussions of that and the consequences of that – not just for yourself but the innocent people around you – becomes more and more apparent. Baby Driver has more in common with the old Warner Bros. gangster movies of the '30s where there is this moral kicker in the end. I don't want to be too moralistic when making a movie. But what I did think about seriously about this movie, for the Grand Theft Auto video-game generation, it's like you have a movie about a getaway driver but remind them that this is not a game.
What are you doing next? The masterful way you handled the choreography of the cars and crime scenes while picking just the right song for each, you should do a full-on movie musical.
I would like to. Tell Lin-Manuel I will do Hamilton.
Featured image: L-r: Lily James, director Edgar Wright and Ansel Elgort on the set of TriStar Pictures' BABY DRIVER.​