"Raised By Wolves" Line Producer Cheryl Eatock on Building Ridley Scott's First TV Series
As one of film's most innovative directors, Ridley Scott is a master at transporting us to worlds unlike any we've seen before. So it comes as no surprise that Raised by Wolves, his first foray into directing episodic television, promises to be a unique, multilayered vision as ambitious in theme and scope as Alien, Blade Runner, and The Martian.
Unspooling in 10 installments on HBO Max, Raised by Wolves is set in a future where Earth is being destroyed by a religious war between the uber faithful and nonbelievers and which is streaming now. As the story unfolds, we meet Mother (Amanda Collin) and Father (Abubakar Salim), two androids sent to a new planet by the atheist faction with a mandate to asexually repopulate the universe. Complicating the mission is a harsh terrain that seems to be inhabited by not-so-friendly alien life. But the bigger challenge comes from the children themselves as Mother and Father struggle to understand the complex humanity of their charges who begin to ponder the notion of a higher being.
When it came time to create Kepler-22b, the unearthly planet where Raised by Wolves is set, Scott turned to South Africa. Though the country is no stranger to big-budget blockbusters (Mad Max: Fury Road, Avengers: Age of Ultron), Raised by Wolves line producer Cheryl Eatock, whose resume includes The Dark Tower and Bloodshot, was thrilled to have a hand in creating this series.
"For South Africa, it was like a dream come true," says Eatock during an interview via Zoom. "You know when Sir Ridley calls, you certainly answer. Who wouldn't jump at the chance to do the show? And then, just like that, it's, "Oh no! How are we gonna do this?"
It took four months of preproduction to get ready for the 22-week shoot. After a lengthy scouting excursion with Scott in and around Cape Town, the production honed in on Lourensford Wine Estate in Somerset West, about an hour's drive east of Cape Town.
Commandeering an unused section of the vineyard, the production began transforming it into Kepler-22b by excavating all the nonindigenous plants. Kookerboom trees, aka quiver trees, were trucked in from all over South Africa. Eatock estimates this alone took two months. The greens department created a special nursery to nurture the kookerboom trees as well as the aloe species used to create the Carbo Crop Circles called for in the script. Lourenford's owners were so taken by the aloe circles, they asked if they could remain after filming wrapped.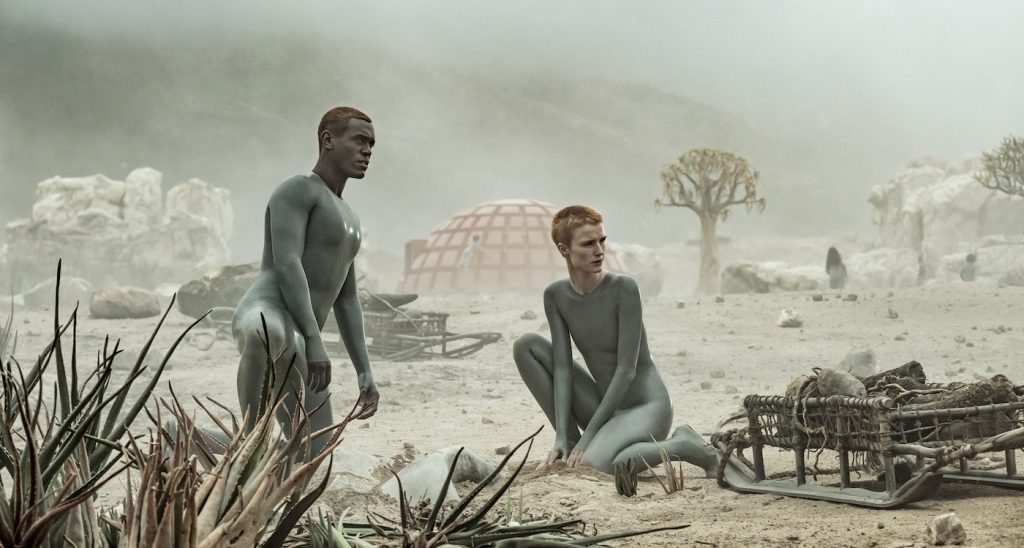 "Looking otherworldly is not an easy thing to do, but Ridley saw something really majestic and magical in the locations when he was here," adds Eatock. "We filmed through the winter and that added to the aesthetic. We got some very strange winds and very strange cloud cover so it was incredible to be able to incorporate that into our world."
The ultimate goal was to fashion a look that was familiar yet futuristic. From the sets and costumes to the props and makeup effects, the challenge was to envision technology that wouldn't be invented for several hundred years. The production strived to incorporate forward-thinking materials. The costumes featured sleek latex designs. The production took 3-D printing to new levels.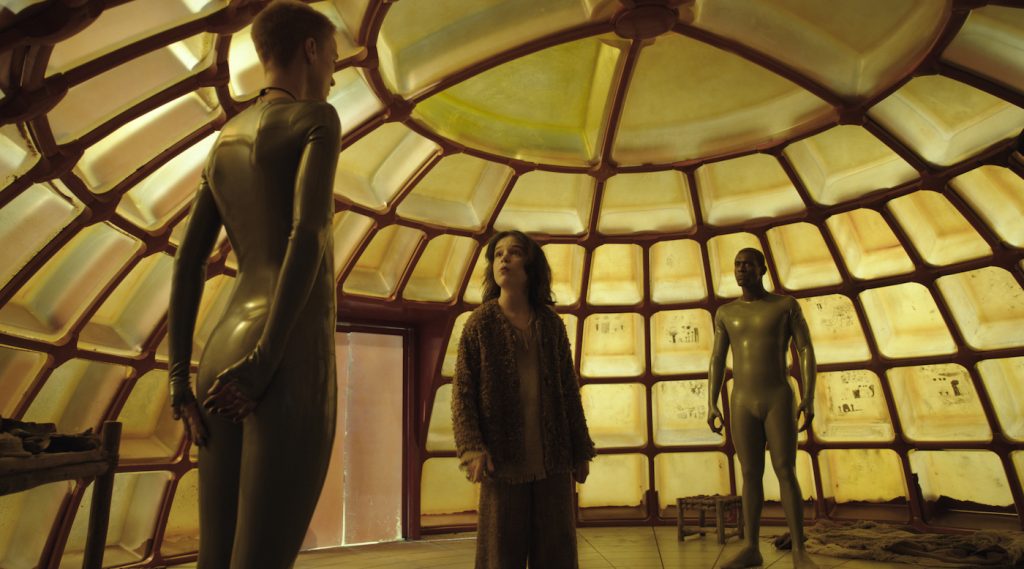 "A little bit of everything…props, costumes, prosthetics for sure and even in some set design," remembers Eatock regarding the printer output. "Not to downplay the traditional craft of filmmaking, but we jumped way ahead here in terms of 3-D modeling and definitely in the prosthetics field. It cuts down on time. It cuts down on fabrication. It's just a new skill set now."
As an example, Eatock cites the incubator scene in the opening episode. Used to house the soon-to-be children, it makes the journey to the new planet as a small, orange ball before transforming into a life-size device. Ridley Scott presented ideas from his research into futuristic and instant housing. With these as inspiration, sustainable polymers were generated via 3-D printing and fashioned into a large pop-up nursery that looks as if it belongs in an alien world.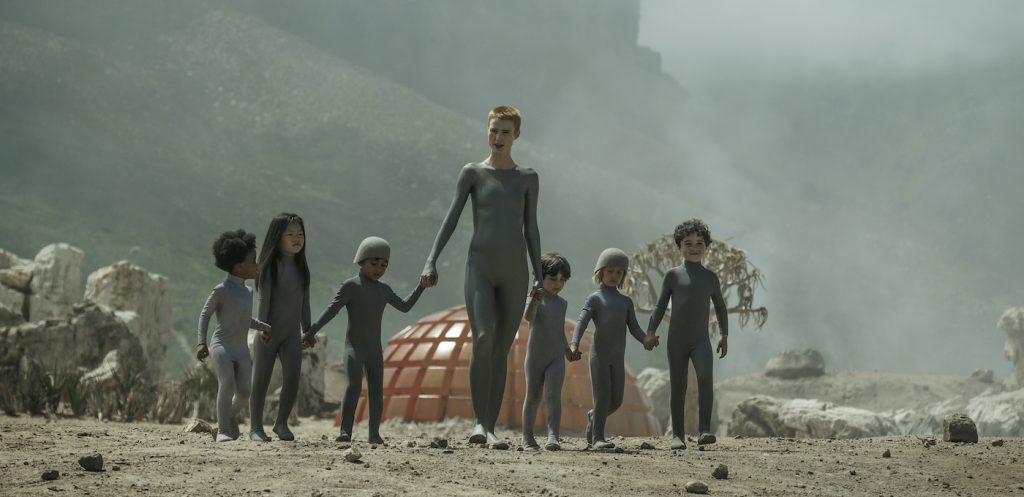 "That was just incredible to try and figure out," Eatock says. "How are we going to do that and what material are we going to use? We were on the cutting edge of innovation."
With Scott leading the charge, it wasn't hard to find inspiration. Eatock reveals he brought such vision and energy to the production that it elevated everyone's game. An expert artist, Scott drew the storyboards that laid the groundwork for what would eventually end up in the camera.
"He was engaged with every single department, at a level of detail that was masterful," explains Eatock. "The storyboards just came alive as he spoke."
Equally impressive was the level of energy that Scott brought to the two episodes he directed. Eatock admits that she's never seen anything like this from a director.
"He is hard to keep up with. Let me tell you, you've got to be in it every second of the day," she continues. "When Sir Ridley stood on the set and we were talking about that opening sequence, Amanda Collin, who plays Mother, and Abubakar Salim, who plays Father, were just so moved at how he brought it to life. He saw it. He drew it frame by frame and we stood in that frame every single day. For me, the opening sequence was just a special, special moment."
But Ridley wasn't the only Scott involved in the production. His son Luke, also a director, helmed three episodes, including the series' finale. An artist as well, Luke mapped out many of his shots with frame by frame drawings. But in other ways, his approach differed from that of his dad's.
"He's much quieter. Ponders a lot more. So it feels like a more internal process," reveals Eatock.
Eatock remembers specifically the thought and care that Luke put into the final scene. She found it fascinating to watch Ridley start the story and Luke wrap it up in episode ten. "He took a long time to get there, in terms of thinking about how he was going to take the audience from the beginning to the end," she says.
Though nothing is set in stone, Eatock hints that there has been talk about doing a second season of Raised by Wolves. And if it happens, she won't hesitate to return to the world of Kepler-22b.
"I've not done a lot of science fiction before on this level. For me, that was the greatest leap," Eatock says. "Is this crazy what we are doing? Have we hit the mark? Are we going to touch people? Can people respond to these characters? There's a lot of responsibility that comes with that."
But tackling that responsibility is the main reason Eatock believes that Raised by Wolves is a worthy addition to the genre. "It's beautifully shot and looks cinematic and nothing like I've ever seen before, but there's a humanity about it," she says. "I think that is what we'll connect to, especially now. Science fiction is always great when it can meld futuristic elements with humanity."
Featured image: Photograph by Coco Van Oppens/HBO Max