New "Dune" Images & Teaser Ahead of Today's First Trailer
You likely heard that a new teaser for Denis Villeneuve's upcoming Dune remake hit the interweb yesterday. This little glimpse was released by Warner Bros. ahead of today's big trailer reveal. Two new photos also accompanied the teaser (and more can be found in Empire Magazine's big spread and story)—the featured image of Josh Brolin as Gurney Halleck and Timotheé Chalamet as Paul Atreides boarding—we think—a spacecraft, and another of Chalamet's questing young Atreides below.
Let's have a look at the teaser, which helpfully explains that "Fear is a mind-killer.":
Trailer tomorrow. #DuneMovie pic.twitter.com/6xulWsrpUr

— DUNE (@dunemovie) September 8, 2020
And here's that new image of Timotheé Chalamet as Paul Atreides: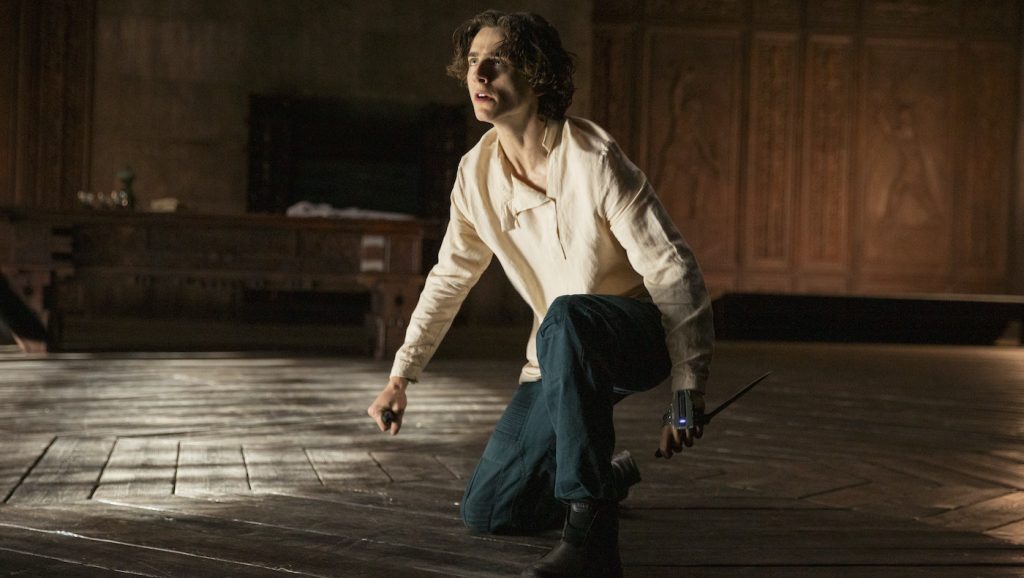 Luckily for us, the first part of Villeneuve's planned two-part epic was already shot and in the can before COVID-19 hit. Dune is an intergalactic epic, featuring Chalamet as the aforementioned Paul Atreides, a brilliant young man who arrives on the deadly planet of Arrakis to protect his family and his peoples' interests. It's on Arrakis where the most important resource in the universe is located—spice. Spice has the ability to unlock human potential, yet Atreides will find that he's going to have to fight for his life, and the life of his family, against a matrix of powers, both human and alien, arrayed against him. There's also the planet's native, murderous sandworms, the rulers of the Arrakis's vast, burrow-infested hinterlands.
Oscar Issac, who plays Paul's father Leto Atreides, recently told Empire Magazine that the film is about exploited cultures saying "enough is enough."
Joining Chalamet, Brolin, and Isaac are Rebecca Ferguson as Lady Jessica Atreides, Stephen Mckinley Henderson as Thufir Hawat, Jason Momoa as Duncan Idaho, Zendaya as Chani, Stellan Skarsgard as Baron Vladimir, Sharon Duncan-Brewster as Dr. Liet Kynes, Dave Bautista as Glossu Rabban, Charlotte Rampling as Bene Gesserit, and Javier Bardem as Stilgar.
Villeneuve has assembled an incredible crew, including cinematographer Greig Fraser, composer Hans Zimmer, and production designer Patrice Vermette.
Dune was originally slated for a December 2020 release. We'll likely know more about that release date when today's trailer is released.
Here's the official synopsis for Dune:
A mythic and emotionally charged hero's journey, "Dune" tells the story of Paul Atreides, a brilliant and gifted young man born into a great destiny beyond his understanding, who must travel to the most dangerous planet in the universe to ensure the future of his family and his people. As malevolent forces explode into conflict over the planet's exclusive supply of the most precious resource in existence—a commodity capable of unlocking humanity's greatest potential—only those who can conquer their fear will survive.