M. Night Shyamalan Reveals Title & Poster For New Film
The title, poster, and cast for M. Night Shyamalan's new film have been revealed. Shyamalan's latest is called Old, and Collider broke the story that the film is based on a French graphic novel "Sandcastle" by Pierre Oscar Levy and artist Frederick Peeters. Collider learned that Shyamalan received "Sandcastle" as a Father's Day gift and was so enamored with the premise that he purchased the rights to it, ultimately leading to his script.  The graphic novel is described as an existential horror story, which seems a perfect fit for the man who brought us The Sixth Sense. According to Collider, Shyamalan's Old isn't a straight adaptation of "Sandcastle," but rather was inspired by it.
Shyamalan took to Twitter to reveal the title and a photo of him on set:
Feels like a miracle that I am standing here shooting the first shot of my new film. It's called Old. #OldMovie @OldTheMovie pic.twitter.com/hth8jUum8K

— M. Night Shyamalan (@MNightShyamalan) September 26, 2020
As always, Shyamalan's assembled a great cast, led by Gael Garcia Bernal, who stars alongside Vicky Krieps, Alex Wolff, Thomasin McKenzie, Eliza Scanlen, Rufus Sewell, Embeth Davidtz, Aaron Pierre, Abbey Lee, Nikki Amuka-Bird, Emun Elliott, and Ken Leung. This is is a larger cast than Shyamalan typically works with, which is intriguing.
Shyamalan is—per usual—credited as writer and director of Old, with cinematographer Mike Gioulakis (Us, It Follows), production designer Naaman Marshall (The Dark Knight), and his Glass producers Marc Bienstock and Ashwin Rajan on board. This being a Shyamalan film, we won't know much about the plot considering the man loves keeping things under wraps almost as much as he loves a big second-act twist. While we can read "Sandcastle," it's clear Shyamalan will be going his own way with his original script.
Old is tentatively scheduled for a July 23, 2021 release.
Check out the full poster here: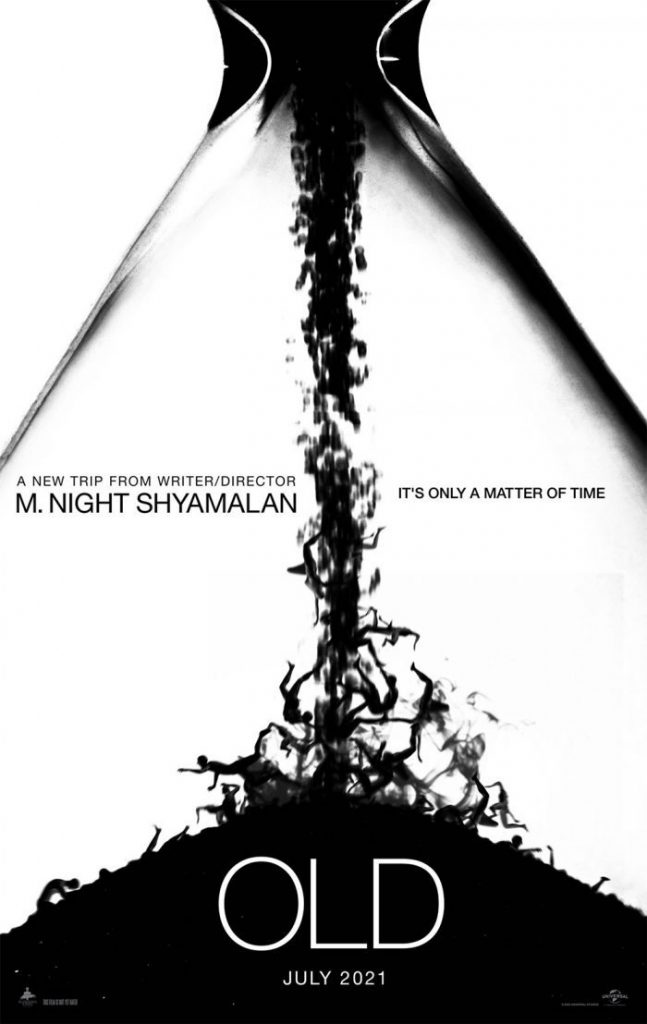 Featured image: M. Night Shyamalan on the set of his new film "Old." Courtesy M. Night Shyamalan/Universal Pictures.