Bond is Back in New "No Time To Die" Poster Revealing New Trailer Date
Her Majesty's most lethal weapon will be taking on a new mission before the year is up—or so we hope. Director Cary Joji Fukunaga's long-awaited No Time To Die is slated to hit theaters on November 20, and now a dapper new poster has been released, as well as the date for the next trailer—September 3. There has been a tremendous amount of excitement about this film because of the massive amount of talent and the fact it represents Daniel Craig's last turn as 007. Getting a fresh look at Fukunaga's film tomorrow will remind folks why everyone was so excited about this movie.
As it's been for every major film set to be released this year, No Time To Die has had its mission date changed a few times. Originally slated for April 10, No Time To Die was put on hold due to the spread of COVID-19, making it one of the first big-name films to move release dates. It first moved to November 25, 2020, back in early March, and then settled on November 20 a few months later.
The new poster is classic Bond—dressed to the nines and brandishing his preferred Walther PPK. We've known for a while that Craig's last mission as Bond will be the longest film in the franchise's history. No Time To Die picks up five years since the events in Spectre, with MI6's legendary super-spy nursing his wounds in Jamaica. "After five years of retirement, who has he become?" Fukanaga asked in a No Time To Die teaser this past February. "He's sort of a wounded animal struggling with his role as a double O. The world's changed, the rules of engagement aren't what they used to be. The rules of espionage are darker in this era of asymmetric warfare."
Dragging Bond out of retirement is CIA agent Felix Leiter (Jeffrey Wright). Old friends like Madeleine Swann (Léa Seydoux) return, as do old enemies like Blofeld (Christoph Waltz). A new ally appears in the form of Nomi (Lashana Lynch), who seems just as capable as Bond himself. No Time To Die's villain is Safin (Rami Malek), who, according to Fukanaga, will present Bond with his gravest challenge yet.  
Here's the new poster. We'll share the new trailer when it drops tomorrow: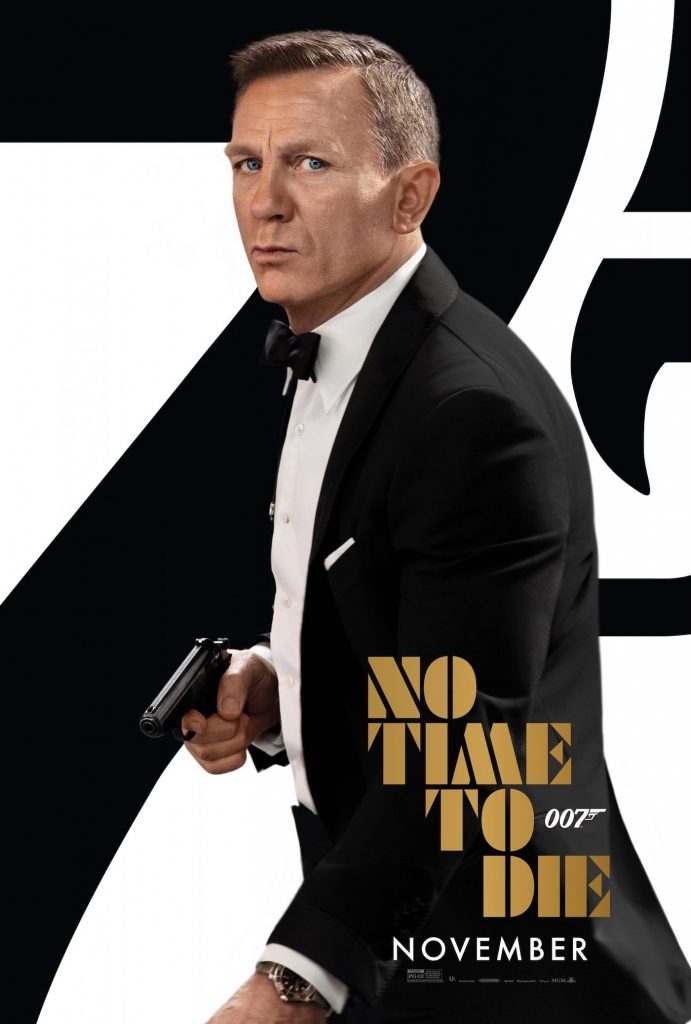 Featured image: 007 star Daniel Craig, director Cary Fukunaga and the Bond 25 crew were out and about in the sunshine today shooting across a number of central London locations, including Whitehall, where Daniel filmed a scene with a classic Aston Martin V8, first seen in a Bond film in 1987's The Living Daylights. Photo credit: Nicola Dove ©2019 DANJAQ, LLC AND MGM. ALL RIGHTS RESERVED.