Behold the Gleefully Weird First Trailer for Marvel's "WandaVision"
Marvel and Disney+ revealed the first trailer for their eagerly anticipated new series WandaVision during Sunday night's Emmys telecast. Folks—it delivers all the oddball charm you could hope for and more. While The Falcon and the Winter Soldier had initially been slated as the first live-action MCU series to stream on Disney+, the pandemic has reshuffled, well, everything. Yet we don't think any Marvel fans are going to be disappointed that WandaVision will be first out of the gates.
The series stars Elizabeth Olsen as Wanda, better known as Scarlet Witch, and Paul Bettany as Vision. The fact that Vision was killed by Thanos in Avengers: Infinity War presents little problem here—it appears Vision and Wanda are living in some kind of surreal para-verse, the stars of their very own 1950s sitcom, only one with some deeply troubling undercurrents we're sure will rage to the surface eventually. Where exactly are Wanda and Vision, how is the latter alive, and how does this connect to the rest of the MCU are three of the biggest questions we'll have until the show actually debuts.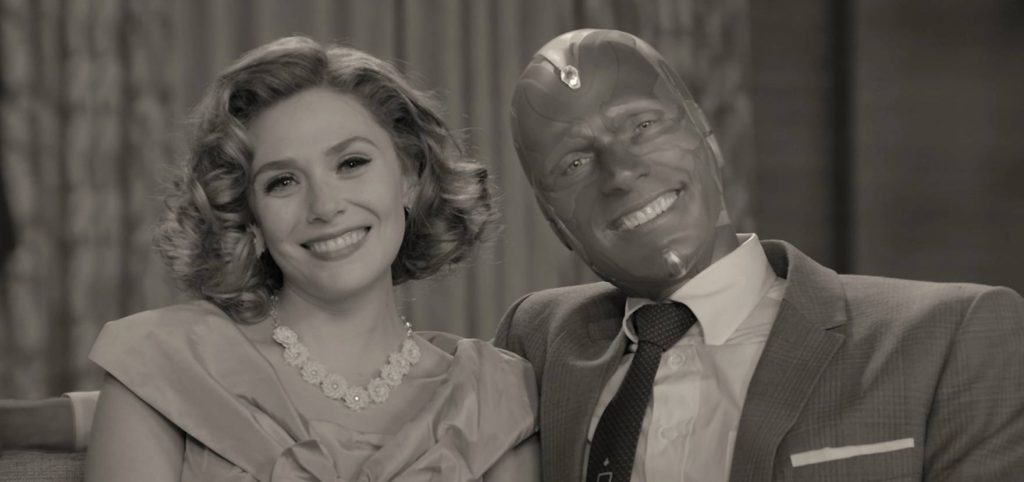 The trailer has a lot of fun with imagining Wanda and Vision trying to pass themselves off as a couple of suburban normies. Created by Jac Schaeffer (Captain Marvel, Black Widow), WandaVision includes some important players from elsewhere in the MCU, including Teyonna Parris as the older version of Monica Rambeau from Captain Marvel, Kat Dennings as Darcy Lewis from Thor, and Randall Park as FBI Agent Jimmy Woo from Ant-Man and the Wasp. We're also loving the fact that the great Kathryn Hahn is in this stellar cast, too.
Here's the official synopsis for WandaVision:
"Starring Elizabeth Olsen and Paul Bettany, "WandaVision" marks the first series from Marvel Studios streaming exclusively on Disney+. The series is a blend of classic television and the Marvel Cinematic Universe in which Wanda Maximoff and Vision—two super-powered beings living idealized suburban lives—begin to suspect that everything is not as it seems."
Check out the trailer here:
For more on MCU series in development for Disney+, check out this story on She-Hulk. 
Featured image: The poster for WandaVision. Courtesy Marvel Studios/Disney+