"Becoming" Composer Kamasi Washington on Scoring Michelle Obama's Life
As one of the most famous women in the world, we're familiar with the broad strokes of Michelle Obama's life, from her rarefied resume and progressive values to her playfully chic sense of fashion. Thanks to her critically-acclaimed memoir, "Becoming," the former First Lady's legions of fans have also gotten to know more about her early life, marriage to Barack Obama, and their eight years in the White House. With Becoming adapted into a Netflix documentary directed by Nadia Hallgren (She's the Ticket, After Maria), the film also raised the question: what would a soundtrack to Michelle Obama's vast life experience sound like?
The composer who found the answer is the hard-to-define jazz musician Kamasi Washington, whose 2015 debut solo album, The Epic, propelled him to fame. Since then, he's put out three acclaimed releases, Harmony of Difference, Heaven and Earth, and The Choice, and played with musicians from Herbie Hancock to Lauryn Hill. Washington even appeared on the last episode of Homeland as himself.
But Becoming, for which Washington is nominated for an Emmy, was the acclaimed musician's first full-length feature score. To get started, he went through the documentary scene by scene, "trying to figure out, this being a documentary about Michelle Obama's life, a. what is Michelle Obama saying in the scene and b. what emotion are we trying to put a frame around?"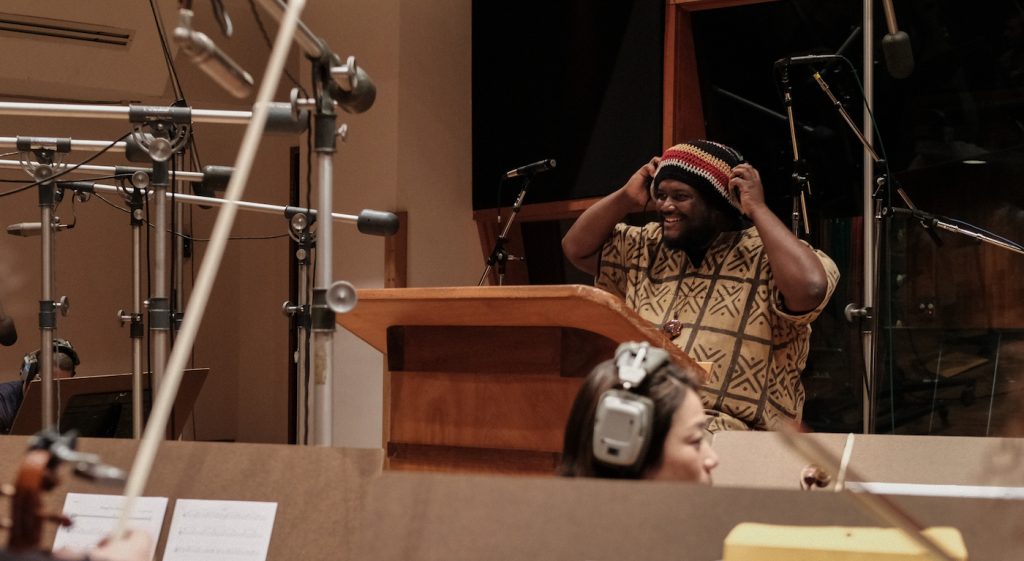 Any viewer even remotely familiar with Obama has an inkling of her unique ability to connect, a trait Becoming uses as an emotional anchor for the film while exploring her childhood in Chicago, reflections on her family's time in the White House, and post-presidential book tour for her memoir. In between, we see Obama at bookstore signings and roundtable discussions advising high school-aged young women, events infused with palpable joy on both sides.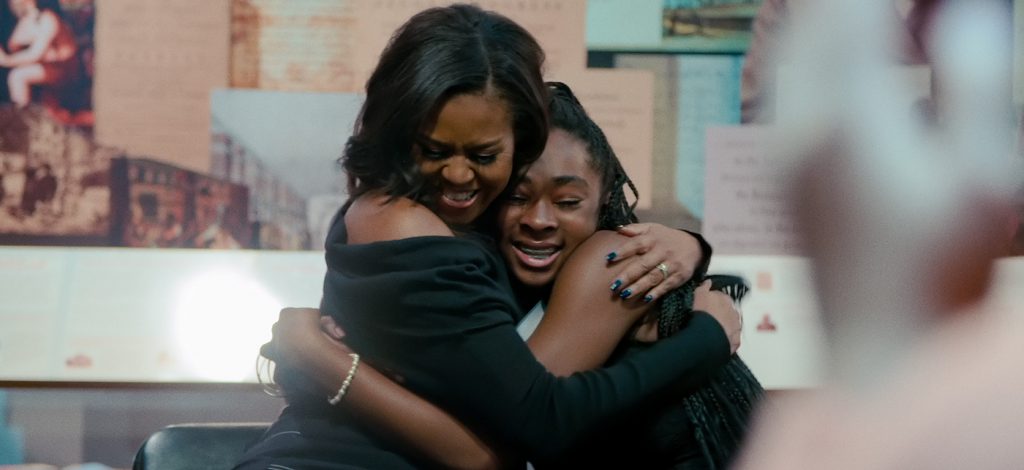 On the other side of the coin, Becoming addresses the racist and in Michelle's case, misogynist backlash the family faced while Barack Obama was in office. The film also acknowledges the murders of young Black men perpetrated during those eight years, when plenty of blithely naive liberal types were claiming the U.S. had reached the point of a post-racial society. All together, Becoming is as emotionally stirring as it is informative, with each scene able to bring up a range of feelings among viewers. As Washington explained, "I can have one kind of reaction to a scene and then Michelle Obama had another one, then Nadia, the director, had a whole other one," which meant plenty of back-and-forth with Hallgren in order to achieve a balance of emotions in the form of a lovely, thoughtfully jazzy score that swings from gentle to pensive, mixed in with songs featured in the footage by artists like Frank Ocean and the Weeknd.
After the film was finished, Washington received a "very touching" letter from Michelle Obama, but otherwise, the former First Lady did not give direct input on the documentary's music. In order to score her memories, White House footage, and book tour, the composer worked to get to know her through an understanding of her musical preferences, making "a Michelle Obama playlist," he said. "The music you listen to shapes who you are. Your musical tastes are also influenced by who you are, so it's a two-way flow, you know?" For Obama, that two-way flow is wide-ranging, with Washington citing Tina Turner, Stevie Wonder, and jazz, of course, among her preferences. "There's definitely a kind of brightness to the music she likes."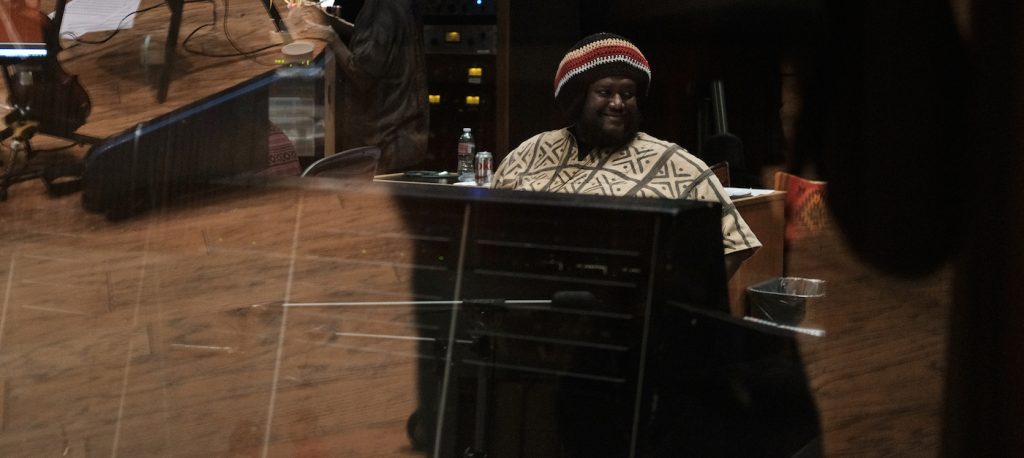 Though much of Becoming is positively buoyant, working on the film wasn't an emotional breeze, particularly dealing with scenes depicting the unhinged right-wing hatred the Obamas faced while Barack was in office. "I remember the moment when Barack Obama won the presidency, and what a joyful moment it was for myself and so many people around me," Washington recalled. "To imagine at that moment there was such darkness it would lead [others] to commit acts of violence is just hard to wrap your mind around."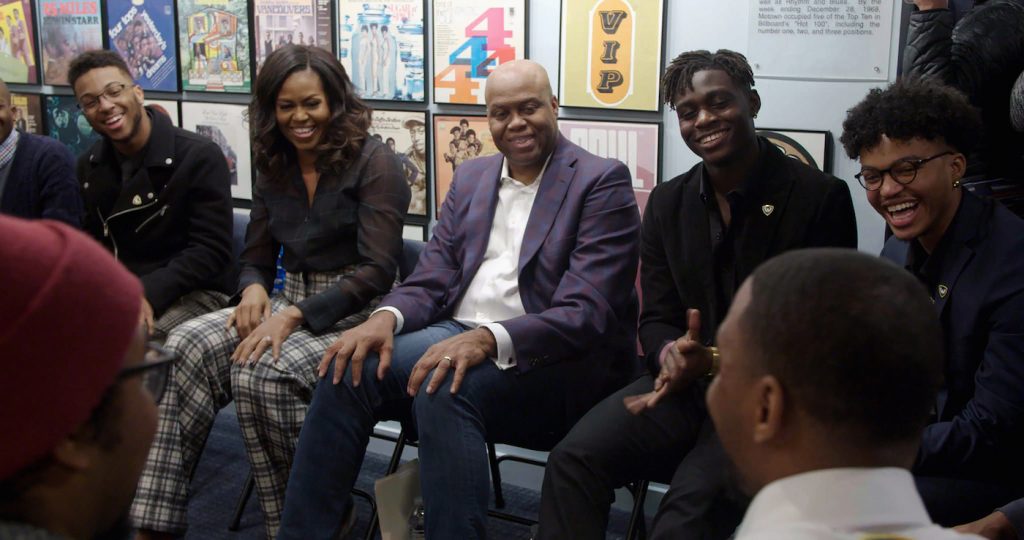 Working on these scenes was an emotional moment for the composer, while even happier memories brought their own complexity. Though no one aspect of Obama's life was a specific compositional challenge, Washington pointed out the intricacies of writing music for bittersweet memories, like that of Michelle's late, beloved father, Fraser Robinson III, held back in his career by blatant racism. "That was a complex emotion because there's a sadness but also pride, as well as admiration and a feeling that he didn't get to fully utilize all that he had. And understanding that reality is something we still struggle through," said Washington, who focused on ensuring he balanced the memory's bright side and its pain.
At some point on tour, Obama mentions that people are good, people are decent. These days it can feel hard to believe the former First Lady, as much as we might want to, but helping that sensibility come through is Becoming's title track, a smooth, sensitively upbeat song that musically ties the film together. Hallgren had asked Washington to write a song that musically described Michelle Obama. "I always say she's like the brilliant genius queen that lives next door. She's such an extraordinary human being but she also feels so down to earth and reachable," he said, which, incidentally, is also a great way to describe Washington's musical body of work.
Featured image: BECOMING, Michelle Obama in BECOMING. Cr. NETFLIX © 2020 Netflix