The Top 5 European Filming Regions to Visit This Summer
For many, containing the coronavirus means this will be a travel-free summer, but for many in the broader European region, travel opportunities are opening back up. With some judicious planning, there's plenty to do, even if you can't make it to your preferred, farthest-flung destination. Enter film tourism: though you might be stuck a bit closer to home, trips arranged around visits to real-life locations familiar from films and television offer another form of escapism, one that uniquely expands any trip's reach. Just remember to pack your mask, wash your hands, and stay 1.5 meters from your fellow film buffs!
Whether you've been captivated by the Mission: Impossible franchise for almost two decades, or just can't get enough of Europe's stateliest homes and palaces, here are our recommendations for EMEA-wide summer film tourism.
If you're in the UK…
Cannon Hall, Hampstead
This beautiful Georgian country house on 70 acres of grounds makes for a beautiful visit no matter the motivation, but Christopher Nolan fans will want to stop by Cannon Hall for a special reason — while we might not get a chance to see the director's highly anticipated spy-thriller Tenet in theaters anytime soon, you can see where it was filmed on location at this stunning property.
Hornsey Town Hall, London
Built as a municipal building in 1935, today this art deco building has been redeveloped into apartments. A stroll around the location, however, does triple duty in terms of film and television sets, and eventually, you'll be able to visit an arts center that retains the building's original detail. The Grade II-listed building in Crouch End was used as a Moscow hotel in Killing Eve, the Biba department store in Bohemian Rhapsody, and appeared as a backdrop on The Crown.
Chiltern Hills
The action on Killing Eve is hardly confined to urban landscapes. Head to stunning Chiltern Hills, a designated Area of Outstanding Natural Beauty, to see where Frank hid out and Eve faced off with Villanelle.
Hatfield House
No UK film locations list would be complete without Hatfield House, better known to most as Downton Abbey. Though the interior of the house itself is currently closed to visitors due to virus restrictions, it's still possible to buy advance tickets to see the gardens, trails, and stable.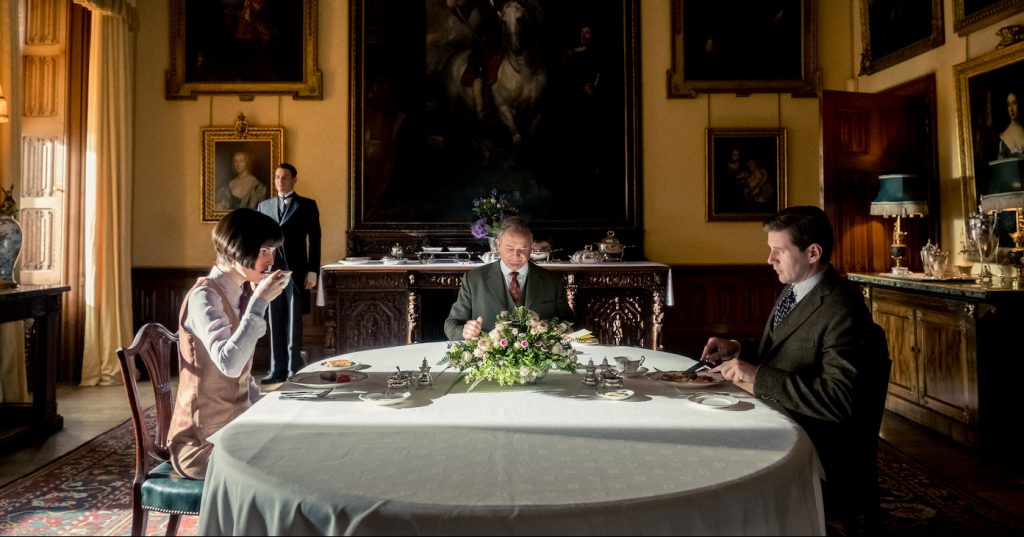 If you're in Central Europe
Messedamm U-Bahn station, Berlin
While the clubs are closed in light of Covid-19, you can certainly visit locations around the city that are always open, like the Messedamm U-Bahn station, Berlin's most oft-filmed public transit stop. Messedamm's well-known columns have appeared in Atomic Blonde, Captain America: Civil War, Hanna, Hunger Games: Mockingjay – Part 2, and The Bourne Supremacy.
Boros Collection, Berlin
While it's not possible to visit the morosely grand private apartment where Lisbeth Salander takes on a scumbag in The Girl in the Spider's Web, you can book a tour to see the fantastic contemporary art collection on view in the same building, in the bunker below. Just be sure to book advance tickets, as tours of this unique exhibit always sell out quickly, not just during limited visits due to coronavirus hygiene restrictions.
Teufelsberg, Berlin
This former NSA spying station in Grunewald, a forest on the western edge of Berlin, served as Lisbeth Salander's hideout in The Girl in the Spider's Web. You can book a tour to visit the dilapidated Cold War relic or just take a casual hike around Grunewald to get a pretty good view from the ground.
Sopron, Hungary
Looking for the beautiful Estonian old town that featured heavily in Berlin Station's third season? You won't find it in this tiny Baltic nation. The production filmed establishing shots in Estonia, then moved on to Hungary for the majority of the location shoots. The town of Sopron, which sits on the border with Austria at the foot of the Alps, is home to extensive period architecture. It's worth a visit for Berlin Station fans and history buffs alike.
If you're in Italy
Venice
Where to begin, in the city of canals and palaces? The site of countless movie sets, the most recent blockbuster to film along Venice's waterways was Mission: Impossible 7 before the coronavirus shutdown went into effect. Start at Piazza San Marco and Saint Mark's Basilica, then work your way along the canals to quieter neighborhoods like Cannaregio. Though Venice is an eternal treat, it's especially appealing at the moment, thanks to the reprieve from the massive cruise ships that usually call at its ports.
Castel Gandolfo
This small town about 40 minutes from Rome is home to the Pope's summer palace, where the cast and crew of The Two Popes were lucky enough to film on the grounds, although not indoors. Lucky for civilian visitors,  however, guided tours of Castel Gandolfo include the Pontifical Villas and the matchless Barberini Gardens.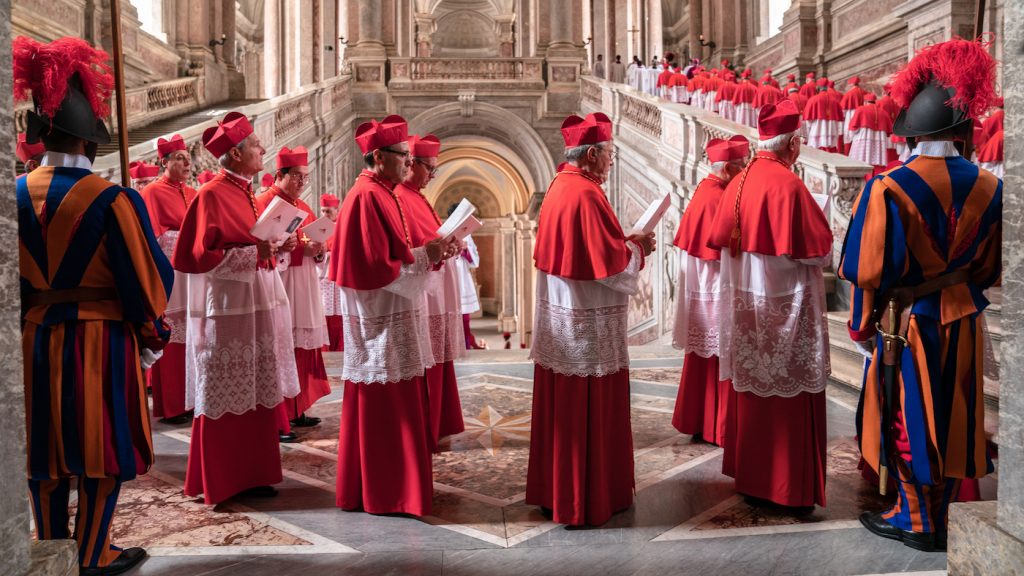 Villa Farnese, Caprarola
If you're curious about the palace that appears in the background of the poster of The Two Popes, look beyond Vatican City and head for Caprarola, a town about an hour's drive from Rome. The Villa Farnese was once home to Cardinal Alessandro Farnese, the future Pope Paul III, but today the palazzo is a museum open to visitors.
If you're in Romania
Romanian Athenaeum, Bucharest
A major scene at the end of Killing Eve's first season takes place in a grand restaurant, which in reality is the stunning lobby of the Romanian Athenaeum, a gorgeous baroque concert hall in Bucharest. In other times, the best way to peek inside would be to book tickets for one of the Bucharest Philharmonic's performances, but with concerts currently streaming online, visitors will have to content themselves with a walk around the building's exterior, which happens to be both stunning and located right in the center of the city.
Lake Snagov, Romania
Killing Eve's Konstantin lives in an isolated house on this beautiful lake, less than an hour's drive north of Bucharest. If you make the trip, be sure to visit Snagov Monastery, a medieval church on an island in the middle of the lake, and the rumored home to the remains of Vlad the Impaler.
If you're a sun-seeker
Dubrovnik, Croatia
The relationship between Game of Thrones and locations where the show was filmed is a bit complicated due to the over-tourism wrought by the show's massive popularity, but this is one summer it may be acceptable to temporarily put those concerns aside. Among the most famous (and usually quite busy) locations from GOT is Dubrovnik's Old Town, the site of King's Landing. Be sure to explore the city's outer walls, first built beginning in the 13th century and, unlike the fate of King's Landing, never once breached by invaders.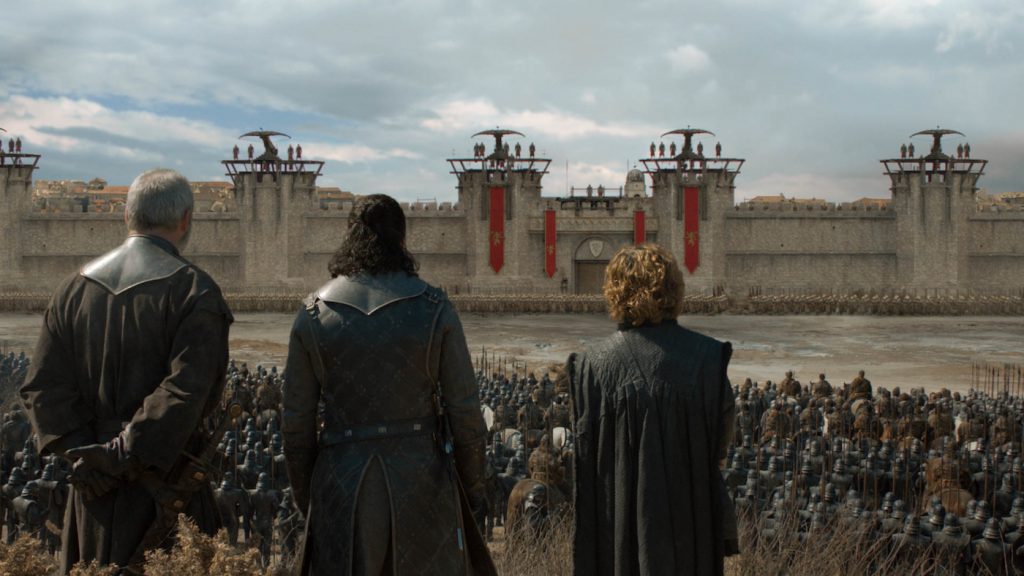 Šibenik, Croatia
If you're already familiar with Dubrovnik's charms or are just looking for a Croatian destination farther off the beaten path, visit lovely Šibenik, about 80 km from Split. This small historic city right on the Adriatic was where many of the street scenes comprising Arya's time in Braavos were filmed.
Bardenas Reales, Spain
Always wanted to see the Badlands in the U.S. but no can do at the moment? Check out Game of Thrones' Dothraki Sea, instead, filmed on the Bardenas Reales, otherworldly Spanish badlands located near Navarre. This World Biosphere Reserve has two distinct features, a moon-like landscape that starkly contrasts with biodiversity-rich Aleppo pine forests. And if James Bond is more up your alley than Dothraki hordes, know that The World Is Not Enough filmed on the Bardenas Reales back in 1999.
Featured image: Killing Eve's Jodie Comer in a Molly Goddard party dress. Photo credit: BBC America/Sid Gentle Films Ltd 2018.