"Palm Springs" Costume Designer Colin Wilkes Gets Existential
Palm Springs costume designer Colin Wilkes had her work cut out for her when she came aboard director Max Barbakow's new comedy. The film—now a record-breaker for Hulu—posits a nightmare scenario for the wedding averse; nuptials set in the sun-baked California desert town that you can never leave. At least that's the case for Nyles (Andy Samberg) and Sarah (Cristin Milioti), who find themselves reliving the wedding day over and over again. For Wilkes, she wasn't just creating the looks for the wedding party, but for various locations throughout Southern California and beyond. While Nyles and Sarah might be doomed to wake up every morning on the day of the wedding, they roam freely off-premises in search of good times or end times, whichever comes first. "It was a very unique challenge," Wilkes says,  "with this cocktail of very unique characters stuck in this very existential dilemma in a place that's very specific, but also in a time that's non-linear. There were all these really interesting parts to think about from a costume perspective."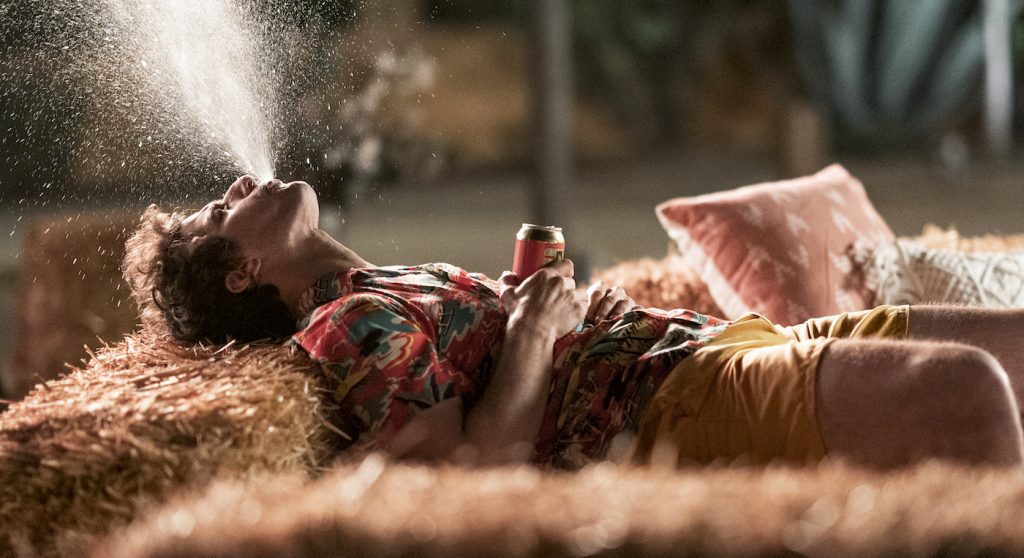 Palm Springs, written by Andy Siara, finds Samberg's budding nihilist Nyles trapped in the time-loop as the film begins. (You can contrast this to other time-loop films, like the classic Groundhog Day, in which the central character has to learn, often bitterly, that he or she is reliving the same day.) Once Nyles meets Milioti's maid of honor Sarah and accidentally entraps her in his existential nightmare, the two are just as often rushing away from the wedding venue as they are going through the motions of toasts and talk of everlasting love. Whether they're venturing to a roadhouse bar far from the pastel premises of the wedding venue, visiting a firing range run by an isolated and heartsick man, or lounging in the pool of a house whose owners are blissfully gone forever, Wilkes was working across a wide spectrum of sartorial styles. "We were just really examining these microcosms of these different worlds," she says. "We've got the world of the wedding, which was a very controlled environment that we knew we had to create this very tight color palette that was aspirational, but it also had to be California casual, and it had to feel like Palm Springs, kind of cool and hip."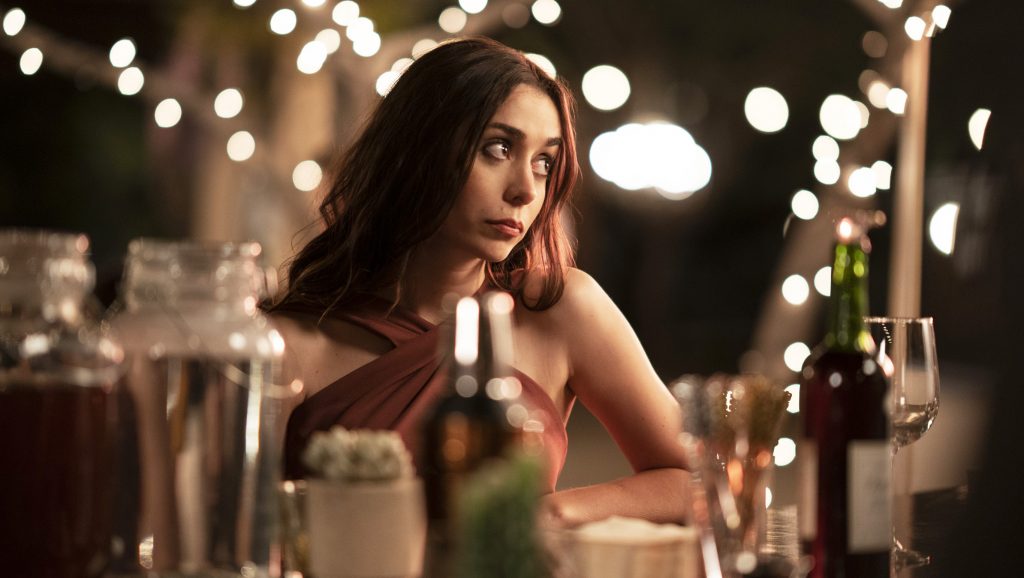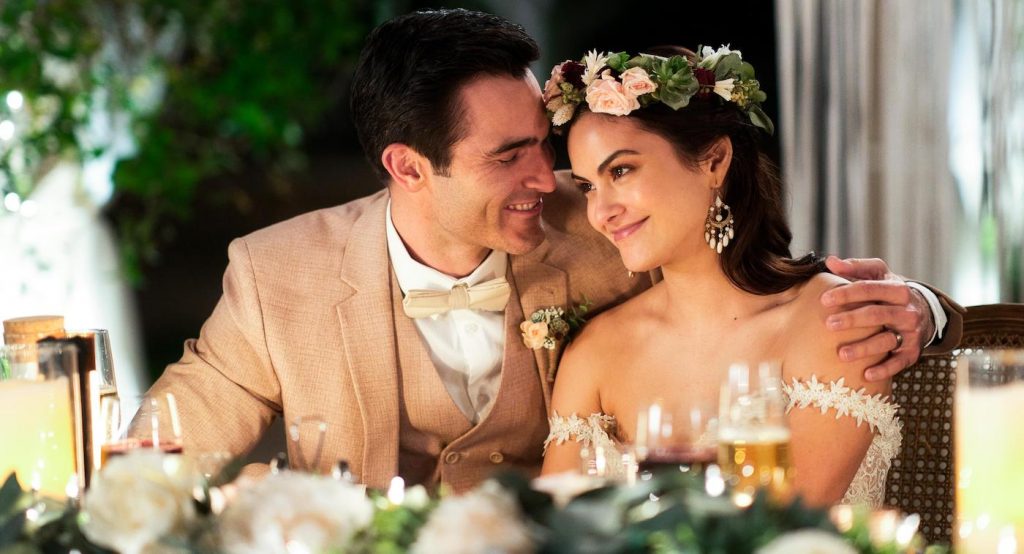 If there's a singular item of clothing that is emblematic of Palm Springs louche dread, it's Nyles' Hawaiian shirt. While every other wedding guest is dressed appropriately chic (or at least be-suited), Nyles looks like a Midwestern dad in Maui, or Miami (or Cleveland in August).  "[At first] you don't really understand why he's wearing what he's wearing," Wilkes says. "Our writer Andy Siara had written that Nyles is wearing the quintessential leisure attire—the Hawaiian shirt and the shorts—so that was about nailing something that was timeless and wouldn't date quickly."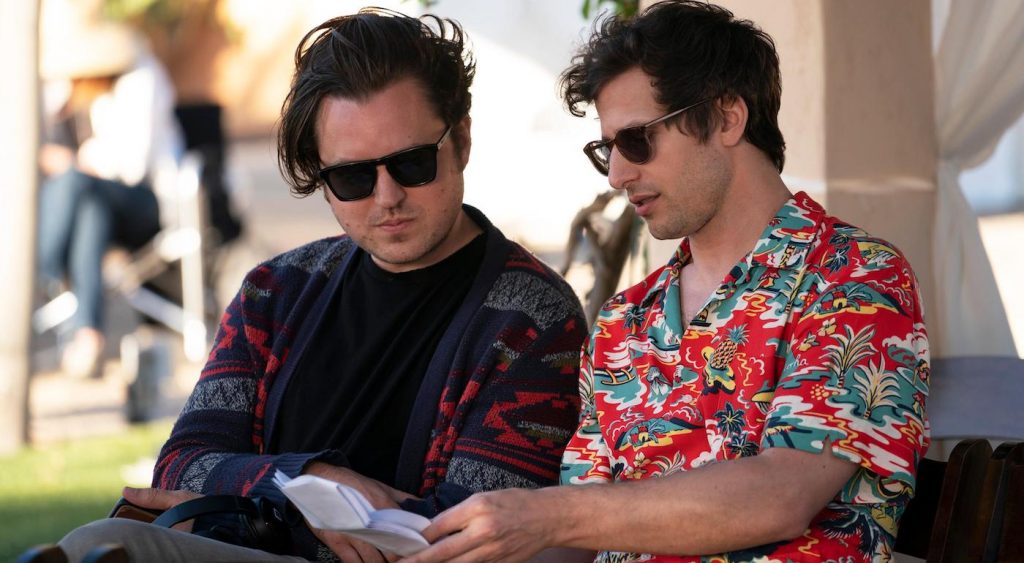 While Nyles and Sarah's relationship is the fulcrum around which the story turns, J.K. Simmons' Roy, a wedding guest we first meet dressed in desert camo fatigues hunting Nyles with a crossbow, is the third member of the time-loop team. He blames Nyles for entrapping him in the loop (the montage revealing how this happened is hilarious), and he presented Wilkes with a bevy of costume options. We see Roy hunting Nyles in what appears to be Navy SEAL cosplay, quaffing drinks at the wedding in a dapper suit, and relaxing at his suburban home with his children that he will never see grow up in full-on dad attire. Each iteration of Roy is vastly different and dressed accordingly.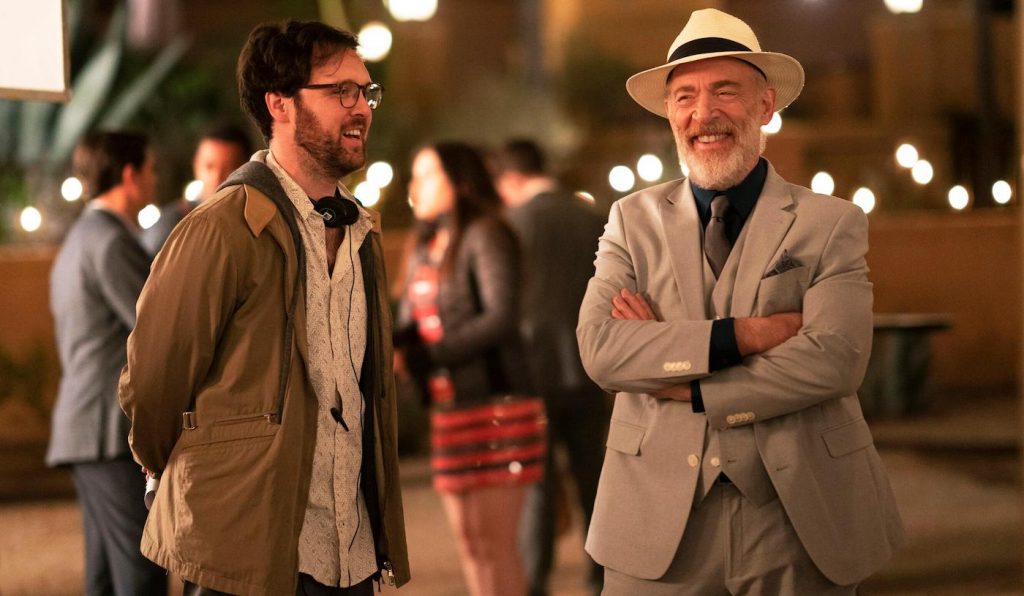 "J.K. Simmons was really fun because he's a theater actor and he works with his physicality and costume in this really unique way," Wilkes says. "So he had this incredible suit—you don't see these white loafers but they were so tacky and weird—but he could pull off his three-piece white linen suit and straw fedora in such an amazing way. Then we go into this other pocket of his world and this other identity, which is in the middle of suburbia, so we could really work within these different worlds that were very off the wall and didn't really need to match."
Palm Springs is perhaps one of the most perfectly set time-loop movies ever made when you consider how out of time, or timeless, or just plain bizarre Palm Springs the location is. An enclave of luxury and wealth in Southern California's the Sonoran Desert. It's an area of the country where one might expect to be trapped indefinitely by some cosmic quirk.
"You don't really know where or when you are when you're watching this, and we wanted to keep that alive," Wilkes says. "It was really fun to go out of the wedding. And the further out we went, the more on safari we'd go. You just want to see these wild animals and strange people that you encounter on the way. It really gives us a sense of being on this journey with Nyles and Sarah. All of the places and spaces that they inhabit that are in the middle of nowhere. It helped with the timeless existential dilemma they were in."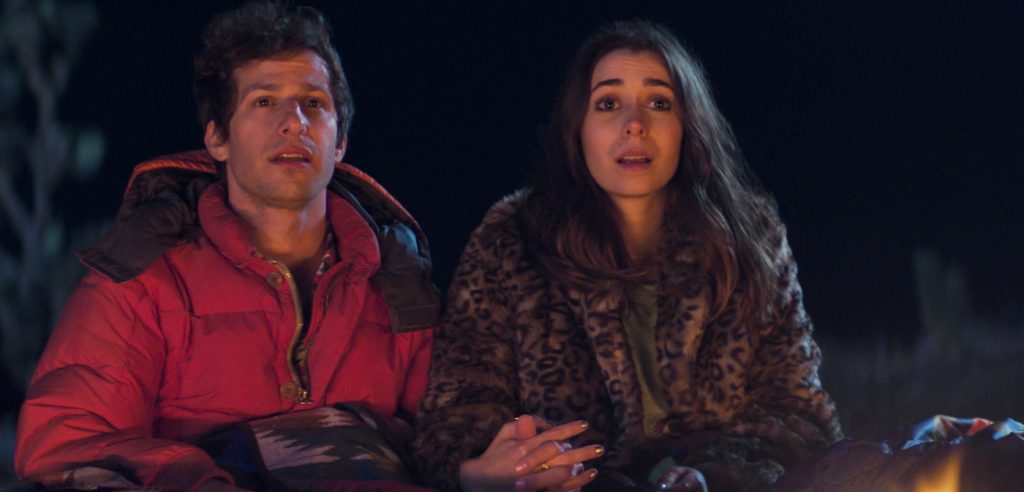 There are a bunch of little touches throughout Palm Springs that add to the film's offbeat charm. Take the fact that Nyles wears boxers under his bathing suit, for some reason. "We called them vegan donuts because there was a micro donut print," Wilkes says. Or notice how Nyles "girlfriend" (the title deserves the scare quotes) Misty [Meredith Hagner] wears glitter on her face and big bauble earrings that "dangle when she's in frenetic mode," an outlier amongst the more reserved bridesmaids and the proper bride. "It was a delicate balance between finding the comedic touches we could put in visually through costume and also keeping it very grounded."
The net effect of Wilkes' choices helps Palm Springs carve out its own place in the time-loop comedy pantheon. It feels like the right movie for our current moment in which every new day feels like yesterday, and the day before, and nihilism starts to seem like a credible ethos. Yet keeping hope alive is crucial, and Palm Springs leaves you with just enough. It's also, most importantly, very funny. "It was a little movie we shot in 21-days," Wilkes says. "It's neat to see it impact people the same way it impacted us when we read the script."
Palm Springs is streaming now on Hulu.
Featured image: Palm Springs — When carefree Nyles (Andy Samberg) and reluctant maid of honor Sarah (Cristin Milioti) have a chance encounter at a Palm Springs wedding, things get complicated when they find themselves unable to escape the venue, themselves, or each other. Nyles (Andy Samberg) and Sarah (Cristin Milioti), shown. (Photo by: Hulu)