How Director Mimi Leder Shaped Apple TV+'s "The Morning Show"
Hollywood has become somewhat more diverse since the eighties when director Mimi Leder became the first woman to graduate from the American Film Institute. And yet, as her latest drama The Morning Show illustrates, some male entertainment moguls still give talented women a hard time. Originally inspired by Brian Stelter's book "Top of the Morning: Inside the Cutthroat World of Morning TV,"  showrunner Kerry Ehrin (Friday Night Lights) re-tooled the Apple TV+ series as a #MeToo saga centered on the firing of popular infotainment anchor Mitch Kessler (Steve Carell) for sexual misconduct. With Kessler gone, co-host Alex Levy (Jennifer Aniston) schemes to consolidate power with brash new on-air partner Bradley Jackson (Reese Witherspoon). Meanwhile, network execs, staffers, and victims (Billy Crudup, Mark Duplass, Bel Powley, Gugu Mbatha-Raw, Néstor Carbonell) scramble to salvage their careers.
Leder directed The Morning Show's first two episodes as well as the season finale, drawing on a gift for orchestrating complicated ensemble dramas that earned her two Emmy Awards for now-classic hospital drama ER. More recently, she helmed The Leftovers and On the Basis of Sex. Going from the Ruth Bader Ginsberg biopic to The Morning Show made for "a natural segue," says Leder, who also executive produced the series alongside Ehrin, Aniston, and Witherspoon. Thirteen days into shooting The Morning Show season 2, COVID-19 shut down production. On hiatus in her Los Angeles home, Leder talked about evoking the pre-dawn world of morning TV and pushing her high-powered cast to the limit.
In the pilot, you established a striking visual vibe for The Morning Show. How did you envision the look?
I had no visual rules for The Morning Show. Discussing it with my DP Michael Grady, who's been a collaborator for quite a while, we decided we'd do handheld, we'd do Steadicam, we'd hold the camera very still to shoot the on-air broadcasts very brightly. Behind the scenes, these characters live in a fascinating, waking-up-at-three o clock in the morning world. We wanted a rougher palette for these characters' messy lives, so we added a lot of edge, a lot of shadows, dark and light.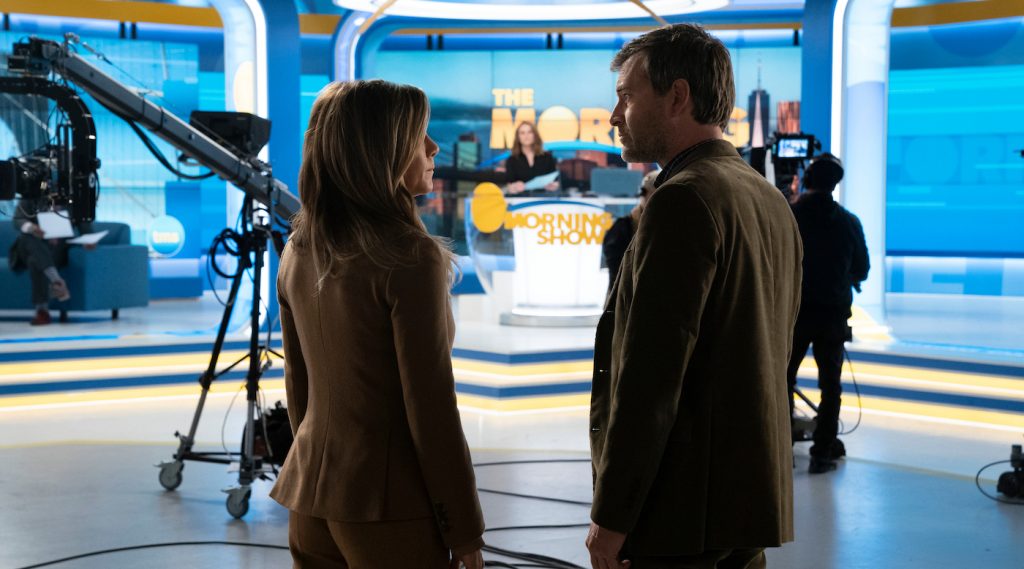 Any show set in the world of live network TV likely shares some storytelling DNA with Broadcast News. Did that movie inform your approach?
Broadcast News and also Network were very big influencers in terms of the look. And I loved the way Michael Clayton was shot, with natural light coming through the windows. For this series, I shot big, wide shots of their environment, but I also wanted to shoot our women very up close and tight because it was really important to me that I get into their emotions.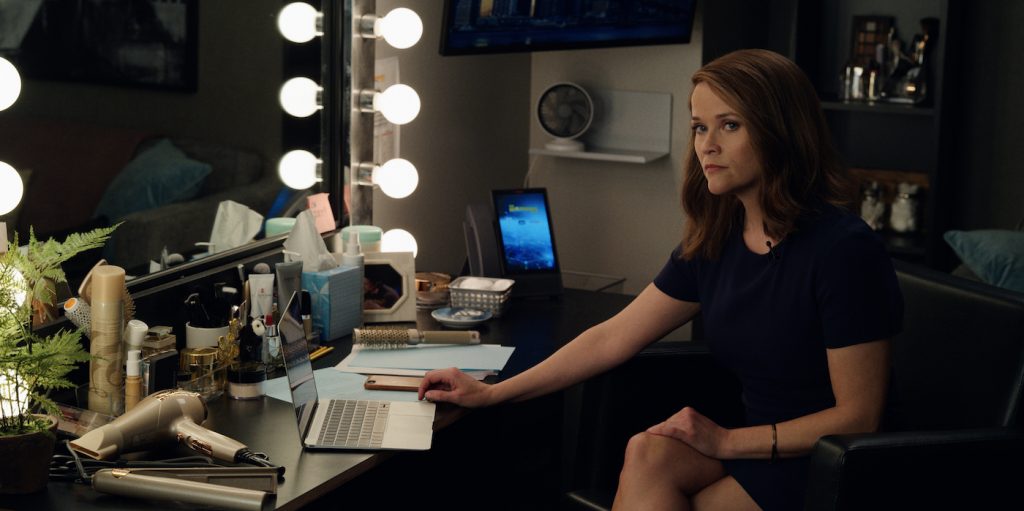 The Morning Show gets a lot of dramatic mileage out of the contrast between public persona and private reality. For example, Jennifer's character goes to this fancy awards dinner and on the way there…
Jenny's in the back seat with her husband and daughter and she's losing her sh*t, barking at her husband, freaking out about how she's going to be perceived in public. But as soon as the car pulls up, the door opens and there's Alex Levy in her on-air persona with this big broad smile, cameras flashing. Anchors like Alex have the ability to turn it on for the camera, which I find very interesting.
Unlike Alex, Reese Witherspoon's Bradley speaks her mind, on-air or off. What's her nickname?
[Laughing]. "Two-F**ks Jackson."
How did you work with Reese to develop this hyper-opinionated character?
I did a mood board for hair using a picture of Reese from I Walk the Line, where she has this great brunette hair playing Johnny Cash's wife June Carter. So I said to Reese, "I'd love you to get away from being this beautiful blonde and think about Bradley as an earthy brunette." I thought that would play into Bradley as a truth-teller who has no censor button. Reese's character can't press mute on things she feels need to be said.
Reese makes a hell of an entrance when she gets into a screaming match with a guy at this protest she's supposed to be covering objectively as a reporter.
That was the very first scene we shot with Reese, where we needed to find the hot button inside her character. Reese was really going for it, and I was saying, "Let's go further!" We found different gradations of anger. Is it too high? Is it too much? With both women, I wanted to find their off-air vulnerabilities as well as their on-air strengths, so we worked really hard to make these characters feel like real human beings with real issues, combined with some crazy behavior.
Rounding out The Morning Show lead trio is villain Mitch Kessler, played by Steve Carell. He's widely regarded in the industry as a nice guy.
Oh my God, Steve's one of the most humble human beings and super smart.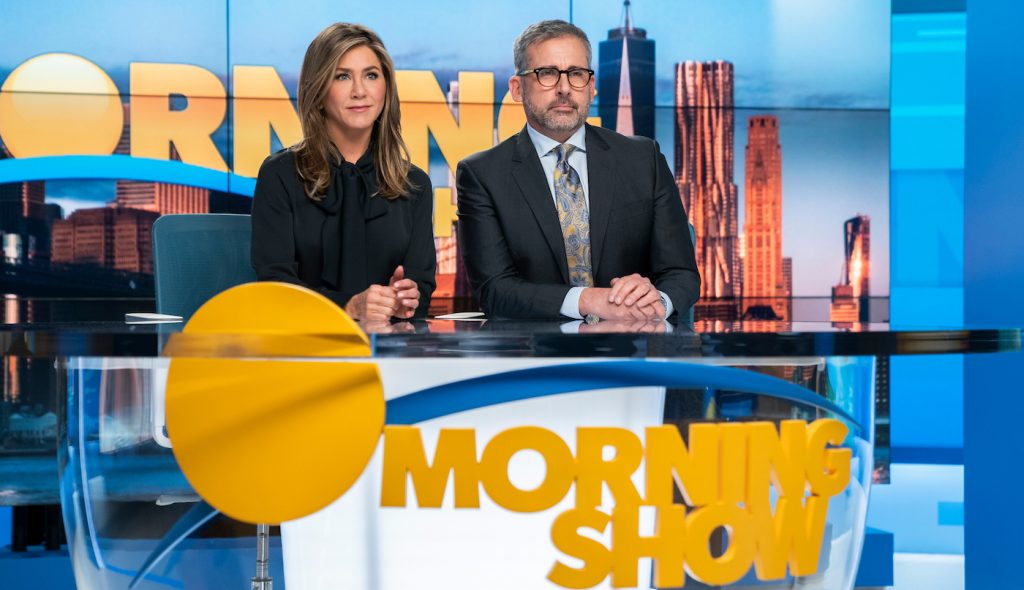 So how did you get Steve Carell into screaming and yelling mode?
We wanted to ground his character in this reality where Mitch genuinely believes he did nothing wrong, that his relationships [with women who worked on the show] were consensual. He doesn't understand his use of power, his abuse of power, his "white privilege." Steve played Mitch in that anger zone with the point of view that everyone has affairs and he's no different than any other white straight male.
SPOILER ALERT, folks. So, the season finale delivers an emotional gut punch. How did you approach the tragic twist that leads up to Alex and Bradley's live-on-air #MeToo speech? 
When Bradley receives the news of Hannah's death, I blocked and designed the sequence with Michael Grady and our 1st assistant director, Anne Berger, to create the feeling of being underwater, almost like she was not able to breathe until she was alone in her dressing room. We filmed at 60 frames [per second]. I took out most of the dialog, letting the music and sound effects predominate, which allowed us to be fully [immersed] in Bradley's P.O.V
Then you close very quietly on Steve's Mitch, with a black eye, staring into space, alone in his massive house.
He's lost his family, his colleagues, his job. It's like he's totally alone on an island. I wanted to show him at the kitchen island, all alone at the table. He finally understands what he's done. Or he's starting to.
Featured image: L-r: Reese Witherspoon and Jennifer Aniston in 'The Morning Show.' Courtesy Apple.