Amy Roberts on the Subtly Changing Fashion in Season 3 of "The Crown"
The third season of The Crown, Netflix's lavish, semi-fictionalized series about Queen Elizabeth II and her family, sees the monarch, Prince Philip and Princess Margaret entering middle age. Claire Foy hands off the role of Elizabeth to Olivia Colman, with Helena Bonham-Carter and Tobias Menzies joining the cast as her sister and husband. Kicking off in 1964 with a Soviet spy scandal ripped from the headlines and ending with the Queen's 1977 Silver Jubilee, this season of The Crown also covers events some viewers will remember firsthand. Though paparazzi activity hints that the show's fans are ardently awaiting Princess Diana's season four entry (and luckily for them, filming wrapped about a week before coronavirus lockdowns were instated), season three is a nuanced historical and personal portrait of the family making their way through a politically pivotal era, from Margaret's charming of President Lyndon B. Johnson to Prince Charles's investiture in Wales.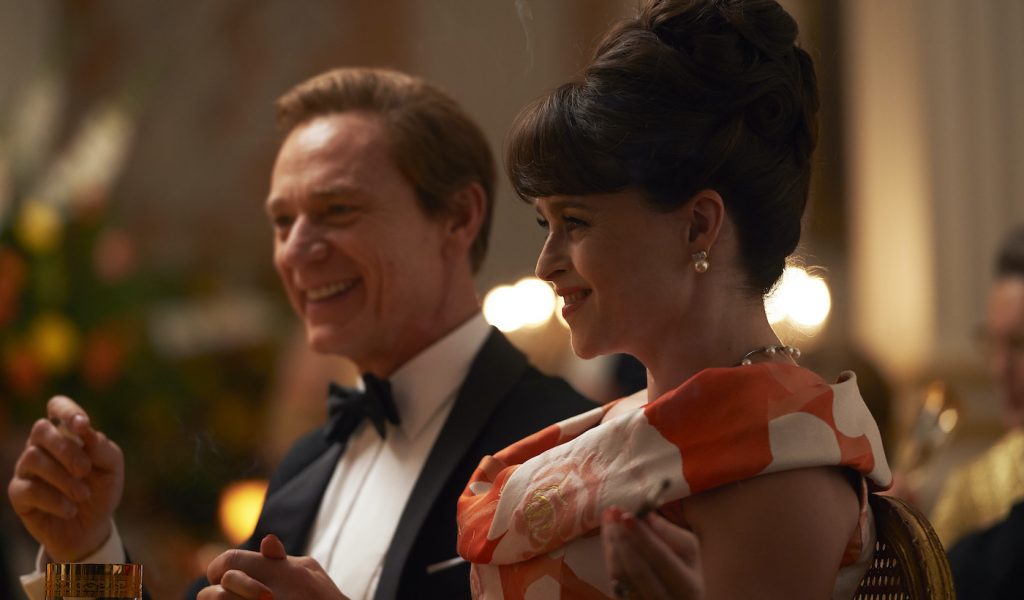 The season also spans one of the 20th century's most distinct time periods in terms of fashion. Working with a team that can number from 45 people up to 130 on the biggest shooting days, costume designer Amy Roberts joined The Crown for seasons three and four, taking over from Jane Petrie and previously, Michele Clapton. Roberts balances the royal family's distinctly staid aesthetic with glimpses of the styles of the era, seen on younger characters like Princess Anne (Erin Doherty) and Roddy Llewellyn (Harry Treadaway), Margaret's youthful, long-term affair.
Queen Elizabeth, however, is still at the crux of every episode, and for the monarch, Roberts embraces an early version of the vivid colors and matching ensembles that have come to dominate her personal style. We spoke with the costume designer about building imagined looks versus hewing to history, her personal style favorites from the season, and the new hues that set the tone for the Queen's next half-century of outfits.
How do you decide whether to put together new looks or look to history for costuming major, well-documented events, like the Queen's Jubilee, Prince Charles's investiture, or the tragedy of Aberfan?
I think it's an emotional decision. And those big events, particularly Aberfan, it doesn't make sense to veer away from it. Often, some generations remember it very clearly, and it would seem arrogant of me to even think, oh, I'm going to change history. That's my strong feeling. Those are a few very key, important moments, but there is so much on The Crown where you don't know what they wore, you don't know what they said, you don't know what went on, so there are plenty of other times when you can let your imagination run free or be more filmic. That's the joy of The Crown.
Queen Elizabeth has such an interesting style legacy because you have people who think she's the most fashionable woman in the world, as well as a camp that finds her rather dowdy. What's your opinion, and what guides you as you're designing for her?
Well, I was one of those people who thought the Queen's dress-sense-look-style was not of great interest or groundbreaking. But the more I looked at her, not just my period of time — the 60s through the early 90s, up through season four — you realize she's actually amazing. You can see where a lot of designers have drawn inspiration, whether it's Dolce and Gabbana or Vivienne Westwood. So I was really surprised. And the color choices, they're absolutely extraordinary, even in the present day. I know she dresses to be seen in vivid colors, but she owns it. You see her privately at Balmoral, maybe in her kilt and her twin set and some scarves, and she looks amazing, with a Burberry mac on. There are some really weird ones, like the investiture, but they're always interesting.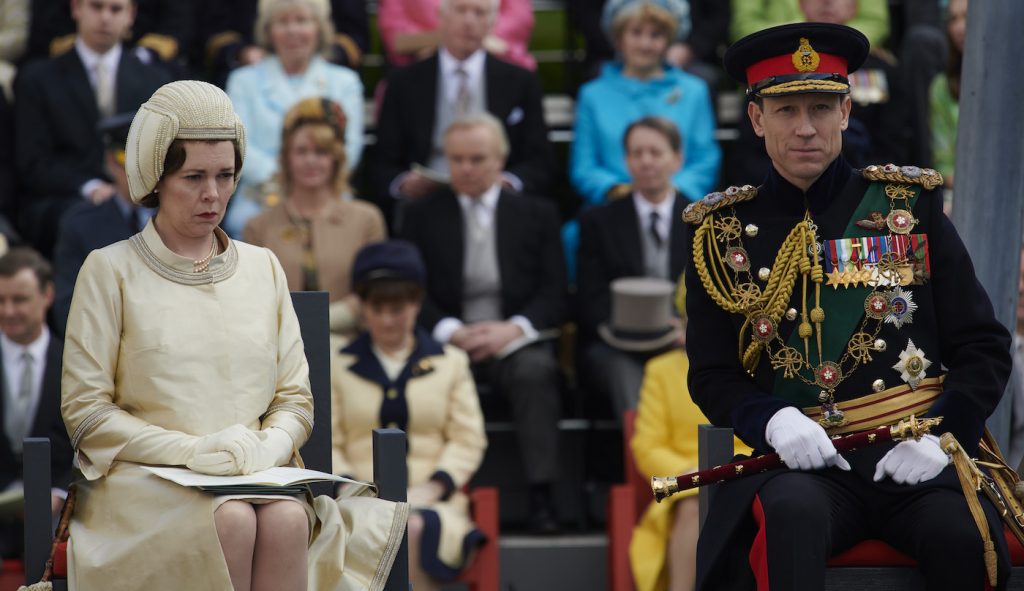 The royal family has an aesthetic unto itself, which isn't necessarily representative of the era. There are so many fashion hallmarks of the 1960s and 70s in particular, which are not things the Queen would ever wear. Was it difficult to conceive of costumes that illustrate the time period while still being accurate to the family?
The first two seasons, which are absolutely beautiful, had the aesthetic of the 30s, 40s, and 50s color palette.  I suppose in a way what opened the door for us in this era was color. We have a huge wall in our studio where we put up lots of images, each member of the royal family's journey, in a huge chart. And I think what everybody realized was it's the color — those sugar pinks, lemon, tangerines, and turquoises — suddenly you've got that, which you hadn't got before. I think Jane [Petrie] slightly touched on it towards the end of season two, but we could really go for that, those more synthetic tones that heralded in the 60s and 70s, those post-war colors and patterns.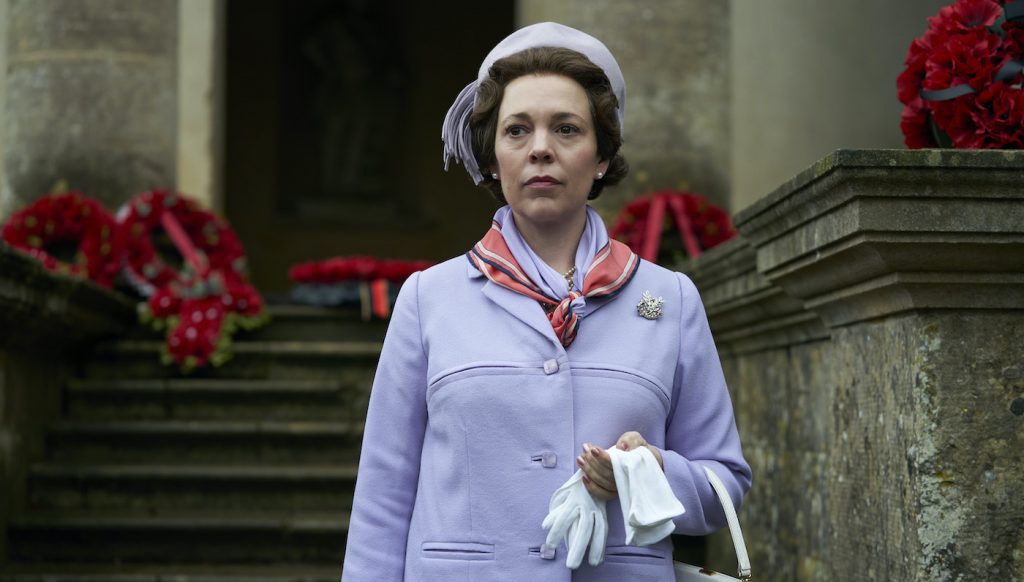 And as we get closer to modernity, can you buy and rent costumes for supporting characters, or is everything purpose-built?
All the principals are designed and made, but what we could start to do in this era was introduce a little bit of buying, for Princess Anne and some of the important smaller parts. The budget's fantastic, but you can't afford to make everyone, nor do you have the time. It's got to be the best quality, obviously, but you can source the 60s and 70s clothes pretty easily. We didn't do that at all for the Queen — maybe an old Burberry mac, actually — but for Princess Anne, we introduced a few buys, some knitwear, and we found some fantastic jeans. And obviously, for the crowd, that is all sourced and hired from costume houses in England, a little bit in Spain, and we used a fantastic place in Paris.
The real royals wear fur. How do you deal with that for the show?
Quite rightly, Netflix and Left Bank have a policy of no fresh fur. But you can use, and we would use, fur from the late 50s. Margaret and the Queen do occasionally wear fur coats, much to the horror particularly of Olivia Colman. They [Colman and Bonham-Carter] don't love it at all. I have to stress that: there's no enjoyment to them wearing fur coats. But you might be thinking about Charles's investiture robe. There's a good story there. That had to be made from scratch. The lining of that cloak is ermine. That was problematic because we could only use old ermine. They came from all over, the color had to be matched, they had to be cleaned and stretched by a furrier, and there aren't many furriers anymore. But they had to be a certain date, none of it was fresh fur. It's absolutely forbidden. So that took a long time to source, do it properly, and within strict guidelines. And it's hard for actors, sometimes. They want a sign saying "this isn't me, I don't approve!" We only used fur coats when it was absolutely needed, and the odd fur stoles, but we steered away from it as much as possible.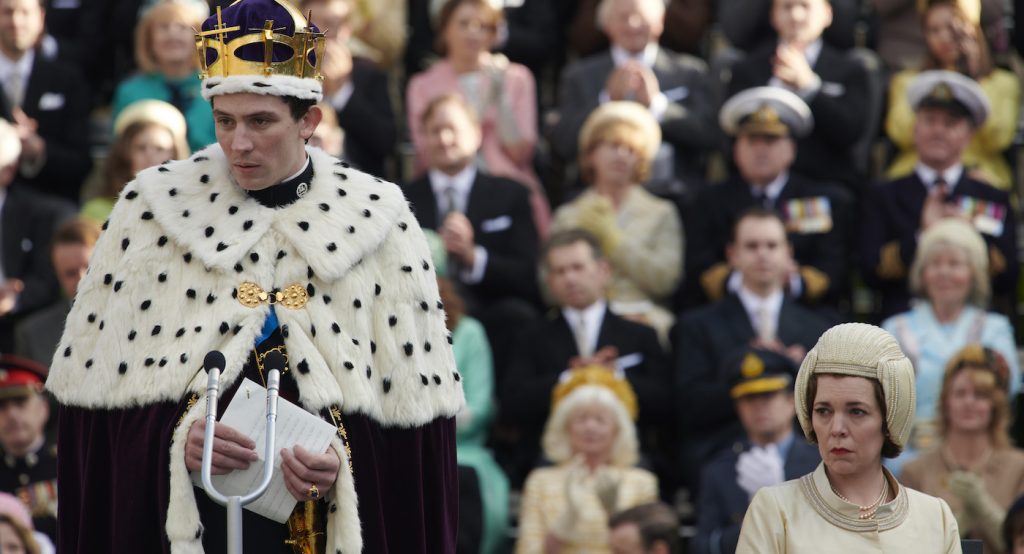 Did you have a favorite character to dress in season three?
I always say this, but I loved doing Princess Alice of Greece, Prince Philip's mother, the nun [Jane Lapotaire]. Because suddenly, after all that pomp, silk, and patterns and color, you do something completely different, and pure and simple. I don't know, I just loved that beacon in the midst of it all. And I loved doing Wallis Simpson; her clothes and style were just very modern. The palette we went for was a personal favorite of mine. So Princess Alice and Wallis Simpson — two extremes, really, both as women and as looks.