5 Outrageous Hays Code Rules Ryan Murphy's "Hollywood" Breaks
Ryan Murphy's Hollywood on Netflix is a dreamy, inspiring, and triumphant glimpse at what mainstream storytelling might have accomplished if female, Black, and queer artists had been openly driving the narrative on our screens since the 1940s.
Like many of the actors in Hollywood, Dylan McDermott plays a character within a character. McDermott's Ernie West dallies on the fringes of the entertainment scene but is never able to break into the industry until his former employees ascend the movie studio ladder and collaborate on the most groundbreaking script to hit Tinseltown. To thank him for his contribution to their success, he finally lands a role in the film as a movie studio executive stamping out Hays Code restrictions.
His character triumphantly delivers this speech in episode 6: "Here's what I can't stand about you fellas. Standing on high with your Hays Code and telling me, Darryl B. Sellsman, what people in this country should be allowed to see. Why? Because you don't trust people to make up their own minds."
Here's a quick history lesson of what creators at the time were up against. The Motion Picture Production Code, known informally as the "Hays Code," imposed strict regulations on films with the intent to preserve moral standards of the time. Nothing that deviated from the code's rulings on crime, nudity, profanity, or even patriotism could be aired to the public. These rules restricted filmmakers from exploring taboo subjects until Jack Valenti, the former head of the Motion Picture Association, introduced a new film ratings system in 1968.
So, that leads us to today's thought experiment. If Hollywood had actually been developed in 1947 when the series is set, here are 5 scenes they couldn't have gotten away with and the crazy rules they would have been breaking. Spoiler alert, by the way!
1. "The methods and techniques of prostitution…shall never be presented in detail, nor shall the subjects be presented unless shown in contrast to right standards of behavior."
Golden Tip Gasoline would definitely be out. Ernie West (McDermott)'s prostitution ring does get occasionally busted, but on the whole, it leads to some positive outcomes. Archie (Jeremy Pope)'s work as an "attendant" puts a strain on his relationship with Roy (Jake Picking), but it does lead to important introductions. The "station" is the setting where Archie meets future Meg star Jack Costello (David Corenswet). Jack, in turn, is scouted by Avis Amber (Patti LuPone) who eventually takes control of Ace Studios. And Ernie saves Meg's budget by donating proceeds from a particularly active day of work.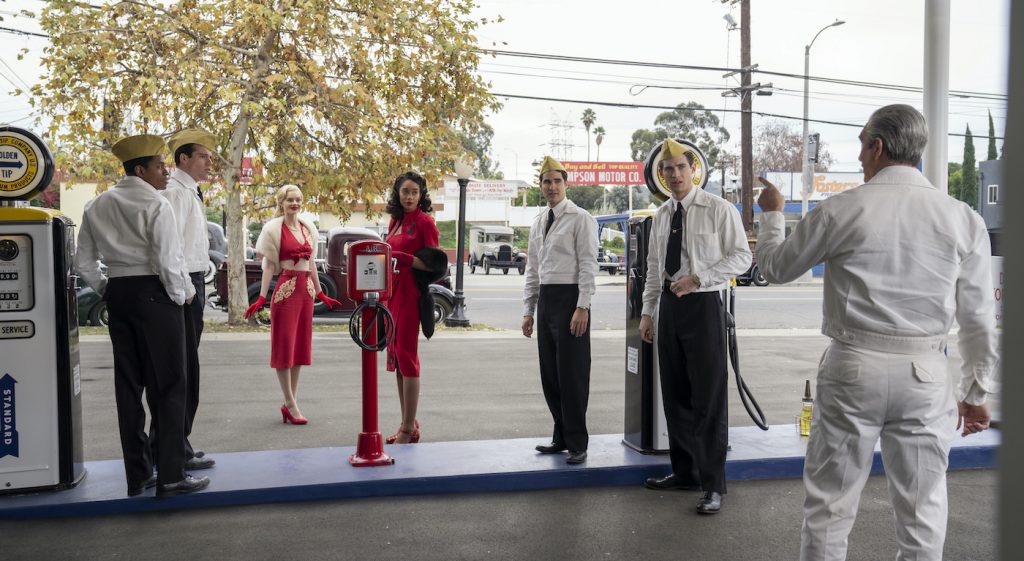 2. "Dances suggesting or representing sexual actions or emphasizing indecent movements are to be regarded as obscene."
Although homosexuality isn't even addressed in the Hays Code, it would have clearly been forbidden to depict Archie and Roy's relationship on film. Roy stakes his claim as Archie's boyfriend at George Cukor's party and they share a sweet dance that solidifies their relationship. A mid-century film would have never been able to portray a same-sex couple in such a tender way.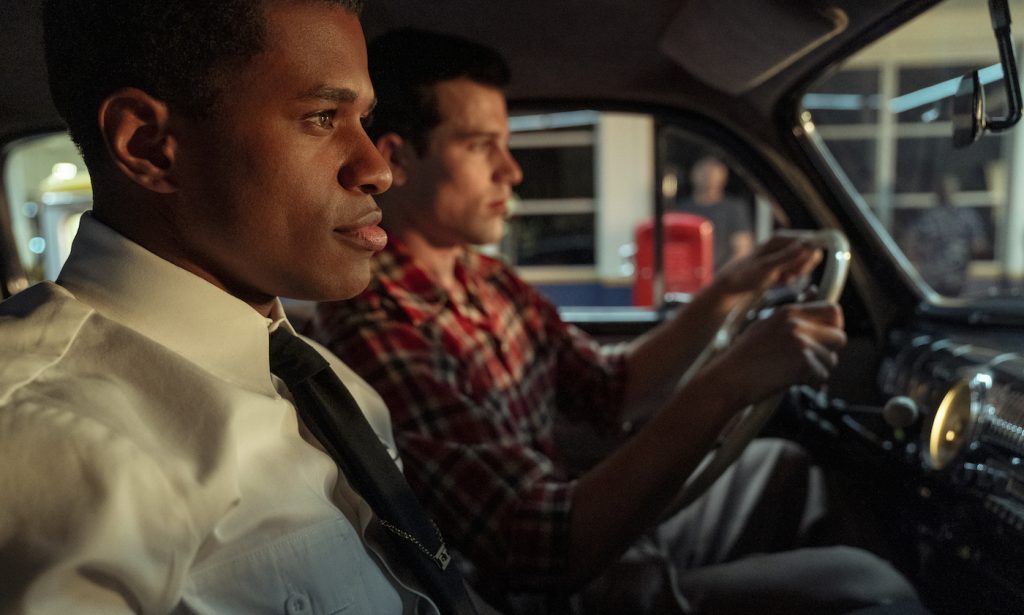 3. "Lustful and open-mouth kissing, lustful embraces, suggestive posture and gestures are not to be shown."
Shout-out to our favorite "open-mouth kissing" scene partners Archie and Roy, Raymond (Darren Criss) and Camille (Laura Harrier), and Avis having some fun at the gas station.
4. "Out of regard for the sanctity of marriage and the home, the triangle, that is, the love of a third party for one already married, needs careful handling. The treatment should not throw sympathy against marriage as an institution."
Henrietta (Maude Apatow) and Jack have a painful breakup of their marriage, but it's handled with the utmost respect for one another's life goals. When Henrietta reveals she's fallen in love with another man, Jack is shocked but supports her calling to have a family. Their storyline is treated with tenderness and the understanding that sometimes decisions we make in life aren't meant to last forever. The Hays Code would have cast a judgmental eye on such a positive dissolution of their marriage.
5. "Profanity is forbidden. The words 'hell' and 'damn,' while sometimes dramatically valid, will if used without moderation be considered offensive by many members of the audience."
Hollywood goes way beyond the usage of "hell" and "damn" showing that post-censorship filmmaking has come a long way.
For more, check out this copy of the Hays Code in its entirety from 1956.
Hollywood is now streaming on Netflix.
Featured image: HOLLYWOOD: (L to R) JEREMY POPE as ARCHIE COLEMAN, JAKE PICKING as ROY/ROCK HUDSON, SAMARA WEAVING as CLAIRE WOOD, LAURA HARRIER as CAMILLE WASHINGTON, DARREN CRISS as RAYMOND AINSLEY, and DAVID CORENSWET as JACK CASTELLO in Episode 106 of HOLLYWOOD Cr. SAEED ADYANI/NETFLIX © 2020