Hollywood Production Designer Matthew Ferguson Helps Build Ryan Murphy's Gorgeous Alternate History
Ryan Murphy's Netflix limited series Hollywood has all the glitz and glamor of 1940s Hollywood but with an alternate spin on history. We chat with production designer Matthew Ferguson about the challenge of getting the period details right and finding the balance between fact and fiction. The show debuted this past May 1 on Netflix.
Murphy and his team envision an alternative history of Hollywood in 1947, with a huge ensemble headed by David Corenswet as a young actor who works as a gigolo before getting his big break. He's joined by a black screenwriter/prostitute (Jeremy Pope), a studio boss's bombastic wife (a glorious Patti LuPone), a talented black actress (Lauren Harrier), a half-Filipino director (Darren Criss), and a bi-sexual former actor (Dylan McDermot) who runs a drive-up brothel/gas station staffed by handsome young men. Then there's a fresh-faced Rock Hudson (played by Jake Picking) and his gay manager (Jim Parsons). The show imagines a world in which these people get to remake Hollywood from the inside out.
What was the brief from Ryan for Hollywood?
Well, when we first met we talked about the overall storyline. It would involve the studio system, a bunch of young filmmakers who would be making the movie of Peg Entwistle [the young actor who killed herself by jumping off the Hollywood sign in the 1930s]. That's where it started. And I recall reading about Peg Entwistle in a book called Hollywood Babylon by Kenneth Anger. So we went from there and had a couple of production meetings at the beginning with all the department heads and talked about the permanent sets and the color palette. Ryan was very specific about the tone and color that he wanted to see and use in the series.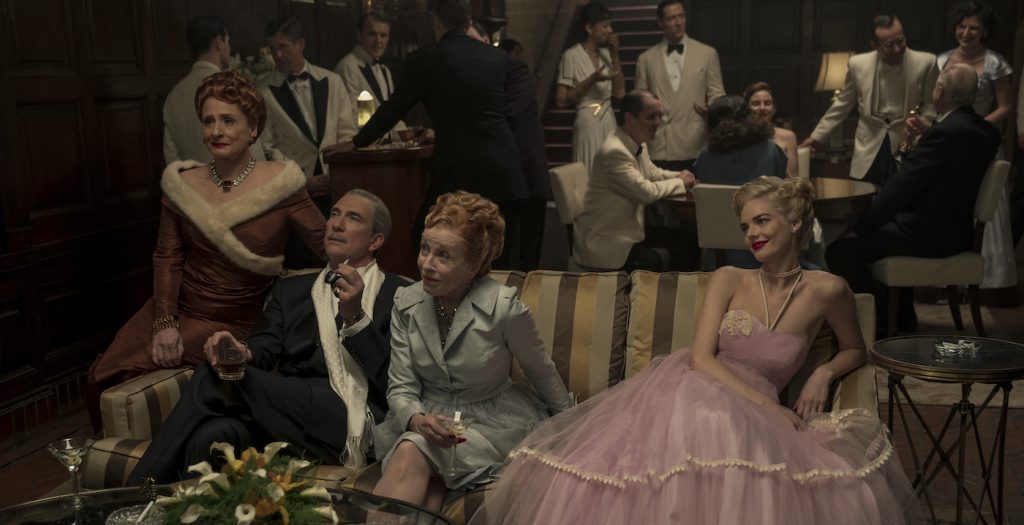 And he has a very distinctive style. Do you find it easier to work with someone who really knows what they want?
Absolutely. It makes it much easier to work with someone like that and then you're able to move forward and hopefully if you're on the right page. It makes for a very streamlined process. And I love glamour!
How would you describe the look of the show?
The color palette is that Hollywood sheen, that Golden Age of Hollywood. We use these harvest colors, and golden yellows, butterscotch, tans, and other browns. They were also very popular colors after WWII. These colors were still very common- cadet khaki and Normandy sand, and colors like that. Then we started to bring in the primary colors. And so that's the tone, we went for those colors and went from there.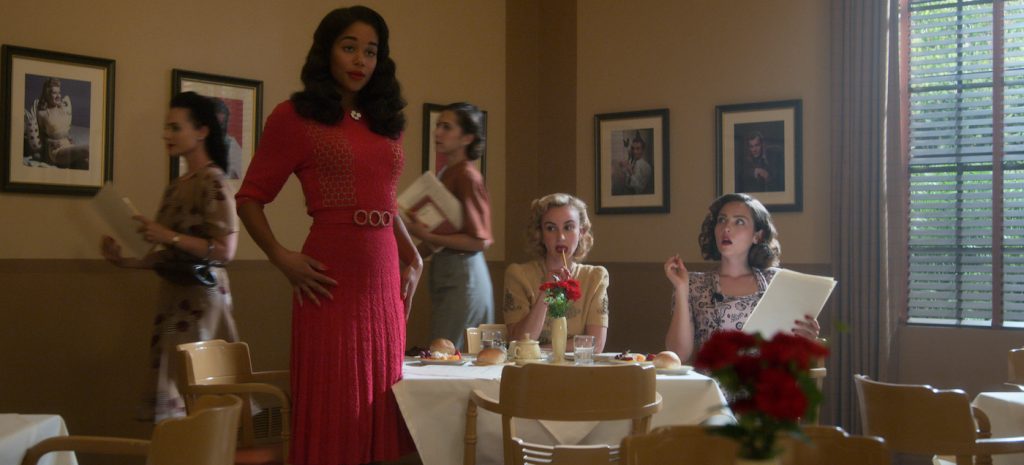 What are the challenges of working on a period piece? And this is a bit of an interesting one because it's a mix of a real and imagined past. What's your approach to that?
The challenges are certainly getting the period correct in the build that we did. We had quite a few builds on stage – at one point we had three. With the builds, we can control what we bring in, the fixtures, the hardware, and we can keep with the period. But when we would go out on location there were quite a few challenges, because obviously we're living in 2020, so there were locations that couldn't work because there were just too many contemporary elements that we couldn't get past. But in saying that, LA has such a great variety of architecture that we were able to find many great locations that we could use and that were period correct.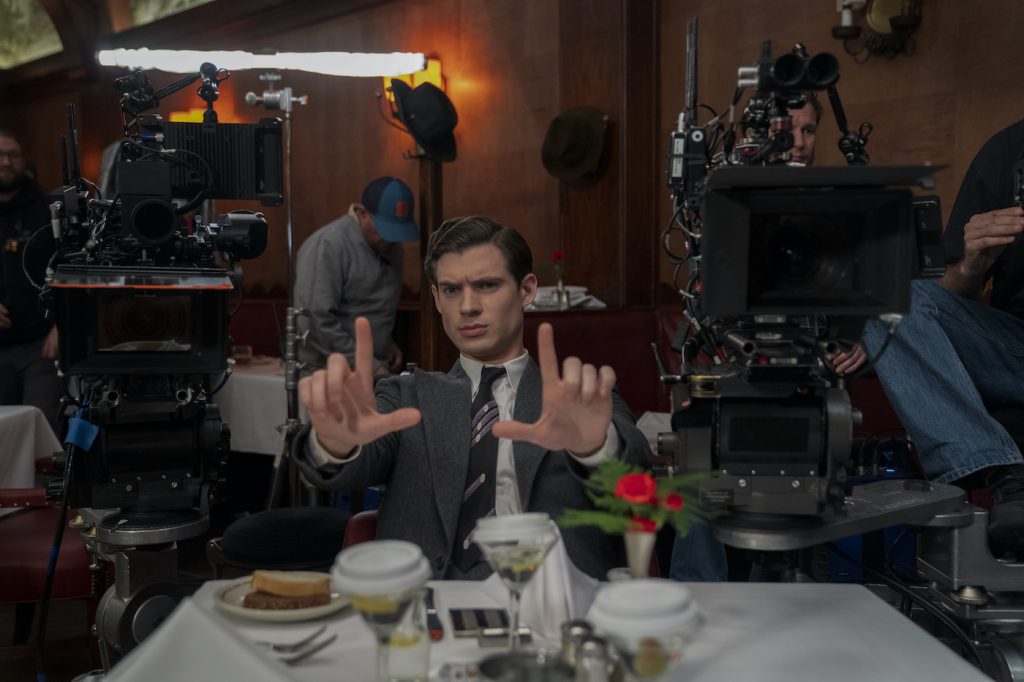 A lot of the scenes are set at Ace Pictures, which is a fictional studio. Did you base that on a real studio from the period?
During the Golden Age of Hollywood, there was a monopoly, there were five major studios that controlled Hollywood. MGM, Paramount, Warner Bros., 20th Century Fox, and RKO. So we based our studio on RKO and Paramount, and I would say more on Paramount. We shot the exteriors at Paramount Studios in the backlot. And the interiors we built. The commissary was based on the commissary at Paramount during that time.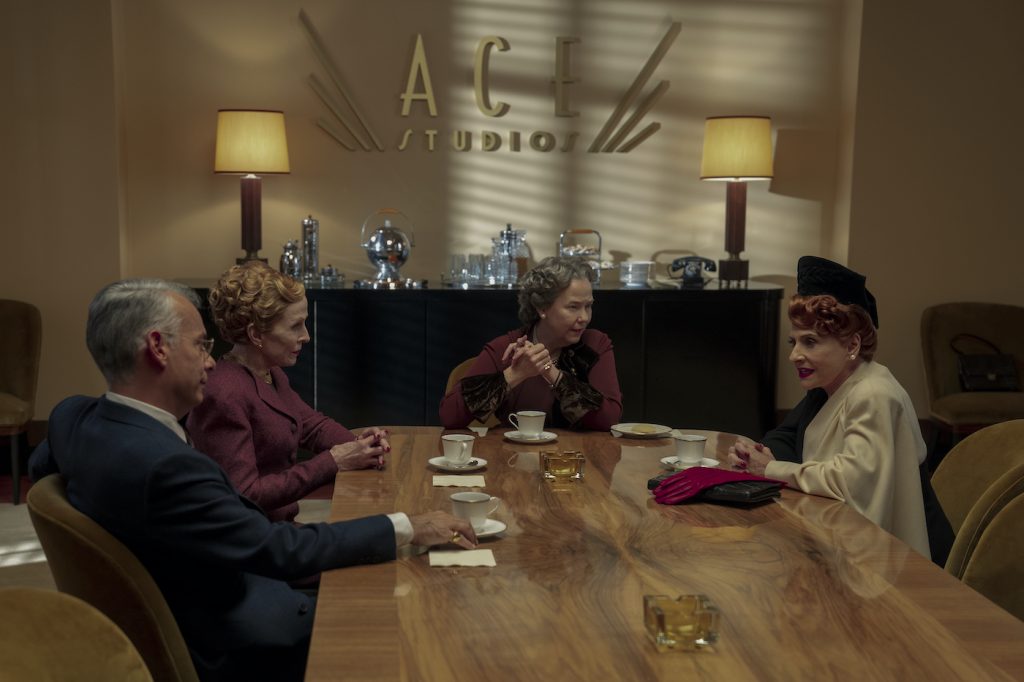 That gives you a bit more freedom as well because you can pick and choose a little bit?
Yes, absolutely. We did a lot of research and the commissaries at Warner Bros., MGM, and Paramount and we landed on Paramount being the best one for our set. It was great. [Studio head] Ace Amberg's office was loosely based on Jerry Mayer's office, Louis B. Mayer's nephew, who ran the studio. So we modeled it after that.
For someone who was already into that period and the history of Hollywood. It must have been hard to stop doing the research?
We did! Yes. We had two fantastic researchers and I had a lot of books on Hollywood and the history of film, so I brought all of those and it was a lot of fun to do the research.
The show has been described by Ryan as 'a love letter to the Golden Age of Tinseltown'. How did that sentiment inform your work?
It was an uplifting show and you could feel that on the set. There are obviously some dark scenes but I think we definitely have this technicolor bright and warm feeling to the show and I think it just carried with all of us. We just really enjoyed working on it.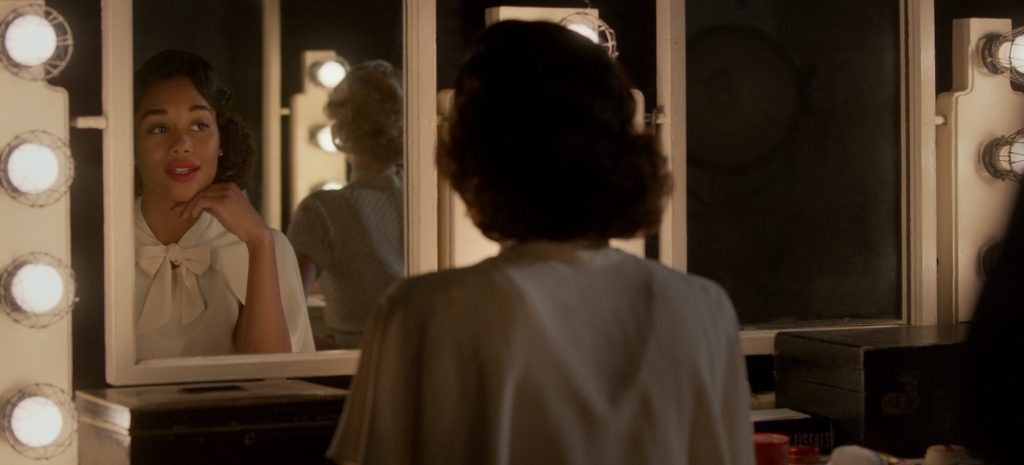 You create a lot of sets within sets, like the Hollywood sign and that sort of thing. Was it interesting to work out how they would have created sets during that 1940s period compared to now?
Yes. Absolutely. I worked very closely with my set decorator Melissa Licht and my art director Mark Taylor on all the sets. When we were shooting the scenes with Mira Sorvino, it was great to kind of build the set-piece and then build outside the stage and bring in all the sort of period equipment. Then once our actors and extras came in dressed in costume, it was like we were making a 1940s film. A movie within a movie. It was almost like we'd gone back in time. It was a lot of fun.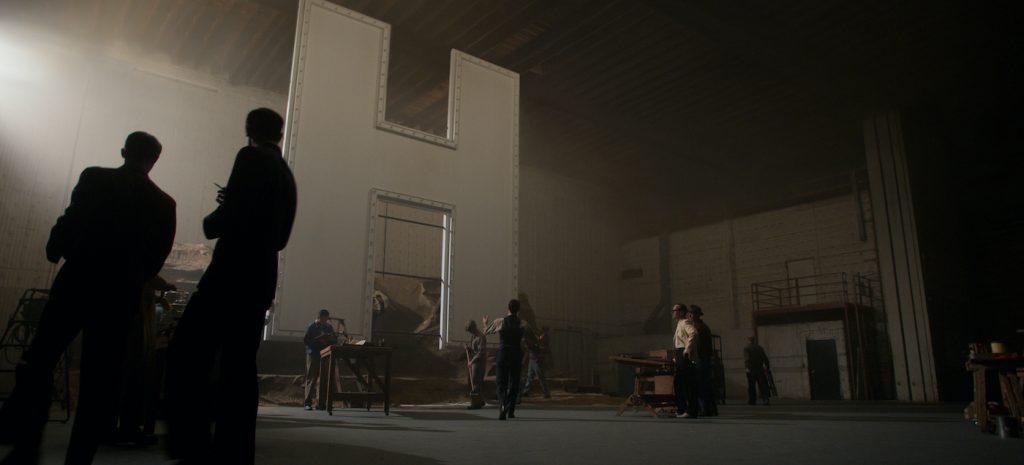 Did you have any trouble sourcing that equipment? Was that a challenge?
It was a challenge. Fortunately, in LA there are quite a few vendors and prop houses that cater to the film industry but there were three other shows going on at the same time set in a similar period.
So you had to fight for props?
Yes. We did. And there was one show, in particular, a movie that was made in a very similar period and we had to fight for the pieces. But we made it work. At times it was very challenging.
What would you say the biggest challenge of the project was for you?
I would say the schedule, to be honest. Wanting to be able to deliver beautiful sets on time. We had quite a few builds. Mark, our art director, was so instrumental and creative in laying out the sets on stage so they would fit. At one point you could almost reach your hand out of the Beverly Hills Hotel bungalow and grab a salt and pepper shaker off of Jack and Henrietta's dining room table. The magic of Hollywood is that you don't know that! So that was challenging. But we did it. And everyone worked really hard.
And what about a highlight?
Oh god. It's going to sound corny, but the whole thing. I think to be able to see the sets coming to fruition and having the actors all in there, looking at the monitor and seeing everything come together. It's very exciting. So that was a highlight. Recreating Schwab's [the legendary Hollywood drugstore] was a huge challenge and that was a highlight. The real Schwab's has such a great backstory to it, so to be able to recreate that… and we worked very hard to be able to really recreate it, to a tee. That was a highlight.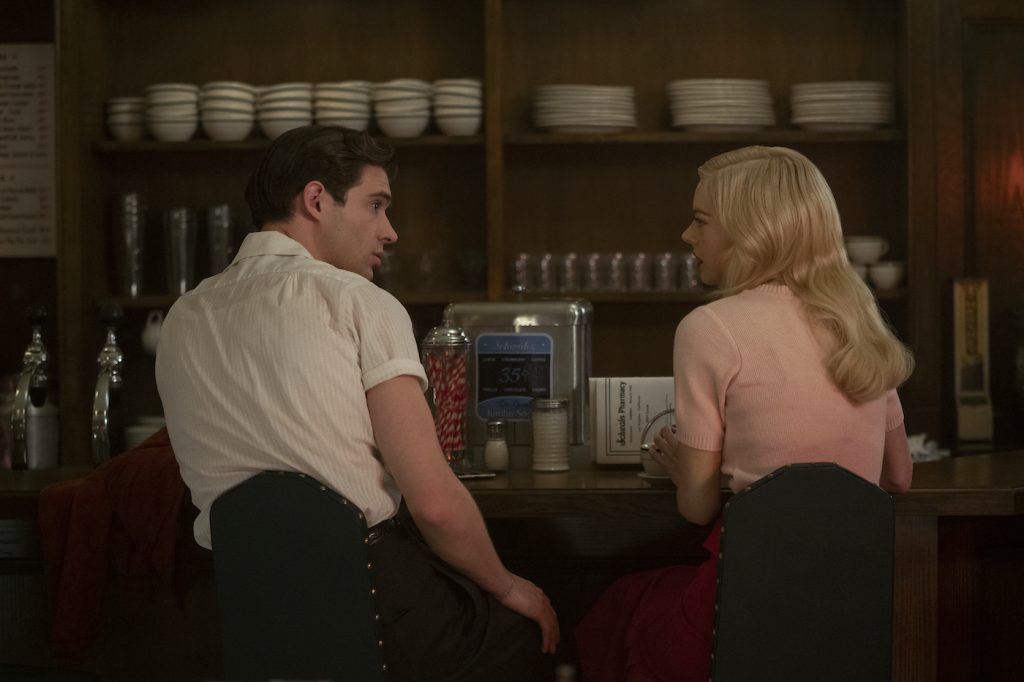 Featured image: HOLLYWOOD: LAURA HARRIER as CAMILLE WASHINGTON in Episode 102 of HOLLYWOOD Cr. COURTESY OF NETFLIX © 2020