Costume Designers Revive Late Forties Glamour for Ryan Murphy's Hollywood
Writer-producer Ryan Murphy and his team envision an outrageously optimistic alternative history of the movie business in 1947 via their new show Hollywood. Debuting May 1 on Netflix, the period melodrama boasts a huge ensemble headed by David Corenswet as a fresh-faced actor who works as a gigolo before getting his big break. Along the way, he meets a black screenwriter/prostitute (Jeremy Pope), the voracious wife of a studio boss (Patti LuPone), a black actress (Lauren Harrier), a half-Filipino director (Darren Criss), a bi-sexual former actor (Dylan McDermot) who runs a drive-up brothel/gas station staffed by dapper young men, a rookie Rock Hudson (played by Jake Picking) and his gay manager (Jim Parsons). Overcoming racism and homophobia, the characters claim victory when their very first movie, about actress Peg Entwistle's death jump from the Hollywood sign, earns Academy Award recognition.
Like Murphy's previous love letter to Old Hollywood glamor Feud: Bette and Joan, this seven-episode series presents its stars in period-perfect clothes. But this time around, eye-popping outfits also offer audiences nostalgic respite from pandemic-wracked reality. Costume designer Sarah Evelyn and five-time Emmy winner Lou Eyrich, Ryan's longtime lieutenant who oversees costumes on all of his projects, drill into the inspirations behind Hollywood's sumptuous clothing.
The color combinations in your Hollywood outfits are pretty sensational. How did you develop the palette?
SARAH: The overall palette came from Ryan.
LOU: He was very specific about the colors being harvest-toned, but he also wanted some of the men in pink or corals. In Darren's case, Sarah would show him boards at the fittings, and Ryan would say, "I love this but let's bring out more pink for him." It gets that specific.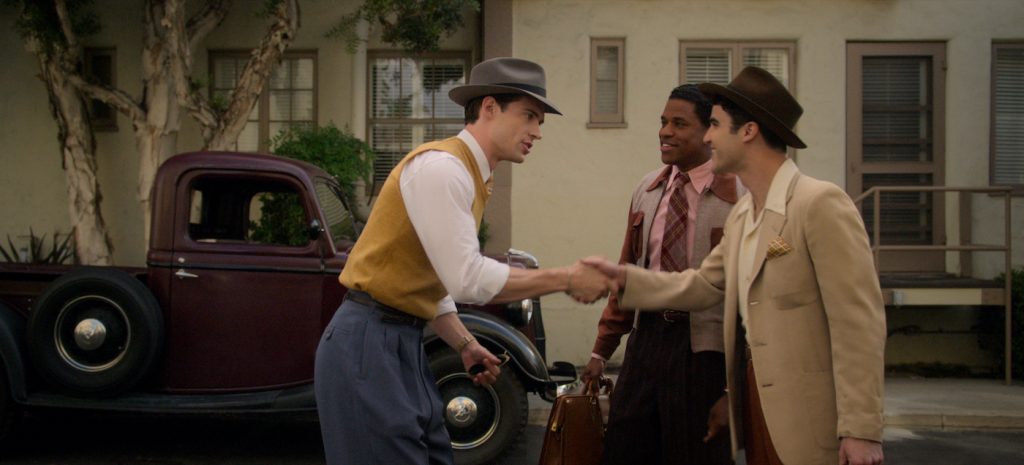 What kind of research did you do in order to bring back post-War II fashion?
SARAH: Glamor photographer George Hurrell was one of our references, along with books like Jean Howard's Hollywood. We looked at catalogs from 1945-47, studied Vogue and Esquire magazines from the period, and hired fashion historian Raissa Bretaña. She accessed some incredible images to help us get the period just right.
LOU: We also watched a ton of movies from the forties. We'd take screengrabs of the films and plaster the walls of our office and fitting rooms with these images, just so we could absorb the looks from that period.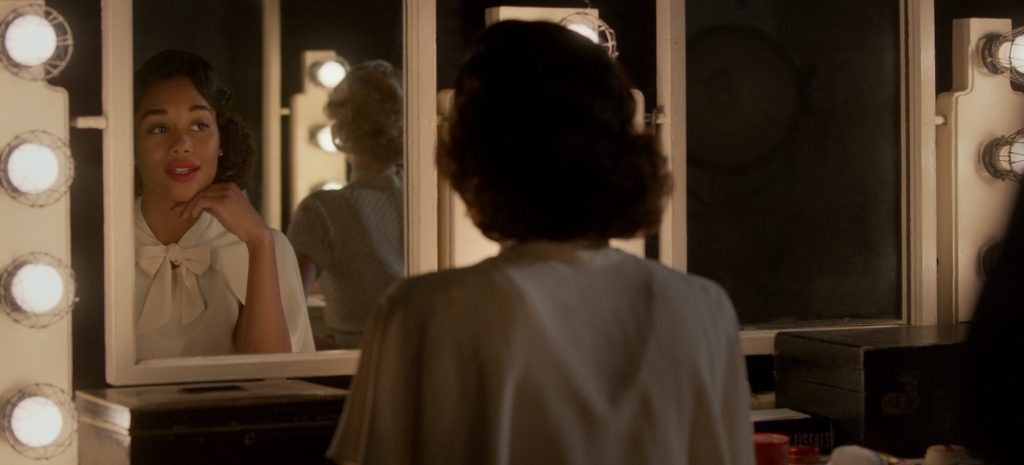 How did you differentiate individual characters through their costumes, starting with Patti LuPone larger-than-life Avis?
SARAH: Patti's just drama drama drama all the way so we took Old Hollywood icons Joan Crawford and Barbara Stanwyck as inspiration. Her color tones were jewel and rust. We looked at fashion designer Adrian to arrive at Avis' silhouette. Patty wears a costume really well so she can handle the big shoulders; she can handle the dramatic hat.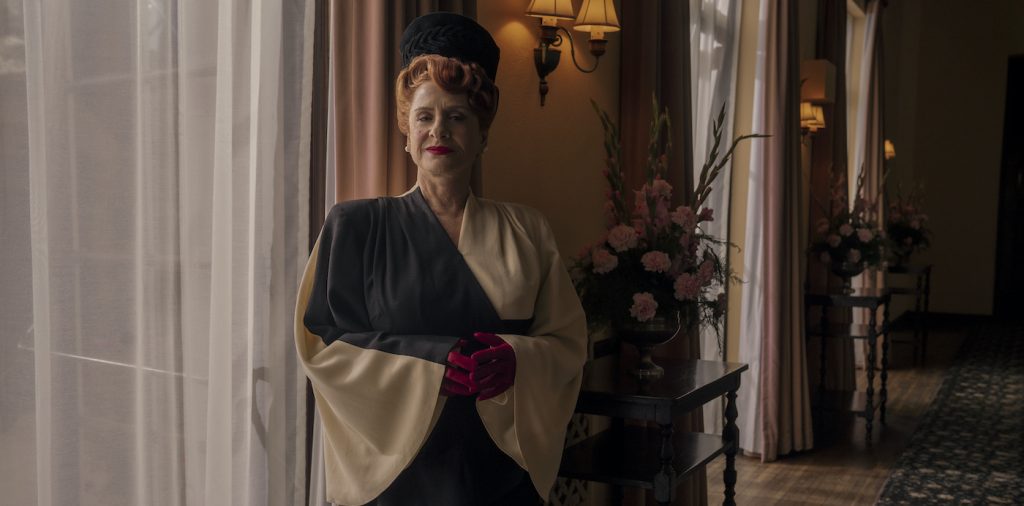 Those hats were so over the top. You never see that kind of thing in 2020.
SARAH: In the forties, everybody wore hats. Dressing Avis, I looked at the hats Katherine Hepburn wore in Adam's Rib, with Spencer Tracy. Holland Taylor's character [studio casting director Ellen Kincaid] is more refined, so we put her in a feminized fedora kind of thing, while [actress character] Camille [Laura Harrier] wears a cute little beret, which is both very 1940s and also kind of modern. The hats really ran the gamut.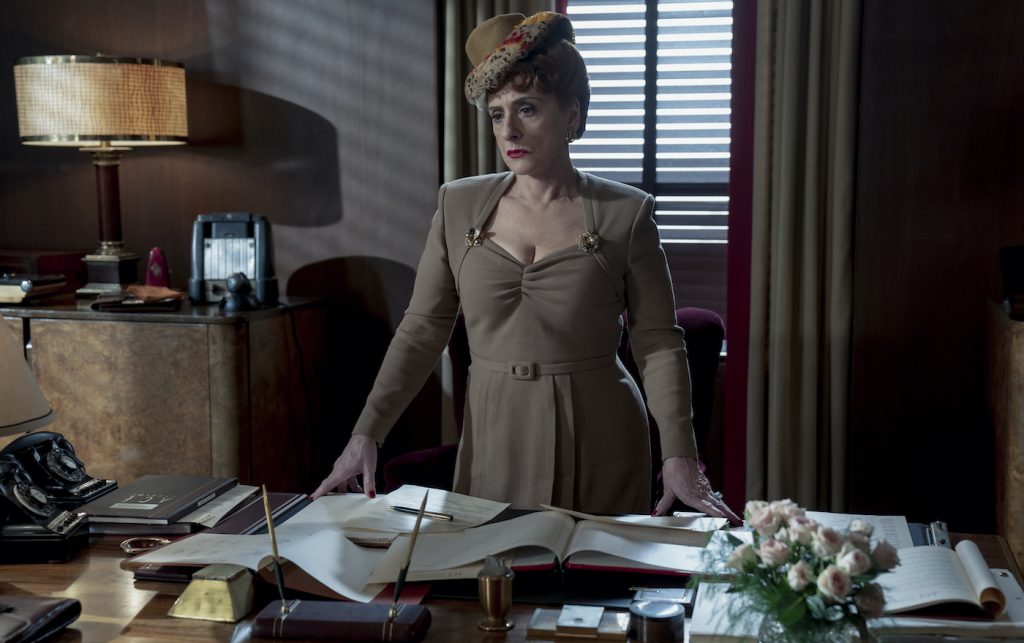 Claire, played by Samara Weaving, dresses in the kind of form-fitting skirts that starlets would have worn in the late forties?
SARAH: Ryan gave us Veronica Lake and young Marilyn Monroe as references for Claire's character. Samara's got the perfect body for those silhouettes and she fits the vintage clothes so well, it was a joy to dress her.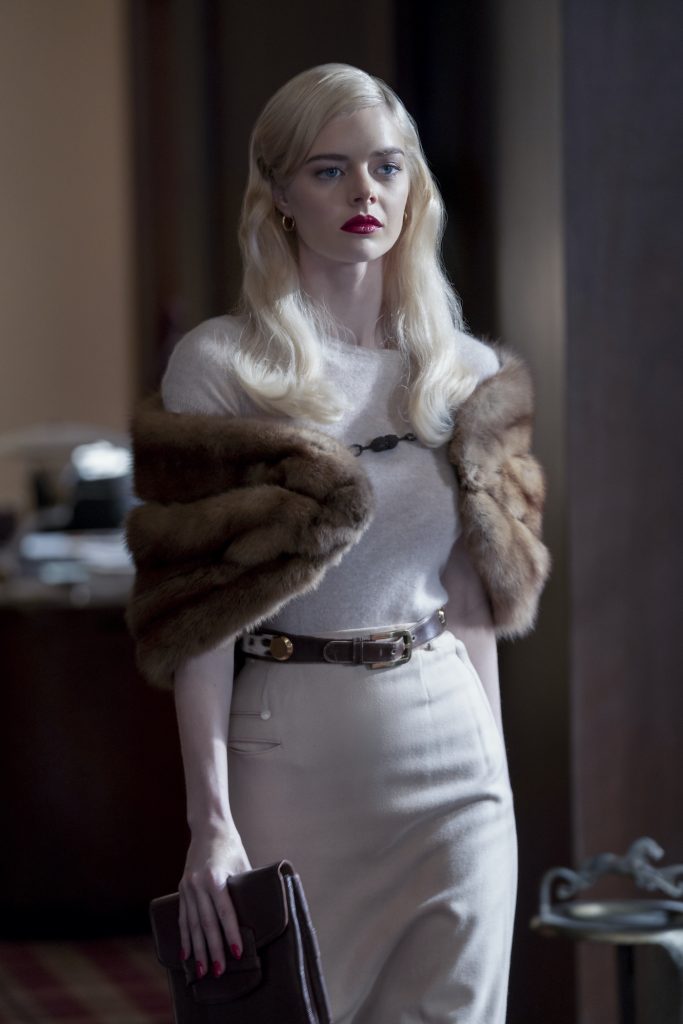 Darren Criss portrayed a serial killer in Versace but here, he's this idealistic young filmmaker Raymond Ansley.
SARAH: Darren's this All American guy who radiates star power, so he could pull off a white short sleeve shirt and a high-waisted pant. We referenced a picture of James Dean where he's wearing this black textured polo with black high-waisted pants with a white belt.
LOU: High contrast.
SARAH: Ryan liked that [photo] as our jumping-off point, so we built on that.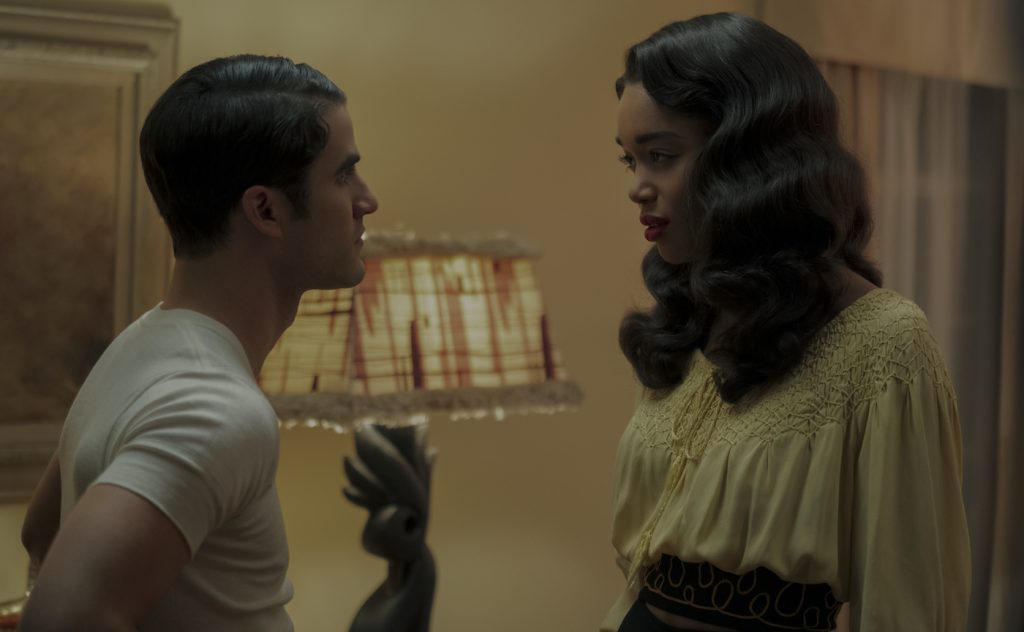 Rock Hudson's boyfriend Archie, played by Jeremy Pope, cuts a colorful figure as the black screenwriter who turns tricks while he's waiting for his big break.
SARAH: We thought of Archie as our jazz baby.
LOU: Being an African American in the forties, Archie's not allowed to go where the white people go.
SARAH: But he's a real artist, so Archie could break the rules and look really good.
LOU: We'd put him in a striped pant with a checked vest and plaid shirt, or a beautiful goldenrod collared shirt, a green-and-grey checked vest, brown and cream striped pants and two-toned spectator shoes.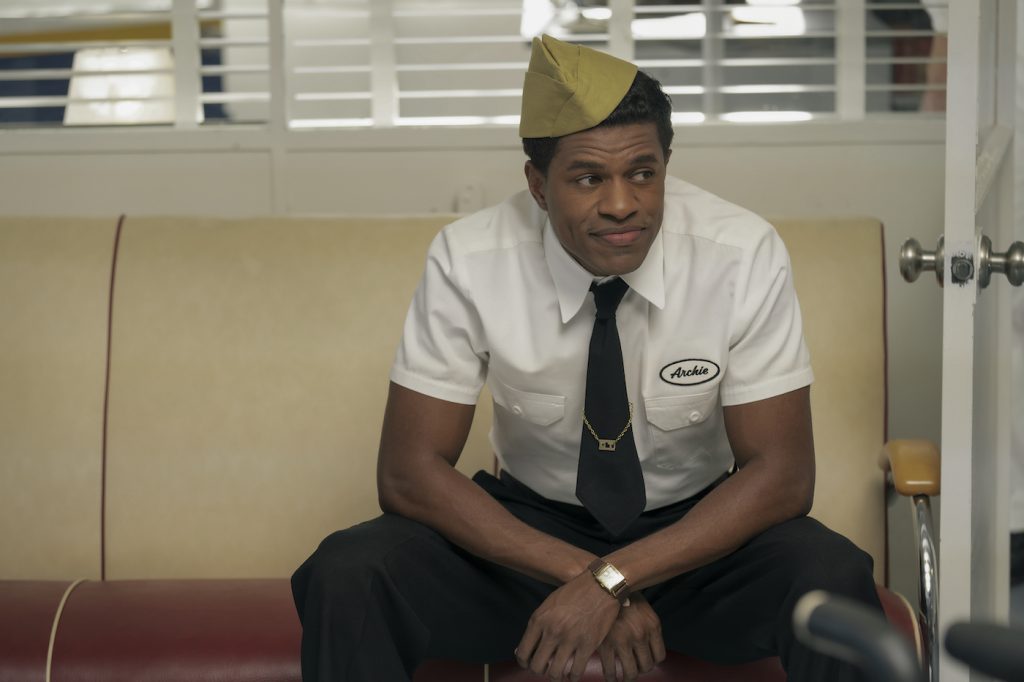 Jim Parsons' gay agent Jim Wilson grooms his client, the young Rock Hudson, to play the role of a straight leading man.
SARAH. In our show, Rock's this fresh-faced farm boy and a little less sophisticated than Jake. We gave him 1940's pullovers and khakis and 1940s tennis shoe to show that Rock was brand new to Hollywood.
Hollywood portrays famous people including Vivien Leigh, Noel Coward, Eleanor Roosevelt, and Hattie McDaniel. You also dressed Michelle Krusiec as Anna May Wong, who lost the starring role of the Asian-American heroine of The Good Earth to white actress Luise Rainer.
SARAH: Anna May Wong never really got her shot, so in our show, she's—I don't want to say washed-up—but she's been hit hard by life, so the clothes needed to show how she might have lost something of herself in the thirties. Ryan said "Make it timeless but faded" and we figured it out from there, with a purple dressing gown made from beautiful velvet, and her gold dressing gown was satin.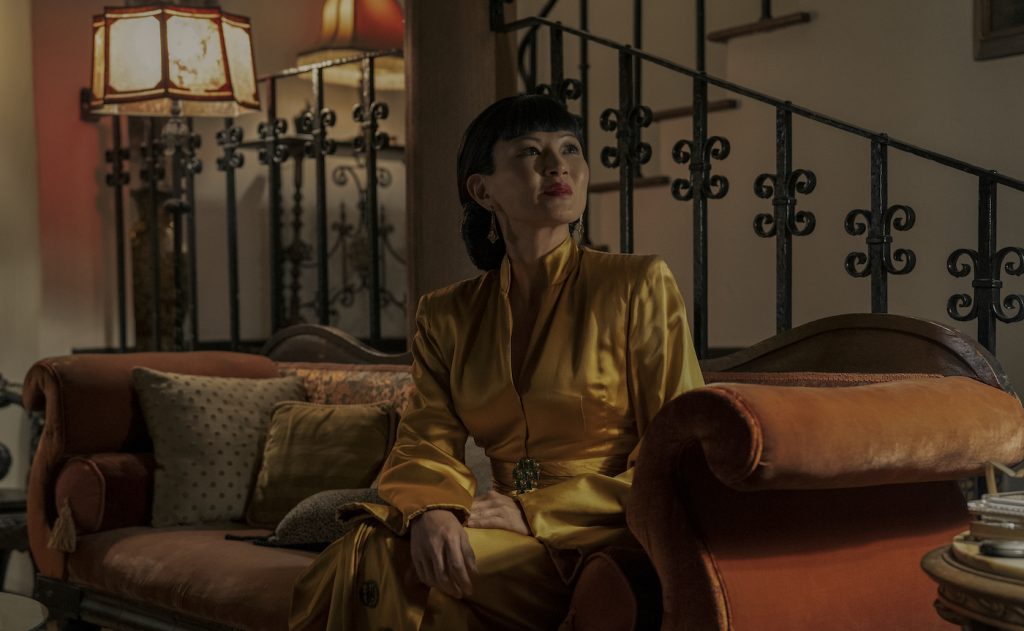 The sheer quantity of period clothes featured the opening scene alone, where you've got about 150 extras in spread collar shirts and pleated pants, must have posed a big challenge. How did you find all that vintage stuff?
SARAH: We went to vendors' markets, storage units, and even had people sending in boxes from Ohio and Florida. There were five other shows set in the same period while we were in production, so there was a definite race to figure out who had the forties stock.
You also made costumes from scratch?
SARAH: Probably 90 percent of Avis' costumes were made, thanks to Joanne Mills, our tailor, cutter, fitter, everything. She loved pumping out forties dresses and shirts. Joanne would even go home at night and knit things while watching TV because we had trouble finding good knitwear from that period.
Your costumes evoke an era of great elegance that's also riddled with ugly prejudice. What's your takeaway from the themes of Hollywood?
LOU: I was thrilled to be part of a story that shines a light on people who had to live their lives having to hide who they really were.
Of course, there's been a lot of progress since 1947.
SARAH: But things haven't changed enough. I love the optimism of this show because I think it's important to keep putting it out there: things have to change. Things should change.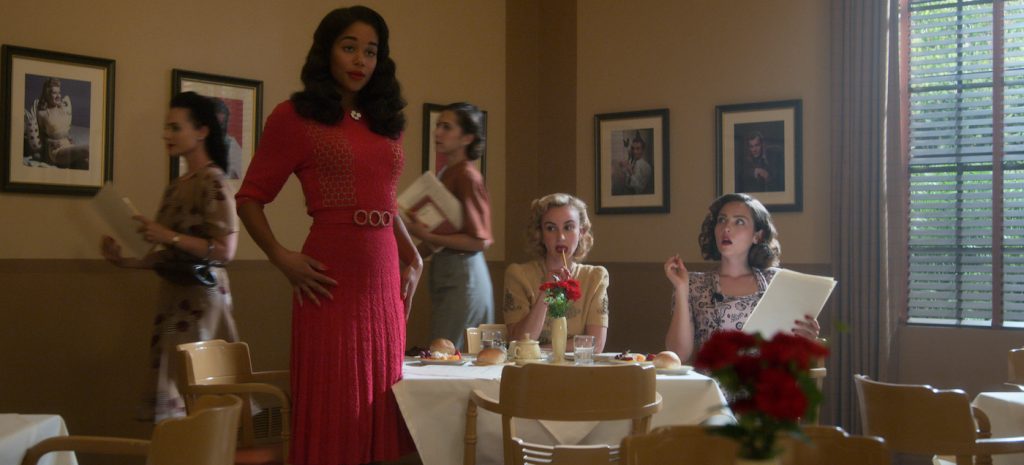 Featured image: Laura Harrier is Camille in 'Hollywood.' Courtesy Netflix.