Joe Bob Briggs Declares This the Summer of the Drive-In
Two summers before a nightmarish virus began sweeping across the globe and altering our reality like a horror B movie, Joe Bob Briggs revived his long-running campaign to keep the drive-in alive. The Last Drive-In with Joe Bob Briggs premiered in July of 2018 on AMC's horror streaming service Shudder. The special was so popular, it crashed the site. Briggs said he was initially skeptical and envisioned the show airing once "for nostalgia sake." Yet, there may be no one who has had a more successful career by tapping into a bygone era than Briggs. "Sure enough, people showed up in droves," he reflected.
After a follow-up Thanksgiving and Christmas special that year, The Last Drive-In cinched a regular spot and is now in season 2 airing live on Friday nights. Joe Bob's fans, lovingly called The Mutant Fam, tweet live along with Joe Bob's side-kick, Darcy the Mail Girl. Horror legends like Barbara Crampton and Eli Roth even post their input. "The amazing thing to me is it's a streaming service, but they want to watch the show in real-time," Briggs noted. "We have appointment television on a streaming service, which is a contradiction in terms. It's a longing for community, which is symbolized by the drive-in."
Briggs earned his title of "America's foremost drive-in movie critic" beginning in 1986 when he hosted Joe Bob's Drive-In Theater on TCM for more than a decade followed by MonsterVision on TNT. His self-declared "redneck" commentary racking up body and blood counts spreads the love to lesser-seen flicks like Chopping Mall and Bloodsucking Freaks.
His selections are inspired by the history of real drive-in theaters. Briggs attributes smaller films hitting drive-in screens to the fact that studios didn't supply blockbusters to the often independently owned outdoor theaters and they have only one good time for showings – sunset. "It was always a combination of high-brow and low-brow, but mostly low-brow because there was more money to be made," Briggs explained.
So, is it sacrilege to watch a high-brow art film at a drive-in? "It's actually not," Briggs said. "[Drive-ins] sort of created what we know today as indie filmmaking. Among other things, Roger Corman distributed foreign art films. He distributed the films of Ingmar Bergman. Ingmar Bergman was delighted to know his films were being shown at drive-ins. He thought that was wonderful they were being appreciated by the common people."
Despite the drive-in being an early avenue for many foreign films, they remained an American institution. "There are drive-ins in a few other countries like South Africa and Australia, but for the most part, 95% of the drive-ins in the whole world are in the United States and Canada. It's a very American thing. It didn't occur to the rest of the world to sit in your car and watch a movie," Briggs laughed. "But Americans find that perfectly natural."
Although the drive-in was most popular in the late 50s and early 60s with nearly 10,000 theaters running, there are still sites in operation today. "I always say, 'The drive-in will never die.' And it's true. For 70 years, people have been writing these articles about the twilight of the drive-in, and yet they have never gone away. There's always going to be drive-ins."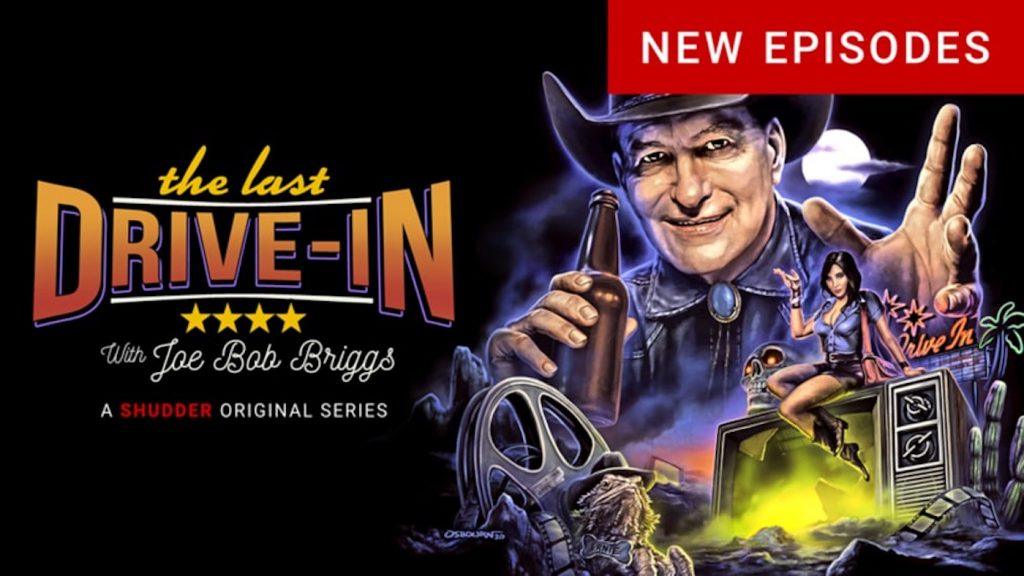 Sure enough, although the circumstances were unforeseen, the drive-in does appear to be making a comeback in 2020. With social distancing guidelines in place to cut down on the spread of disease, the car is king once again. It's private, it's portable, and now it may serve as a movie theater seat. Who, if not Joe Bob Briggs, deserves a bizarre plot twist, anyway? "This is the year of the drive-in!" Briggs declared.
Doug Mercille's family has owned the Starlite Drive-In in Cadet, MO since 1962 and he said they have been seeing a lot of first-time customers. The theater shows second-run films as double features. With most indoor theaters closed, audiences are realizing the benefits of drive-ins. "The main thing most people like is you can sit outside your car," Mercille said. "It's just a more family-oriented atmosphere where you can still congregate and not have to worry about everything that's going on around you. You still have to watch some things, but for the most part, you have your own space."
Despite not being enclosed and sitting right next to a stranger, the Starlite is still implementing social distancing safeguards. They're operating at half-capacity allowing viewers to sit with their party in the space to the right of their car so there's always at least a car between them and the next group. The concession stand is open to ten people or fewer, but staff will deliver your food to your car if you order on an app.
If you're planning to hit the drive-in for the first time this summer, what should you know in advance? Mercille recommends you bring an FM radio to hear the film. Speakers no longer hook onto your car window like the old days, but the Starlite will rent you a portable radio if you don't have one.
"The reason we know so many people have rediscovered the drive-in is they shine their lights directly on the screen, which is a big 'no-no,'" Briggs warned. "They've never manually turned off their lights so they don't know how to do it. It takes 100 cars honking at them before they can frantically figure out how to turn off the headlights on their car."
Mercille laughed, agreeing that he was all too familiar with the problem. "That happens regardless. Every year we have those people because they buy new cars and they don't realize it's not the same. Whenever somebody is having trouble, we'll go out and show them how to do it most of the time because they don't know. For those we can't figure out, we just get some black trash bags and we allow them to tuck it underneath the hood a little bit and over the lights and that will fix the problem."
So what's Joe Bob Briggs' official pick for the best movie to watch at a drive-in? "Oh, that's gotta be the Texas Chainsaw Massacre, but the original one. The 1973 one."
Mercille says tornado alley harbors a different favorite. "I've been told it's Twister. It has the scene with the actual tornado going through a drive-in movie screen."
Although we're all pained by the dimmed lights of indoor movie theaters this summer, the drive-in shines a little brighter by hosting a sense of community when it is difficult to gather. "Films were designed to be watched together," Briggs said. "It's so delightfully optimistic and heartwarming that people want to watch the film as a group. The drive-in is the symbol of that. The drive-in was always a place where everybody gathered. And it was all races, creeds, genders. That's still true online as we prove every Friday night with our show. It's a great thing and it's an optimistic thing and I hope it helps the real drive-ins. The mom and pops that are still out there doing that good work keeping the drive-in alive."
Featured image: Joe Bob Briggs. Courtesy Shudder.