How Space Force Production Designer Susie Mancini Channeled Stanley Kubrick
Steve Carell is at the center of the new 10-episode Netflix series Space Force, which he co-created with Greg Daniels (The Office) and is streaming now. The inspiration for the show is the real US Space Force that was formed last year to ensure American military supremacy in space and was the brainchild of Donald Trump. The series, which also stars John Malkovich, Lisa Kudrow, and Ben Schwartz, is part political satire and part workplace comedy. Carell plays General Mark Naird, the commander of the new Space Force, which is tasked with achieving  'boots on the moon'.
We chat with production designer Susie Mancini about how the aesthetic was inspired by Dr. Strangelove and Sean Connery's James Bond, celebrating Carell's manly side and the challenges of creating a show that is so firmly of the moment.       
How did you end up joining Space Force?
I was recommended by someone I used to work with and had a meeting with Greg. He was my biggest idol I couldn't believe that I could even meet with him for breakfast. I could never even imagine that I had a shot to get the job. I told him, 'You can have all the designers in the world with Emmy awards and whatnot and I just want to have breakfast with you.' We had a great breakfast and he still wanted to hear my ideas. We were on the same page and we kept on talking and from there to five days later, I had the job.
What were some of those initial ideas that you discussed?
The first time we spoke he didn't say much, he really wanted me to give my approach to the concept. My dream in terms of architecture and design was to create a world where I could explore the architectural side of it. And the idea of creating a whole new world which is present-day and could really exist. It's so technical, it's such a challenge. I didn't want to go too much into fantasy land. I know his comedy pretty well as a spectator, so I knew his comedy doesn't work with fantasy. It works with reality. He also mentioned that for this one he wanted it to have a hint more design and create a world that was slightly enhanced, so the first thing I thought of was Dr. Strangelove. And he was completely on the same page. Kubrick has always been my favorite for references and I could never find a project where I could explore in that direction.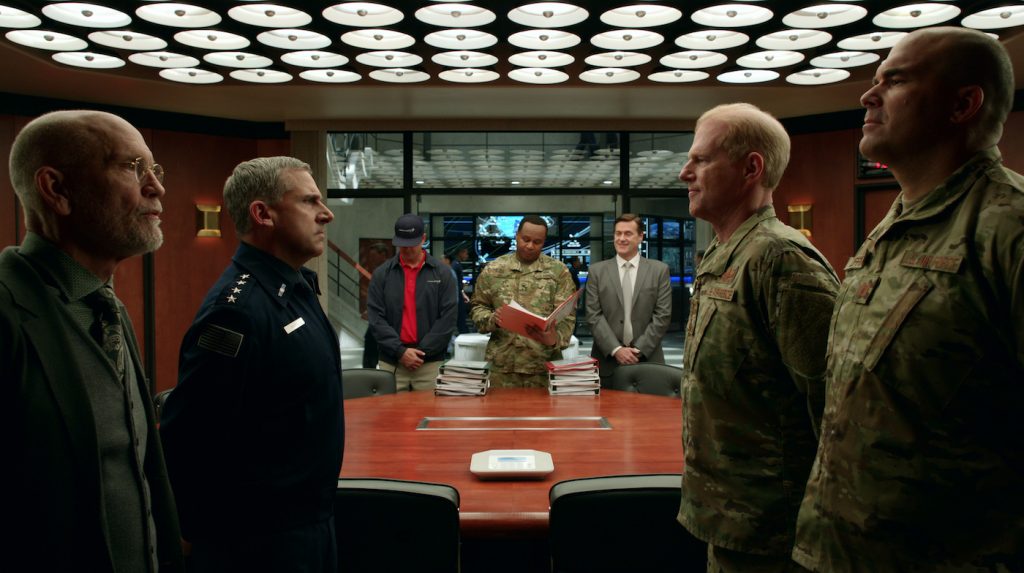 We're also literally seeing a different side of Steve Carell—he's still hilarious—but tell me about placing him in a military world.
I always thought of Steve Carell as an incredible comedian and actor but also as a very attractive man. I wanted for this role to embrace that part of him as the general of a military branch, rather than just the comedian side of him. I pulled as a reference for him, and all of his environments, the old James Bond – the Sean Connery James Bond. Especially You Only Live Twice. And so using the brutalist architecture for the Space Force headquarters, I embraced those elements of a really cool, really manly, kind of retro guy.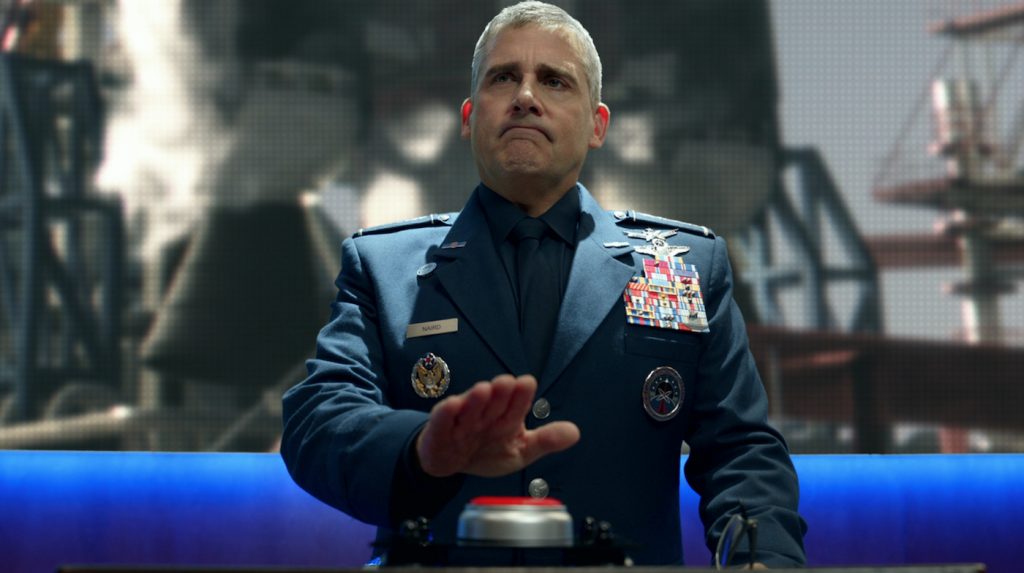 The brutalist buildings are so striking with the desert as the backdrop. It's not a style you usually associate with American government buildings. How did you end up there?
We thought, what would the government be able to afford in terms of opening up a whole new branch that would cost this much because you were sending shuttles off into space? Maybe they could find a structure that was preexisting, somewhere in the desert where they have a lot of land around them? I liked the idea of using brutalism because of the lines of that type of architecture, on top of being really cool and not being overdone in movies, I thought it married really well with how the new branch related to politics and pop culture. So we embraced the idea of having architecture that was that lavish and maybe iconic or loud but then the interiors are barely decorated and if they are it's with older furniture or stuff that the government would be able to afford. We tried to create a bridge between design and practicality.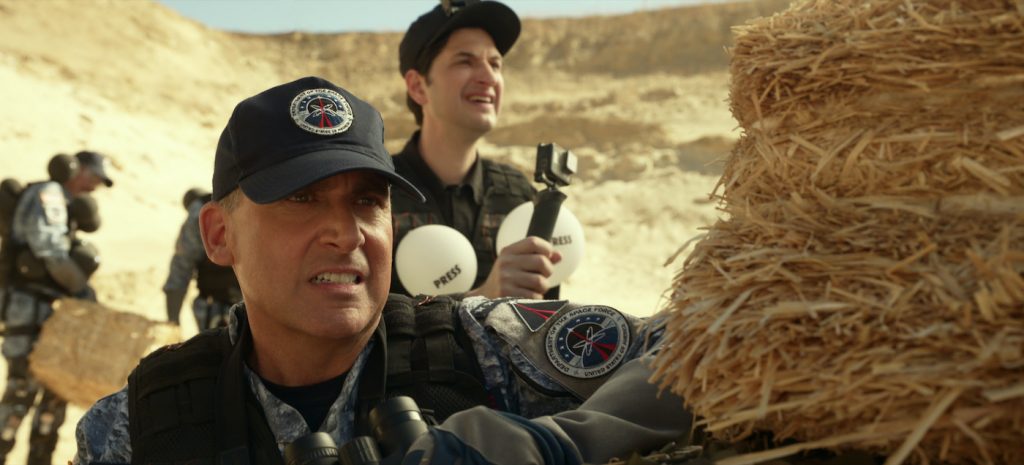 You've also got that injection of classic American patriotism with the polished wood, and the red, white and blue and eagles etcetera. Was that a tricky balance to find?
It was. My queen is my set decorator Rachael Ferrara, who is a super hard-working lady. For example in Naird's backstory, he was in the Air Force for many years, and then he was transferred into the Space Force. He's a very strong military guy, he comes from a military family, he strongly believes in it and he's very patriotic. He's not a guy who would lose his time thinking, I have a beautiful office. Every little flag and every framed article that is Army-related is real and has been recreated and studied, so it would actually reflect a career of 20 years in the Air Force. So there's a lot of research involved. Greg is a great proponent to use reality. He would come to set and he would have questions for the set decorators – like, 'What is this?' So you would never have a random object that you thought just looks good there. Every time it was five minutes of terror when Greg would come and do the interrogation on every object.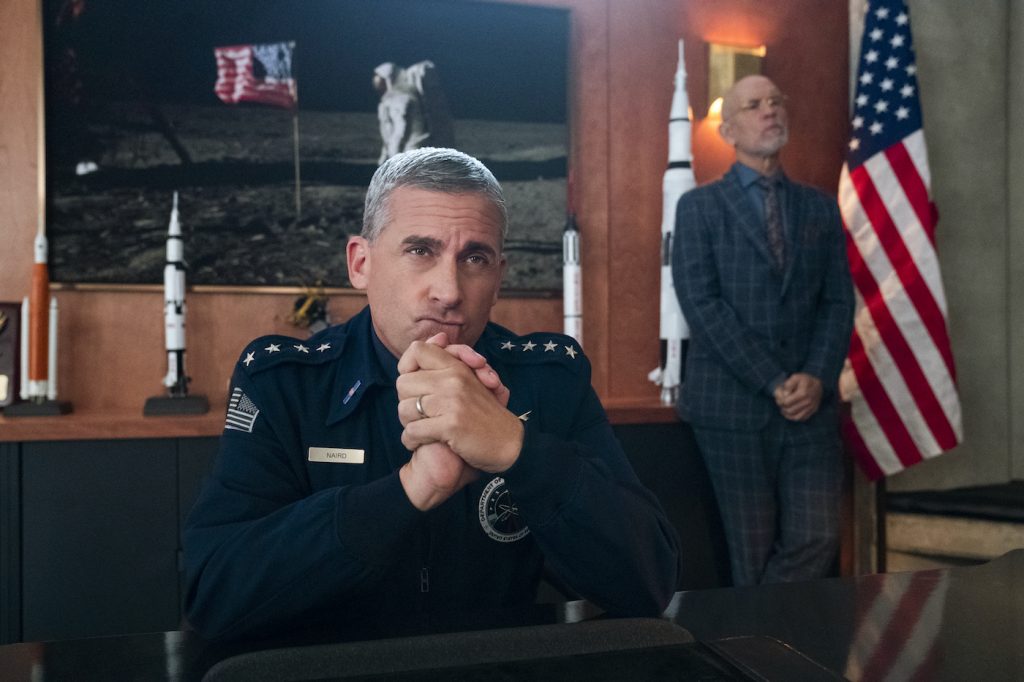 And it was a very interesting situation because there were these strange parallels between the real United States Space Force and the show, which were both being created at the same time. Greg Daniels has credited your research with the accuracy of the show. How did you approach that?
We did a lot of research and consulted with engineers who are actually working on shuttles for space launches, which was amazing and we learned so much. First of all, we learned that the cockpits of these space shuttles are empty. The idea of this room filled with buttons and levers and whatever else, the technology has changed so much and now everything is concentrated in one single screen that looks like an iPad. And the rest of the seats are simple pilot seats. It's a very empty and simple environment done with a lot of recycled materials. And they want to be cheap and effective, so if you have that magical and grand idea of these astronauts and these amazing spaceships it kind of falls apart, but we wanted again to embrace realism. The idea of simplicity was most inspired by SpaceX and all the work that they do.
It must have been strange to work on a show that's inspired by the real Space Force, as information about it is trickling out. Can you tell me a little bit about that experience?
That is the most terrifying part honestly. Because we don't know what that's going to be. When their flag with their logo was revealed, it was honestly a relief because our logo, I think, is cooler. We spent a really long time on logos and that was such an important element of the show that would influence the costumes and so many other elements of the world that we created. I  spent almost two months to create the logo and we did such extensive research on so many military fields and whatever else we could find to create something that would look legit. Something that could be a real seal next to the Air Force, and the US Army and the Navy logos. It has specific colors, there's no shading, it's very flat, it's very simple. It evokes the general idea that the Space Force represents the eye in the sky. When I saw their actual logo and the elements of the Star Trek logo it had, I couldn't believe it. I thought it was a meme at first. And then I realized, it's real. So I thought we worked harder than them, that's for sure.
Featured image: SPACE FORCE (L TO R) STEVE CARELL as GENERAL MARK R. NAIRD, JIMMY O. YANG as DR. CHAN KAIFANG, and JOHN MALKOVICH as DR. ADRIAN MALLORY in episode 101 of SPACE FORCE Cr. Courtesy of Netflix © 2020