How Makeup Artist Louise McCarthy Helped Tattoo The King of Staten Island
As the makeup department head for The King of Staten Island, Louise McCarthy faced a unique challenge that she had never encountered before — creating laughs with tattoos.
Directed by Judd Apatow, the film stars Saturday Night Live alum Pete Davidson as Scott Carlin, a twenty-something slacker who has been struggling emotionally with the death of his father — a firefighter who lost his life in the line of duty when Scott was a child. Unable to get his life on track, Scott still lives with his mother (Marisa Tomei), spends his days getting high with friends (Lou Wilson, Ricky Velez, Moises Arias), and avoids making a commitment to his girlfriend (Bel Powley), who is preparing to move on with her life. Scott does have a dream. He wants to be a tattoo artist. Problem is, he's not very good. And that's where the comedy comes in.
"The tattoos are a character. They are a story in themselves," says McCarthy, via phone from New York where she has been safely sheltering with her family. "It was a big part of the script."
McCarthy was brought into the project by executive producer Michael Bederman, with whom she had collaborated in the past. She was intrigued by the opportunity to work on a comedy with Apatow. She admits that prior to the film, she wasn't that familiar with Davidson.
"When I read about all these tattoos in the script, I thought, 'Well, this is pretty interesting and this is going to be a lot of work,'" continues McCarthy. "And then I googled Pete and saw all his tattoos. I started reading about Pete's life and then I understood that this was based on his real family."
As part of the storyline, Scott turns friends and family into guinea pigs so he can practice creating tattoos. Everyone knew the potential for humor in the scenario and wanted the funniest tattoos possible. McCarthy estimated they dreamed up about 200 different designs to get to the final selects that were used in the film.
A big fan of the art, Davidson sports over 100 real tattoos on his upper body. He suggested bringing in his favorite artist, London Reese, to consult. "We were very grateful to work with someone who really is a tattoo artist to pick his brain a bit," says McCarthy. "To have his knowledge was really helpful for me during the process."
It turned into a group effort, as both cast and crew weighed in on funny concepts.
"We were coming up with ideas. Pete was coming up with ideas," she remembers. "And Judd was like, 'I'd like to see this' and London would draw it. It was important to Pete and Judd to be accurate from a tattoo artist's point of view."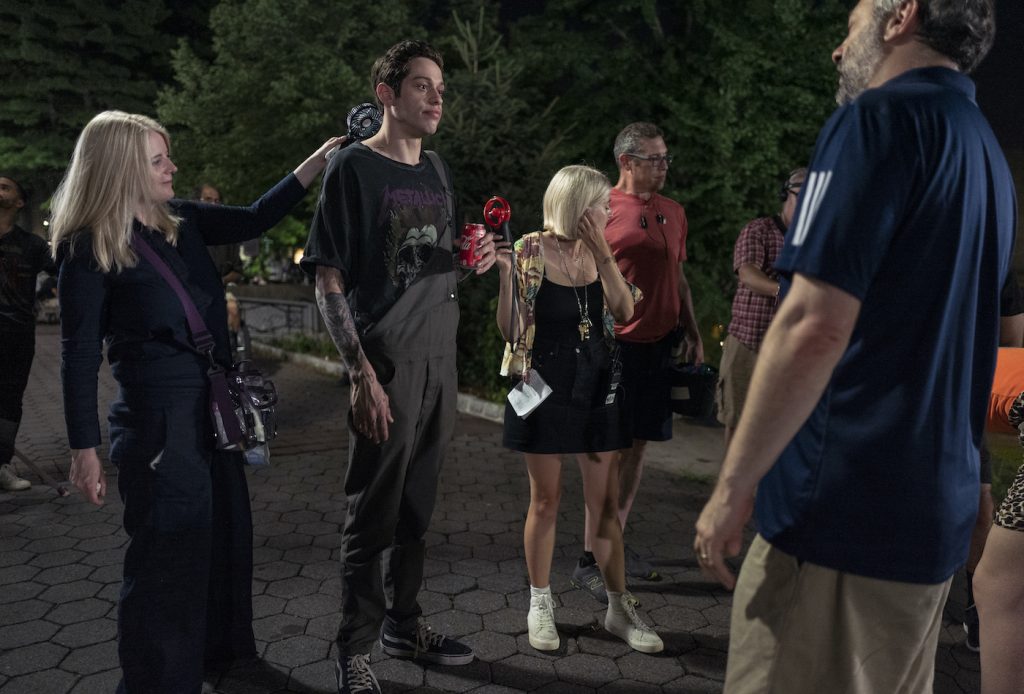 Camera tests turned into tattoo auditions. McCarthy and makeup key Jill McKay kept applying different ones to Scott's friends during the sessions to see which got the biggest laughs.
One of McCarthy's favorites is a cat peeking over his shoulder that Scott applied to the stomach of his friend Igor (Arias). Igor's navel stands in for the feline's anus.
Another big laugh-getter was a tattoo of Barack Obama that Scott applies to the forearm of his black friend Richie (Wilson). Richie is horrified because the tattoo is a cartoon rendition of the former president.
McCarthy attributed the design to David Sirus who co-wrote the script with Davidson and Apatow. "I think he drew that one," she says. "One or two were done by other people. We actually did five different types of Obama tattoos. There were a few others that really didn't look like Obama. But that was the one we decided looked the best and was the funniest."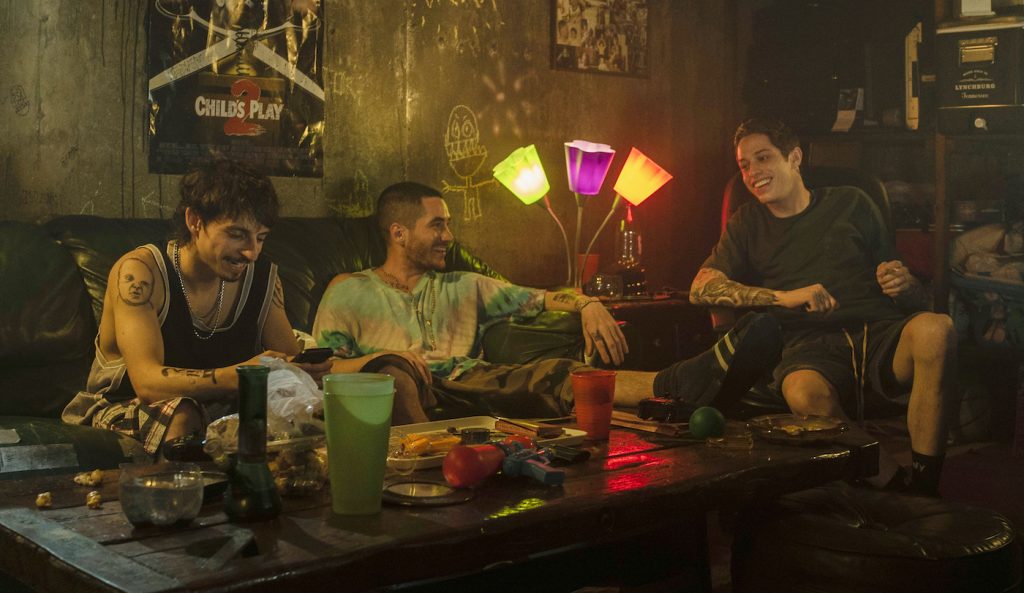 The actors also joined in the fun. McCarthy remembers that Velez, who is both Irish and Puerto Rican, came up with the idea of a Puerto Rican leprechaun tattoo for Oscar, his character.
A key plot point involves Scott covering the back of his mom's new boyfriend Ray (Bill Burr) with tattoos. As it was a pivotal moment in the story, McCarthy reveals there was a lot of back-and-forth about what images to include. It took six different approaches before they hit upon the final combination.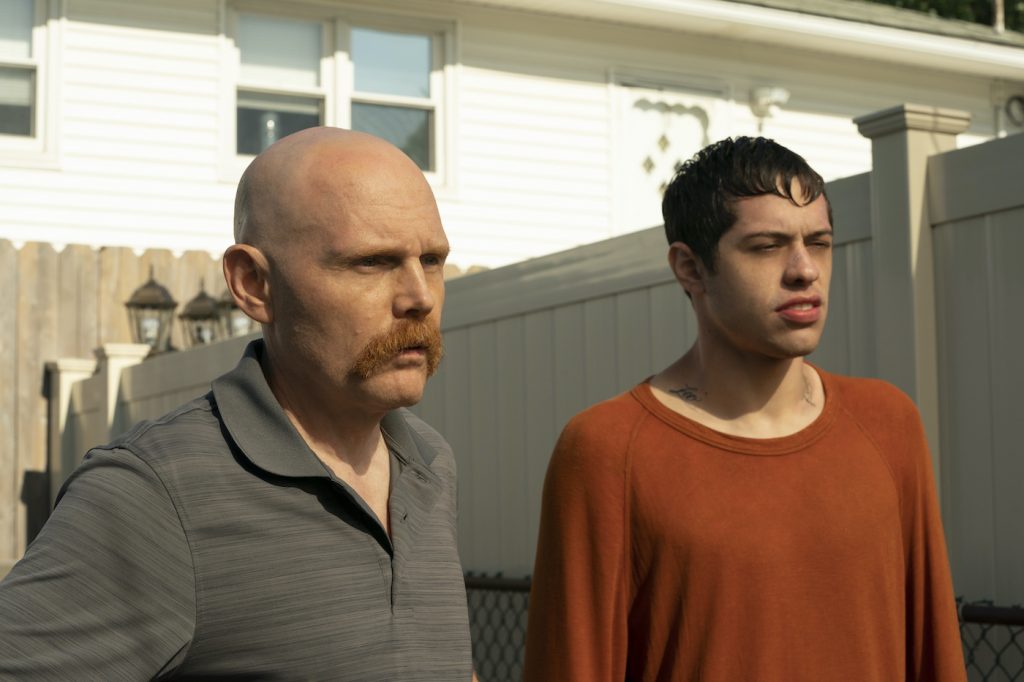 McCarthy credits associate producer Amanda Glaze for making it all work. Acting as essentially a tattoo traffic cop, Glaze coordinated the flow among McCarthy, Apatow, Davidson, and Reese. "It was busy and there were quite a lot of tattoos," explains McCarthy. "She was a great help to me. I said at the end, 'Amanda, you could be a tattoo expert on any movie.'"
But making sure the tattoos got laughs was only part of McCarthy's challenge. In Davidson's case, she actually had to cover up some tattoos. The comedian's upper left arm features a tattoo of a kneeling fireman. Deeming that not appropriate for the storyline, the filmmakers had McCarthy mask it. She also hid one on the inside of his arm that displays Davidson's dad's badge number. Finally, she added tattoos to his leg appropriate to his character.
In total, it took McCarthy approximately 45 minutes each morning to get Davidson ready. "He just let me get on with it," she says. "Every day, he'd get in the chair and do what we had to do. It was lovely."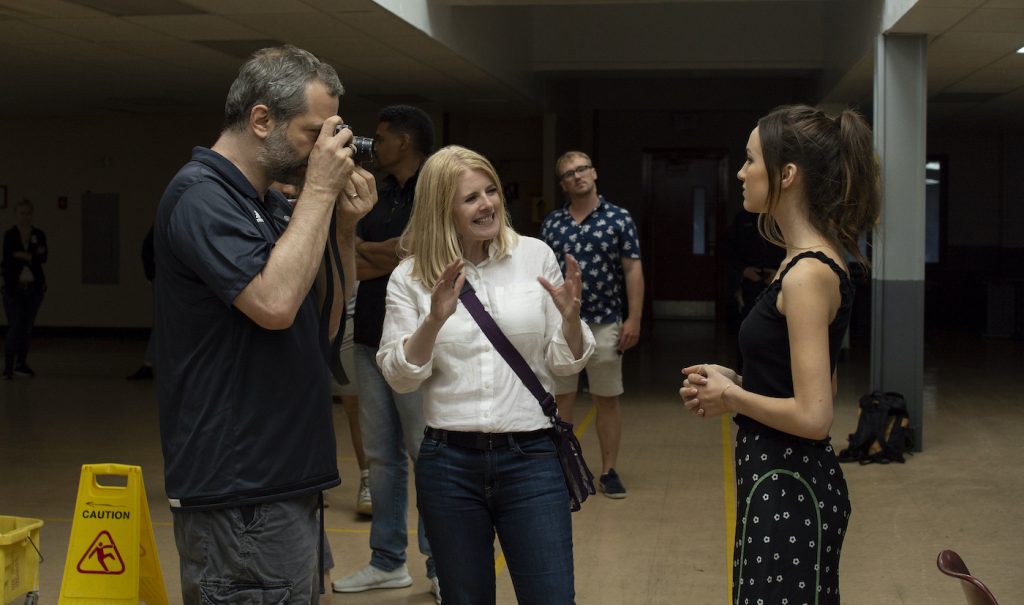 When it came to the women, Mia Thoen van Moyland served as Tomei's personal makeup artist. McKay oversaw Powley's character Kelsey and Maude Apatow (Judd's daughter), who plays Scott's college-bound sister Claire.
McCarthy explains that she wanted Kelsey and Claire to have distinctive looks. "They are similar in age, but their lives are very different and I wanted that to stand out," she says. "Kelsey wants to change Staten Island. Her look needed to be just the makeup and the nails. Claire is going off to college. She is a very prissy girl next door, so her makeup was more minimal."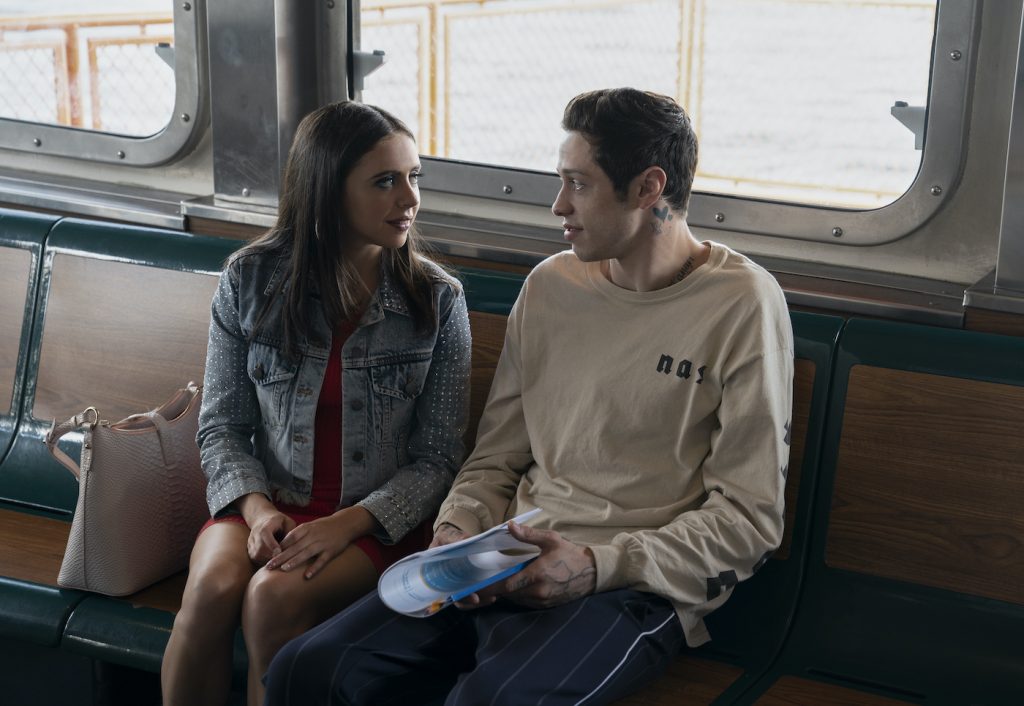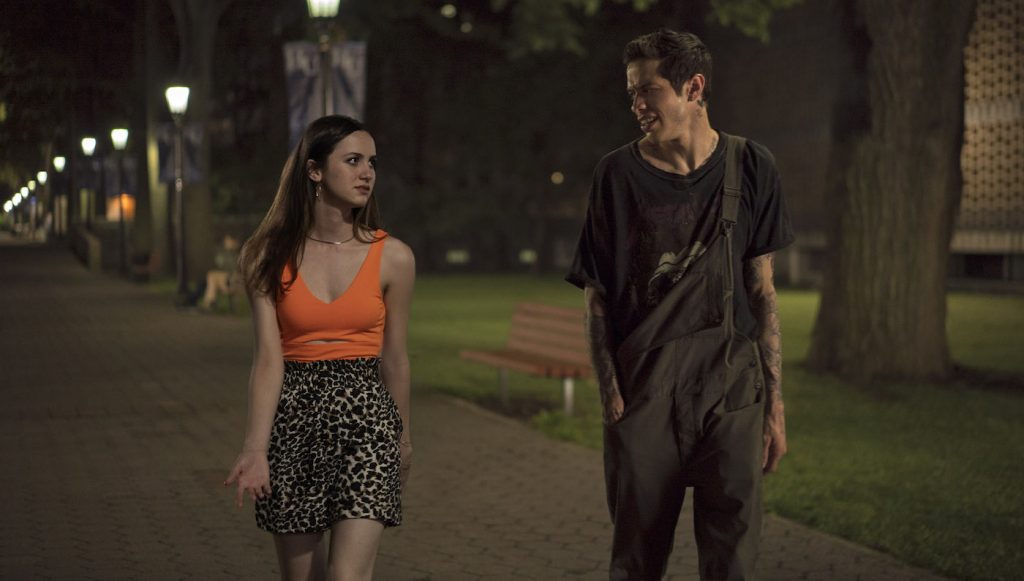 On the other hand, McCarthy and hair department head Kerrie Smith were able to let loose with the character of Joy, Scott's aunt, played by Lynne Koplitz. At the actress's prompting, they made the makeup heavier, the hair bigger and the nails long with bright colors. "Lynne was hilarious," says McCarthy. "She was like, 'You know, I want to be The Housewives of Staten Island."
McCarthy hopes that everyone who sees The King of Staten Island will enjoy it as much as she enjoyed working on it. Being on set with so many comedians and a director who is pretty funny himself made for a fun day at the office. "You're just listening and laughing — a free comedy show. It was great," she says.
But although they were making a comedy, McCarthy adds there was a feeling on set to make a film that resonated. "Everybody was into it because it was Pete's story," she says. "We could really feel the respect and that was very, very nice."
The King of Staten Island will be available on demand on June 12, 2020.
Featured image: Pete Davidson as Scott Carlin in The King of Staten Island, directed by Judd Apatow.